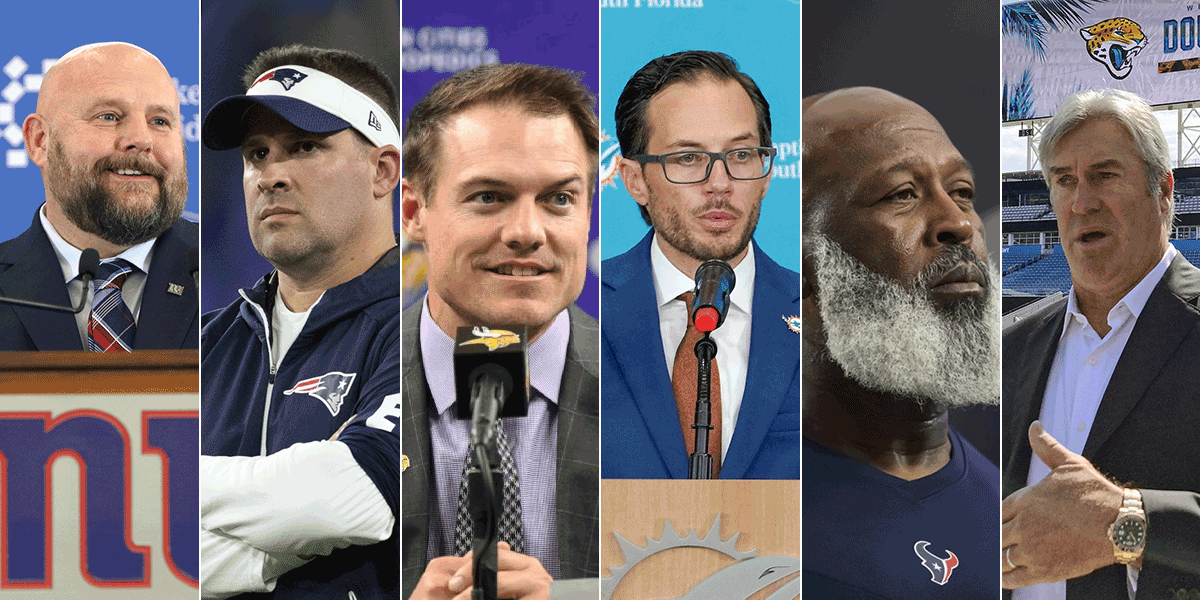 2022 Coaching Changes and Their Fantasy Impact
---
The Fantasy Impact of NFL Coaching Hires
The 2022 NFL season is set to see a wave of new coaches and coordinators changing the outlooks of their respective fantasy assets. With 9 new head coaches and 12 new offensive coordinators, any expectation that the trends we saw last year will carry into 2022 needs to be given a second look.
There are always exciting narratives with coaching changes, but the reality is that most new head coaches under-deliver in their first year with their new team. In 2021, there were 7 new head coaches - Nick Sirianni (PHI), Brandon Staley (LAC), David Culley (HOU), Urban Meyer (JAX), Dan Campbell (DET), Arthur Smith (ATL), and Robert Saleh (NYJ). Sirianni was the only one to get his team to the playoffs (with the assist from a bad division), and Staley was arguably the only one good for fantasy. The takeaway to remember is that a coaching change happened because the team was bad. Even if a new coach is a strong hire, it may take more than a season to see meaningful results.
Let's take a look at the fantasy impact of key coaching changes for the 2022 season. Teams that only changed their offensive coordinator but retained their head coach will only be discussed below if I expect their impact to be significant.
Quick Links
Coaching Changes: POSITIVE Fantasy Implications
Miami Dolphins
Head Coach Mike McDaniel (former 49ers offensive coordinator)
Offensive Coordinator Frank Smith (former Chargers run game and offensive line coordinator)
The Dolphins have been one of the most exciting teams to follow in the offseason. Mike McDaniel showed during his time in San Francisco that he is a wizard of misdirection in the run game, yards after the catch, and pre-snap deception. It is also very telling that he brought on board Frank Smith from the Chargers to double down on fixing Miami's biggest weaknesses from a year ago - their offensive line and run game.
McDaniel and the front office have been aggressive in putting puzzle pieces into place this offseason. While Jaylen Waddle figures to be one of the centerpieces in his second year, the team added Chase Edmonds, Raheem Mostert, and Cedric Wilson as additional weapons while bringing on former Dallas guard Connor Williams. All due respect to former coach Brian Flores, it seems like the new staff is fully committing to Tua and giving him every chance to succeed.
From a fantasy standpoint, it's hard not to love Waddle after seeing what McDaniel did with Deebo Samuel last year. Waddle is not the same type of player but is similar in the sense of being dangerous when getting the ball in space. I expect Edmonds and Mostert to both have the potential for low-end RB2/high-end RB3 value. Perhaps the most undervalued fantasy asset in Miami, however, is Tua. Even in single QB formats, he's a terrific late-round target as I expect the entire offense to elevate quickly relative to last year.
Las Vegas Raiders
Head Coach Josh McDaniels (former Patriots offensive coordinator)
Offensive Coordinator Mick Lombardi (former Patriots assistant and wide receivers coach)
It's hard to believe that it's been 13 years since Josh McDaniels coached the Broncos. It's also important that we throw any negative perception from that time out the window. Enough time has passed that it's fair to expect better this time around. That said, I'm placing McDaniels in the positive category strictly from a fantasy lens. The Raiders may still finish in the bottom half of an increasingly loaded division, and the resulting game script is part of the reason I love the team's fantasy prospects.
Entering the offseason, the Raiders' biggest fantasy assets were their slot receiver Hunter Renfrow and their tight end Darren Waller. I'm not sure there is any team in the NFL that featured those roles in their offense more than the New England Patriots over the last 15 years. McDaniels and Belichick made household names out of Rob Gronkowski, Wes Welker, and Julian Edelman, and more recently squeezed a lot of juice out of guys like Hunter Henry and Kendrick Bourne.
Now with the addition of Davante Adams, the Raiders boast one of the best set of pass-catchers in the NFL. While Adams moving to Las Vegas puts his own value as well as Waller's and Renfrow's in question, the overall offense is set to take a major leap forward with fantasy points abound.
The Las Vegas personnel fits McDaniels' pedigree to a tee. Combined with a full slate of division games expected to have an aggressive game script, the Raiders should see one of the best combinations of passing volume and efficiency in the league. The biggest fantasy beneficiary is Derek Carr, while the pass catchers will be popular DFS plays every week.
Jacksonville Jaguars
Head Coach Doug Pederson (former Eagles head coach)
Offensive Coordinator Press Taylor (former Colts offensive assistant)
All-time bizarre free-agent spending spree aside, this was a coaching change that made a lot of sense.
I am a bit worried about the uncertainty between James Robinson and Travis Etienne considering Doug Pederson's affinity for backfield committees, but Pederson does strike me as a solid choice to be a catalyst for Trevor Lawrence's development in year 2. Pederson's experience with Carson Wentz, in spite of how it ended, draws positive parallels in taking on Lawrence. Bringing Press Taylor (one of his trusted assistants behind the Philly Special) also appears to be a decision made specifically for Lawrence's growth.
While I have absolutely no idea what the target share will look like between Marvin Jones, Christian Kirk, Zay Jones, Dan Arnold, Evan Engram, and Laviska Shenault (if he's still on the team), things are set up well for Lawrence. I can very easily see him as at least a viable streamer in single QB leagues, a buy candidate in Dynasty, and an excellent value in Superflex and Best Ball formats. I expect the receiving weapons in Jacksonville to be popular DFS options given the uncertainty in opportunity share suppressing their price points.
Coaching Changes: NEUTRAL Fantasy Implications
New York Giants
Head Coach Brian Daboll (former Bills offensive coordinator)
Offensive Coordinator Mike Kafka (former Chiefs quarterbacks coach)
I believe both Daboll and Kafka present a trap for fantasy. It would be easy to buy into the narrative that this is a massive upgrade over Joe Judge and Jason Garrett (admittedly a low bar), but I have a few concerns after looking more closely. Brian Daboll has been in the NFL for some time now and really hasn't had much success prior to coaching Josh Allen. With regards to Kafka, I'm not sure it mattered who the quarterbacks coach in Kansas City was with Patrick Mahomes, Andy Reid, and Eric Bieniemy running the Chiefs offense. While I will agree with arguments that this staff can only go up from what the Giants had before, I'm taking it with a major grain of salt given their history. I still have no faith in Daniel Jones or the offensive line, and the team does not have a lot of cap space. With 2 top ten draft picks, they can get some valuable pieces, but I am not boosting the value of any Giant as a result of the new staff.
Minnesota Vikings
Head Coach Kevin O'Connell (former Rams offensive coordinator)
Offensive Coordinator Wes Phillips (former Rams pass game and tight ends coach)
Replacing defensive-minded coach Mike Zimmer with a Sean McVay disciple seems like a fantasy gift on the surface. However, most of the major fantasy assets in Minnesota were already producing at or near their ceilings. Justin Jefferson and Dalvin Cook remain elite options at their respective positions, and Kirk Cousins' stats exceed his optics nearly every year. It may be refreshing for Vikings fans to see a change in coaching philosophy, but I am not changing my fantasy outlook on their key players at all as a result.
Denver Broncos
Head Coach Nathaniel Hackett (former Packers offensive coordinator)
Offensive Coordinator Justin Outten (former Packers tight ends coach)
This one was firmly in the "negative" category for me - until the Russell Wilson trade. What I didn't like initially about these two hires from Green Bay was that the Packers ran their offense almost entirely through Aaron Rodgers and Matt LaFleur. For Denver to have both their head coach and OC not be play-callers in their most recent roles was a big red flag. It was vital for the organization to land one of the three elite quarterbacks - Aaron Rodgers, Russell Wilson, or Deshaun Watson - to mask that weakness and put more of the onus of the offense directly on the quarterback. For Wilson, to go from a football lifer in Pete Carroll to a staff with far less experience may actually be liberating at this stage of his career, but it still remains a major question mark.
Houston Texans
Head Coach Lovie Smith (promoted from defensive coordinator)
Offensive Coordinator Pep Hamilton (promoted from pass game coordinator and quarterbacks coach)
The Texans obviously have a lot working against them with minimal talent and the trade of Deshaun Watson to Cleveland. However, Lovie Smith and Pep Hamilton are experienced coaches building from the ground up and now have a ton of draft capital. After a lost season in 2021, the Texans are now playing the long game on both sides of the ball. For fantasy purposes, there's nothing to be excited about outside of perenially undervalued Brandin Cooks (if he's still on the team) in 2022, but I also don't see any reason for things to get worse under the new leadership.
---
Win Your Fantasy League!
Become a member at FantasyData and get access to the industry's best fantasy football subscription available!
---
Coaching Changes: NEGATIVE Fantasy Implications
Chicago Bears
Head Coach Matt Eberflus (former Colts defensive coordinator)
Offensive Coordinator Luke Getsy (former Packers quarterbacks coach)
Eberflus, like every new coach, deserves a chance to prove his doubters wrong. However, Chicago's decision to hand the reins to a defensive coach and an offensive coordinator who has never called plays was a questionable decision. When the fate of the franchise over the next few years rides on the development of Justin Fields, this did not seem like a move from management to put their young quarterback in a position to excel.
With most of the major wide receiver free agent names now off the market (including their own former weapon Allen Robinson signing with the Rams), Darnell Mooney is the unquestioned WR1 in Chicago. Though he is talented and an excellent deep threat, his value as a season-long target hog and possession receiver is very much in question. David Montgomery is a stalwart in the backfield and Cole Kmet seems to be a rising talent at the tight end position, but this offense does not appear to have the firepower to take a major step forward. Fields may produce low-end QB1 numbers due to his rushing ability, but the pedigree of the new coaching staff has me fading all Bears in 2022 relative to their ADP.
New Orleans Saints
Head Coach Dennis Allen (promoted from defensive coordinator)
Offensive Coordinator Pete Carmichael (retained)
The first year without Sean Payton will have people realizing just how good of a coach he was. It appears as though the organization was aiming for continuity by promoting Dennis Allen and retaining Pete Carmichael, but last year's Saints did not put a product on the field worth retaining.
The biggest question mark in terms of player personnel is obviously the quarterback. After losing out on the Watson sweepstakes, it appears as though retaining Jameis Winston is the Saints' best-case scenario. While Winston produced admirably before his injury, the team's prospects both in the standings and for fantasy are nothing I can get excited about.
Alvin Kamara has produced in some ugly situations in the past, and Michael Thomas will hopefully be back to full strength, but considering other ascending players with similar value, I don't expect I'll have much stock in either Saint in redraft or dynasty formats moving forward.
Carolina Panthers
Offensive Coordinator (Ben McAdoo)
Somehow this has gone a bit under the radar. The fantasy attention in Carolina is understandably around the team landing a quarterback upgrade that can make D.J. Moore finally reach his potential. While I'm hopeful that such a talented receiver with terrific advanced metrics can improve his outlook, the McAdoo hiring is giving me some pause. I am weighing this hire quite heavily in a negative way, to the point where a quarterback upgrade may actually have me selling D.J. Moore in dynasty formats for a king's ransom.
STAY IN TOUCH
Sign up for FantasyData's newsletter and get awesome content sent to your inbox.
We'll never share your email address and you can opt out at any time, we promise.
---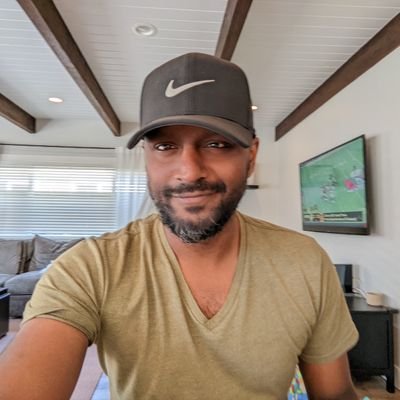 Dessy John is a 20 year fantasy football player, combining data and intuition to offer a valuable perspective on the game. He has spent 15 years as a marketer in Silicon Valley, and is currently pursuing his passions of writing and sports media. He holds an MBA from the University of California, Riverside. Dessy is an avid 49ers fan and resides in the Bay Area with his wife and two daughters.