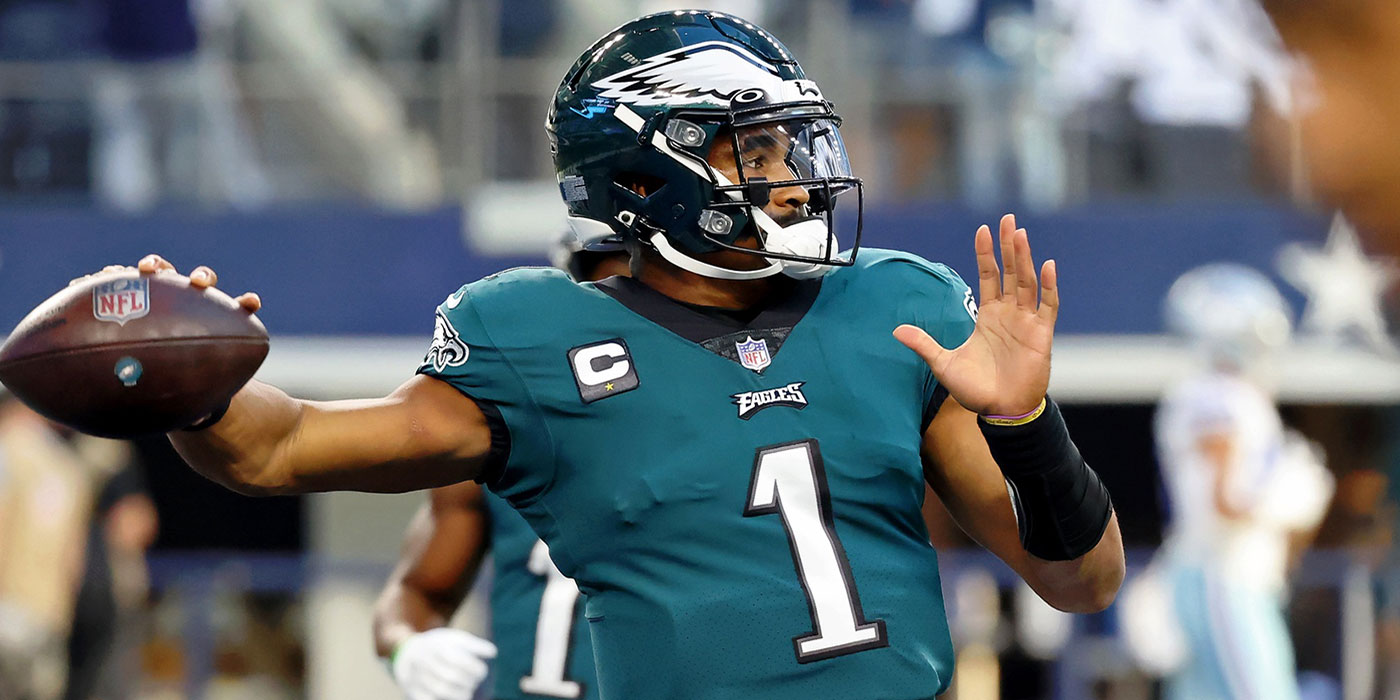 5 Best Value QB/WR Stacks for DFS in Week 7
---
Best Value QB/WR Stacks
Each week, with the help of our premium DFS Stacking Page, we'll be diving into the main DFS slates for DraftKings, FanDuel, and Yahoo to give you the quarterback-wide receiver stacks that represent the best value on the board.
When possible, we'll look to avoid throwing out the obvious names. However, just because a player is well known, that doesn't mean they're the easy pick when filling out your roster — and it also doesn't mean that their price tag accurately matches their potential production.
Last week, readers of this piece might have walked away with guys like Matthew Stafford and Carson Wentz at the quarterback position. Both ended up having nice fantasy weeks, but we ultimately missed on the wide receiver spots. Don't expect that to happen again, as we've been extremely successful in four of the six weeks of the season and the formula is battled tested.
Here are the five combinations we're looking at for Week 7 of the NFL regular season:
New England Patriots (vs. New York Jets)
This duo is our top value of the week on Yahoo for Week 7. Both Jones and Meyers are just absurdly cheap, and both have shown that they are more than capable of producing in fantasy this season.
Last week, Jones threw for 229 yards with two touchdowns in a close loss against the Dallas Cowboys. Jones has now thrown for at least two touchdowns in two of the last three games, and he now gets a second crack at a New York Jets defense that is absolutely miserable. In its last game, New York let Atlanta Falcons quarterback Matt Ryan throw for 342 yards with two touchdowns in London, and Ryan did so without top receiver Calvin Ridley.
Considering this Jets secondary is pitiful, look for Jones to have no trouble moving the ball down the field. Meyers should be the one he looks to the most when going to the air, and the wideout did have six targets the last time the Patriots faced the Jets. That was also a game in which running back James White caught six passes for 45 yards, but White is out for the season with an injury. That means that there are more targets that can go in Meyers' direction, and the 24-year-old has been targeted 37 times in the four games since the first meeting with the Jets.
Don't be surprised if Jones hits the 20-point mark in fantasy for the first time all year, and Meyers is a good bet to reach at least 12 or so. At these prices, that would allow you to spend up on other positions and put up a big number for the week.
Atlanta Falcons (vs. Miami Dolphins)
Speaking of Ryan and Ridley, who were mentioned in the write-up above, there's a good chance that this duo ends up winning DFS players a lot of money this week. This season, the Dolphins have given up the 10th-most fantasy points to opposing quarterbacks and the third-most to opposing wide receivers.
Coming into this week, Ryan has thrown for eight touchdowns and no interceptions over his last three games, which shows that the veteran is beginning to really get comfortable in head coach Arthur Smith's offensive system. Ryan has also thrown for 625 yards over the last two weeks, so he's really airing it out and making fantasy players happy.
As for Ridley, it's only a matter of time before he begins to deliver like the star he is. Ridley is ranked inside the top 10 in air yards per game at the wide receiver position, and he has a monstrous target share at 27.6%. Eventually, those numbers will turn into production, and there's no reason it can't be this week.
Obviously, it's never exciting to go with a guy like Ryan when the league has moved away from flat-footed pocket passers, but you'll win the most money by ignoring thoughts like those. This is a great matchup for a good quarterback, and it helps that his top receiver is feeling good heading into the game.
Las Vegas Raiders (vs. Philadelphia Eagles)
Despite everything that's happening with this Las Vegas team, the group went out and earned a win by double digits over the Denver Broncos last week. Carr threw for 341 yards with two touchdowns in that game, and Ruggs caught three passes for 97 yards and a score in that victory.
This week, the Raiders get to face an Eagles team that has allowed more points than all but eight teams in football this season. Philadelphia is middle of the pack in fantasy points allowed against quarterbacks this year, and the team can be prone to giving up big plays through the air. That's not a good thing when facing Ruggs, who is one of the fastest receivers in football. Ruggs has had a reception of at least 37 yards in four of the six games he's played this season. He's also the healthiest he's been since entering the league, which means he should continue to do big things.
At these reasonable prices, this combination is a top-5 option for the week on Yahoo. However, it's also not going to be played by too many people elsewhere, so it could do wonders for you if you ultimately decide to take them.
Philadelphia Eagles (vs. Las Vegas Raiders)
The Eagles' offense has been absolutely dreadful this season, and Hurts hasn't exactly played well himself. The second-year signal-caller has, however, had a huge fantasy season, with only four quarterbacks putting up more fantasy points than he has.
Hurts' ability to run the football gives him an extremely high floor as a fantasy option. He has already rushed for 300 yards and five touchdowns this season, and his legs continue to make him an enticing choice when looking for a quarterback that isn't priced as a top-tier player. It doesn't hurt that he also takes decent care of the football, as Hurts has only thrown four interceptions this year. For a quarterback that doesn't throw it all that well, it can definitely be worse.
As for Smith, it's been an up-and-down campaign thus far. The rookie has had three games in which he has topped the 70-yard mark, but he has also failed to crack 30 yards in two of the other three contests. With it being a mixed bag, it's understandable if you would be scared off of playing somebody like Smith, but he has also received an average of 7.3 targets per game. Hurts is looking his way often and Smith has the speed and skill to eventually start playing well on a consistent basis.
This matchup with the Raiders isn't exactly a great one on paper, but Hurts has been matchup-proof this season. He has performed as a QB1 in every single week this year — the only quarterback in fantasy to do — and both he and Smith could benefit from potentially falling behind in this game.
Tennessee Titans (vs. Kansas City Chiefs)
Tannehill hasn't quite looked like a QB1 thus far, but this could be the week he finally puts forth a huge effort. The Titans get the Chiefs in this one and Kansas City has been an absolute trainwreck defensively this season. On the year, the Chiefs are allowing 410.5 total yards per game, which is the fifth-worst mark in the league. Kansas City is also giving up 29.3 points per game, which is also the fifth-worst number in the NFL.
Only six teams are giving up more passing yards per game than the Chiefs this season, and Kansas City just so happens to have given up the second-most fantasy points to opposing quarterbacks this year. That makes this a golden matchup for Tannehill, who is a lot better than his numbers this year suggest he is. Tannehill should have receivers open all game long in this one and he'll get the ball to them quickly when he sees them breaking free. It also helps that Tannehill is decent with his legs. He had a rushing touchdown against the Buffalo Bills last week, and the ability to run always comes in handy.
Like Tannehill, Brown has also had a lot of trouble getting himself going after being hyped up heading into the year. The receiver has been unable to stay healthy early in his career, but he did have seven receptions for 91 yards against the Bills a week ago. His nine targets in that game were the most he's had since September 19, and it should be a sign of things to come. Brown is a potential star at the wide receiver position and is going to turn it on soon. Against a miserable secondary, this could be the week he puts up some gaudy numbers.
Quick Links
STAY IN TOUCH
Sign up for FantasyData's newsletter and get awesome content sent to your inbox.
We'll never share your email address and you can opt out at any time, we promise.
---

Zach has been working in the fantasy/betting space for nearly 10 years. He currently serves as the Editor-in-Chief of the Centennial Fantasy Football Guide, and he also does betting previews for Covers. He recently moved from New York to Arizona and has fallen in love with the Phoenix Suns. He's also a die-hard fan of the University of Wisconsin (Go Badgers!), New York Yankees, New York Rangers and New York Jets. Zach enjoys talking sports on Twitter (especially about the NBA Draft) and believes there's nothing better than shooting around in an empty gym. He's also a big fan of television and movies, and he's probably seen every comedy ever made.