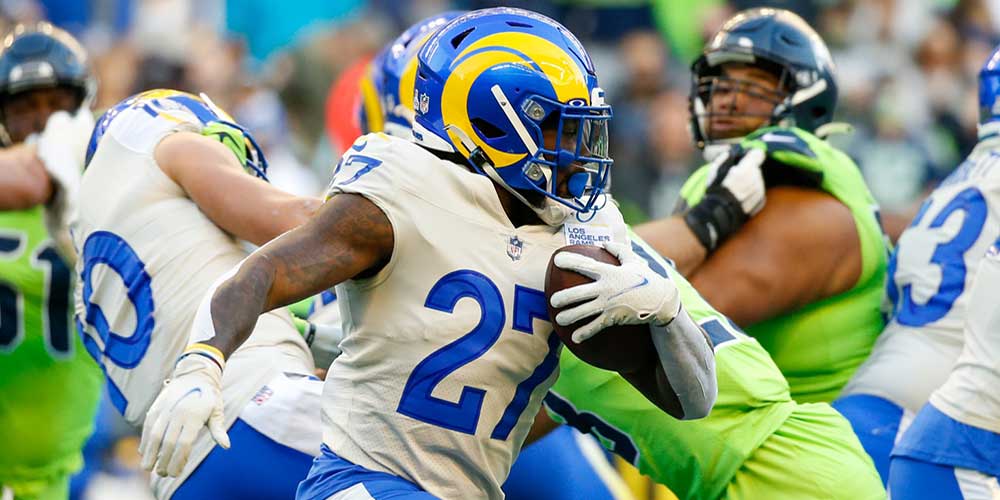 NFL Draftkings Picks: Week 7
---
Draftkings Picks: Week 7
We have another main slate with just 10 games on it. There is a lot of fantasy firepower absent this week as the Bills, Chargers, Cowboys, Steelers, and Vikings are all off. Factor in a ton of questionable statuses for other players as well, and we have ourselves a challenge this week. As always, be sure to check the inactive lists and follow the breaking injury news. It can often result in a "free square" for your lineup. Each week Fantasy Data will bring you 20 players that we like for the Draftkings Sunday main slate. Let us get right to it.
Quick Links
Studs to Splurge For
Here we will highlight two players at each position that are in the top-five of their respective position and are deemed worthy of "paying up" for in your lineup. Please note these players will likely be highly owned so if you are looking to differentiate, you will want to pull more players from the next two sections.
Quarterbacks
Patrick Mahomes | $8400 | KC @ TEN
Kyler Murray is the most expensive quarterback on the board this week, but the Arizona Cardinals are 17.5-point favorites versus the Houston Texans. This leaves Patrick Mahomes as the most expensive QB to pay up for in Week 7. This game has a total of 57 and the Tennessee Titans just proved they can hang with the big boys after defeating the Buffalo Bills on Monday night. Look for the Chiefs to attack the 31st ranked defense against the position.
Lamar Jackson | $7400 | CIN @ BAL
Lamar Jackson had his worst fantasy performance of the season in Week 6 against the Los Angeles Chargers in a game that many thought would be a shootout. Instead, the trio of Murray, Bell, and Freeman all rushed for a touchdown in a runaway victory that no one saw coming. Despite the poor outing (13.87 DK points), Jackson is still averaging 26.6 points per game and averages 73.7 rushing yards per game over six contests against the division rival. Latavius Murray has missed practice all week. Look for Lamar to bounce back in a big way, especially on the ground.
Running Backs
Derrick Henry | $9200 | KC @ TEN
At this point, how do you not consider Derrick Henry any time you construct a lineup in any format? Henry has gone over 30 DK points in three of six games and over 20 in his last five. In fact, the bulldozing running back is averaging 34.88 DK points over that span. The Chiefs are coming to town, and we mentioned the total in this one in the open. The Titans will want to play keep away from the high-powered Mahomes-led offense. Henry will need 27.6 points to return 3x value, but there are no indications that he is going to slow down anytime soon.
Joe Mixon | $6500 | CIN @ BAL
Despite nursing an injury in Week 6, Joe Mixon had his best game of the season (26.3 DK points) against the Detroit Lions. Mixon was effective on the ground and through the air, totaling 134 yards from scrimmage. He was targeted six times, catching five of them for 59 yards and a touchdown. The Ravens are on tap and are susceptible to the run, ranking 29th against the position in 2021. There should be a bit of concern about the history of the matchup. Across seven games, Mixon averages just 10.9 PPR points per game. This Ravens defense feels a little different. Jonathan Taylor just torched them on Monday night in Week 5 and the duo of Josh Jacobs and Kenyan Drake was able to put up solid numbers against them in Week 1.
Wide Receiver
Tyreek Hill | $8600 | KC @ TEN
You will want to watch the injury report on this one, but Tyreek Hill should play as they have been limiting him in practice to help the ailing quad heal a bit. Hill was sidelined for a short time in Week 6 against the Washington Football Team but came back to put up 22.6 DK points for the week. Pairing him with Patrick Mahomes in a game that has a total of 57 points is not a bad move. You will need to find value elsewhere to make it fit, but there should be plenty of it out there to find with all the teams on a bye week and injury issues across the league.
Cooper Kupp | $8400 | DET @ LAR
Revenge game anyone? Matthew Stafford is facing his old team, the Detroit Lions. Look for the Rams to keep their foot on the gas the entire way in this one. The Lions show a dreaded red 9th next to the matchup ranking, but that is simply because everyone runs all over Detroit and does not need to pass. Cooper Kupp has the highest point per game average on the slate at 27.0 DK points per game, yet he is the third most expensive.
Tight End
Travis Kelce | $7600 | KC @ TEN
If you cannot quite afford Tyreek Hill in a Chiefs stack for Week 7, then Travis Kelce is a nice "fallback" option, and it will save you $1k. Kelce has been a model of consistency and has scored in double-digits in every game except one. A hand injury in Week 6 limited the veteran a bit, yet he was still able to produce 17.9 DK points. With Hill nursing a quad, this may be the time for Kelce to step up some. The Titans do rank third against the position but have faced the likes of the Colts, Jets, and Jags. These teams do not have what you would call a game-changer at the position to threaten them.
Kyle Pitts | $5900 | ATL @ MIA
The price has crept up on Kyle Pitts after his big game in London against the New York Jets before the bye week. On deck are the Miami Dolphins coming off a loss to the Jacksonville Jaguars. Miami seems to be a mess and Atlanta will likely have their way with them. Pitts should be a big part of that in Week 7 as Matt Ryan seems to have finally developed a chemistry with the rookie. The touchdowns were sure to come and may come in bunches the rest of the way out.
Sleepers to Separate From the Pack
Up next we give you some players to help differentiate your lineup from the masses and give you the edge you need to compete in some of the bigger tournaments. Just like the section above, we highlight two players at each position except now instead of studs, you get players that are expected to be less than 10% owned on the main slate.
Quarterbacks
Matt Ryan | $5700 | ATL @ MIA
Speaking of Matt Ryan, he is a sneaky good value this week. At just $5,700, we only need 17.1 DK points to hit a 3x value. We mentioned the state of the Dolphins just a second ago. This game has a total of 47.5 and Miami is a home underdog meaning Vegas likes the Falcons by a good bit. Ryan is averaging 20 points a game and has gone over 22 DK points in three of his last four. The veteran signal-caller should smash value here.
Ryan Tannehill | $6400 | KC @ TEN
We have talked at length about the high over/under of 57 in this one. If you are not willing or able to pay up for Kansas City Chiefs players in this one, you can bring it back with some value on the other side. Ryan Tannehill has the rushing upside we look for in a DK QB and while his numbers have been down due to Derrick Henry going ham, look for the tides to potentially turn this week. How you see this game playing out should determine whether you want the ground or the air game in this one.
Running Backs
Michael Carter | $4800 | NYJ @ NE
Michael Carter has quietly been taking over the backfield in New York. While not outstanding, Carter has put up 10+ points in three of four, including 14.8 DK points before the bye. The New England Patriots are up next and are a worthy opponent. However, at just $4800 and low ownership, Carter is a salary saver you may need to gamble on if you are stacking up on Chiefs as a strategy mentioned earlier.
Kenyan Drake | $4900 | PHI @ LV
In the first game post John Gruden, Kenyan Drake put up 21.3 DK points in a victory of a good Denver Broncos defense. The Philadelphia Eagles head to sin city in Week 7 and rank 24th against the running back position. The game has a total of 49.5 and has the potential to shoot out for much, much more. If that is the case, expect Drake to be a big part of it.
Wide Receiver
Chris Godwin | $5900 | CHI @ TB
The price here is just way too low. Yes, the Chicago Bears defense is good. Chris Godwin is not going to just disappear against them. The Tampa Bay Buccaneers have a total of 29.75 points. Antonio Brown has missed practice for consecutive days despite coming off the bye. If Brown misses the game (late game, so be careful), the Penn State alum is a lock to beat the 17.7 DK points needed to reach value.
Rashod Bateman | $3400 | CIN @ BAL
Rashod Bateman returned from his preseason groin injury in Week 6. The rookie saw a team-high 22% of the targets in a game that saw Lamar Jackson only throw 27 times due to the success the Ravens had on the ground. Bateman turned those six targets into four catches for just 29 yards. With Sammy Watkins still nursing a hamstring injury, look for the rookie to get more looks and use this as a high upside play that allows you to pay up for the top dollar guys covered above.
Tight End
T.J. Hockenson | $5100 | DET @ LAR
We spoke earlier about the Matthew Stafford revenge game. On the other side of the ball, we cannot forget about Jared Goff. If the Detroit Lions want to stay competitive at all, they are going to need to throw early and often. The favorite target for Goff all season long has been T.J. Hockenson. In Week 6, the young tight end saw 11 targets against the Cincinnati Bengals and was able to turn those looks into 15.4 DK points despite not finding the end zone. The Rams rank middle of the pack versus the tight end position (16th) and can be beaten there at times.
Mike Gesicki | $4700 | ATL @ MIA
The return of Tua in Week 6 seems to have done wonders for Mike Gesicki. Granted, Devante Parker and Preston Williams were absent. The Penn State grad saw nine targets and hauled in eight of them for 115 yards. This was good for a season-high 22.5 DK points. We mentioned the shootout potential in this one and there is a lot of value to be had in this game. If you are not comfortable with this play, spend the extra $900 for teammate Jaylen Waddle who had 13 targets last week.
Fantasy Data Favorites
In this section, we will give you one play from each position for the week that we like the most. This will be a player that likely will give you a high upside at a lower cost than their counterparts and also come with a low ownership projection. Here you go!
Quarterback
Matthew Stafford | $7100 | DET @ LAR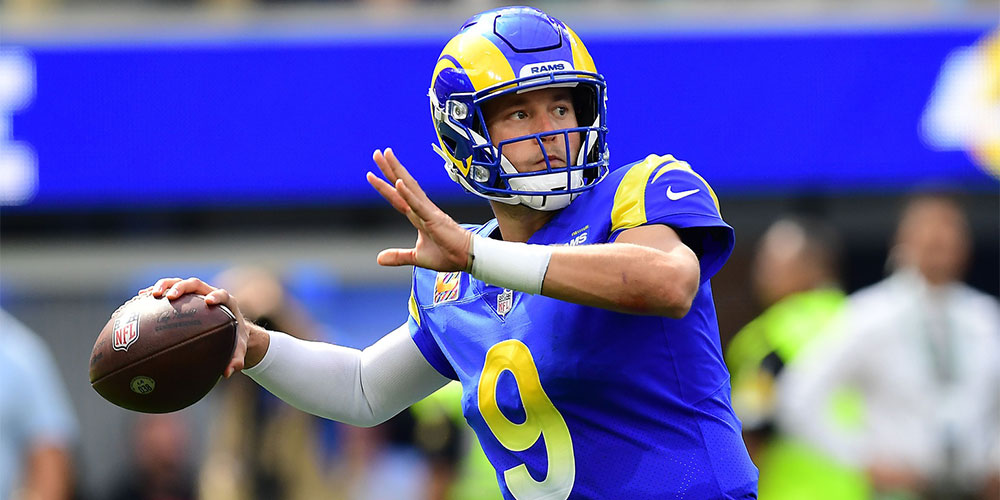 We mentioned how much we like Matthew Stafford while covering Cooper Kupp. Stafford is coming off a 26.24-point performance on the road against the New York Giants. Again, the Detroit Lions have a red 5th next to them for the matchup. That is because they simply get run all over every week and teams do not need to pass. Look for that to change in Week 7. Stafford only needs 21.3 to reach value and is averaging 24.2 on the year. The Rams have a 33-point total in this one. Look for them to meet and exceed that number at home.
Running Back
Darrell Henderson | $6600 | DET @ LAR
Darrell Henderson will likely be a popular play and rightfully so. Where you can differentiate your lineup is by stacking him with Stafford and Kupp and fading the Chiefs versus Titans game. Henderson has been over 15 DK points in every game this season and the Detroit Lions are the worst in the league against the run. We talked earlier about how Joe Mixon was able to put up a season-high 26.3 DK points against them. Henderson should have no problem duplicating that feat in Week 7.
Wide Receiver
Calvin Ridley | $6600 | ATL @ MIA
We are going back to the Atlanta-Miami game one last time. Calvin Ridley has a dream matchup in Week 7. You could stack Ryan/Pitts/Ridley for just $18,200 and leave yourself room to pay up for a stud mentioned earlier or balance your lineup out across the other positions in your lineup. Ridley has been good, not great in 2021, and even missed the Week 5 game in London for personal reasons. One has to think whatever was bothering him is in the past and he will come back fired up and raring to go against the 30th ranked unit versus the position.
Tight End
Hunter Henry | $4100 | NYJ @ NE
We listed Hunter Henry as a favorite here last week at $3900 and he rewarded us with a touchdown and 10.5 DK points. It was the third straight game in double-digits for Henry and with the tight end position as it is, we will take that consistency for such a low salary. The cost only went up $200 for Week 7 and the lowly New York Jets come to town for Week 7. They are 23rd against the position and Henry should see something closer to the eight targets he saw in Week 6 rather than just the two targets he received last week. This is yet another value play for you if you plan on spending up for the Chiefs stack.
Summing It All Up
As we all know, football is unpredictable, we make these picks using the data available to us at fantasydata.com and try to help our readers make educated, thoughtful decisions when creating their DK lineup. If you find this helpful or have any comments, be sure to notate them below. Thank you for reading.
STAY IN TOUCH
Sign up for FantasyData's newsletter and get awesome content sent to your inbox.
We'll never share your email address and you can opt out at any time, we promise.
---
Jeff Smith has been playing fantasy sports (football and baseball) for nearly 20 years. Jeff is a member of the FSWA and a Senior Writer at DLF. Despite growing up in Buffalo Bills country, he is an avid Chicago Bears fan. It was Walter Payton that did it. When not writing or researching fantasy sports or playing DFS, Jeff enjoys spending time with his wife and their Bichon Poo, Daisy. He also likes video games, craft beer, and recently became the owner of his own business.