7 Dynasty Players You Need to Sell Now
---
Dynasty Football Tips: Get Busy Living (and Selling)
Buying or selling stock of fantasy football players in dynasty leagues is one of the most important ways you can improve the value of your team, both now and in the future. As Andy Dufresne from The Shawshank Redemption says, "It comes down to a simple choice, really. Get busy living or get busy dying." And if your dynasty roster isn't getting busy living via trade or waiver wire with varying intensities throughout the year, you've got a dying roster on your hands. Finding the "value edge" is key in every league– especially leaning into the recency bias your league mates may have. Even in the savviest of leagues, there's "always one" member who has hope for future returns greater than what is most likely within the range of outcomes.
This article will analyze the players' talent and opportunity through the lens of market comparison. Every player listed below has shown tremendous value– or else they wouldn't be much of a sell in the first place. Their existence on this list is the premise that they are valuable still in dynasty leagues. But why sell? Keep reading…
Quick Links
Amon-Ra St. Brown
A 4th round rookie out of USC, St. Brown took the fantasy football community by storm during the final six weeks of the regular season. During that span, only Cooper Kupp and Davante Adams had more PPR fantasy points. The argument to sell Amon-Ra St. Brown is obvious: he won't return top wide receiver production next year.
That's not what the market says, though, for dynasty leagues. His tier, according to KeepTradeCut.com (KTC), is around wide receiver comps of Calvin Ridley, Brandon Aiyuk, and Keenan Allen– valued as a top 75 player in dynasty value.
He's surrounded by players who have WR1 or WR2 seasons but have major question marks. Concerns about whether Ridley will return from a mental health sabbatical for 2022 have negatively impacted his value. Brandon Aiyuk, the fantasy points per game WR18 in 2020, has QB questions and a coach who's proven that a young player's role isn't secure. Keenan Allen is a post-age apex receiver and will turn 30 years old by the start of the 2022 season– though he's coming off his 6th top-13 season in the past 7 years. What do these players not have in common with Amon-Ra St. Brown? They'll never be the 3rd receiving option on their respective teams in 2022.
Instead of looking at what went right for St. Brown, the edge to beat the market on St. Brown requires us to think of the ways he could "fail" to return value– there are many avenues for this in 2022 and beyond.
The Detroit Lions will return TJ Hockenson and D'Andre Swift to full health, along with another young receiver Quintez Cephus. Before the injuries to Hockenson & Swift, St. Brown averaged a 14.8% target share, with only three of those weeks eclipsing 20%. St. Brown averaged a whopping 32.9% target share from week 12 onward but only ran on average 3-4 more routes per game more than his first 10 weeks. The Lions' offense became St. Brown-centric after the loss of both Hockenson and Swift near the end of the season and with both expected back, St. Brown's ceiling will certainly be limited.
The Lions may draft a WR in the early rounds. ProFootballNetwork's mock NFL draft on January 13th had the Lions select St. Brown's former USC teammate Drake London in the early 2nd round. While it is still very early in the process of predicting what might happen, those around the league acknowledge that an alpha wide receiver may be coming to Detroit via the rookie draft.
The Lions may sign another wide receiver. Christian Kirk, DJ Chark, and Allen Robinson all would realistically command target shares meaningful enough to limit St. Brown even further than the return of Swift & Hockenson.
Dalton Schultz
Over the past two seasons, Dalton Schultz has vaulted into a fantasy-relevant role for the Dallas Cowboys. Entering the 2020 season, Blake Jarwin garnered much offseason laud and expectation as the Dallas Cowboys starting TE. Instead, Jarwin tore his ACL in week 1 of 2020, and since then Schultz has been the TE16 and TE5, respectively, in points per game. Schultz is valued as the TE10 at KTC and TE11 on DynastyTradeCalculator.com.
However, just like the TE3 of 2019 Austin Hooper, Dalton Schultz hits the free-agent market in 2022 coming off career highs in targets, receptions, receiving yards, air yards, and TDs. Both Hooper and Schultz have above average, but unspectacular, athletic profiles and took advantage of key absences within their offense corresponding to their breakout. Schultz's lack of exceptional athleticism most likely means we've seen his ceiling. Teams looking to enlist his services may not be bastions of offensive potential like Dallas has been these past few years.
Let Austin Hooper serve as a cautionary tale. Hooper left a pass-first, high volume Atlanta Falcons offense to sign a record deal with the Cleveland Browns– a run-first and ambiguous offense at the time of signing. Hooper's two seasons since signing with the Browns? TE19 and TE26 respectively. A change of scenery is most likely for Schultz, given that the Cowboys are an estimated $21 million over the salary cap, per Spotrac.com. The market for Schultz still hasn't aligned with the significant risk Schultz won't return even top-12 TE output for 2022.
Alvin Kamara & Dalvin Cook & Aaron Jones
Similar reasons surround Alvin Kamara, Dalvin Cook, and Aaron Jones. All three are on at least their second year of the second contract and entering their 6th professional season. All three are post-apex age running backs when the 2022 season starts. All three are coming off a top-12 in fantasy points per game season. And, most importantly, all three still have value left. There's nothing worse than holding a Todd Gurley-like player into a severe depreciation.
Alvin Kamara's utilization as a bell-cow running back in 2021 departed from what fantasy managers were used to. Kamara set a career-high with 240 rushes in only 13 games. For perspective, when Kamara played 14 games in 2019, he rushed only 171 times. Instead, Kamara's yards per reception, targets, receptions, receiving yards, and rushing touchdowns were career lows. Ambiguity surrounds Kamara's role beyond 2021 without clarity at quarterback or head coach since Sean Payton stepped away.
Dalvin Cook experienced regression in all facets of his game: RedZone touches, target share, yards per route run, evaded tackles, juke rate, yards created per touch; it just felt slow for Cook. He did sprain his ankle in Week 2 which forced him to miss two games and did factor into his decreased counting stats and relative inefficiency. Nevertheless, the age model and injury history don't favor Dalvin Cook's resurgence as a strong bet for 2022. With a new head coach and new GM on the horizon in Minnesota, the offense could look very different with an aged running back.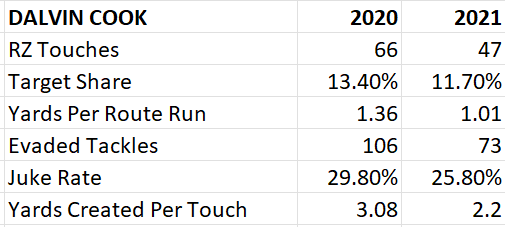 Jones carries the most risk to bust in 2022 among these three running backs. His workload decreased significantly in 2021 with the ascension of AJ Dillon to a closer 50-50 split. There were five of Jones' 15 games where he didn't receive double-digit carries. In fact, Green Bay's Twitter account declared that the franchise had two "Number 1" running backs. While it is unclear whether Aaron Rodgers will return to Green Bay for the 2022 season, Jones' involvement is trending the wrong way to be no more than an upside RB2. Imagine a Green Bay offense with Jordan Love at the helm. Well, we did see Jordan Love start in 2021– and Jones tied a season-low 2 targets and had zero receptions– which was Jones' only game without a catch in 2021. Jones' value in 2021 was buoyed by his pass-catching prowess (60+ targets in three straight seasons). However, now that role has risk– AJ Dillon caught 34 passes on 37 targets, with 4 receptions on 4 targets in the Jordan Love game. There are many avenues for Jones to fail in 2022– holding out hope Rodgers returns to Green Bay isn't a failsafe. And if you haven't sold Aaron Jones yet, what are you waiting for?
With major questions concerning the New Orleans, Minnesota, and Green Bay offenses, including quarterback uncertainty, and all three running backs coming off down years relative to their respective apex scoring, Alvin Kamara, Dalvin Cook, and Aaron Jones still have enough name recognition and value to be sold this offseason.
Gabriel Davis
In case you missed it, Gabriel Davis scored 4 TDs and caught 8 passes for 201 receiving yards on 10 targets in the Divisional Round loss to the Kansas City Chiefs. His 52.1 PPR output broke every DFS slate. But this performance didn't come out of nowhere. Since Week 14, Davis has played an average of 83% snap share, averaging 7 targets (2 RedZone), 4 receptions, and 49.6 receiving yards while accumulating three top-27 PPR WR finishes during those five weeks. Davis has worked his way into a starting role opposite Stefon Diggs, while already proving to be a red-zone threat.
And Gabriel Davis has an intriguing prospect profile. A 4th round draft pick out of UCF with an upper percentile speed score and breakout age combined with the necessary body type to be a starting wide receiver in the NFL should suggest that Gabriel Davis has an upward trajectory to be a fantasy-relevant option tied to an elite quarterback for many years to come.
That's the good. The not-so-good is that it took the Kansas City Chiefs' best player, Tyrann Mathieu, to leave from the Divisional matchup on the opening drive with a concussion for Gabriel Davis to have this kind of breakout. With Mathieu out, the Chiefs were often out of position on defense, and this left mismatches for Josh Allen to find Gabriel Davis. It would be foolish to understate the loss of Mathieu, the "quarterback" and most versatile and important Chiefs defensive weapon. Davis had catches against six different Kansas City defensive backs, evidence that the Buffalo Bills were willing to increase the complexity of formations and disguise looks, creating mismatches. In short, Davis was schemed to take advantage of a Chiefs weakness.
But why sell? Davis had an elite game, his situation seems stable for the foreseeable future, and his usage has trended upwards since the end of the season. Gabriel Davis' market exploded since Sunday's Bills-Chiefs epic. Davis jumped from the WR47 to the WR32 within 48 hours of the game on KTC. And the market has been expensive for Davis– which is why he needs to be traded right now. Ryan McDowell, co-owner of DLFootball, reported that since the Divisional matchup breakout game, Davis has been fetched for no less than a 1st round dynasty pick.
There have only been 2 Gabriel Davis #dynastytrades since Sunday, but…he won't be cheap.

Data found using @DLFootball Trade Finder. pic.twitter.com/AQjCsSVyFF

— Ryan McDowell (@RyanMc23) January 26, 2022
A top-32 dynasty wide receiver (not even a starting receiver on most fantasy teams) fetching a first-round pick? Looking at wide receiver comps on KTC, it would be far-fetched to receive 1st round compensation for Darnell Mooney, Hunter Renfrow, or Kadarius Toney. Take advantage of the edge made by an outlier performance.
Travis Kelce
What makes Travis Kelce appealing is the edge he has provided for fantasy managers over the better part of the last ten years. Not only was Kelce the model of a consistent floor, but also a consistently elite ceiling. Notice in the chart below, no TE since 2016 has finished within the top-2 of TE total fantasy points except Travis Kelce– every year.

You really hate to see it. For the first time since 2017, Travis Kelce was not the TE1 in fantasy points per game– edged out by Mark Andrews. Kelce had his fewest targets, receptions, receiving yards, yards per reception since 2017. He had four games with fewer than 10 fantasy points, his most such games in a season since 2016. While it will be Week 5 of 2022 before Travis Kelce turns 33 years old, the window to sell at an edge is closing quickly– or has already gone depending on your league.
Looking at a few comps, elite TEs don't seem to fall off a cliff entirely. Greg Olsen, who had six straight top-10 fantasy points per game seasons going his age 32 campaign, still produced TE14 at ages 34 and 35. Rob Gronkowski, coming out of retirement in 2020, posted a TE14 in his age 31 season after 7 of 8 campaigns as a top-10 TE. Delanie Walker posted four straight top-10 years entering his age 34 season before sputtering into injury oblivion. Jason Witten posted eleven straight top-10 seasons entering his age 34 season– and then posted TE13, TE16, TE10, and TE15 in the four subsequent seasons. Travis Kelce most likely plays through age 35, and even though he looked slower in 2021 and busted more often than he did at his peak, he's still tied to Patrick Mahomes in an Andy Reid offense which will make him a borderline TE1 even if his skills diminish significantly over the next few years. Perhaps the sell window of a king's ransom for Kelce is closed, but if there's a contender in your dynasty league, it's worth testing the waters on what kind of value you can still return.
---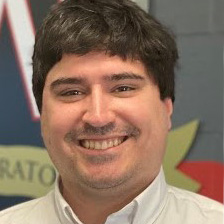 Bradley Stalder has over twelve years of fantasy football experience in auction, dynasty, redraft, and bestball formats. Before developing the Fantasy Football Fanalysts Podcast (@FFFanalysts) with Billy Muzio (@FFMuzio), he also wrote fantasy football articles and created comprehensive player and team projections for 3CoSports.com. He earned his BS in Mathematical Science from Franciscan University and MEd with focus in Mathematics Education from the University of Notre Dame. He lives near Detroit, Michigan with his wife and three daughters. He teaches Math by day to 7th and 8th graders. You can follow him on Twitter at @FFStalder.