Allen Lazard Fantasy Forecast 2022
---
Allen Lazard Fantasy 2022
The list of pass-catchers that Aaron Rodgers has turned into fantasy studs during his career is longer than a Green Bay winter. All of Greg Jennings, Jordy Nelson, Randall Cobb, Davante Adams, Robert Tonyan, James Jones, and Jermichael Finley, among others, have had seasons of elite fantasy production in the last 15 years. In 2022, is it time for Allen Lazard's name to be added to that list? Ascending to the number one wide receiver slot for Aaron Rodgers is usually a ticket to fantasy excellence. With the spotlight brightly shining on the 26-year-old undrafted free agent Lazard, is he ready to make the Lambeau Leap into fantasy stardom?
Plenty of Valuable Targets are Available in Green Bay
You may have heard that there is quite a bit of opportunity that has opened up in the Green Bay passing game this season. Aaron Rodgers' number one receiver, Davante Adams, took his talents to Las Vegas this season. Deep threat Marquez Valdes-Scantling left to try and fill Tyreek Hill's shoes in Kansas City. Altogether, almost 250 targets were vacated from last season. According to 4for4.com, the Packers are missing the fifth-most targets and sixth-highest target percentage from 2021. Potential opportunity will not be a problem for Lazard.
Adams and Valdes-Scantling were huge pieces of the Green Bay passing pie the last few seasons, but especially in 2021. Combined, they represented almost 40% of the targets thrown by Rodgers to all pass-catchers.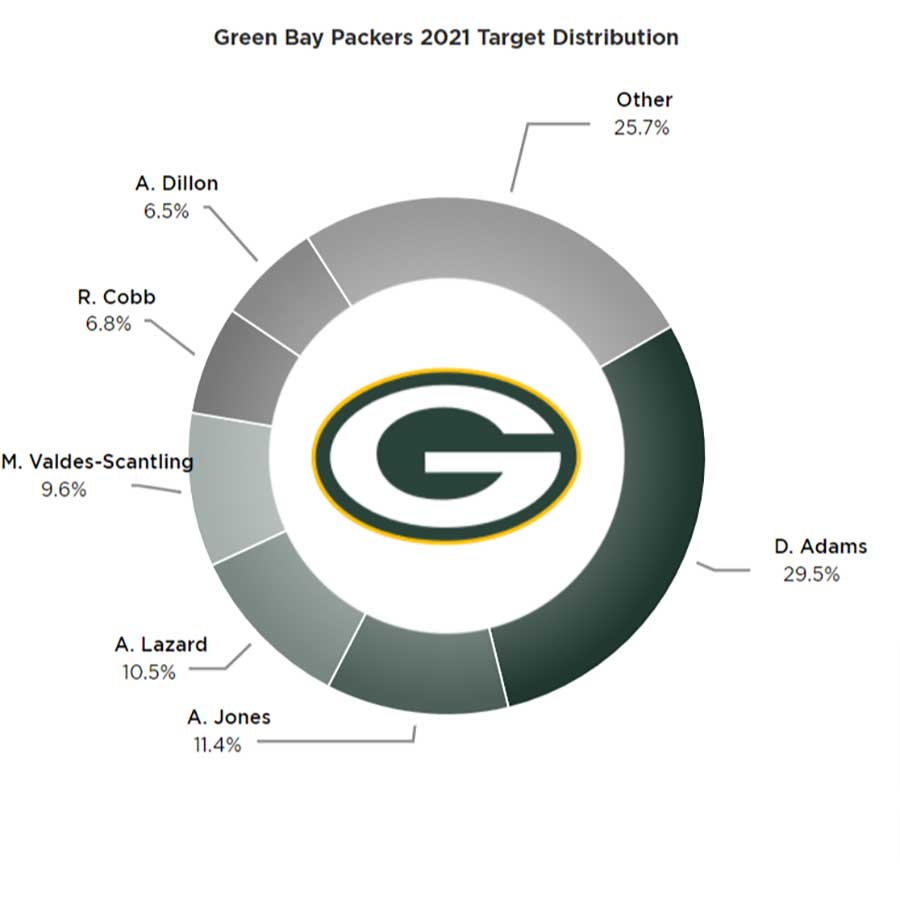 But not all targets in the NFL are created equal. These are Aaron Rodgers targets. Rodgers led the NFL in true passer rating in 2021 (111.46) and was third in completion percentage and third in red zone pass attempts. Those high-value red zone targets will be closely observed in terms of who receives them post-Davante Adams. Adams accumulated the third-most red zone targets in the NFL last season, bringing in 10 of his 28 red zone looks for touchdowns.
Rodgers also led the NFL in touchdown rate each of the last two seasons, so the ideal combination of volume plus the efficiency of targets is there for the taking.
Even though the Packers added Sammy Watkins to the mix and drafted both Christian Watson and Romeo Doubs, it is Allen Lazard who is expected to attract the bulk of those targets and take the leap into the coveted role of Aaron Rodgers number one wide receiver.
When Given the Opportunity, Lazard is a Key Piece of the Passing Game
Lazard was able to carve out a very valuable role with the Packers, even with Adams and MVS on board last year. Lazard quietly scored eight touchdowns last season and was a top-20 wide receiver in red zone targets, red zone touchdowns, and he ranked fourth among all wide receivers in fantasy points per target in 2021. Lazard will assuredly have more targets this year, but also much more defensive attention. What he gives up in efficiency this year he will likely make up for in volume.
It's also important to note how Lazard has performed when Davante Adams has been unable to play. Adams, of course, has been one of the NFL's elite target hogs for half a decade, so his absence usually means big things for the other receivers. Lazard played in nine games that either Adams or MVS missed the last three seasons. In those games, Lazard was able to draw Rodgers' attention and step up for fantasy managers, at least from a touchdown-scoring perspective.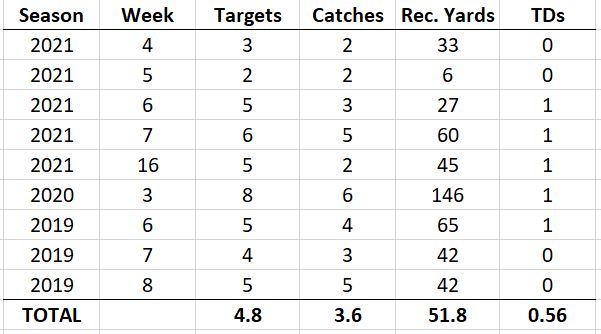 That 0.56 touchdown rate in these nine games is significantly higher than Lazard's career rate of 0.33 scores per game. In fact, five of his career 14 touchdowns have come in the games one of the other two top Green Bay wide receivers missed. Some of these target and yardage totals may not seem impressive, but the primary takeaway when looking at the games Lazard played without those top two receivers is that Rodgers trusts Lazard. Lazard has grown that trust from his quarterback over the course of three seasons, and it really manifested itself at the end of last season.
In Weeks 14-18 last year, even when Adams was drawing 11 targets, nine catches, and 94 receiving yards per game, Lazard was also feasting. In those key weeks of the fantasy season, Lazard was a top-20 wide receiver in fantasy points per game.
Allen Lazard's Fantasy Projections for 2022
Our projections for Allen Lazard see him taking a massive step forward in terms of targets, receptions, and receiving yards in 2022. If our projections are accurate, 87 targets, 58 receptions, and 739 receiving yards would all represent clear career highs. Those numbers combined with the projected six touchdowns in 2022 peg Lazard as the WR43 in half-point per reception scoring. Personally, I am much higher on Lazard based primarily on the share of vacated targets I expect him to receive in this revamped offense.
Perhaps no other offense in the NFL has more questions surrounding their passing game than the Packers. But do the replacements for Adams and MVS provide crystal-clear answers? Sammy Watkins has had moments of brilliance throughout his career, but mostly he has been a major disappointment. There are rumblings of using Aaron Jones and his sublime pass-catching ability more as a wide receiver in 2022. Christian Watson and Romeo Doubs are both talented, hyped rookies. But Watson is already almost 23.5 years old and played at North Dakota State. Doubs is also out of a small school (Nevada) and only has late fourth-round draft capital.
I personally have complete confidence that, assuming health, Lazard will draw more than 100 targets in 2022. He is a big, fast, reliable receiver who should emerge as the next number one option for Aaron Rodgers. The number one wide receiver for the Green Bay Packers has not had fewer than 117 targets in 10 years (Randall Cobb had 104 in 2012), and those primary options frequently cross the 125-target mark.
If Lazard and Rodgers can build that kind of rapport throughout the season, Lazard would far and away be the best value relative to ADP (currently WR43) in the entire position.
Quick Links
---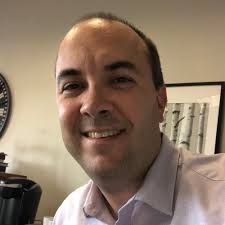 Ryan is a 20-year veteran of fantasy baseball, football, and basketball leagues. He has been writing about fantasy sports, sports betting, and DFS since 2018 and is a member of the FSWA and IBWAA. A native of Houston, he is a die-hard fan of the Astros, Rockets, and - reluctantly - the Texans. When he is not buried under sports analysis and TV show recaps, he works full-time in higher education and can be found pursuing his other passions: drinking coffee and writing about comic book investment and speculation.