Cam Akers Fantasy Forecast 2022
---
Cam Akers 2022 Fantasy Forecast
There is no such thing as having too many good running backs in fantasy. There is always some apprehension when a running back comes back from injury because there's no certainty on how said running back will be in the new season. Cam Akers falls into this spot. Last season, Akers suffered a torn Achilles while preparing for the 2021 season and missed nearly all of the regular season. His performance upon his return to the Los Angeles Rams in the postseason didn't exactly inspire confidence either. During the Rams' run to the Superbowl, Akers averaged just 2.4 y/a and 2.3 yards after contact.
Akers himself, despite being able to return at the end of the season, didn't care for his postseason performance either. When asked about his performance on his return to the team after the long layoff, he stated:
"I wasn't happy with my postseason performance. I just felt like I left a lot on the field. There was more out there to be had…"
While I understand why folks are giving Cam Akers the "red-headed step-child treatment for fantasy, I'm a bit more optimistic. For starters, Akers's return to the field after going down with an Achilles injury was a miracle in itself. The recovery time for a torn Achilles injury is estimated to be anywhere from six to twelve months. Akers went down in July with the official announcement being July 20th. Akers actually played the final week of the regular season (Week 18) which would put him in late December. That's just five months of recovery time! Not to mention that he jumped right into the postseason with no real practice time.
On top of that, the teams that the Rams played against weren't pushovers. The Buccaneers (3rd), 49ers (7th), and Bengals (5th) all finished the regular season ranked inside the top 10 against the run. The Arizona Cardinals were the only team that didn't make that cut, finishing ranked 20th against the run. So to come back from a serious injury with no real practice time to take on some of the toughest run defenses in the league is a bit of a tall order.
Return Of Opportunity
With Cam Akers finally 100%, he'll return to be the Rams' lead back. While I know Darrell Henderson is still on the team, Henderson doesn't really hold up as a lead-back. That much was seen last season when Sony Michel was added to the Rams team during the middle of training camp. Once he was able to get the playbook down, Michel saw his role steadily increase over Darrel Henderson.


Michel played in all 17 games of the Rams season but really didn't get going until the bottom half of the year. During the first 11 weeks of the season where Darrell Henderson was the lead back, Michel averaged just 7.2 carries per game. In contrast, Henderson averaged 14.2 carries per game up until Week 12. Henderson missed five games during the 2021 season missing Weeks 3, 12, 13, 17, and 18. During his time as a starter, Henderson averaged 64.8 y/g and score eight total touchdowns on the year.
This is the difference as Sony Michel was established as the lead back from Week 13 on, Michel would average 21.5 carries per game and a 4.2 y/a. Michel would also see eight total touchdowns but wasn't as involved in the passing game as Henderson was. Henderson saw a 6.6% target share (40 targets) out of the Rams backfield to Michel's 5.5% target share (33 targets). With Akers back in the driver's seat, the workload he should be getting could be comparable to what Sony Michel saw in the latter half of the season. Even if Henderson gets a few carries or targets, Akers is the lead back that will see the most work.
Another thing to consider is if Akers gets more involved in the Rams' passing attack out of the backfield. Should that happen, that would be an even bigger boost to Cam Akers's fantasy value. In 2021, the Rams ranked 10th in pass attempts last season with 607 pass attempts. That should be plenty of work to slide down to Akers at the running back position.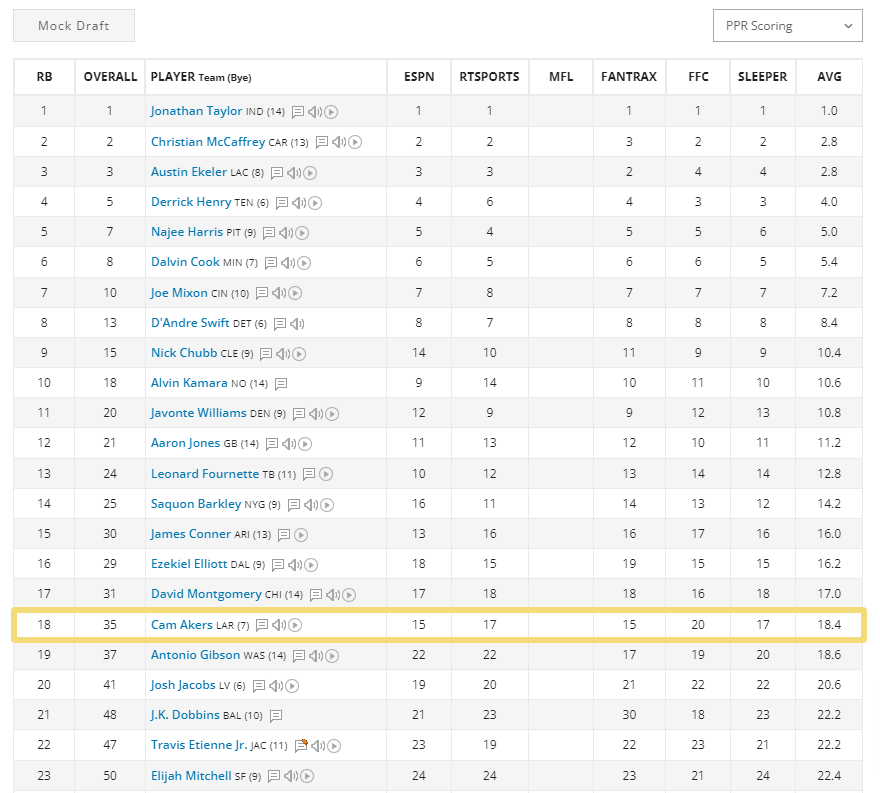 ADP Image Credit: FantasyPros.com
The Wrap Up
While I understand that there are people who are worried about the Achilles injury or the performance from when Akers rushed back to be a part of the postseason, I don't think that should be enough to warrant staying away from drafting Akers. Cam Akers ADP, per Fantasy Football Calculator, puts him right in the beginning of the fourth round at the 4.03 mark. Considering the talent that will likely be off the board as well as the other running backs that would be in that round like Elijah Mitchell (4.05), and Josh Jacobs (4.06), I would definitely take Akers upside in one of the best offenses in the NFL over those other two options.
With training camp being a great way to monitor his progress, Akers should be a "must-have" rather than a "fade". He's had more than ample time to recover from the Achilles injury and is ready to rock, wanting to be more involved in all aspects of the Rams' offense. Plus we know that Sean McVay prefers having a "do it all" running back. The run game hasn't been the same since the Rams offense cut ties with franchise running back Todd Gurley. During Gurley's last big season in 2018, the Rams had the third-best rushing offense in the league with Gurley finishing as a top 3 running back that season averaging nearly 27 fantasy points per game.
Now I'm not saying that Cam Akers is going to replicate those kinds of numbers as the lead back but what I am saying is that his potential combined with what we've been hearing about his recovery but what the Rams want to do with Akers in the offense should have more fantasy managers in on Akers in a bounce-back season. I for one, want as many shares as I can get.
---

William has been playing fantasy football since 2012 and has loved every year of it. Plus, trash-talking with friends over football is great too. He's been writing over the past 3 years, contributing for RealDealFantasyHQ.com, Fantasysphinest.com, and LeagueWinners.com just last season. He also started up his own fantasy football podcast "The Fantasy's Phinest Podcast". William enjoys helping provide advice through research and when he's not doing that, he's taking care of his family and cooking in the kitchen.