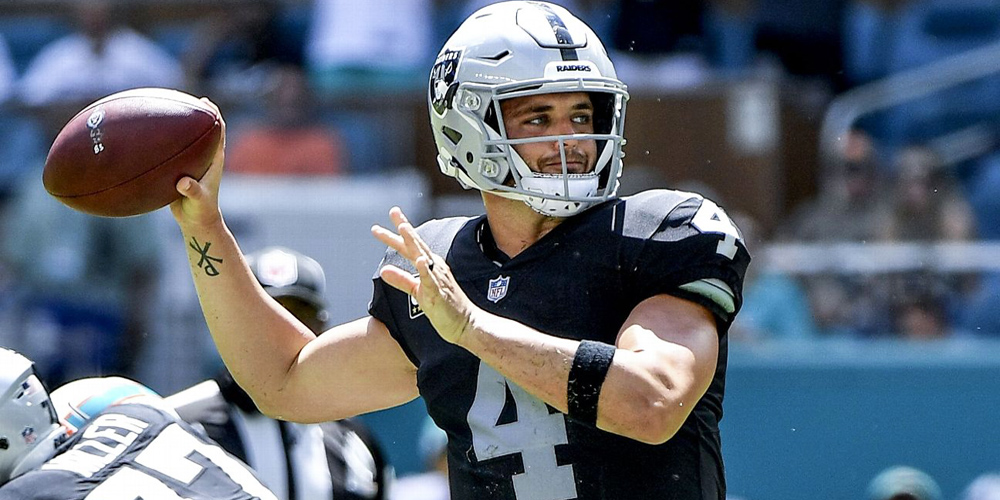 5 Best Value QB/WR Stacks for DFS in Week 11
---
QB/WR Stacks for DFS in Week 11
Each week, with the help of our premium DFS Stacking Page, we'll be diving into the main DFS slates for DraftKings, FanDuel, and Yahoo to give you the quarterback-wide receiver stacks that represent the best value on the board.
When possible, we'll look to avoid throwing out the obvious names. However, just because a player is well known, that doesn't mean they're the easy pick when filling out your roster — and it also doesn't mean that their price tag accurately matches their potential production.
In Week 10, two of our combinations were solid for fantasy players, with Dak Prescott carrying Amari Cooper to a good week and Taylor Heinicke and Terry McLaurin playing decent football for their respective prices. Prescott threw for 296 yards with two touchdowns and no picks, and he also rushed for a score. Cooper, however, had only four catches for 51 yards in that game. Meanwhile, Heinicke threw for 256 yards with a touchdown and zero interceptions against the Tampa Bay Buccaneers, and he also rushed for 15 yards. McLaurin hauled in six passes for 59 yards. Neither duo was lights out, but they both did just fine. We'll look to be better than "just fine" this week.
With that said, let's take a look at five combinations we like for Week 11 of the NFL regular season:
Carolina Panthers (vs. Washington Football Team)
Last week, Newton threw for a touchdown and rushed for a touchdown as Carolina's backup quarterback. Now, the 32-year-old will get the opportunity to start against a Washington defense that is allowing more passing yards per game than all but two teams this year. Washington has also allowed the second-most passing touchdowns in the league this season.
Newton isn't very good as a thrower anymore, but it helps that he has a very burnable matchup here. Newton should also be motivated by a matchup with his former coaches, as Ron Rivera and Scott Turner are on the opposite sidelines. And, as always, Newton's legs are going to be a factor in this one. Newton is no longer the athlete he was earlier in his career, but he's still gigantic and knows how to pick up yardage. He'll immediately become the Panthers' best option on the goal line, even with Christian McCaffrey in the backfield. That's extremely valuable in fantasy, as quarterbacks with rushing upside don't need to do nearly as much as pure pocket passers to earn their keep.
As for Newton's receiving group, D.J. Moore should be happy to have a truly experienced NFL starter under center. He's the one you'll want to target in daily fantasy this weekend, as he's due for a big week and should create a ton of separation against this miserable Washington secondary. Even if Newton isn't capable of hitting him on deep throws, there should be some short-to-intermediate plays there for these two to make with one another.
Chicago Bears (vs. Baltimore Ravens)
This duo is our top-ranked value on the board on Yahoo and it's playable everywhere else. Fields is coming off of the best performance of his young career, as the 22-year-old threw for 291 yards with a touchdown and one pick in a close loss to the Pittsburgh Steelers. He also rushed for 45 yards and manufactured a second-half comeback that was very nearly successful.
Fields has rushed for 57.3 yards per game over the last four games and is beginning to look more comfortable as a thrower. The Bears are also coming off of their bye week, so they have had some time to add new wrinkles to the playbook and plan specifically for this matchup with the Ravens. Baltimore's defense has been untouchable in the past, but the team is giving up more yards per game through the air than anybody in the league right now. That gives Fields the chance to put up some big numbers, even if he does so inefficiently.
As for Robinson, there's really no way to put into words how disappointing this season has been when it comes to fantasy. The wideout is still far from washed up, but this passing game has put a complete end to his days as a fantasy contributor to this point. With that said, Robinson did have four catches for 68 yards against the Steelers last game. He and Fields had a 39-yard connection in that one, and it's possible that Fields' growth will unlock the star we all know Robinson is. The bye week should force Matt Nagy to focus on getting him the ball, and it's worth the gamble at this price.
Miami Dolphins (vs. New York Jets)
Tagovailoa wasn't supposed to play last week, but he ended up coming on in relief of an injured Jacoby Brissett. The former Alabama star went on to throw for 158 yards and also added a score on the ground. Tagovailoa has had an up-and-down career to this point, but the 23-year-old really looked good in what was a 22-10 win over the Ravens, and he now gets to take on the New York Jets. There isn't a defense in football that is even close to as incompetent as Robert Saleh's right now.
Over the last four weeks, New York has allowed 43.8 points per game and quarterbacks have thrown for 336.3 yards per game against them in that time. The Jets are also starting Joe Flacco, so it's fair to question how inspired the team will be when they take the field. Tagovailoa should look at this as a great chance to be aggressive and pad his stats. Of course, Miami winning will be his top priority, but he should be able to help the team do that with a huge game with his arm.
Waddle, meanwhile, is Tagovailoa's favorite target in most weeks. The rookie has been targeted at least eight times in six of the Dolphins' 10 games this season. He has, however, scored in only two games this year, which is something that should really change rather soon. Waddle simply makes too many plays and is due for a couple of more trips to the end zone before the season ends. On top of that, Waddle's game-breaking speed is nearly impossible to cover and the Jets certainly don't have the personnel to stop him.
Don't be surprised if these two connect on a deep pass in this one. Overall, this could be one of the top duos of the week.
Las Vegas Raiders (vs. Cincinnati Bengals)
The Raiders were blown out by the Kansas City Chiefs last week, but Carr still threw for 261 yards with two touchdowns in that game. One of those two scores happened to go to Edwards, who has been coming alive for the Raiders recently. Edwards had three receptions for 88 yards and a score against the Chiefs last game, making up for his 0-point performance against the New York Giants the week before. In the two games before that dud, Edwards totaled five receptions for 110 yards and a touchdown.
Edwards has now gotten at least four targets in all but one of Las Vegas' games this year, and he should turn in a good outing against a mediocre Bengals defense. He might not be the most consistent player in the world, but he's extremely cheap and has plenty of upside.
Carr, on the other hand, is actually somewhat reliable for fantasy players. Over the last four games, Carr is averaging 305.3 passing yards per game and he has thrown for seven touchdowns in that span. Carr has now thrown for at least two touchdowns in seven of the nine games he's played this year. This should be another multi-touchdown week for the 30-year-old, as the Bengals are capable of being shredded on any given Sunday. Just look at what Mike White did to them on Hubie Dubois' favorite day of the year, Halloween.
Tennessee Titans (vs. Houston Texans)
This duo is definitely far from cheap across all platforms, but it's still underpriced given how good these two players are. Tannehill didn't play particularly great against the New Orleans Saints last week, but Tennessee won and Tannehill still threw for 213 yards and a touchdown. The 33-year-old also rushed for one touchdown, which he has now down in four of the last five games.
Against a miserable Houston secondary, look for Tannehill to put up some better numbers as a passer, and don't be surprised if this ends up being a huge game for Brown. Last week, Brown was held to only one catch for 16 yards. That performance followed up one in which Brown had only five catches for 42 yards against the Los Angeles Rams. In the three weeks before, the 24-year-old had a total of 25 catches for 379 yards and two touchdowns. Look for him to get back to being that dynamic receiver, especially against this lousy Texans defense.
Quick Links
STAY IN TOUCH
Sign up for FantasyData's newsletter and get awesome content sent to your inbox.
We'll never share your email address and you can opt out at any time, we promise.
---

Zach has been working in the fantasy/betting space for nearly 10 years. He currently serves as the Editor-in-Chief of the Centennial Fantasy Football Guide, and he also does betting previews for Covers. He recently moved from New York to Arizona and has fallen in love with the Phoenix Suns. He's also a die-hard fan of the University of Wisconsin (Go Badgers!), New York Yankees, New York Rangers and New York Jets. Zach enjoys talking sports on Twitter (especially about the NBA Draft) and believes there's nothing better than shooting around in an empty gym. He's also a big fan of television and movies, and he's probably seen every comedy ever made.