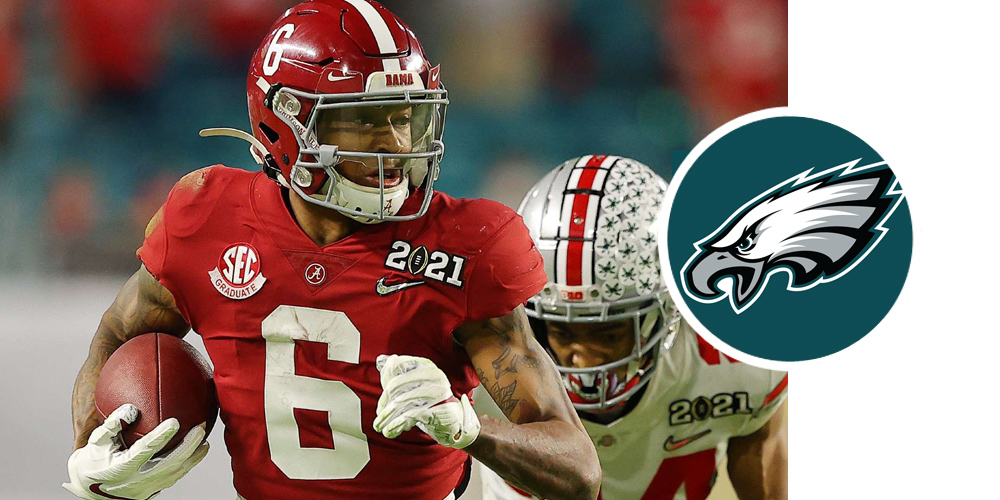 Devonta Smith Fantasy Forecast 2021
---
DeVonta Smith Fantasy
Quick Recap
The Philadelphia Eagles traded up to the 10th overall pick in the 2021 NFL Draft to select Alabama Crimson Tide WR DeVonta Smith. Smith won the Heisman Trophy in 2020. He is the first wide receiver to win this prestigious award at wide receiver since Desmond Howard in 1991 and only the fourth WR overall. He has also won two College Football National Championships while at Alabama. Smith also added a CFP National Championship Offensive MVP in 2020 and the Maxwell Award, the Walter Camp Award, the Biletnikoff Award, Paul Hornung Award, and the AP & Sporting News College Football Player of the Year.
In 2020, he totaled 117 receptions for 1,856 yards and 23 touchdowns on 148 targets. In his career at Alabama, Smith totaled: 235 receptions for 1,856 yards and 23 touchdowns. Smith averaged 16.9 yards on average for his receptions. DeVonta Smith finished his college career fifth all-time in total, receiving touchdowns with 46 total. The only players above him when it comes to production in this category are Jarett Dillard (Rice 2005-2008), Corey Davis (Western Michigan 2013-2016), Troy Edwards (Louisiana Tech 1996-1998), and Darius Watts (Marshall 2000-2003).
With the Eagles trading up with division rival Dallas Cowboys, they hope that Smith will bring his polished skill set to complement Jalen Reagor in this rebuilt Philadelphia offense.
First look at @DeVontaSmith_6 on the practice field.#FlyEaglesFly pic.twitter.com/ogtIlgSWYr

— Philadelphia Eagles (@Eagles) May 14, 2021
Skill Set
DeVonta Smith, according to his NFL medical testing, is 6'2 and only 166 pounds. His weigh-in results put Smith at a BMI of 22.4. Smith being undersized could bring an issue with bringing in targets in traffic. Winning 50/50 battles on throws down the field could be a struggle at his size. Smith's arms measured in at 31 1/8 while his hands measure in at 9 1/4. In comparison, some of the largest hands in the NFL right now belong to Mo Allie-Cox at 11.75 inches.
Smith may not be the biggest receiver from this draft class, but he makes up for his lack of size with his exceptional route running. He is precise within his routes, has incredible body control, and has the versatility to move from the X to the Z receiver, and even fits within the slot receiver role.
He should be able to bring his stellar production in big games to Philadelphia as well. Smith was the only wide receiver in the history of the SEC to record multiple games of four or more touchdown catches.
My NFL comp for DeVonta Smith is Calvin Ridley. His precise route running tied in with his spring testing in recent years, where he ran a clocked time between 4.30 and 4.50, will allow him to dominate on the field like the Atlanta Falcons receiver.
Why you don't press/Bump N run Devonta Smith

Featuring:
* Derek Stingley (6'1, 195)
* Jaycee Horn (6'1, 205)
* Eric Stokes (6'1, 195)
* Tyson Campbell (6'1, 195)
* Shaun Wade (6'1, 195) pic.twitter.com/3YrflhYmMB

— Nick (@PhillyNick100) May 4, 2021
Landing Spot
Landing in Philadelphia allows Smith to produce on the field in year one. When you look at the Philadelphia Eagles wide receiver depth chart, you do not see much competition for this rookie. He will be competing for the number one option on the team with Jalen Reagor, Travis Fulgham, J.J Arcega-Whiteside, John Hightower, Quez Watkins, and Greg Ward. The Eagles are in desperate need of playmakers, and Smith brings a skill set that will help raise Jalen Hurts' game in 2021. Due to Smith's versatility, the Eagles could create a plethora of plays designed to get this young talent the ball.
When it comes to talent, Smith should step on the field day one and contribute heavily in this Eagles offense under first-year head coach Nick Sirianni. The only area that will hold back this stellar rookie is his possibility of being injured while playing. His petite frame tied in with the Eagles' struggle with injuries over the last few years could spell disaster for Smith if he doesn't add some size to his frame.
Last season, the Eagles had seven offensive starters, five defensive starters, ten other vital players, and part-time starters miss games in 2020. Hopefully, the Eagles training staff can develop a plan to help keep Smith healthy throughout his career in Philadelphia.
What's @DeVontaSmith_6's favorite route?

"Any route."#EaglesDraft | #FlyEaglesFly pic.twitter.com/myoCje3rye

— Philadelphia Eagles (@Eagles) April 30, 2021
Fantasy Impact
DeVonta Smith enters Philadelphia as the number one target for Jalen Hurts this season for the Eagles offense. With a higher draft capital than Jalen Reagor and being more versatile than Dallas Goedert in the passing game, Smith's targets share could be in the range of Justin Jefferson from 2020 (25.7% 9th best in the league).
Smith could end the season as a valuable WR2 on your fantasy team. The Eagles will not win many games this upcoming season and with their lackluster defense (20th overall in the NFL in 2020). The Eagles will have to throw to keep within striking distance during games for 2021.
Devonta Smith is currently low on our Fantasy Football Rankings page, but I'd expect him into the mid 20's when it comes to ranking wide receivers this season. Personally, I have him above wide receivers such as DJ Chark, JuJu Smith-Schuster, and even his rookie counterpart at Alabama, Jaylen Waddle. He can easily receive 100+ targets this year (Greg Ward led the Eagles last season with 79), and he also has less competition at his position than the receivers I have named earlier.
As your wide receiver two on your PPR redraft team, you can find him in the middle rounds of your draft. Expect Devonta Smith to be drafted within the range of the 7th to the 9th round*.
*ADP's can change throughout the offseason
Dynasty Value
Smith rolls into the Philadelphia Eagles locker room as the future star in their wide receiver core. When a team trades up to block a division rival from drafting an elite talent at the wide receiver position, this means the organization has high hopes that they have selected their future superstar. He immediately, and most likely permanently, replaces Jalen Reagor as the number one weapon on the outside in Philadelphia.
The Philadelphia Eagles are in rebuild mode while the rest of their division is looking to compete for the division title. This rebuild will take a few seasons as the new coach, Nick Sirianni, implements his vision in Philadelphia. This rebuild helps build the value of DeVonta Smith to begin his career when it comes to dynasty rankings. The Eagles will have to throw more often than they run, which means more targets for Smith. Garbage time/ playing catch-up in an NFL game can be an NFL wide receiver's best friend when it comes to padding their fantasy stats. The only worry that comes from this landing spot is the uncertainty at quarterback. If Jalen Hurts disappoints this season, could the Eagles move on, or will they give their second-round pick from just a year ago more cushion to perform?
STAY IN TOUCH
Sign up for FantasyData's newsletter and get awesome content sent to your inbox.
We'll never share your email address and you can opt out at any time, we promise.
---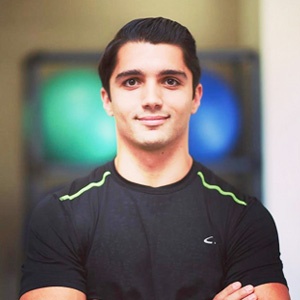 Former minor league soccer player/winner of TKO. Avid Philadelphia Eagles fan, Philadelphia born and raised, who also named their mascot (Swoop) for the team. Huge fantasy football fanatic who is all about the stats and ready to debate any topic. I have written for major publications within the sports and fitness world. Things I will debate until my last breath: Superman is the best superhero, Tim Tebow would have been a sustainable QB if he went to the Jacksonville Jaguars, and pineapples dont belong on pizza.