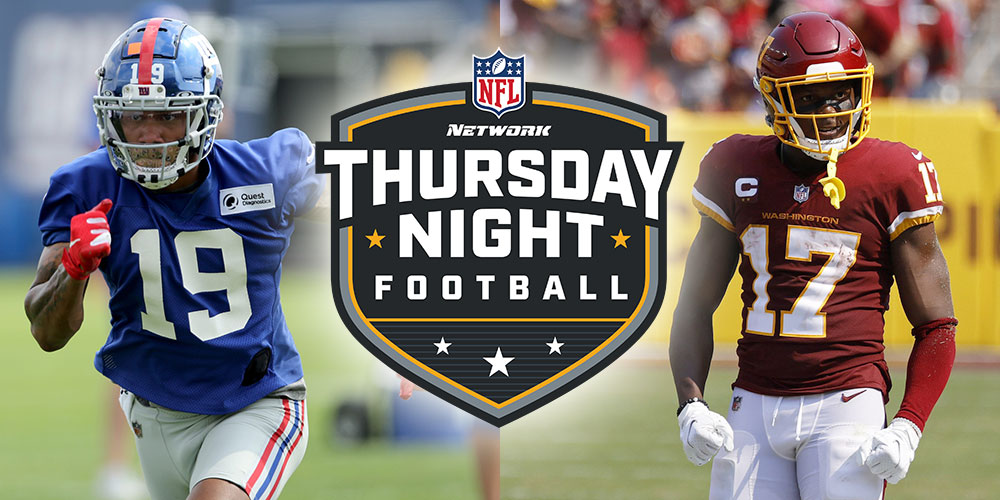 DFS Thursday Night Football Preview: Giants vs Football Team
---
New York Giants vs. Washington Football Team
Washington Football Team -3.5 / OU 40.5
Week two begins with an NFC East battle between the New York Giants and the Washington Football Team (WFT). Both teams enter this matchup at 0-1 and are looking to turn the season around after disappointing losses. Washington is also entering this game with a new man under center, Taylor Heinicke. Will Heinicke carry the weight while Ryan Fitzpatrick recovers from his injury, or will Daniel Jones lead the New York Giants to victory? Let's break down how each team will develop a game plan against their opponent to win the game.
How Do The New York Giants Win The Game?
As always, the New York Giants will only go as far as Daniel Jones takes them. The significant factor with Daniel Jones is always the turnovers and possible fumbles against a vicious pass rush such as the WFT. If the Giants can handle Chase Young, Jonathan Allen, and Montez Sweat, Daniel Jones should have enough time to hit his receivers throughout the night. The ants will need their passing attack to win this game as the WFT struggled to stop the Chargers passing attack in week one.
How Do The Washington Football Team Win This Game?
Without Ryan Fitzpatrick, the WFT turns to Taylor Heinicke to lead the team to victory. Without the gunslinging aspect of Fitzpatrick, we are looking at a team mirroring the 2020 offense. The game plan should revolve around Heinicke being a game manager who relies on his running game and easy route options from his tight end to proceed down the field. Expect a lot of volume from Antonio Gibson and Logan Thomas while the WFT leans on their defense to bring this victory home.
Now that we have discussed how each team should plan for Thursday Night Football, we have to discuss the correct plays for your DFS Showdown Lineup.
Hints & Tips From our Optimizer and Stacking Page
Our NFL Optimizer hints one of the best value plays of the game could be WR Dyami Brown for the Football Team. Brown generated a lot of buzz from the coaching staff and his teammates ahead of the season opener against the Los Angeles Chargers. He didn't have a big game but did see 4 targets in week one. Dyami Brown was a 3rd round pick for Washington.

The former North Carolina WR standout was described as a "big play waiting to happen," according to head coach Ron Rivera.

Bang for Buck, our Lineup Optimizer also is ranking Kadarius Toney high in the value column. At just $2,700 DraftKings bucks, He is a sneaky play in this matchup.
This is a single game slate, so our DFS Stacking Tool is better for the bigger slates, the goal in Showdown is to simply get the best performing players into one lineup. However, our Stacking page projects Heinicke + McLaurin to combine for more fantasy points than any other QB+WR combo.
Quarterbacks
Daniel Jones ($10,400)
With the implied total of this game being around 40 points, Vegas does not expect a shootout, nor should we as DFS players. Daniel Jones has upside most weeks due to his ability to rush, however in a divisional game and already having fumbling woes that have continued from last season. Therefore, using Jones in your lineup could potentially leave you lacking in your point column.
Taylor Heinicke ($10,200)
Taylor Heinicke also has rushing upside and has the better matchup against the Giants. Looking back at week one, Teddy Bridgewater was able to point up 20.5 points in DraftKings against this Giants team, and I believe Heinicke, with his weapons, can mirror that performance.
Running Backs
Saquon Barkley ($10,000)
Saquon Barkley is someone who gives me concern as a fantasy manager when creating my lineups. He was not used to his full potential with only ten total attempts(and one target) in week one. Could that have been the strategy to keep him fresh on this quick turnaround? Honestly, only Joe Judge knows the answer to that. With his price point, I will be looking elsewhere to create my lineup.
Antonio Gibson ($9,600)
With the young Heinicke under center this week, the WFT should lean on their dynamic second-year back. He touted the rock 20 times and added three receptions to that total. He should be the focal point of his team. Let's not forget the Giants relinquished 146 yards and a touchdown last week to the running back position.
J.D. McKissic ($2,200)
J.D. McKissic had one carry and one incomplete target last week. Last year he was a product of Alex Smith being the check down king; however, I don't see that path for him in this game, so avoid this dart throw.
Wide Receivers
Terry McLaurin ($9,000)
Terry Mclaurin finished last week with only four targets for 62 yards. Without Curtis Samuel in the lineup, we do expect more from him as fantasy football managers. Terry Mclaurin is the clear number one in this offense, and Heinicke should focus on him and Logan Thomas to help facilitate the passing offense. Mclaurin should bounce back and have more than the 10.2 fantasy points he produced in week one.
Kenny Golladay ($8,200)
Kenny Golladay had a stat line similar to Terry Mclaurin in week one. He had four receptions on six targets for 64 yards. The let to Golladay in this matchup is how the Chargers exposed the WFT in the passing game. Washington allowed the second-most yards to the position last week with 278 yards. Golladay could outperform our expectations this week on Thursday Night Football.
Sterling Shepard ($8,000)
Sterling Shepard was a star in week one, and I expect more of the same in week two. WFT allowed 24 receptions to the wide receiver position last week, the second-most in the league. Shepard should be able to feast while the defense focuses its efforts on Golladay and Barkley.
Darius Slayton ($6,600)
Darius Slayton is perfect if you like exposure to the Giants passing game for cheaper prices. He was targeted seven times last week and can be a high reward type player. Depending on your roster construction, Slayton may need to enter your lineup.
Kadarius Toney ($1,800)
Kadarius Toney only had two targets and had negative yards. He will need to show it to me before I put him in my lineups.
Dyami Brown ($1,400)
Dyami Brown could be your cheap dart throw of the week. Although his stat line is nothing to write home about, his snap share in week one was 92.7%. Brown could be a sneaky dart throw if you run out of salary for your lineup.
Tight End
Logan Thomas ($7,400)
Logan Thomas falls into the tight end category of "look for a touchdown". He did just that last week, and the Giants allowed tight ends in week one to finish with ten receptions, 85 yards, and a touchdown. With Curtis Samuel out and Heinicke needed a safe target, Logan Thomas could be in line for a good night in fantasy football.
Evan Engram (5,200)/ Kyle Rudolph ($3,200)
Due to injury, Evan Engram was still sideline on the Tuesday reports and shouldn't be in your lineup this week. Kyle Rudolph did see five targets last week, if you want to play against the grain, you can take a swing on Rudolph, but I don't recommend doing that even if the WFT allowed Jared Cook to have a decent stat line in week one.
Defense and Kickers
WFT Defense ($5,600)/ Giants Defense ($4,200)/ Dustin Hopkins ($3,800)/ Graham Gano ($3,600)
In this pile of options, the only one I plan on using Thursday night is the Washington defense due to the potential of sacks and turnovers. When using a defense, always chase a higher sack total for the points, and also, sack lead to turnover potential. With Daniel Jones having a propensity for turnovers, the WFT defense is a solid play.
Prediction and Free DFS Head To Head Cash Lineup
Washington Football Team defeats the New York Giants 17-13.
DFS Lineup
Antonio Gibson ($14,400) * Captain*
Kenny Golladay ($8,200)
Taylor Heinicke ($10,200)
Logan Thomas ($7,400)
Sterling Shepard ($8,000)
Dyami Brown ($1,400)
STAY IN TOUCH
Sign up for FantasyData's newsletter and get awesome content sent to your inbox.
We'll never share your email address and you can opt out at any time, we promise.
---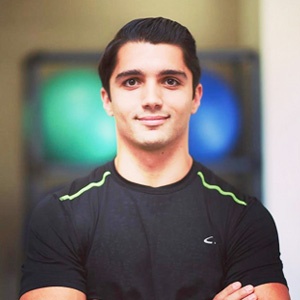 Former minor league soccer player/winner of TKO. Avid Philadelphia Eagles fan, Philadelphia born and raised, who also named their mascot (Swoop) for the team. Huge fantasy football fanatic who is all about the stats and ready to debate any topic. I have written for major publications within the sports and fitness world. Things I will debate until my last breath: Superman is the best superhero, Tim Tebow would have been a sustainable QB if he went to the Jacksonville Jaguars, and pineapples dont belong on pizza.