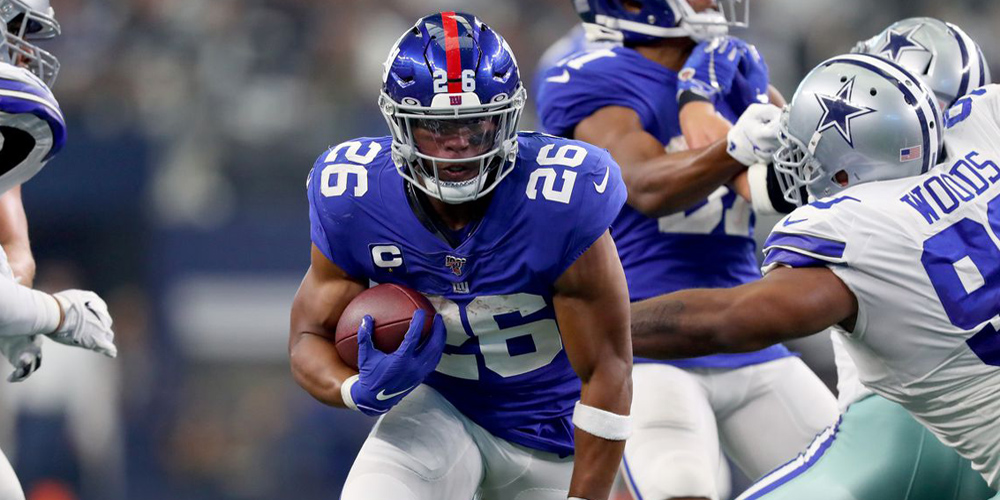 DraftKings NFL Picks: Chalk, Pivots, and Punts for Week 12
---
DraftKings NFL Picks Week 12
Initial Thoughts
Before starting any research, besides glancing at the MATCH-UP CHART HERE, this appears to be a wide-open slate that has a lot of ugly games to work with, only two late afternoon games, and it seems like we could see a lot of NFC South ownership this week. There is value at QB, RB match-ups seem a bit tough for the top guys, WR always has some value, but TE looks bleak, as does DST. This should lead to plenty of edges during roster construction to get different with our builds. If you subscribe to a site that does ownership projections, then isolate a few really low owned plays and try to keep your global exposure low. At this point, I haven't decided if this is a single bullet slate or if it's one I'll need to attack with several line-ups. Looking forward to going game by game here to find out.
Review
"Chalk, Pivots, and Punts" is an NFL DFS series focused around main slate GPPs. We go game by game looking at potential chalk plays to pivot away from, and perhaps discover some diamond in the rough type punt plays to add a differentiation piece to our builds. Each game will have a brief write up and will include the team's projected point total and Vegas Implied point spread as of the time of writing. Here is a link to a Google Sheet that presents data I collect throughout the season breaking down points allowed to specific positions, and displays home/road splits, as well as the combined data. Below are links to the final data from last year I posted to Twitter.
Link to Tweet: Chart showing where defenses allowed fantasy points by position last year
Link to Tweet: Chart showing how defenses allowed TDs by Passing & Rushing last year
When discussing pivot plays, it's not always as simple as saying "Player A" is chalk so pivot to "Player B". Pivots can be a pivot from one player to another player at the same position, a pivot from one position to another, or just a way to pivot to the other side of a game that everyone else might be heavy to one side of. Simply put, the pivots will not always be direct pivots, more like other ideas to consider in the macro-view of the slate.
Process
The process I use for this article and for selecting my player pool starts with the data I collect and chart. The match-up chart and individual match-ups are the first layers of the onion. Once we have that peeled we should have a sizable player pool to work with. The next step is to reconcile that data. I use the Google sheet above to reconcile the match-up chart by looking at what the opposing teams did to allow those numbers. Who did they face to get there? What were the game environments like? I try to watch as many games as I can, but I can't watch them all, so I do a lot of reading from my Beat Writer list to keep up with injuries, changes to the way the team is playing, and look for other general trends to consider. Using Fantasy Data's resources helps get a snapshot on a team and player level for the offenses to see what type of numbers they are putting up. Then, it's about identifying what the top plays are for the slate, and how heavily they will be owned. This is where we need to have some pivots in our back pocket, and if necessary some punts if we want to jam in a bunch of elite plays and have to look for a value guy to put up 10 or more points. Game theory, contest selection, and roster construction are the final challenges as we try to put it all together. This where we win or lose.
Below is my Chalk, Pivots, and Punts Chart based on my opinion of the slate and what the field will likely be on this week.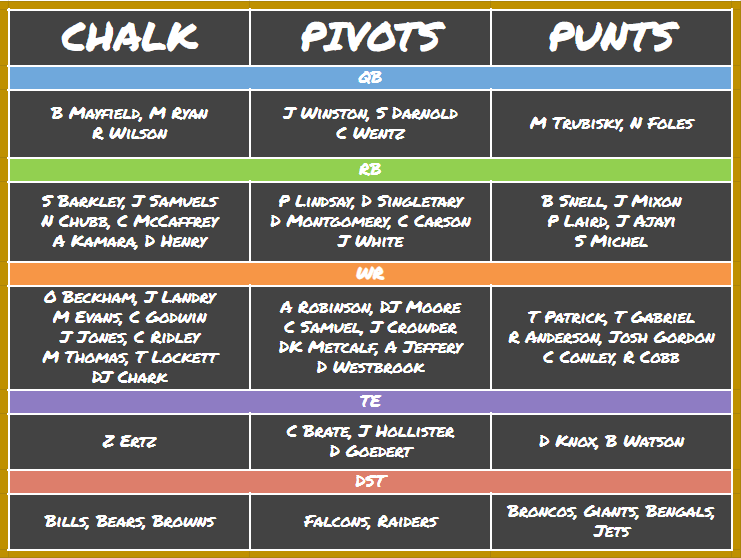 Let's get after it...
Denver Broncos (16.75/+4) at Buffalo Bills (20.75/-4) [37.5]
These are two of the best defenses in the league and carries the lowest implied total on the slate. The Broncos offense features a split backfield and not much at QB or for pass-catchers. The best way to attack Buffalo has been on the ground, so I took a look at this split backfield to see if we could discern any valuable info from the timeshare. It's been a back and forth struggle for snaps, but overall, Phillip Lindsay ($5200) is getting more opportunity with fewer snaps and has 5 TDs to Royce Freeman's ($4500) two (all rushing for both). Both are value plays this week, but the data favors Lindsay as the better play in this spot. Noah Fant ($3900) has seen a huge boost in targets since Manny Sanders was traded, but the Buffalo defense is tough on TEs making him a tough buy but with the TE landscape the way it is, we need to keep him in mind. Courtland Sutton ($6200) is likely to draw Tre'Davious White as his shadow this week (PFF has White listed in shadow coverage each of the last 3 weeks) which makes him and his 8-9 targets less appealing. Tim Patrick ($3000) is minimum priced after returning from IR to see 8 targets last week. He'll likely match-up with Levi Wallace who is allowing a generous 11.9 PPR points per game in coverage. The best bets from Denver in this one are Lindsay and Patrick. You could also look at the Broncos DST ($2400) as a cheap play on a slate without any exciting DST options. Josh Allen could take a couple of sacks or turn the ball over enough times in this low scoring match-up to get a decent return out of the Denver DST.

Buffalo's top fantasy plays this year have been Josh Allen ($6400), John Brown ($6700), and as of late (sort of) Devin Singletary ($5400). Chris Harris is still one of the better corners in the NFL and will likely follow John Brown around all game which will force the ball to other options. Singletary could be involved out of the backfield, where he has seen 6 targets three times this year. Another place we could see Allen go with the ball is where a lot of other QBs have found success throwing against the Broncos, which is to the tight end. Dawson Knox ($3000) wouldn't be a horrible play considering the choices we have at TE this week and he'll save you some salary for your other spots. The Bills DST ($3400) should be in a good spot here against Brandon Allen and company as a solid defensive play. There's not a lot to love from this game, but there are some value plays between Patrick, Knox, and one of the RBs from either side with Lindsay or Singletary.
New York Giants (17.0/+6) at Chicago Bears (23.0/-6) [40]
Josh Jacobs, Lat Murray, and Todd Gurley (and more so their play-callers) have laid the blueprint down for Shurmur to lean on Saquon Barkley ($7900) to control this game. The backs that smashed against the Bears all had 25 carries or more, so it'll take a commitment from Shurmur to allow Saquon more than his season-high 19 carries to achieve this. The Bears also invite passes to the RB at a league-high 25% rate and Saquon has seen at least 5 targets in every game this year, including the game he left early in Tampa. Besides Saquon, the only interest in the Giants from me will be with their DST ($2900) against a flailing Mitch, although I expect Nagy to keep the game in the hands of Montgomery more than Mitch, so they're not a great play, but an option.
The Bears offense is a mess this year making their plays more volatile for DFS. Allen Robinson ($6500) and Taylor Gabriel ($4200) draw fantastic match-ups here but have to rely on Mitch Trubisky ($5100) to get them the ball. All three of these guys are worth considering as contrarian type pivots just based on the match-up, but each comes with a low floor if they miss. David Montgomery ($5500) may be called upon to carry the mail in this one if Nagy doesn't think Mitch can deliver. If building multiple line-ups I'd like to use a few Bears stacks in there to account for either scenario (the passing game takes advantage of match-up - or is forced into action - or Nagy goes conservative and rides Monty). The Bears DST ($3700) is a great play against Danny Jones and his turnover issues.
Pittsburgh Steelers (22.25/-6.5) at Cincinnati Bengals (15.75/+6.5) [38]
The Steelers are likely to be without their top two offensive weapons this week as JuJu and Conner seem as though they will sit this one out. This opens up an opportunity for Benny Snell ($4500) to be a decently solid punt play this week against a defense that is allowing the second-most points in the league to running backs. The Bengals defense is forcing (allowing) teams to concentrate their offense into the short and middle areas of the field and through the run game. The tough part about playing Snell is knowing you're going to have to get there with him through carries only, as he is not a passing game option. That role will go to Jaylen Samuels ($7200) who has already posted a 23.5 DK point game against the Bengals working as Conner's #2 in the previous meeting between these teams this year. The receivers won't have to be heavily involved to win this one, so the RBs are the best option, as is Vance McDonald ($3500) who has seen 7 targets in each of his last three games. The Bengals are allowing the second-most adjusted fantasy points to the TE position on the slate at just 0.1 lower than the Bucs who get killed by TEs. The match-up is set up well for McDonald to have success, but there is his floor risk as he has not been productive with those 7 targets per game. McDonald only has two games scoring more than 6.4 DK points (14.0 and 22.8) so he may go lower owned than the match-up suggests. The Steelers DST ($4000) won't be easy to get to at that price but they are in a good spot against a team trying to secure the #1 pick to get a QB next year.
Other than Joe Mixon ($5900) rostering a Bengal for the rest of this season seems like a wasted roster space. The Steelers defense is too tough to consider trying to force anyone else into a build. I can see, perhaps, paying down at defense this week and going with the Bengals DST ($2100) to save salary and hope the Steelers offense is too beat up to put up a ton of points.
Miami Dolphins (17.5/+10.5) at Cleveland Browns (28.0/-10.5) [45.5]
Even with the Browns missing two key players (Garrett and Ogunjobi) along the defensive line (possibly 3 starters down if Vernon cannot make it back for his revenge game), it's not likely going to make a difference. Miami's OL is not opening holes for the run game and Kalen Ballage ($4400) can only find 1.9 yards per carry. I brought up Patrick Laird ($3400) as a deep punt last week, and while he didn't light up the scoreboard, he did catch all 6 of his targets and posted an 11.8 point game. He got a little bump in price this week but still makes his way into my deep punt pool against this week. It's just hard to fathom the Dolphins coaches saying "we need to see more from Ballage" and not the rookies. If the Browns score quickly and keep a lead, then Laird will be involved in the passing game. The secondary for Cleveland does not allow much so passes will be funneled his way. He's the only Phin I will consider here.
There is a lot to like on the Browns side of this game. We have a former employer narrative with Jarvis Landry ($6300) that should lead to him being a bit chalky. We have a possible "get right" game for Baker Mayfield ($5900) and Odell Beckham ($7000) to hit some explosive plays (only CIN and OAK allow a higher explosive pass rate than MIA per this chart by Ryan Noonan). We also have the third-worst defense in points allowed to RBs where Nick Chubb ($8100) and Kareem Hunt ($5600) could put up bunches of points. The Browns will be stackable in a variety of ways, including the Browns DST ($3800). If playing multiple line-ups throw all of these guys into your pool with a bump on exposure to each.
Tampa Bay Buccaneers (24.0/+3.5) at Atlanta Falcons (27.5/-3.5) [51.5]
These two NFC South battles are where I think a lot of the field is going to go heavy for stacks, as these games tend to produce plenty of points, as implied by the totals. The Falcons defense has been resurgent since Jeff Ulbrich took on the play-calling duties. There are still two guys on the Falcons defense that can be targeted with confidence. Isaiah Oliver and De'Vondre Campbell have each seen 18 targets apiece over these last two weeks and have allowed a combined 29 catches (80.5% catch rate) for 320 yards per PFF Premium Stats. Oliver lines up on the right side 85% of the time, so if Tampa wants to go after him, then we could see a lot of Mike Evans ($7300) in this match-up that led to 18.4 of Michael Thomas' points two weeks ago but only 8.4 against Moore and Samuel last week. Kendall Sheffield has been playing in the slot and has also been picked on but to a lower production value allowed (8 catches and 54 yards allowed over the last two weeks on 11 targets). Chris Godwin ($7200) is still a good play, but Evans may be n the better spot to go ham. Cam Brate ($3600) could also be in a good spot here versus Campbell and the rest of the safeties and linebackers. O.J. Howard ($3300) was benched after his bobbled target led to an interception last week, so it's hard to know how far into Arians' doghouse he is and whether he will cut into many of Brate's snaps. Given the TE pool we have this week, Brate still stands a good chance of being one of the top plays at the position.
The Falcons side sets up well for Matt Ryan ($6700) and Julio Jones ($8000) to put up one of their colossal collaborative efforts. The Bucs secondary has been torched by Thomas, Kirk, Lockett, and Metcalf over the last three weeks and has allowed the highest points and adjusted points above league average to opposing #1 WRs on the slate. If Bowels shades coverage to Julio and he can't breakthrough, then we'll see another Calvin Ridley ($6500) week. Without Hooper, their TE group is barren and I'm not going to play a Falcon RB here since the Falcons don't like to use them and the Bucs don't allow much to the position. The Falcon DST ($3500) is a reasonable option with Winston's propensity to throw multiple interceptions.
Carolina Panthers (18.5/+10) at New Orleans Saints (28.5/-10) [47]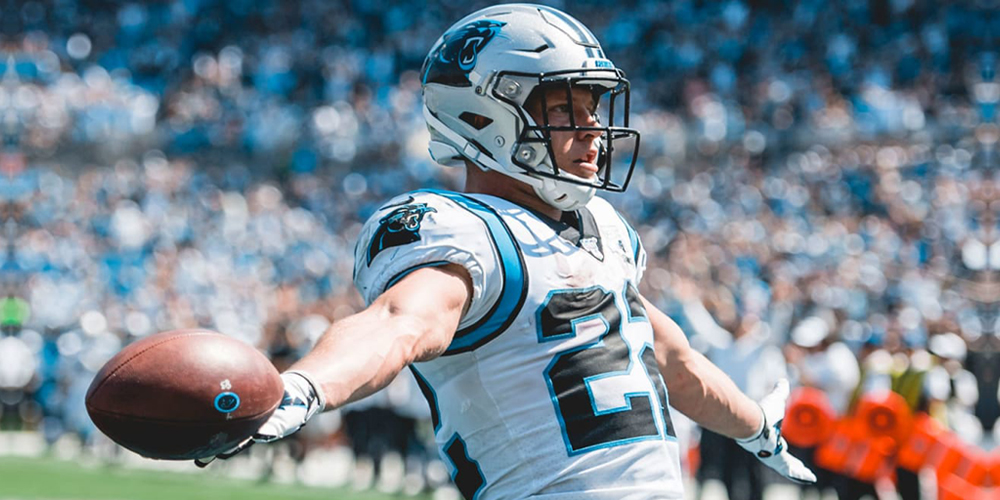 This is the other NFC South battle and has the lower total but we can find paths for fantasy points on both sides. The Panthers best bet to win (or stay in games) every week is through Christian McCaffrey ($10,500) and that's no different here. The Saints are tough against RBs so CMC may have to do most of his damage through the air. It's a tough spot in general because CMC is priced at what seems to be the max price DK is willing to go this year and did not get any break for this match-up. With CMC, there is always an element of FOMO that compels us to roster him at least somewhere if we're doing more than one build, and often time mandates it for single build players. It's a tough call to make this week but there is value available to make it happen if you have to have him. It's not easy to point to anyone else on this roster and say they are in a good spot, and with Carolina only implied to score around 19 points it makes it even tougher to find any have to have plays here. D.J. Moore ($6400) is a solid option. Curtis Samuel ($5400) still has Air Yard blue balls he's looking to unload (6th in Aggregate on Josh Hornsby's Air Yard Evolution model). Greg Olsen ($4100) is one of many uninspiring TE choices this week. The best way to approach Carolina is through multi-entry and getting exposure to at least one throughout several line-ups (not necessarily all line-ups though). If Lattimore misses this game, it could certainly help one of those receivers have a solid game.
The Panthers open up a lot for opposing running games where Alvin Kamara ($8200) is looking for back to back 20+ DK point games and where Latavius Murray ($6100) could see the field quite a bit as well. Michael Thomas ($9300) has been one of the most reliable receivers in DFS this year and should continue that trend. Kamara got an $800 price increase while Thomas saw his drop by $600 from last week. We know what the Saints are and it's up to us to decide which player we value more for our builds. If playing multiple builds, then you can mix either Kamara or Thomas into them. If looking to roster Kamara then you have to weigh how much better can CMC with nearly 100% of the RB workload be than Kamara who shares his opportunities with Murray and if that difference in output makes more sense to pay all the way up for CMC, or even if it means that fading Kamara in what appears to be a good spot on paper makes any sense and find cheaper backs, which could then lead you to roster Thomas...or Julio..or both. With Kamara, though, you would be rostering a RB that has three games with 10 targets, including the last two weeks in a row. CMC and (possibly) James White are the only other RBs on the slate with that type of potential target volume.
Detroit Lions (22.25/-3.5) at Washington Redskins (18.75/+3.5) [41]
The Redskins last 4 opponents have run the ball at a 60% ratio against them. With Stafford likely to miss at least another game with his back injury, that would put the ball into the hands of Bo Scarbrough ($4200), J.D. McKissic ($4400), and Ty Johnson ($3700). Scarbrough was the starter last week for Detroit and handled 14 carries but saw no targets. McKissic typically sees the targets out of the backfield which generally amounts to about 3-4, with a 7 target spike week against Chicago. Johnson has seen his total opportunities cut in half each of the last 3 weeks (12, 6, then 3). Overall, it appears the opportunity to take advantage of the Redskins weakness on defense will go to waste without one of these three being the clear-cut leader and/or handling both carries and targets. Washington has funneled the ball to RBs at the second-highest rate of 24% of the opposing teams passes. Perhaps there is a slight chance McKissic can provide some punt value if desperately needing salary relief. As long as Jeff Driskel ($5500) is starting at QB the Lions WRs are a dicey bet. Marvin Jones ($6100) salvaged a 5 target game by converting 2 of them into TDs. Kenny Golladay ($6600) and Danny Amendola ($4400) have not been so lucky. If the game script follows anything like it did last week, these guys will be splitting 15-20 targets among them. Not ideal, even at their discounted prices. The field will likely avoid them though, so if you see a scenario where Detroit will have to attempt more than 33-35 passes, one of them could hit. The Lions DST ($3100) against a rookie QB should also be in play here.
As much as the Lions running game is in a good spot, the Redskins are in an even better spot against the worst running back defense (for fantasy) in the league. Unfortunately, for us fantasy players we're stuck with trying to determine how many opportunities Adrian Peterson ($4300) is going to consume that could go to Derrius Guice ($4700) instead. Peterson is a little banged up and Guice may have been eased into action last week after the long injury recovery. Guice is a good option to rotate fairly heavily through multiple builds but is riskier for players who only create a few builds per week. Chris Thompson ($3800) could also be looming as a siphon from Guice's touches if he returns this week. Dwayne Haskins ($4900) gets another soft match-up here. He scored 18 against the Jets secondary which is likely what we can expect in this one. He's priced really low if you think you can find the points elsewhere and need the salary. His receivers will continue to be risky bets until he gets a better command of the offense and in a game that sets up better for them to pound the rock, it's not worth going to the Skins passing attack. Both DSTs are in play in what could be a low play volume and low scoring game.
Oakland Raiders (24.75/-3) at New York Jets (21.75/+3) [46.5]
One of the first things that caught me off guard when looking at pricing was Derek Carr ($6100) being priced above Dak, Brady, Baker, and Wentz. This is how bad DraftKings views the Jets defense. Derek Carr, on the road, 31 pass attempts per game, and with only 2 games above 20 points this year is the 7th most expensive QB on the slate. Vegas sees this as a 3 TD per team game, indicating a likely back and forth affair. Maybe DK has it right and Carr will be the 7th highest scoring QB, but it's not something I am able to wrap my head around. These are two of the slowest paced teams in the league making play volume seem like this game could be a dud. Let's say this game plays out to the Raiders offensive averages and Derek Carr throws the ball 31 times. Darren Waller ($5700) has the highest market share of the Raiders targets with 23.8% which would lead to 7 targets. Next up would be Tyrell Williams ($5900) and his 18% share for 5 to 6 targets. Now the Jets can be a little tougher against TEs, so we might be able to stretch Williams to match his season-high of 7 targets. There's just not enough volume here to get excited about. Carr will need more than his usual 30-31 pass attempts to get anyone going, including himself. Could this happen? Possibly, but Gruden is going to prefer to grind it out as much as possible and keep the game close and low scoring. Gase has mostly done the same on the other side. Both offenses are likely to disappoint here making both DSTs playable.
The Jets run the second-lowest total of combine run and pass plays per game with 53.6 (Washington only runs 50 per game). This again leads us down a road where we need a player to go above and beyond what they would normally produce to get a quality score (20+). Le'Veon Bell ($6400) is facing a defense that is very challenging to run on and his OL isn't going to do him any favors either. He'll need 9 or 10 targets to approach the 20 point threshold. Sam Darnold ($5800) faces the 4th most friendly defense for fantasy QBs and could be the best play from both sides of the ball. He's likely to hook up with Jamison Crowder ($6200) for a bunch of short passes that could get Crowder close to 20 points with a TD catch in the mix. I don't want to get anyone's hopes up but Robby Anderson ($4800) may be able to have a good game here, as only Cincinnati has a higher explosive pass rate allowed than Oakland. Oakland is also allowing an average of 2.4 passing TDs per game (2nd most) and a multi-TD passing game to any QB not named Flacco, Finley, or the early season version of Kirk Cousins (70% rate, 2nd worst). Stacking Darnold with Crowder is the safe way to approach this, and any TDs he throws (if) that go to Robby will show up on Darnold's box score.
Seattle Seahawks (23.5/+1) at Philadelphia Eagles (24.5/-1) [48]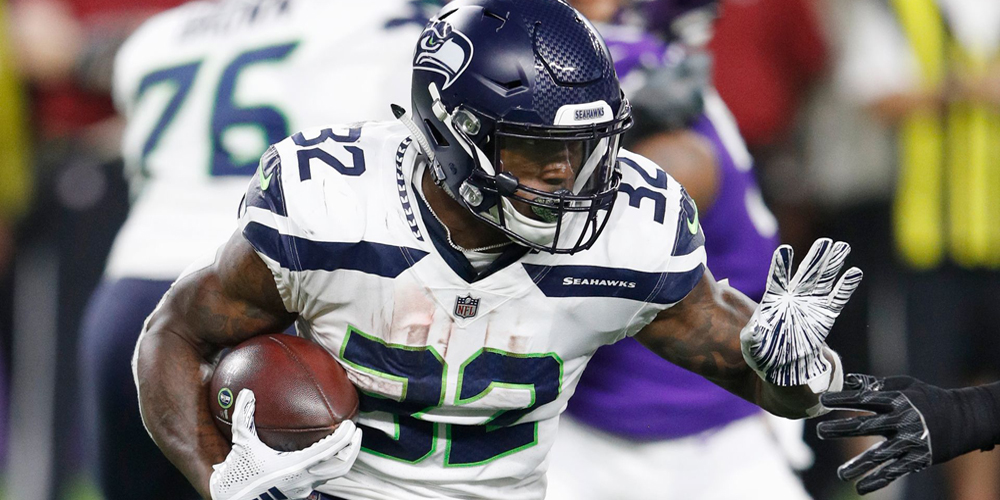 This game will be heavily stacked on both sides for the passing games making Chris Carson ($6700) an interesting pivot as not only somewhat of a value play (11th highest price) from the RB position, but also a way to leverage against everyone's pass stacks from this game. Carson has seen 85% and 96% of his team's snaps the last two weeks, is coming off a 25 carry and 4 target game, and Seattle runs more on the road (49.5% road, 43.3% at home). Of course, the main attraction in this game (and for the slate) will be pairing up Russell Wilson ($6800) with either Tyler Lockett ($7600) or DK Metcalf ($6300) or both against what has been a bad Eagles secondary this year. However, the Eagles secondary has gotten much tougher as they've gotten healthy. With 2 of their 3 of their starting CBs being back over the last three games, they have allowed an average of 11.1 DK points to the QB position (vs Trubisky, Josh Allen, and Brady). Josh Allen scored 18.3 against them in a windy game played in Buffalo. Mitch and Tom scored 6.5 an 8.5 in Philly. The way Wilson has been playing, you would think he should score closer to the mobile threat Josh Allen than the other two. It's not a guarantee he will meet expectations but I am less worried about Wilson meeting value than I am with Lockett and the receivers. If we look at what this secondary has done since the return of Maddox 2 weeks ago we see an average of 22.4 total points allowed per game. Include the safeties and it's still only 28.3 points on average to divvy up among all receivers. QB Rating allowed for each guy since their return from injury are as follows: Mills (4 games) has allowed 43.9, Darby (3 games) has allowed 92.5, and slot corner Maddox (2 games) has allowed 81.5. This game is going to be tougher than the season-long stats suggest, which also points me back to Carson. If playing multiple line-ups, you will still want to get some exposure to the Seattle passing game but there is some underlying risk in facing the Eagles now. Josh Gordon ($4200) has had an extra week with the bye to get acclimated to the Seahawks offense and would add an element of surprise to their attack, and could get the best of the CB/WR match-ups being an outside receiver (same with DK). Gordon is priced in punt range and is an interesting player to get some exposure to in large field/multi-entry builds. Jacob Hollister ($4300) is worthy of consideration as well, if we think the Eagles secondary can clamp down on the receivers or if the safeties are playing back to account for the speed of those three starting receivers.
The Eagles offense is depleted but still has some pieces we can work with here. Carson Wentz ($5600) is a value play this week, and perhaps the pivot off of the higher owned value QB, Baker Mayfield. If this game turns into the back and forth 24 points per team type of game Vegas thinks it will, then it's most likely Wentz is involved in all of the TDs from his side. It could also push him into the 300-yard bonus. A concern for Wentz will be the health of Lane Johnson. If Johnson misses then Dillard will be asked to block Clowney, and Wentz's QB Rating drops by 20 points without Johnson. The Eagles have gone pass-heavy these last two weeks without a running game, asking Wentz to throw 39 and 40 times. The ideal stacking partner for Wentz (based on the match-up chart) would be Zach Ertz ($6000). Ertz has seen a boost to 11 targets per game (catching 9 both times) with the loss of Howard and the running game. His yardage totals have surpassed 94 yards both time, including a 100-yard bonus, and he has a TD to boot. Dallas Goedert ($3700) is also in line for what could be another solid game for him, in case you can't afford to pay up for Ertz and are choosing from the rest of the "blah" TE pool. Alistair Corp has a fantastic write up about a few key match-ups in this game here. Outside of the TEs, the next best play may be Alshon Jeffery ($4900) who is nursing an injury and has no run after the catch skills this year. He could still be fed 8+ targets and will be a factor in the red-zone. Jeffery has 7 red-zone targets and 3 TDs. Ertz has 10 red-zone targets, but only 2 TDs on the year. Jay Ajayi ($3000) is a very intriguing punt option this week at min-price. Let's say that the Eagles pass game isn't clicking, but their defense is holding up. On the other side of the field, Seattle is playing more of a running game (which they do on the road) allowing the game script to favor Ajayi carrying the ball 15+ times. Ajayi will see any goal-to-go carries as well. He's probably good for 7-8 points without a TD but if we go back to the start of the 2018 season and look at the only game and a half he was healthy Ajayi was a beast. He scored 3 rushing TDs on 22 carries making that $3k price tag very, very interesting.
Jacksonville Jaguars (18.75/+3.5) at Tennessee Titans (22.25/-3.5) [41]
With Nick Foles ($5400) back under center, we sort of have a new Jaguars team to pontificate each week moving forward. Leonard Fournette ($7300) allegedly took the bye week off to do "other things" prior to last week's game and subsequently was phased out of the running game. The Colts are a tough team to run on but he still saw 7 targets and caught all 7. Jurrell Casey will be back along the Titans D-Line this week making this another potential tough battle on the ground and we may see another 5-7 targets heading Fournette's way here. D.J. Chark ($6400) will likely see Adoree's Jackson in shadow coverage which dampers things a bit but at cost, Chark is still a solid play. As long as Dede Westbrook makes it back from illness in time to play ($4600) he'll be on my radar for this week. Foles tends to highly target his slot receiver and Westbrook will have the best match-up in there against Logan Ryan who has surrendered 13.1 PPR points per game in coverage this year. Chris Conley ($4100) is on my peripherals because of his price and recent targets counts of 8, 7, 7, and 7, also saw 7 targets in week 1 with Nick Foles. If Jackson is shutting down Chark the big plays will flow toward Conley versus LeShaun Sims.
The Jaguars are struggling against the run this year but were able to slow the Titans down in week 3 holding Derrick Henry ($6900) and Dion Lewis ($3600) to a combined 14.6 DK points. Henry, though, is infamous in fantasy circles for his 238 rushing yards and 4 TD performance in this game in Tennessee last year. Henry and CMC are the only two players this season with multiple 65 yard TD plays and Henry has 6 such 65+ yard TDs since the start of 2017, more than anyone else in the league. Henry is likely to be a popular play this week because of this big-play potential he's already flexed on this defense in the past and we just saw Indy RBs go for 236 yards on the ground against this defense last week. Outside of Henry, you could consider Ryan Tannehill ($5300) as a punt option. Tanny has yet to score below 19 points as a starter but that could be the case this week if Jacksonville cannot stop Henry and Tannehill spends most of his day handing off. For this reason, I will be mostly off of the Titans passing game but if playing 150 line-ups you might as well get a few Titans passing stacks in there at very low ownership.
Dallas Cowboys (19.25/+6.5) at New England Patriots (25.75/-6.5) [45]
This one is tough to find any gems from. Let's look at potential match-ups here using PFF data to calculate. Amari Cooper ($6600) vs Stephon Gilmore: Gilmore allows a 46% catch rate for 5.7 yards per target and 12.4 per reception. Gilmore has allowed no TDs in his coverage and only a 43.5 QBR. Michael Gallup ($5900) vs Jason McCourty: McCourty allows a 56% catch rate (but is targeted less often than Gilmore), 5.1 YPT, 9.1 YPR, 0 TDs allowed and a QBR of 61.6. Randall Cobb ($4800) vs Jonathan Jones: Jones allows a 57% catch rate, 6.3 YPT, 10.9 YPR, 2 TDs, and a 90.3 QBR. Cobb appears to have the best match-up here and may be considered as a risky/contrarian play in some builds, but the overall match-up for Dak Prescott ($6000) at his price is going to be hard to stomach. Ezekiel Elliott ($7500) will get some yards because the Pats will allow you to run on them a bit as long as they can keep you from scoring. But Zeke looks slow this year and barely produced a 20 point game against a Lions team that gets destroyed by opposing running backs.
Playing the same game with the WR/CB match-ups for the Pats, but the condensed version, shows all three of their starting corners are allowing around 60% completion percentages, 7 to 9 YPT, 12 to 14.9 YPR, 3 TDs allowed, and 68 to 95 QBR. The guy to pick on is Awuzie if looking at full-season data, but he has been better over his last 4 games. Julian Edelman against Lewis in the slot may be the best route to go if using any receivers. However, the Cowboys are allowing their most fantasy points to TEs and RBs which has me looking at Ben Watson ($3100) as a cheap way to maneuver the TE crap-shoot this week, and Sony Michel ($4600) as a cheap punt option who could net a couple of rushing TDs with LVE set to miss this game. The player I think may be the biggest surprise from the Pats could be James White ($5300), depending on the health of Sanu and Dorsett. The Cowboys allow 24% target share to RBs (also allow 24% to TEs) and White may be able to eat up all the underneath stuff if the corners play well against the back-up WRs. Fifteen to 20 points is within the range of outcomes for White here.
Final Thoughts
After working through each game I still see a lot of chalk and at least 2 to 3 games that will see heavy ownership stacks built around. What I also found is there is a lot of value out there and some games where I think the field will just completely fade, which is where we can pull some pivots from. Derrick Henry may end up being the highest owned back since people have a tendency to want to put a late-game hammer in their builds and he's the top play in those final two games in a lot of eyes. Those two games are important to get right if you're looking for 1 or 2 pieces to keep your line-ups alive into the late afternoon. Best of luck to you all this week, it looks trickier than some of the more recent weeks we've seen. And, as always, thanks for reading!
STAY IN TOUCH
Sign up for FantasyData's newsletter and get awesome content sent to your inbox.
We'll never share your email address and you can opt out at any time, we promise.
---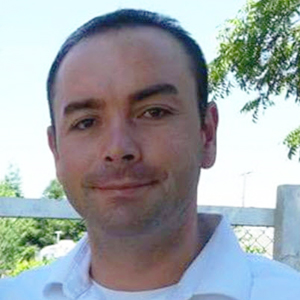 NorCal native Jesse Jones has been obsessed with fantasy football since first joining and winning a league in 1994. Always looking for an edge, Jess has been ahead of the curve mining data and building customized spreadsheet rankings and projections while others showed up to draft day asking for a pencil and a cheat sheet. As an avid NFL DFS, Bestball, and re-draft player Jess will work hard to find the edge you need to win in all formats. Jess is married to the wonderful wife of their 2 kids and enjoys traveling, playing tabletop games, and trying new craft brews. Let's make some money at this hobby of ours!