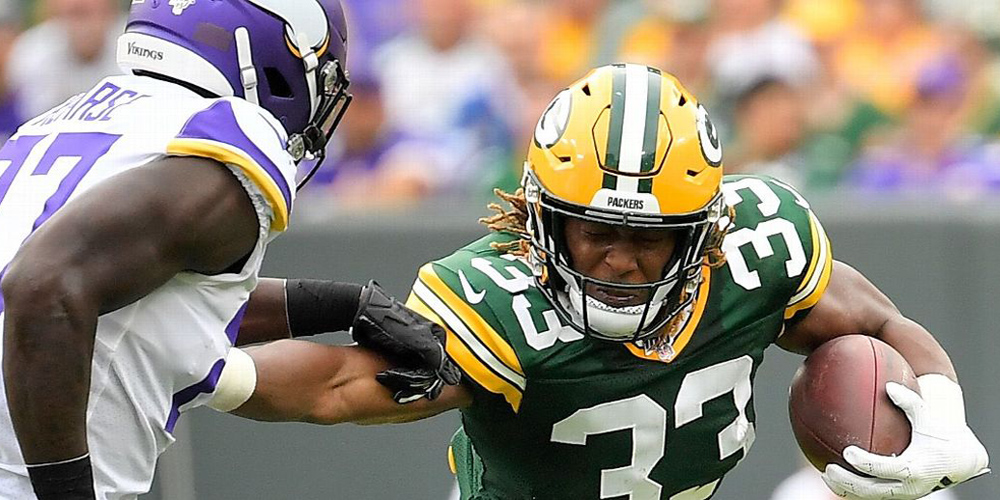 DraftKings NFL Picks: Chalk, Pivots, and Punts for Week 15
---
DraftKings NFL Picks Week 15
Initial Thoughts
This week I started by doing something new. Normally, my first look at the slate is through the lens of DraftKings pricing and making a dummy build. This week I waited until I had the MATCH-UP CHART built and before looking at any pricing I wrote down a roster I would like to build based on it. I wrote my first 4 or 5 choices at QB, RB1, RB2, WR1, etc until I had an idea of what I wanted to do with the slate, then went in to build a roster and found I was able to fit most of my top choices into one lineup. This seems like such an obvious approach I've overlooked for so long but glad I did it. It gave me a perspective on the slate I haven't started with before. Some of you may already be doing this. If not, give it a try next week. Jot down your ideal roster before looking at pricing. It's interesting to see how close you can come to it.
Review
"Chalk, Pivots, and Punts" is an NFL DFS series focused around main slate GPPs. We go game by game looking at potential chalk plays to pivot away from, and perhaps discover some diamond in the rough type punt plays to add a differentiation piece to our builds. Each game will have a brief write up and will include the team's projected point total and Vegas Implied point spread as of the time of writing. Here is a link to a Google Sheet that presents data I collect throughout the season breaking down points allowed to specific positions, and displays home/road splits, as well as the combined data. Below are links to the final data from last year I posted to Twitter.
Link to Tweet: Chart showing where defenses allowed fantasy points by position last year
Link to Tweet: Chart showing how defenses allowed TDs by Passing & Rushing last year
When discussing pivot plays, it's not always as simple as saying "Player A" is chalk so pivot to "Player B". Pivots can be a pivot from one player to another player at the same position, a pivot from one position to another, or just a way to pivot to the other side of a game that everyone else might be heavy to one side of. Simply put, the pivots will not always be direct pivots, more like other ideas to consider in the macro-view of the slate.
Process
The process I use for this article and for selecting my player pool starts with the data I collect and chart. The match-up chart and individual match-ups are the first layers of the onion. Once we have that peeled we should have a sizable player pool to work with. The next step is to reconcile that data. I use the Google sheet above to reconcile the match-up chart by looking at what the opposing teams did to allow those numbers. Who did they face to get there? What were the game environments like? I try to watch as many games as I can, but I can't watch them all, so I do a lot of reading from my Beat Writer list to keep up with injuries, changes to the way the team is playing, and look for other general trends to consider. Using Fantasy Data's resources helps get a snapshot on a team and player level for the offenses to see what type of numbers they are putting up. Then, it's about identifying what the top plays are for the slate, and how heavily they will be owned. This is where we need to have some pivots in our back pocket, and if necessary some punts if we want to jam in a bunch of elite plays and have to look for a value guy to put up 10 or more points. Game theory, contest selection, and roster construction are the final challenges as we try to put it all together. This where we win or lose.
Below is my Chalk, Pivots, and Punts Chart based on my opinion of the slate and what the field will likely be on this week.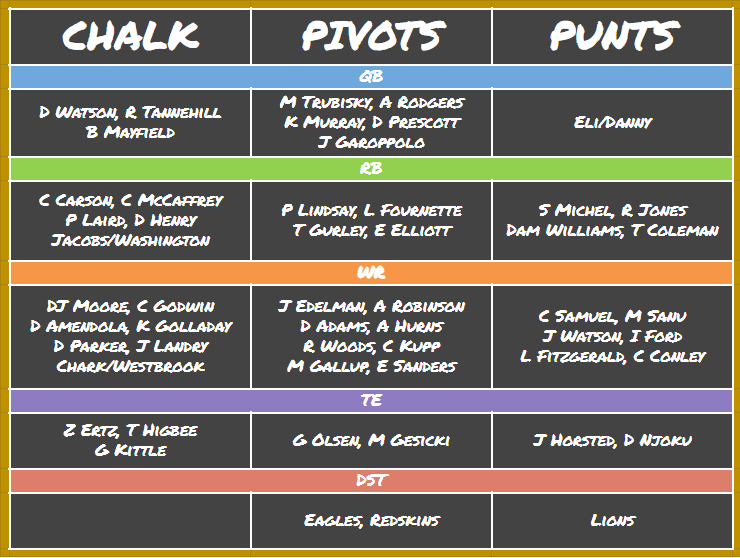 Let's get after it...
Seattle Seahawks (27.5/-6.5) at Carolina Panthers (21.0/+6.5) [48.5]
This one comes in at the higher end of the slate for total implied points, and based on the match-up chart and the loss of Rashaad Penny for the year I had Chris Carson ($7500) listed as one of my favorite backs for the slate. If there was any wonder what factors weigh strongly into DK pricing you have to assume match-up and opportunity are near the top because Carson is priced $1500 more than last week in which he only scored 12 points. He hasn't scored more than 20 DK points except for once in the last 7 games, yet here we are paying a premium for his services this week. This match-up and his opportunity are too great to ignore and the pricing is not out of range for me here so I imagine having some shares. The rest of the Seahawks are either off my radar as low volume and/or low floor risks but I will keep Russell Wilson ($7000) in mind during construction. His price is farther up than I want to go so there's a good chance I don't get to him this week.
For the Panthers, I will always have Christian McCaffrey ($10,000) in my pool and after seeing the Rams commitment to Gurley and the run game against Seattle last week, CMC sticks out as a top volume and scoring play that we need to have some exposure to. DJ Moore ($6600) saw his price rolled back this week and that gets my attention. Moore has seen 10 or more targets in more than half of his games this year. Getting 10 targets for under $7k is a win in my book. Greg Olsen ($3900) will interest me if he clears the concussion protocol in time to play this week. The rest of the Panthers offensive pieces are too limited to consider as strong plays. However, Curtis Samuel ($4400) is at his third-lowest price of the year and would seem to be due for a good game at some point soon (he's only had one all year). I like the idea of having a few shares of Samuel for this slate in case he finally does break-through at the much lower price point.
New England Patriots (25.75/-10) at Cincinnati Bengals (15.75/+10) [41.5]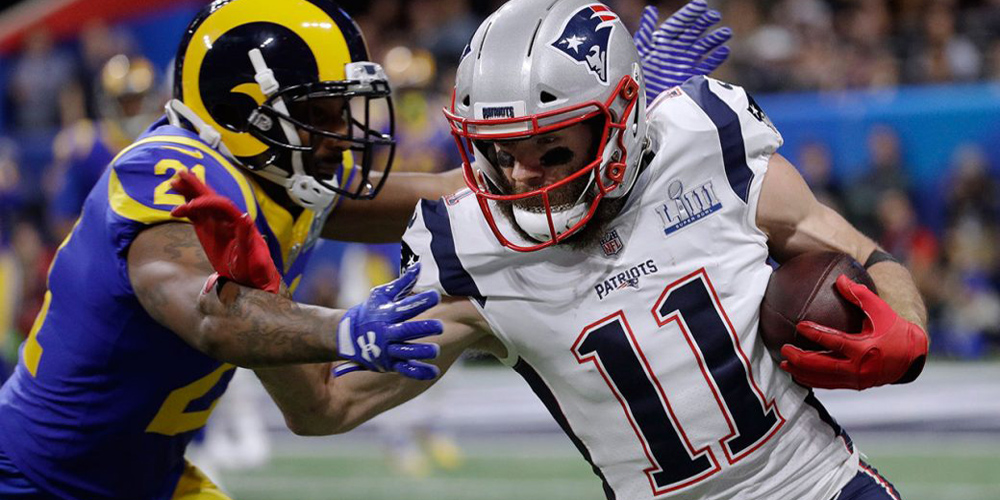 This game is toward the bottom of implied point totals and seems like a game we can mostly skip over. Julian Edelman ($7100) is priced low enough for his volume to keep him in consideration. Sony Michel ($5100) was over-priced for his match-up with the Chiefs NFL-friendliest fantasy defense for RBs last week but has seen his price decrease in a match-up DK has been pricing up all year. Michel is easy to shy away from as I suspect we've all been burned by him at least once this year. Still, this could be a spot to take another chance on him in a few builds. The price is nice, the match-up is fantastic, and we have to figure the Pats will have a lead for most of this game allowing Michel to grind out the clock. Mohamed Sanu ($4300) has a former employer narrative going if you're into those. I'm not going to take the time to verify if Belichick plays into these so if you know he does, then fire up Sanu.
I'll be avoiding any Bengals players this week since I don't tend to build ultra-contrarian rosters or play 150 lines a week.
Tampa Bay Buccaneers (24.75/-4) at Detroit Lions (20.75/+4) [45.5]
Detroit has been attackable via running-backs this year but that trend seems to be drying up a tad over the past few weeks. Zeke was barely able to clear 20 DK points on them, Washington could only get 12 points combined out of their backs, Chicago's duo only got to 24 points between the two of them, then an injured Dalvin Cook and the remaining Vikings RBs came within 0.1 of scoring 30 points. The Bucs backfield isn't talented but when given volume they can produce. The issue is guessing which one gets there. A couple of weeks ago it seemed Ronald Jones ($4600) was in a smash spot only to see Peyton Barber ($4400) punch in two touchdowns. Neither guy puts up impressive yardage totals so if betting on one or the other I'd bet on Jones who has put up the better yardage of the two and sees more targets in the passing game, which will be without one of their top weapons going forward. I'll likely pass on the Bucs backs and target Jameis "Mr. 300-Yards" Winston ($6900) in some builds. The Lions are not hard to throw on and are allowing boosts to QBs and WR1s on the match-up chart, as well as allowing 2 passing TDs per game with a 69% multi-passing TD rate. Chris Godwin ($7700) should draw a lot of Justin Coleman in the slot this week. Coleman has been burned recently by the likes of Anthony Miller and Randall Cobb. Justin Watson ($3700) is likely to emerge as a popular punt/salary-saving option this week. Watson saw 8 targets last week in the absence of Mike Evans and will be expected to pick up the slack he left behind since Breshad Perriman ($4500) continues to see only moderate volume in his downfield role.
With the way Tampa defends the run, I think we can rule out the Lions backfield and look toward their passing game for options here. The Lions lost Marvin Jones to IR this week and lost Marvin Hall at receiver and Hockenson at TE over the past few weeks as well. This helps us narrow down the Lions to only two or three useful players: Golladay, Amendola, and maybe David Blough ($5300). Kenny Golladay ($7200) should see a ton of targets as well as rolled coverage to try to prevent them from becoming big plays. I still like the projected volume with his talent (compared to that in the Bucs secondary) to shine through in this match-up at this price point. Golladay was in my initial list of players I would consider in my ideal roster construction. The other guy we need to consider will be Danny Amendola ($4100) who will probably be a popular play for the slate considering his price point and projected volume. With Winston's hand being a concern even if he plays (he's already had trouble with accuracy throughout his career) I don't mind taking a chance on the Lions DST ($2300) at the low end of defensive pricing this week.
Chicago Bears (17.75/+4.5) at Green Bay Packers (22.25/-4.5) [40]
Mitch Trubisky ($6000) has thrown 3 TD passes in 3 out of his last five games and added a rushing TD in 2 out of his last 3. Mitch is running more often now, too, giving him some added floor. Green Bay's defense is typically exploitable through RBs and TEs but can also allow explosive pass plays to the WRs (3rd-most in the league). With all these options open it gives Trubisky a good chance to provide a very helpful score at the $6k or under price range where it's often easy to construct solid rosters if you start with a QB in this range. His main weapon in the passing game will be Allen Robinson ($6800) who might see shadow coverage from Jaire Alexander this week if Green Bay has him shadow the #1 again (he shadowed McLaurin last week). Alexander is good but not so good we need to avoid Robinson here. Anthony Miller ($5100) will take most of his snaps from the slot which is just an average match-up but Miller is the #2 option in this offense and has seen 9 or more targets in 3 out of his last 4 games with Gabriel on the shelf. Gabriel seems likely to miss another week allowing us to keep Miller (now at his highest price of the season) on our radar. If looking for a deep punt option you could go with either TE for the Bears since they are both minimum priced at $2500. JP Holtz is the inline TE who sees more snaps per game and Jesper Horsted is the U-TE that lines up more like a slot receiver and saw more routes per drop-back than Holtz last week, making him the more viable fantasy option of the two. The Bears backfield remains a two-man split with David Montgomery ($5500) seeing more of the snaps and carries and Tarik Cohen ($4800) getting the passing game work (targets). Green Bay has been soft to RBs this year but the split in work between these two limits each of their upside. Montgomery is slightly more interesting in case the Bears decide to grind this one out on the road in an attempt to keep Rodgers off the field.
Aaron Jones ($7300) has been one of the most volatile backs in the league this year and comes into this one at his second-highest price point of the year. While he's always a threat to have a monster game I think we can do better with other spots at this price point. The Packers have already played Chicago once this year where Jones and Jamaal Williams ($4200) combined for 8.4 DK points between the two of them. The backfield has evolved into a 60/40 split between the two of these guys throughout the season but Jones has been pulling away in opportunity the past few weeks. Jones was limited in targets for awhile upon the return of Davante Adams ($7600) who Jones out-targeted 7 to 6 last week. Adams had gone 4 straight weeks with at least 10 targets before last week's dip and he saw 15 in the game he hurt his foot leading to him missing some games. Adams could see the volume shift back his way in a game where both teams have something to play for and could be a back and forth game as long as the Bears don't jump on the Packers early, as they did against Dallas last week. Aaron Rodgers ($6300) is priced down for a match-up with this Bears defense and will likely go low owned. While this is a tough match-up for Rodgers, he has overcome it a few times over the past few years with 2 games in the last 4 throwing for 3 or 4 touchdowns. He's an intriguing pivot for large-field tourneys.
Denver Broncos (17.5/+10) at Kansas City Chiefs (27.5/-10) [45]
Denver's approach in this road game last year was to run the ball and try to keep the score close. That will probably be the game plan again here with the way the match-up looks on paper heading in. Whether the run game/play defense strategy holds is another story. Denver (impressively) caused all kinds of problems for Deshaun Watson and the Texans offense last week so Spagnuolo will have that on tape to digest coming into this one. Phillip Lindsay ($5600) hasn't cracked 20 points since week 5 but he was the engine for the Broncos at Arrowhead last year running for 95 yards and a TD. This is the type of environment to protect your rookie QB by running against a defense that has struggled to stop it until recently. If that's a new trend emerging for the Chiefs (as run-stoppers), then this game could be a major struggle for Denver and we will want to look at the passing game where Noah Fant ($4100) has the "on paper" best match-up. The Chiefs do a great job of limiting outside receivers to minimal fantasy output making it hard to like Courtland Sutton ($5900) from that perspective. However, he does come at such a bargain for a #1 WR that we have to at least give it some thought for MME builds. Also in that vain is Drew Lock ($5700) if you think they have to take to the air. Lock also has the Mizzou narrative going for him here.
The Chiefs appear on track to have a full arsenal of healthy skill players ready to roll in this one. Tyreek Hill ($7500) is at a four week low in price due to the match-up with Chris Harris. This price dip can be supported by the prior years of box scores where Hill has failed to score more than 20 points against the Broncos since week 11 of 2016. Hill is talented enough to get there in any game but he's been a hole in lineups for the last 3 weeks. You'll be betting on a contrarian scoring game here if rostering him, making him a better MME play than a play for smaller entry players. Patrick Mahomes ($7100) had 303 yards and 4 TDs in this game last year and he would be a good way to capture anything Hill does while stacking him with either Travis Kelce ($6500) who had one TD in the Arrowhead game last year, or going with Sammy Watkins ($4900) who had 107 yards and 2 TDs in that game but scored a 0 in the other meeting between these teams last year (he was out for the earlier meeting this year). Damien Williams ($4800) is an interesting play considering 22% of the targets against the Denver defense go to the RB position where Austin Ekeler has had one 16 point and one 23 point game against this defense. If Andy uses him as a pass game weapon to take what the defense gives, then Dame could have a nice day at the office. He was rolling out 24 and 15 point games before getting hurt against the Chargers in Mexico. With pricing considered, he may be the best bet from this offense this week.
Miami Dolphins (21.5/+3.5) at New York Giants (25.0/-3.5) [46.5]
We might not know who will play WR for Miami until game day. As of Friday both Parker and Wilson have shed their non-contact jerseys but were still in the concussion protocol. If Devante Parker ($6400) plays, then he's in a great spot as the alpha receiver against this Giants secondary. Unfortunately, Parker is one of 3 injured Miami receivers and all three of the injured guys are the top 3 on the depth chart. Allen Hurns ($4700) is dealing with an ankle injury and if he plays he needs to be considered the way we considered Alan Lazard a couple of weeks back since he'll likely see the most of DeAndre Baker in coverage when he's outside. If Albert Wilson ($3500) plays, then he wouldn't be much more than a benefit to the other two and not a player we need to focus on. Wilson is primarily a slot guy, although Hurns will play in there some as well. As long as Wilson plays it should give Hurns more opportunity to stay outside against Baker. The Giants moved on from Janoris Jenkins on Friday leaving burn victim DeAndre Baker and 2nd-year man Sam Beal on the outsides with Grant Haley in the slot. These are all good match-ups for Miami's trio of starting receivers. If any of the Miami receivers are out, then Isaiah Ford ($3700) will start outside at receiver along with Parker or Hurns. If it's Ford, Parker, Hurns, then Ford and Parker will play outside with Hurns inside. Depending on how many of the Dolphins receivers play will determine my level of interest in Ryan Fitzpatrick ($6200). I'll want to see at least Parker or Hurns on the field with Ford to keep him in any Dolphins stacks. Otherwise, I'll roster only one of the healthy Miami receivers throughout builds, or I'll pivot over to DFS darling Patrick Laird ($4500) who is priced way too cheap for his new role in this offense. Laird spiked up to 82% of the team's snaps and saw 20 opportunities (15 carries and 5 targets). He's going to be mega-chalk this week with all of his positive sentiment and appearances on Twitter. Mike Gesicki ($4000) has seen at least 5 targets in 6 straight games which include 5 end-zone targets over his last three. The Giants show strength against TEs on the match-up chart but if the Phins are down receivers he should see significant usage. Keep an eye on my Beat Writer Twitter List for reports about practice participation, who's in/out on game-day, and any news about player roles.
The Giants had to turn back to Eli Manning ($5200) at QB last week and he is going to start again this week. The Dolphins are allowing nearly 63 actual plays (offensive passes and rush attempts), which is on the higher side for the league. They are dead last by a substantial difference from second-worst in defensive pass DVOA on Football Outsiders website, and they allow the third most explosive passing plays per Sharp Football Stats. With Eli back in the saddle, we have to like what we saw last week between him and Darius Slayton ($4700), who was already locked into this bargain price before going bananas on Monday Night Football. With Miami giving up those explosive passing plays and Eli and Slayton connecting on them (35 and 55 yard TD strikes) this match-up screams hard to resist chalk for Slayton. TJ Hernandez tweeted out a list of target percentage leaders over the last month and Slayton was behind only Landry and Thomas with a 29.6% share of his team's targets. This might be one of those scenarios where you want to pivot off of Slayton and over to Sterling Shepard ($5400) (who is also on TJ's list for high target percentage) if you are a small batch player or even throughout MME builds. This would allow your Shepard lines to pass the +30% of rosters that will have Slayton. The last time Shepard played a defense this soft is when he dropped a thirty-burger on the Bucs in week 2. Golden Tate ($5900) comes with the highest price tag of the Giants receiver trio and is nursing a foot injury, although he healthy enough to play on Sunday. Tate is harder to trust from the trio as his volume is lower and he doesn't typically break big plays or score TDs. Saquon Barkley ($7700) has had a rough go of it this year and is coming into this week with a $700 pricing increase because of the match-up. Miami is one of the few teams putting up bad stats in both the passing and running defense categories giving Saquon a chance to post his 4th 20+ point game of the year in this spot. I probably won't go heavy on him due to the price but he'll be in some of my lines as a pivot off of the chalky Giants passing stacks we should see out there this week.
Houston Texans (23.75/+3.5) at Tennessee Titans (27.25/-3.5) [51]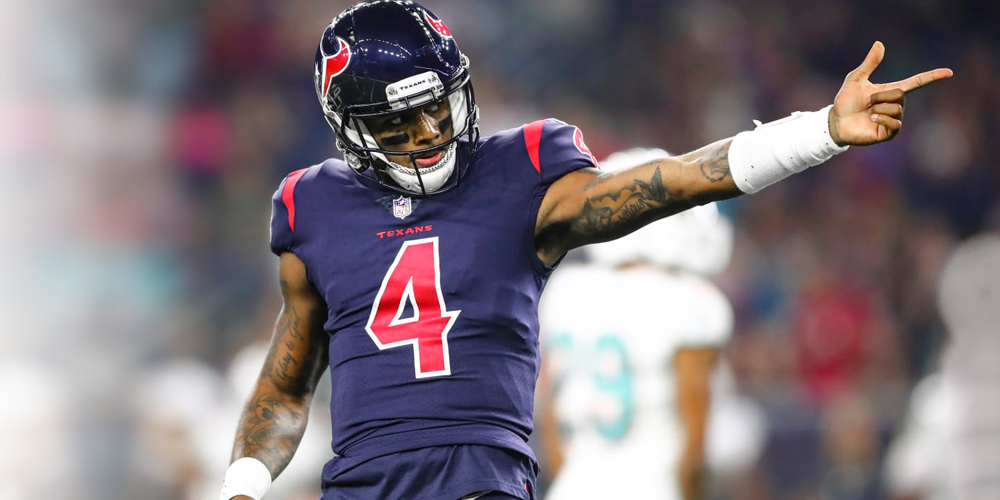 This game features the highest implied total of the slate and a bunch of guys sure to be popular in DFS lineups. Deshaun Watson ($6800) has averaged 30.3 DK points against the Titans in his career (3 games played) and has thrown for 8 TDs while running for 2 more against this group. Watson has 3 games over 30 DK points in 2019 including last week in the Texans surprise loss to the Broncos. Watson is the top QB on my board this week, especially since Adoree' is out again. Watson has the highest upside of the slate as both teams in this game have opponent-friendly DVOA pass defenses and high powered offenses (at the beginning of the year, who thought we'd be saying that abut the Titans, but here we are). Jurrell Casey nursing an injury helps Watson as a runner as well as some potential for Carlos Hyde to play a factor if Houston tries to match Tennessee's pace with the run. Hyde is not an exciting play but he and Duke Johnson ($4100) offer a pivot from the Laird chalk if you're down this low scraping for an RB. DeAndre Hopkins ($8000) comes at a premium this week and has seen 11 or more targets in 6 out of his last 8 games (IND and NE were both 8 target games) so his volume from previous seasons has returned. Nuk becomes a must play to stack with Watson if Will Fuller ($5600) can't go, as those two 8 target games that reduced Nuk's target counts occurred with Fuller on the field seeing 11 and 2 targets, respectively. A deeper dive into target counts for Hopkins looks a lot better with Fuller out of the lineup (12.3 per game) than it does with him in (9.3). If Fuller plays, then he adds a speed element that has clicked with Watson a couple of times this year, most notably the game against Atlanta where Fuller scored an insane 56.7 DK points. When he returned from his hamstring injury and played in his second game since that return he burned the Colts for 24 DK points so we have to monitor his status. If he plays, we have to assume he's healthy enough to make a difference for himself as well as put a dent into Hopkins' potential.
The Titans are averaging 32.5 points per game while scoring another 5 points per game through defensive scores. This offensive onslaught coincides with Derrick Henry's ($8500) 4 straight games of 24.9 or more DK points. Henry has two "Did Not Practice" designations as of Thursday nursing his hammy so we have to pay attention to the Friday and possibly game-day injury reports for further clarity. If he is out, then a lot of the air gets let out of the Titans offensive balloon, but it also means potential for more than the 21.5 pass attempts Ryan Tannehill ($6500) has been allowed over Henry's recent four-game bender. Tanny got boosted by $700 for this match-up after Drew Lock carved up the Texans secondary last week, plus he is at home where he adds 8 more fantasy points per game to his total. If this game turns into the shootout that many are hoping for (an Vegas is projecting) then either Henry or Tanny will be in the driver seat. Even if Henry is the driver, Tanny has been highly productive riding shot-gun with him. The Titans offense has a new star emerging in rookie AJ Brown ($6000) who got the same $700 price bump as Tanny but still comes in potentially under-priced if there are any issues with Henry's availability. Brown has 3 touchdown catches of over 55 yards this year which demonstrates his explosiveness and Arthur Smith's scheme's ability to get him open for these plays. Houston is middle of the pack when it comes to explosive pass plays allowed and explosive plays to WRs, but at $6000 if you're playing Tanny, then you're probably stacking him with Brown - or playing Tanny with Henry if you're paying up.
Philadelphia Eagles (22.25/-5.5) at Washington Redskins (16.75/+5.5) [39]
This game has the lowest total for the main slate and the lowest amount of quality receivers in any match-up this week. DraftKings only has 3 receivers listed for Philly. They are Nelson Agholor ($4000) who hasn't practiced as of Thursday, J.J. Arcega-Whiteside ($3300) who looks healthy enough to play, and Greg Ward ($3000) who had more targets (9) than fantasy points (7.4) last week - which was a repeat of the week before, just with less targets and points. Agholor is the most familiar with Carson Wentz ($6200) and should serve as the de facto #1 receiver if he plays. However, Agholor's burner account on Twitter claims Wentz's balls are hard to catch (he prefers Foles' balls) and he has been roasted on a video posted to Twitter of a Philadelphia resident claiming they were lucky Agholor was not present to catch the babies being thrown out of a burning building to adults below. All this said, he's cheap and if healthy is worth a look. Greg Ward is interesting due to price and that he has seen 19 targets since coming onto the field in week 12. Still, the player most likely to have a big game here is going to be Wentz's favorite target Zach Ertz ($6000), who is worth using at the Flex position in lieu of a WR if you need to save some salary in the Flex. Other than the Miami game (where it seemed as if Wentz was trying to help Jeffery hit some contract incentives) Ertz has seen targets counts above 11 in all 4 of the other games over the last 5 weeks. Some of this was due to Jordan Howard's injury and missed time but with the lack of other receiving options, it's going to be Ertz again seeing heavy volume, regardless of what Washington does to try and stop him. Another injury to worry about for the Eagles will be whether Lane Johnson can play or not. Wentz loses nearly 20 points off his QBR when Lane Johnson doesn't play, which is supported by the week 12 QBR of 75.8 with Johnson out of the line-up against the Seahawks. Outside of Ertz and Terry McLaurin ($5300), we're looking at scorched earth here. The Eagles DST ($3400), as well as the Redskins DST ($2600), seem like solid plays with the total being so low.
Cleveland Browns (26.0/-3) at Arizona Cardinals (23.0/+3) [49]
The Browns find themselves in one of my favorite situations to attack - the Cardinals defense. Baker Mayfield ($6400) gets to enjoy a match-up with the league-leaders in passing yards, passing TDs, QB Rating, and raw (and adjusted) fantasy points allowed to opposing QBs. If Mayfield ran as much as Watson does he'd be my #1 QB for the slate but he's not a distant 2nd here (like a 1a to 1b thing). By now we've all heard/read Al Smizzle's comment about the Cardinals defense being the "Flow Chart" defense for TEs. Unfortunately for the Browns, their TEs have been non-existent this year. That didn't stop DraftKings from applying the flow chart price mark-up on David Njoku ($4200) though. Njoku returned from a broken wrist last week and saw 3 targets. He was then listed with a knee injury this week but he is practicing. Njoku faced the exact opposite defense playing the Jets the week he broke his wrist and his stats were a bunch of donuts on 1 target. However, before that game, he caught 4 of 6 targets for 37 yards and a TD against the Titans in week 1. That would seem to be about his median range of outcomes here with a massive "flow chart" upside if he's a focal point of the game plan. Perhaps the field will have forgotten about him or will disregard him based on last week's box score (not only for Njoku but for ARI vs PIT's TEs). $4200 is quite a bit to gamble with at TE but it could be a low-owned, break-through game for Njoku. Jarvis Landry ($6700) seems too cheap for this match-up and will be toward the top of my player pool and an auto-stack in any Baker builds I create. Jarvis gets a winnable match-up in the slot against rookie Kevin Peterson. Odell Beckham ($6400) is said to need surgery for sports hernia after the season and his play on the field is hard to trust in DFS lineups. He'll go low owned so if you can stomach the risk he could be an interesting addition to your player pool. The Cards have done a pretty good job keeping RBs in check this year so at their prices I'll have minimal interest in the Browns RB duo, though I would lean toward Hunt if choosing one of the two.
Steve Wilks was fired after one year as the head coach in Arizona so that they could bring in Kliff Kingsbury and the Air Raid offense. Well, guess where Wilks is coordinating the defense this year? Also, guess what the Browns offense is partially derived from? If you guessed "Cleveland" an "Air Raid", then give yourself a pat on the back (BTW - Kitchens has a former employer narrative here, too). Wilks knows some of the players in Arizona and knows the concepts of their offense from having to defend it in practice. There are still some players we can find useful from the Arizona side of this game though. Number one being Kyler Murray ($5600) who has a solid floor and has gone over 23 DK points 6 times this year showing us some higher-range probabilities with a ceiling into the low 30's (which he's hit twice). He pairs nicely with Christian Kirk ($5500) or Larry Fitzgerald ($4300). Kirk is the top deep threat and volume guy but Fitz gets the better match-up in the slot against T.J. Carrie who allows the most fantasy points of the top three Browns corners. The Cards backfield are all healthy again and we're starting to see David Johnson ($4500) eat into Kenyan Drake's ($5000) workload. Johnson was able to outscore Drake with fewer opportunities last week and there's still Chase Edmonds lurking about to pick up snaps on passing downs. This backfield is an avoid situation for me.
Jacksonville Jaguars (18.75/+6.5) at Oakland Raiders (25.25/-6.5) [45]
This is the only game with all four DVOA boxes showing green lights on the match-up chart and has a 45 point total to keep us interested. There's some potential for a big score play that could emerge from this game. Leonard Fournette ($7600) is in that conversation due to his snap and opportunity share within this Jags offense. The Raiders were playing pretty good run defense for the first half of the season but have since softened up. Fournette should be able to beat them on the ground or as a receiver. Fournette was in the group of top plays I listed before I looked into pricing this week and after seeing his price I still consider him one of the better RB plays for the slate. Another guy I had listed was DJ Chark ($6200) and after seeing his price point I was stoked. Unfortunately, Chark left last week's game in a boot and has been ruled out. This means we can save even more salary by getting big-play threat Chris Conley ($3600) for half the price. Conley had a nice run of 7 to 9 target games making us think he was trending toward a breakout game soon but it never materialized. Conley's price could make him chalk unless box score readers decide to use Dede Westbrook ($4600) instead. Westbrook has been seeing a steady 6 to 9 targets with everyone healthy and can be expected to see a spike this week along with Conley, and maybe even Keelan Cole ($3000) who is minimum priced. I'm prioritizing this group as Conley > Dede > Cole with Fournette as the lock play from this offense in small-batch or as a high exposure play for multiple entries. Gardner Minshew ($5500) could sneak into a good score in this match-up and needs to be on the radar.
This is the final home game for the Raiders in the Oakland Coliseum which will have the Black Hole (and entire stadium) in a frenzy whether or not this game is competitive. Both teams play to win no matter what but this adds an element that is rare for the home team. There will be some emotion involved and a desire to step it up even more (if possible) to go out as a winner in front of this fan base. As far as picking winners in DFS the Raiders make it pretty easy for us. We need to look at whoever starts at RB and Carr's favorite targets - the TEs. Josh Jacobs ($7000) seems to be getting the "all clear" from the coaching staff as he goes through limited practices this week. If for some reason he can't go, then we turn our attention to DeAndre Washington ($4700) who will be uber-chalk in this scenario as DFS players look to take advantage of the Jags deteriorating run defense. Jacksonville wasn't good with Myles Jack in the line-up but have been even worse without him (Chargers just rolled them for 195 last week and Peyton Barber glided in for 2 rushing TDs the week before). Washington would be a more interesting play since the Raiders use him as a dual-threat player compared to Jacobs. There's also some risk of Jacobs re-injuring his shoulder or having his reps managed. I still want some exposure to Jacobs but there are some risks to weigh with him. Darren Waller ($5500) is the best TE play for Oakland, even though it seems some other TE catches a TD pass every other week for them. I don't love Waller's price but will keep him in the pool just in case I can get to him without sacrificing anything else in the build. The Raider DST ($3200) should be up for this emotional game and could be a solid play.
Minnesota Vikings (24.0/-2.5) at Los Angeles Chargers (21.5/+2.5) [45.5]
This game looks tough to pick players from. Both defenses are strong across the board but will allow a player to have a good game against them from time to time. Both offenses prefer to play clock controlling offenses that are run-based. The pieces from both sides seem over-priced for what seems likely to be a grinder of a game that will be a struggle to meet the implied total. This game is a fade for me but I could see the logic behind rostering a guy like Dalvin Cook ($8900) who should be low owned at that price. The same is true for Hunter Henry ($5200) and his price. Both guys present the best match-up breaking potential from either side but are not price-adjusted for it being a tough match-up.
Los Angeles Rams (25.25/-1.5) at Dallas Cowboys (23.75/+1.5) [49]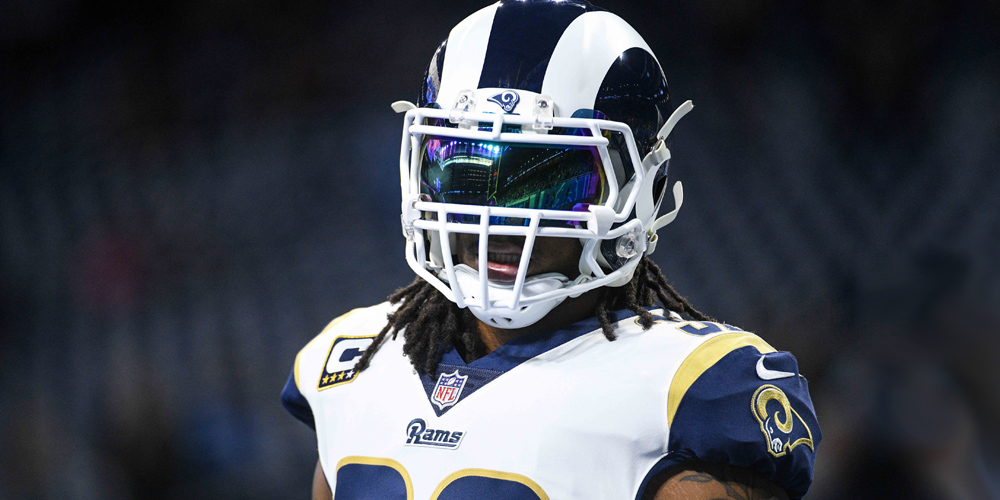 The Rams offense of 2019 has been quirky, to say the least. If the last few weeks are any indication of their identity going forward, then we may be able to conclude that the 3 players to primarily target for DFS come down to Todd Gurley ($6000), Robert Woods ($6200), and Tyler Higbee ($3900). If you follow Dwain McFarland's Utilization Reports on Twitter you can see a trend emerging in LA that points to these three being the most valuable DFS plays. DraftKings pricing algorithm seems to be seeing this and has Gurley and Woods moving more toward Cooper Kupp's ($6500) pricing, putting all three guys within $500 of each other. Meanwhile, Brandin Cooks ($4500) has fallen off as a useful option making him a risky, yet low owned play if he were to pop off. What's interesting in the utilization report McFarland posted this week is that Cooks has run more routes per drop back than Kupp over the last two weeks. Dallas has been hit by slot receivers for their most points allowed of any of the receiver positions over the past few weeks which includes Allen Robinson (who ran nearly half of his routes from the slot last week and scored 21.8), Cole Beasley (who scored 26.0), Julian Edelman (went for 17.3), and Marvin Jones (scored 20.3 while running 40% from the slot). Kupp has been the Rams primary slot receiver all season but McVay has not only been reducing Kupp's snap counts but also his slot snaps while Woods has seen his share of each rise. Our own Fantasy Data team tweeted out this interesting bit of info regarding Woods "Robert Woods has been the WR2 in PPR leagues over his last four games. He has 95+ receiving yards in each game with 47 targets, 33 receptions, and 462 receiving yards in those four games." Four games is pretty strong trend to bet on and Woods should be the top play at WR in this game but I'm still going to hedge a couple builds with Kupp in case momentum swings back toward him. Gurley and Higbee also have solid match-ups against the Cowboys defense that has allowed solid games to their positions this year. Higbee has interesting trends in McFarland's report as well. Showing increases in snaps, routes, and target percentages over the last 3 weeks culminating in a 32% target share last week against Seattle. Higbee is priced well for this match-up as long as Everett misses another week.
The Cowboys are in a tailspin right now after losing 3 in a row. They're going to need to come out swinging in this one to stay alive in the playoff race. They have the talent on offense to rise to the challenge but we will need to see what they have for scheme and play design to find out if they are ready to beat playoff-caliber teams the rest of the way. Dak Prescott ($6300) is in an interesting spot here. He's going to have one receiver - Amari Cooper ($6500) - blanketed by Jalen Ramsey, while his slot guy - Randall Cobb ($4400) - is likely to be neutralized by Nickell Robey-Coleman, leaving the path of least resistance to flow throw Michael Gallup ($5700). Here's the most interesting part of these match-ups. The Rams are the top defense at stopping explosive pass plays while Dak stands out in our Deep Ball Passing metrics for number of attempts and for having a high completion percentage when he goes deep. Gallup shows up in the top 11 in our receiver metrics for Air Yards per Game, per reception, and per target - and according to PFF data Gallup catches half of his deep pass targets (7 out of 14). Could his match-up with Troy Hill be the one Dallas attempts to exploit? Will they be more successful at it than other teams? We'll see. The Rams are typically strong against the TE position so the other spot to look for a play from this game will be Ezekiel Elliott ($7800) who hasn't topped 100-yards rushing over his last 5 games but has five 100-yard rushing games on the year. Working in Zeke's favor here are his 5th highest snap and opportunity shares for all RBs and the last time Dallas ran into a tough pass defense (Buffalo) Zeke saw 10 targets and then 5 more last week against the Bears.
Atlanta Falcons (19.0/+10.5) at San Francisco 49ers (29.5/-10.5) [48.5]
Well, the good news for the Falcons is they will catch the 49ers on a week where several starters are expected to miss the game. Richard Sherman, Dee Ford, D.J. Jones, and Jaquiski Tartt are all critical pieces on the Niners defense and with them out it could open a few cracks for a Falcon or two to post a usable DFS score. Sherman is the one that is more seamlessly replaced as both Witherspoon and Moseley have been playing well at corner. K'Wuan Williams is the Niners slot corner and he is in the concussion protocol heading toward game day. If he misses then the slot areas of the field will be a bit softer. The TEs could have some extra room to work in without Tartt patrolling the box. Losing Jones at nose tackle will cause a ripple effect across the D-Line without him occupying extra blockers and smashing through the A gaps. Austin Hooper ($5000) would be an interesting play if he were just a bit cheaper. Devonta Freeman ($5800) comes at a decent price for a guy who has back to back games of 17 carries and at least 4 targets. He should be able to find more room to run without Jones up front. Julio Jones ($7000) is interesting at his price (lowest he's been all year). Any one of these three guys could give you a solid score at low ownership but only Freeman stands out from a price point perspective.
Jimmy Garoppolo ($6100) has led the NFL in TD passes since the week Emmanuel Sanders ($6600) was acquired (over the last 7 weeks). The 49ers will take on a Falcons defense that has provided a bump in league average scoring to QBs and WRs making this a duo to target this week. Over the past 5 weeks, the Falcons defense has surrendered over 10 points to the opposing #1 TEs in 4 of those games (OJ Howard was the one who couldn't get there). George Kittle ($6200) is in a good spot here and has RAC skills like no other TE in the league. Like Ertz, his price makes him more attractive as a Flex play unless you find a good punt somewhere else (which there are). Raheem Mostert ($5200) has pulled ahead in Shanahan's RBBC but we're never really sure how that will hold up. Tevin Coleman ($4000) may get some revenge game touches (Shanny lets his guys go for stuff like this) and cut into Mostert's large proportion of the workload over the past few weeks. It would make sense to split some exposure if mining a play out of this backfield. And, let us not forget that Matt Brieda ($4100) is back healthy and for whatever reason, we get to see Jeff Wilson ($3000) vulture TDs on occasion. Deebo Samuel ($5800) should have plenty of opportunities to make plays in this game as well.
Final Thoughts
With the slates back to 13 games and the countless injuries situations providing so many options for salary relief we should see some dynamic roster construction across GPPs. Don't over-think it this week. Play what is obvious to you and maybe try to spread your ownership exposure percentages so as not to have a tight core this week. We're going to need as many chances as possible to get to the top of tourneys and a tight, rotating core may not be the best way to get there with this slate. Embrace variance with a couple of the minimum priced plays on the board. Force yourself into roster constructions you may not normally try (and keep them if they look good enough). If you're normally a 3-5 line-up player, maybe move down to the cheaper 20 to 150 max contests and take more shots at a #1 finish. Good luck this week, and thanks for reading!
STAY IN TOUCH
Sign up for FantasyData's newsletter and get awesome content sent to your inbox.
We'll never share your email address and you can opt out at any time, we promise.
---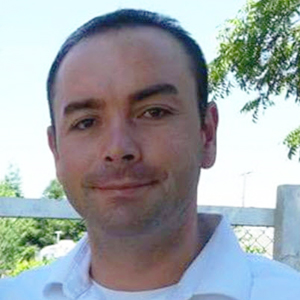 NorCal native Jesse Jones has been obsessed with fantasy football since first joining and winning a league in 1994. Always looking for an edge, Jess has been ahead of the curve mining data and building customized spreadsheet rankings and projections while others showed up to draft day asking for a pencil and a cheat sheet. As an avid NFL DFS, Bestball, and re-draft player Jess will work hard to find the edge you need to win in all formats. Jess is married to the wonderful wife of their 2 kids and enjoys traveling, playing tabletop games, and trying new craft brews. Let's make some money at this hobby of ours!