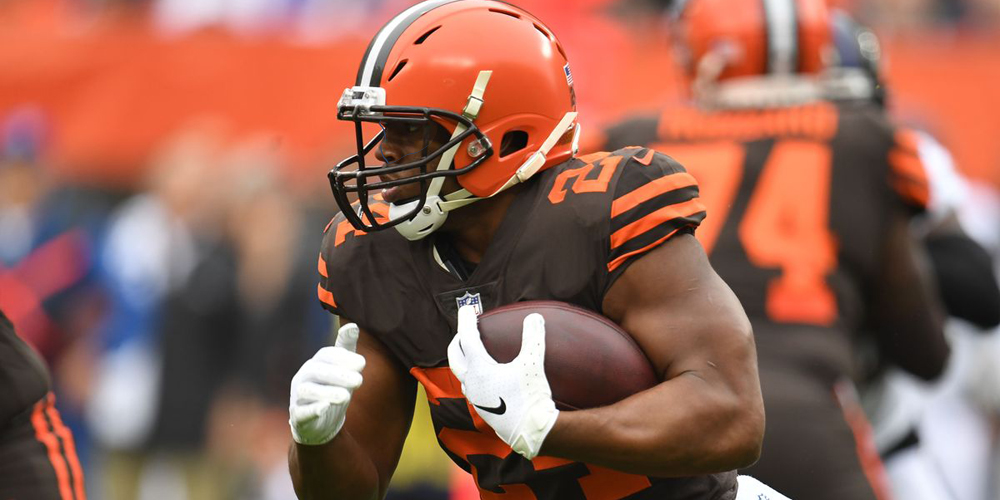 DraftKings NFL Picks: Chalk, Pivots, and Punts for Week 6
---
DraftKings NFL Picks Week 6
Week 6 is upon us and more bye weeks are starting to hit, thus reducing the player pool and pricing starts tightening up. This is when the pivots and punts start becoming more important. Let's see who we can identify to help us out this week.
Review: "Chalk, Pivots, and Punts" is an NFL DFS series focused around main slate GPPs. We go game by game looking at potential chalk plays to pivot away from, and perhaps discover some diamond in the rough type punt plays to add a differentiation piece to our builds. Each game will have a brief write up and will include the team's projected point total and Vegas Implied point spread as of the time of writing. Here is a link to a Google Sheet that presents data I collect throughout the season breaking down points allowed to specific positions, and displays home/road splits, as well as the combined data. Below are links to the final data from last year I posted to Twitter.
Link to Tweet: Chart showing where defenses allowed fantasy points by position last year
Link to Tweet: Chart showing how defenses allowed TDs by Passing & Rushing last year
When discussing pivot plays, it's not always as simple as saying "Player A" is chalk so pivot to "Player B". Pivots can be a pivot from one player to another player at the same position, a pivot from one position to another, or just a way to pivot to the other side of a game that everyone else might be heavy to one side of. Simply put, the pivots will not always be direct pivots, more like other ideas to consider in the macro-view of the slate.
Below is my Chalk, Pivots, and Punts Chart based on my opinion of the slate and what the field will likely be on this week.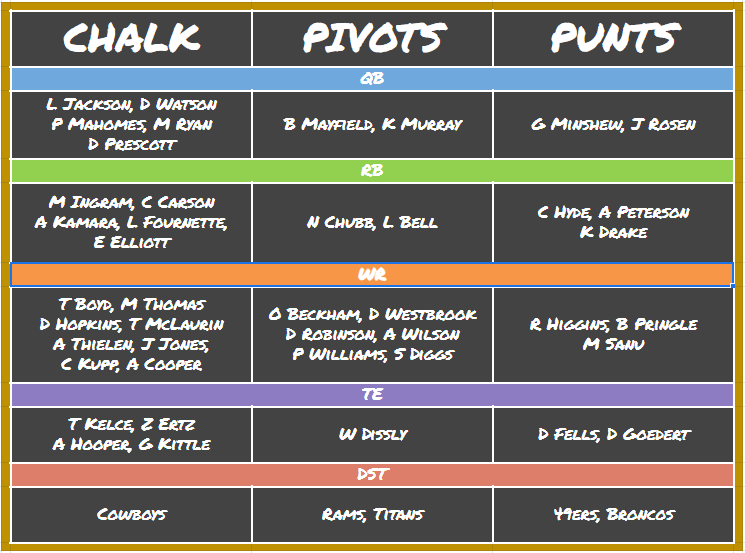 Let's get after it...
Cincinnati Bengals (18.5/+10.5) at Baltimore Ravens (29.0/-10.5) [47.5]
The Baltimore defense has allowed 5.6 DK points over league average to the slot WR so far this year, mainly because Marlon Humphrey doesn't cover the slot (Brandon Carr does). Tyler Boyd ($6300) has seen monster target volume this year and is the top play for the Bengals offense and viable in all formats this week. You could pivot down for salary relief and stack Andy Dalton ($5400) with him since Baltimore is also allowing 18.9 DK points to QBs, but Dalton has had a hard time putting up points in games until he's backed against the wall. Baltimore will put him in that situation, but they could also shut him down as the Steelers did. Joe Mixon ($5500) has seen 20 opportunities (runs + targets) in each of the last two games, which puts him at a decent value for his price. The Ravens defense will allow points to running-backs, so he's a reasonable pivot option as well.
The juiciest match-up favoring the Ravens offense is how bad Cincy is against RBs. When they're playing a game that doesn't force them to throw the ball, they will rely on their running game and Mark Ingram ($6600) sees his opportunities rise. He's on the board as one of my favorite plays this week with only Miami giving up more DK points per game to the RB position. Lamar Jackson ($6900) is priced up but could also see a big day running the ball. These would be the primary plays from the offense. You could always mix Hollywood Brown ($6200) and Mark Andrews ($4800) into your player pool if you're playing a heavy amount of line-ups or in large-field tourneys. The Ravens DST ($4100) is worth a look with the way Dalton struggled in Pittsburgh.
Seattle Seahawks (24.25/-2) at Cleveland Browns (22.25/+2) [46.5]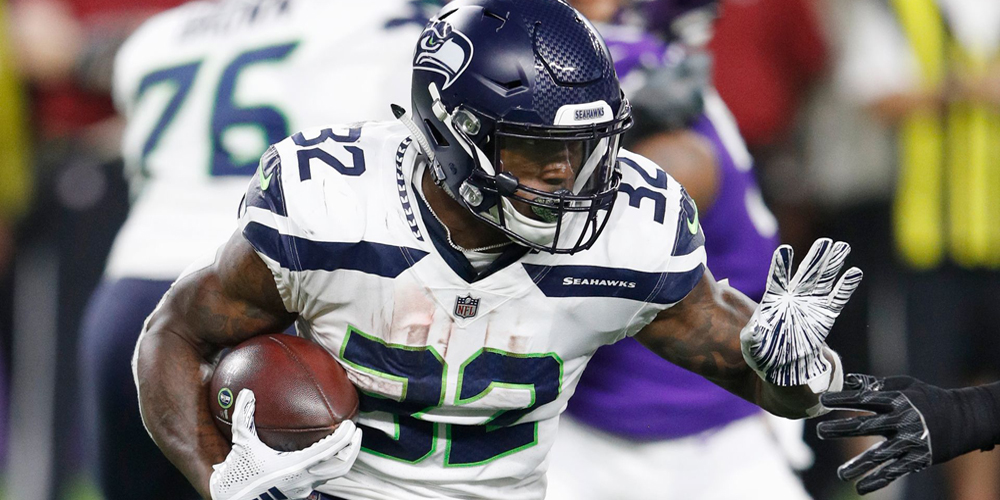 Chris Carson ($6000) is setting up as a chalk play this week after recency bias shows what a team committed to the run can do to the Browns defense, and Carson has more of the opportunity share on his offense than the way the 49ers distribute their RB opportunity. A look at the match-up chart shows Cleveland is allowing an average of 2 TD passes per game with 4 out of 5 games allowing multiple TD throws to the opposing QB. The only game they held the QB to zero TDs was against the lowly Jets. Russel Wilson is in a good spot here and could wreak havoc with his deep throwing skills. Wilson is #1 in our metrics for Air Yards Per Attempt, 10th in Deep Ball Attempts (Passes with 20+ intended Air Yards), and 4th in completion percentage for those Deep pass Attempts. Even with the Browns top two corners likely to play their secondary is going to be challenged by Wilson's skill. The average fantasy points allowed per game by the Browns safeties and linebackers is very inviting giving Will Dissly ($4900) plenty of appeal as the pivot stacking partner for Wilson. Tyler Lockett ($6400) and DK Metcalf ($4700) have each seen 4 or fewer targets apiece in each of the last two weeks making them riskier plays but they could be due for some positive regression in this category if Seattle somehow cannot take advantage of the Browns awful run defense. I'll probably leave the WRs out of my smaller stuff, but they're in play for MME and large field GPPs.
The Browns go back to the drawing board after getting pummeled in Santa Clara on Monday Night in front of the world. I expect them to come out swinging here. Baker Mayfield ($5500) is priced down due to lack of performance so he makes for an intriguing pivot option for me. Baker should throw the ball at least 35 times here and some of those looks should go to Nick Chubb ($7300). The Seahawks linebackers are not good in coverage, so Kitchens and Monken should be drawing up plays to get him matched up against those LBs in coverage. I'd like to think one the Browns TEs has a chance to go off int his scenario, but it's hard to like any of them in the rotation they play in and for the lack of targets they see. If Ricky Seals-Jones was priced closer to minimum-price, he'd be in consideration, but not at $3300. One guy who is off the radar we can look at for a punt option with the Browns is their deep route runner Rashard Higgins ($3700) who could return from injury this week. Odell Beckham ($6800) needs to be in our pools, especially at that price - as does Jarvis Landry ($5200).
New Orleans Saints (21.0/+1.5) at Jacksonville Jaguars (22.5/-1.5) [43.5]
Alvin Kamara ($8000) might be my favorite back this week. His skill-set is very similar to CMC's, who just single-handily undressed the Jags defense last week. Kamara leads our metrics in both Juke rate and Evaded Tackles. The match-up chart shows the best way to attack the Jags defense is through the RB and #1 WR. Michael Thomas ($7800) just got a $1200 price increase after his performance against the Bucs and is the 2nd highest price WR on the slate. I'd expect some elevated ownership this week due to recency bias, but that price tag may keep it from getting too high. Whether or not Ramsey misses this week Thomas in a good spot as the most reliable receiver on the Saints, who have such a highly condensed opportunity group. In what could be a tougher match-up with the Saints on the road and Jags playing at home, I'm going to stick to these two for my player pool.
Leonard Fournette ($6700) gets a home game against his hometown team. Fournette is off to a great start this year and would be priced as much as Kamara if he were scoring the TDs to go along with his yardage production. Funny thing is, Fournette has one less TD, one less target, but 20 more carries and more total yards on the year than Kamara so the pricing seems off. Fournette is leading the league by a substantial margin in yards per carry after contact, per this Field Yates tweet. Take advantage of the misprice for one more week, even against a stout Saints front. He is the key driver of the offense. Gardner Minshew ($5000) is also mispriced for this slate. Sure, Lattimore has stepped his game up and will likely shadow and shutdown Chark, but there are other places to throw the ball for Minshew to easily pay off his $5k tag. The forgotten receiver in this Jags offense should come to life this week with his match-up against P.J. Williams in the slot, and that man is Dede Westbrook ($5100). The Saints are allowing 21.5 DK points per game (2nd worst) to the primary slot WR and 10.9 DK points above league average (worst). This should be a breakout game for Westbrook.
Houston Texans (25.75/+4) at Kansas City Chiefs (29.75/-4) [55.5]
This game will probably feature some of the more higher owned plays and for good reason. Neither team is that great on defense but can put up points in a hurry on offense. The Chiefs have allowed most of their fantasy points against to opposing RBs and TEs. Neither is the bread and butter of the Texans offense, although the Texans have been utilizing Fells and Akins a little more lately, but it hasn't been consistent with which one is the primary option from game to game. With the losses of Jones and Williams in the middle of the Chiefs defensive line, I'm interested in rostering Carlos Hyde ($4400) for some salary relief. The Chiefs will have to put guys upfront to compensate for the loss of those guys or they will have to concede the run and focus on stopping Watson and his receivers. Should they decide to send the pressure packages they did against Brissett last week, then Deshaun Watson ($6700) could be forced to use his legs a little. He could use them anyway if they don't stack the box to compensate for the passing game. He's one of the top QBs of the slate and pops up high on just about every one of our advanced metrics for QB. DeAndre Hopkins ($7400) has had a quiet start to his season (aside from week 1). Watson's game has matured to the point he's no longer hopelessly targeting Hopkins on every route, and he is finding the open man and delivering the ball there. As a result, Hopkins has 8 or fewer targets in the last 4 weeks. However, Will Fuller's ($6000) breakout game shows Watson will continue to pick on a match-up if it's there. Hopkins should see a lot of Breeland in coverage this week. Breeland is OK, but Hopkins should be able to beat him at will, and we could see this be a Hopkins breakout game. Fuller was seeing 5 targets or less per game before last week's explosion. The way this Texans offense has gone this year requires us to bet on only one receiver at a time. Breeland is the best of the starting 3 corners for KC, so it's not out of the question to go with Fuller again this week against Ward. The Chief corner allowing the most points per game is slot corner Kendall Fuller, so it's not crazy to see what we can get our of a Kenny Stills ($4200) or Keke Coutee ($3500) punt either. If you're an MME player, I'd have this whole offense in my player pool for optimizer selection.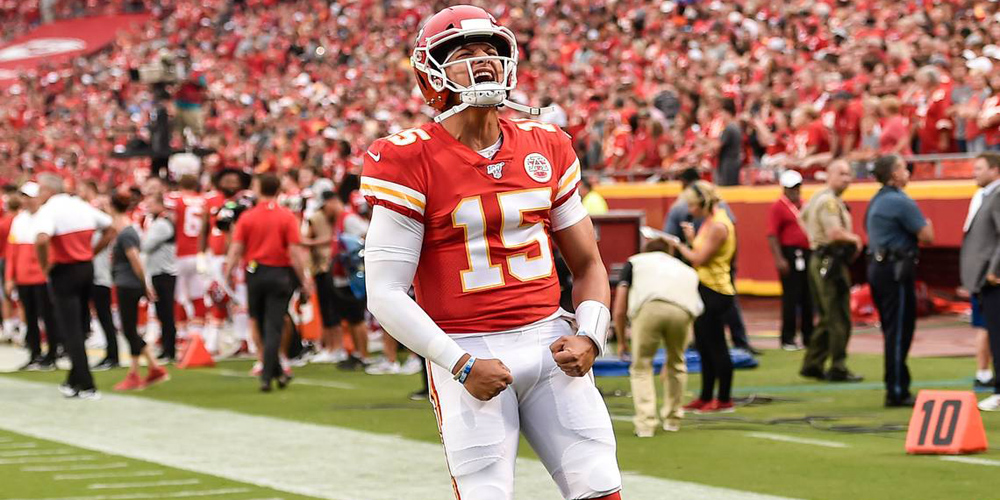 I would also include all of the Chiefs offense in that MME pool. For those of us that are generally below 20 entries per slate, I'd focus on these core plays. Patrick Mahomes ($7500) says his ankle feels OK this week and he comes in as the top play at QB on the slate, and most expensive. Luckily, there are some punt options out there that allow us to get him in if we want. Tyreek Hill ($6900) is questionable for this week, and even if he plays who know what his snap count will be. He's capable of turning any touch into a touchdown, so we need to pay attention to the injury news up until game time. If Hill doesn't go, or even if you're looking to pivot off of him if he plays, I'd look at Demarcus Robinson ($5900) or Byron Pringle ($3500) as the deep ball replacements for Hill. Robinson has been the top deep guy on the year, then Pringle came in and saw 4 deep targets (nearly half of what Robinson has for the year) in one game. Robinson has 3 deep TDs (2 vs OAK, and 1 vs BAL) this year which is the most of any Chief. Mecole Hardman ($5300) has 2 deep TDs, and Sammy Watkins ($6200) has 4 end zone targets to lead the Chiefs. It's mostly a guessing game as to which of their receivers is set to have a big game. Travis Kelce ($7000) is usually pretty consistent and tends to be the guy Mahomes looks for when the play breaks down. Damien Williams ($5700) has had the two highest snap percentages of any Chiefs RB this year with 66% of the snaps in week 1, then 56% last week. This appears to be a committee backfield, but it certainly appears he's the head of that committee. Unfortunately, it has not netted him a lot of opportunities. Week 1 he had 19 opportunities and it's been a decline since then. More on the Chiefs offensive struggles the past two weeks is being written about how Detroit laid out a man-coverage blueprint that the normally zone-heavy Colts followed and shut them down. The Chiefs are expecting Houston to copy this blueprint which will require more aggressiveness and more decisiveness from the Chiefs receivers and tight ends. Kelce was especially frustrated and seems fired up to have a better game this week. Houston playing man also opens up the opportunity for Mahomes to take off and run for chunk yardage which would boost his already high floor.
Washington Redskins (22.5/-3.5) at Miami Dolphins (19.0/+3.5) [41.5]
Here we have two of the worst teams in the league squaring off. Both teams would love to land the #1 pick in next year's draft but both teams have to pretend they are not tanking. Let's be clear though, players don't usually participate in the tank, it's the coaching that does it for them, so we can still look for a few bright spots in this one. Washington is a team that just fired its head coach. A lot of times this leads to players rising to the challenge in the very next game. Interim head coach Bill Callahan wants to establish the run and play 2 down football. This probably means more carries for Adrian Peterson ($4500), who may be a worthy punt play this week going against the Dolphins run defense that is yielding 40 DK points per game to opposing RBs which is the worst in the league and 15.4 points per game over league average (2nd worst). We do have a team in Miami that has had a week off to prepare for the Skins, so perhaps they've worked on their run defense. Rostering Peterson is never easy due to his lack of involvement in the passing game and his game script dependency, but the data and likely game flow of this one make him viable. It sounds like Case Keenum ($5000) will be back under center this week and he was the one who helped Terry McLaurin ($6000) get off to his hot start on the season. McLaurin is a viable play this week, although he is priced up now. It would be easier to digest rostering Redskins in the $5000 range, especially when you consider McLaurin has yet to reach double-digit targets in a game this season.
Kenyan Drake ($4400) landed in my original "dummy build" due to his low salary and possible high ceiling in this match-up. Drake is an explosive runner who can hit home runs as a runner or a pass catcher. He's seen at least 5 targets in the last 3 games and gets the majority of the snaps at RB for the Dolphins. If he starts getting more opportunity since Miami realized Ballage is #notgood, he may be able to pull off a good game at low ownership. I am still worried about his workload which has ranged from 12 to 18 opportunities over his last three games, but one big play can make all the difference with him. Washington is allowing the 7th most points to RBs, so there is some data to support the play. Josh Rosen ($4500) is a fascinating option this week. He's dirt cheap, faces a team allowing 23.9 points to QBs, which is a number driven by the Redskins average of 2.6 passing TDs allowed and allowing a multi-TD game in every week except for week 4 when they held rookie Daniel Jones to one TD pass. Every other week they allowed 3 TDs passes, including a game where they faced Trubisky. With the extra week of reps as the starter, Rosen could come out of this game with a solid stat line that easily pays off the $4500 investment and then some. He can be stacked with Preston Williams ($4100) or Albert Wilson ($4000) to give you all the salary relief you need to go get the big guns everywhere else in your build.
Saturday update: There are articles out there suggesting Mark Walton ($3000) has played his way into a bigger role. It's a high risk play, but at minimum price, he's a flyer to conider if you really need that extra salary to make the rest of your build work.
Philadelphia Eagles (20.25/+3.5) at Minnesota Vikings (23.75/-3.5) [44]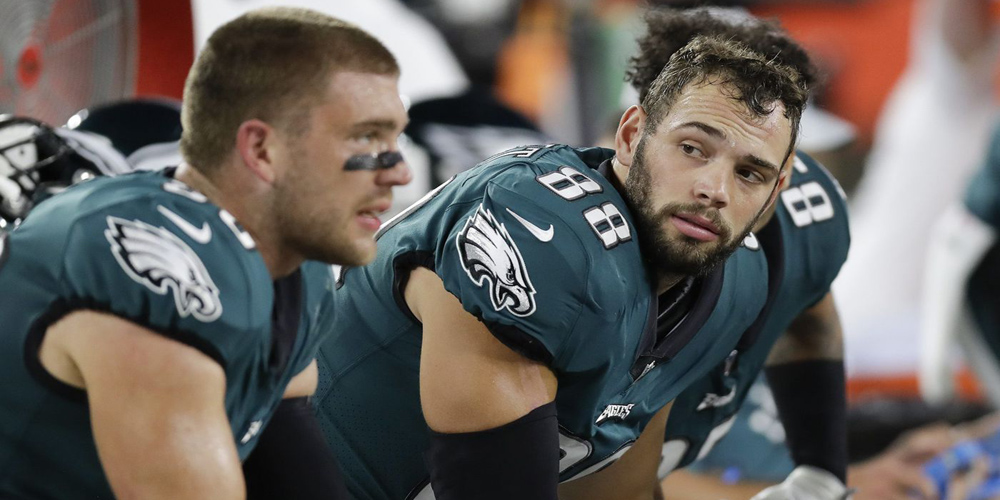 The Vikings defense at home is going to be a tough challenge for the Eagles offense. The Vikings show no exploitable weaknesses on the match-up chart, but they have also benefited by playing several sub-par offenses. The biggest take away from pouring over their box scores and passing charts is that their opponents like attacking the middle of the field, and if they have a good TE they are using them. The match-up chart supports this in the target breakdown by showing Minnesota as the second-highest team targeted with TEs (Hooper, Waller, and Engram will do that). Since we're looking at this potential weakness and the talented TEs that have been able to exploit it, we have to look at Zach Ertz ($5400) as the probable top option for the Eagles offense this week. The Eagles receivers are slow and will be no match for the Vikings secondary which will force Carson Wentz ($6000) to funnel the ball into Ertz and possibly Dallas Goedert ($2900) as well. Goedert is a deep punt, as he has been capped at 3 targets max in 3 out of 4 games. He's a TD dependent punt, but based on the way the Vikes defense forces passes inside, he's someone to keep in mind if you need the salary elsewhere.
We have a strength versus strength scenario here with Dalvin Cook ($8400) (2nd leading rusher in the NFL) going up against the Eagles dominating run defense (lowest total rush yards, 2nd lowest YPC, 3rd lowest amount of 10+ yard run plays allowed). The Eagles defense, being so good against the run, will not have to alter their scheme much to slow down Cook in the running game, so it would be wise for Minnesota to dial up some passing plays to get the ball into his hands. If Cook becomes a key part of the passing game, his outlook will be much better. If the Eagles can take him out of the game completely (for the most part anyway), then we should be looking at whether Minnesota tries to attack the Eagles secondary with their star receivers. The Eagles secondary has been improved with Darby on the sidelines, but they are still allowing at least on opposing WR to score more than 25 DK points against them in every game except for the Jets game. Adam Thielen ($6700) is the likely best play at WR for Minnesota, but you could try to get sneaky and pivot over to Stefon Diggs ($5900) who seems due and deserving of a big game soon. Thielen got the grease last week, when will Diggs?
Atlanta Falcons (27.0/-2.5) at Arizona Cardinals (24.5/+2.5) [51.5]
Al Smizzle has been beating the drum for the DFS flow chart on who to start at TE for the last couple of weeks. The extent of the flow chart is "Who plays the Arizona Cardinals?". The answer to that this week is Austin Hooper ($5000). Hooper is having a career year seeing a minimum of 6 targets per game with three games of 9 or more. The cardinals did better against the Cincy TEs last week than they had been doing, but some of that can be attributed to Cincy's inept offense and the TEs staying in to block more. Hooper should feast here. So far, in 2019 Matt Ryan ($6400) has hit the DK 3 point bonus for 300 yards passing every week and has thrown for 3 TDs in 3 out of 5 weeks. The Cardinals have allowed 68 plays per game to opposing offenses, 25 or more DK points to 3 out of 5 QBs, 24.8 DK points per game o QBs (2nd worst and 6 points higher than league average), 2.4 passing TDs per game, and a multi-TD passing game in 4 out of 5 this year (Seattle controlled the game with defense and the run - didn't need to throw). Matt Ryan is in a smash spot here. The Arizona corners have been awful this year (one has already been cut), so we don't have to stop at a Ryan/Hooper stack. We can add one of the WRs, too, and even run that back with a pass-catcher for Arizona. The newest starting CB for Arizona has been pretty good so far, but Brock and Murphy are each allowing 11 or more PPR points per game to opposing WRs. Julio Jones ($8000) has had two quiet games in a row, so this could be his turn to have a big game. Mohamed Sanu ($4500) gets Brock in the slot, which is a good match-up to exploit. Calvin Ridley ($5700) should see the most of Murphy who is also exploitable. I would have all of the Falcons passing game in your pool for MME optimizer this week.
David Johnson ($7600) did not practiced this week leaving his availability in question. If he misses this game, then Chase Edmonds ($4600) become a huge value play. The Falcons are known for getting beat by passing catching backs (though they haven't been tested by any good ones yet this year), which is how Kingsbury is using his backs in this offense. The Falcons are allowing the third-worst DK points per game to QBs putting Kyler Murray in the pool this week. Murray's pass attempts have declined as Kingsbury tries to slow the pace down a bit to keep his defense off the field. However, Murray is talking off on more designed run plays and nearly had a 100-yard rushing game last week.
Saturday update: DJ is looking like a full blown game-time decision. Keep an eye on reports Sunday morning to gauge how hurt he is. If he's OUT, then Edmonds is a top 5 play for this slate. If he is 100% good to go, then DJ is a top 5 play. If it seems like he's going to give it a go and see how he feels during the game, then I'd roster Edmonds over him, but more as a top 12-15 play for tr this slate, and mainly due to the value he'll open up. If you have Edmonds in your FLEX spot and DJ is 100% good to go, then you can pivot over to Sanu, or leave $200 on the table so you can put Manny Sanders in that spot.
San Francisco 49ers (23.5/+3.5) at Los Angeles Rams (27.0/-3.5) [50.5]
The 49ers are not in good shape right now. They will be without their run game catalyst Kyle Juszczyk and starting RT Mike McGlinchy this week. Add in they are already missing their All-Pro LT Joe Staley and this looks like a feast for the Rams defensive line. Matt Brieda ($5100) and Tevin Coleman ($4400) cannot be expected to meet the yards the 49ers have been putting up on the ground to this point. The Niners only gained 39 rush yards after "Juse" went down late in the 3rd quarter, this after gaining 239 yards on the ground up until that point. The Rams secondary has been lock-down, aside from Tampa's emotional outburst against them a couple of weeks ago. Talib hasn't practiced as of Thursday and him sitting out would be a boost to the Niner's passing game. Peters has a tendency to get beat deep, and Robey-Coleman usually does a great job of shutting down the slot, so the passing game may be where we have to look if rostering Niners. George Kittle ($5200) has beaten the Rams for 20 or more DK points in his last three games against them. He is the top, and only play worth getting into our line-ups from the Niner's side of this one. The 49ers DST ($2700) is also in play with Gurley looking questionable and that pass rush could force Goff into some sacks or bad throws.
The Rams may be without Todd Gurley ($6200) this week which would make Malcolm Brown ($4300) a nice value in just about any other week, but this particular week he's facing a defense that we want to avoid targeting with RBs (unless you're trying to be contrarian). Cooper Kupp ($7100) and the Rams DST ($3300) are as deep as I'm willing to dive for Rams plays this week. I'm not usually a bet on games type, but this game screams defensive battle and the 50.5 implied total seems a bit much. Might want to bet the under here.
Tennessee Titans (19.25/+2) at Denver Broncos (21.25/-2) [40.5]
The Broncos struggle against opposing running backs which has Derrick Henry ($6100) on my radar. The Titans DST ($2900) makes for a great RB/DST stack combo this week. Corey Davis ($4000) should see a lot of Chris Harris, which takes him out of my player pool. A.J. Brown ($4200) has been efficient with little volume, but that lack of volume is a concern and makes him hard to consider unless you're going MME.
Saturday update: I was reading some articles this morning about how Fangio changed up his defensive scheme to stop the run, so Derrick Henry has less appeal for me here.
The Titans defense may be too much for the Broncos to overcome, so I'm only looking at one player on this side, and that's Noah Fant ($2900). Fant is a salary relieving punt option and the match-up chart shows Tennessee allows the most point to TEs compared to the rest of their chart.
Dallas Cowboys (25.25/-6.5) at New York Jets (18.75/+6.5) [44]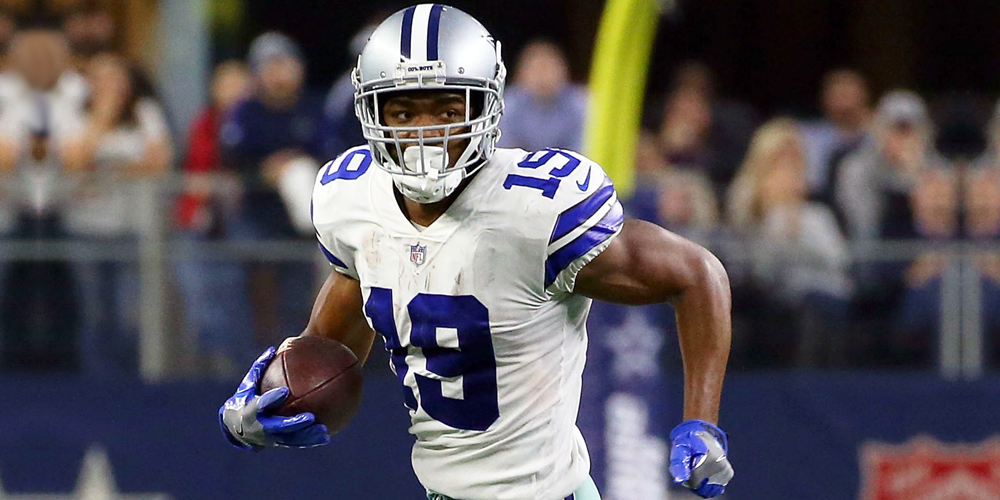 There should be plenty of Cowboy options to work with against a bad Jets defense. Dak Prescott ($6200) faces a defense that has allowed 19 or more points to opposing QBs in 3 out of their 4 games so far. He should be able to move the bell pretty easily with the weapons he has. Amari Cooper ($7000) and Michael Gallup ($5600) should be able to terrorize Johnson and Worley on the outsides making either, or both, great stacking partners with Dak. The Jets have faced committee backfields so far, and only Chubb (who had a 61% snap share int hat game) was the only one to almost get to 20 DK points with 19.8. Ezekiel Elliott ($8500) may be without his top two offensive tackles this week which puts a dent into his value, but Mosley is unlikely to play for the Jets so there's still some appeal with Zeke. He's been held to under 20 DK points in 4 out of his first 5 games this year, so the break-out game is coming. With the Jets pass defense so weak, we may have to wait another week to get there.
Sam Darnold ($5100) returns to the Jets this week adding to their hopes of being slightly better than the mess they've been without him. Still, it's hard to get excited about anyone on this offense right now. The Cowboys won't let Darnold and the receivers beat them deep and will funnel all the action into the RB and TE. Le'Veon Bell ($6400) has seen 9 or more targets in 3 out of 4 games this year making him an interesting pivot option. The Cowboys just got worked over by Aaron Jones last week and Bell is a better back than Jones. He just runs behind a bad offensive line, so we're going to have to bank on the majority of his production coming from targets.
Final Thoughts
This is the first 10 game main slate of the year which causes the player pool to shorten up and makes us have to get more creative in differentiating our line-ups. The HOU/KC and ATL/ARI will likely draw a lot of ownership for those players, as they should. Line-ups in smaller entry limit and smaller tourneys will likely be chalky, so find a couple of pivots and a punt you like and work them into your builds. For MME get a handful of low owned contrarian plays into your pool for differentiation. Best of luck to you, and thanks for reading!
STAY IN TOUCH
Sign up for FantasyData's newsletter and get awesome content sent to your inbox.
We'll never share your email address and you can opt out at any time, we promise.
---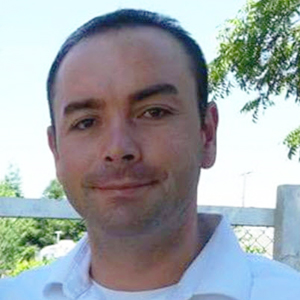 NorCal native Jesse Jones has been obsessed with fantasy football since first joining and winning a league in 1994. Always looking for an edge, Jess has been ahead of the curve mining data and building customized spreadsheet rankings and projections while others showed up to draft day asking for a pencil and a cheat sheet. As an avid NFL DFS, Bestball, and re-draft player Jess will work hard to find the edge you need to win in all formats. Jess is married to the wonderful wife of their 2 kids and enjoys traveling, playing tabletop games, and trying new craft brews. Let's make some money at this hobby of ours!