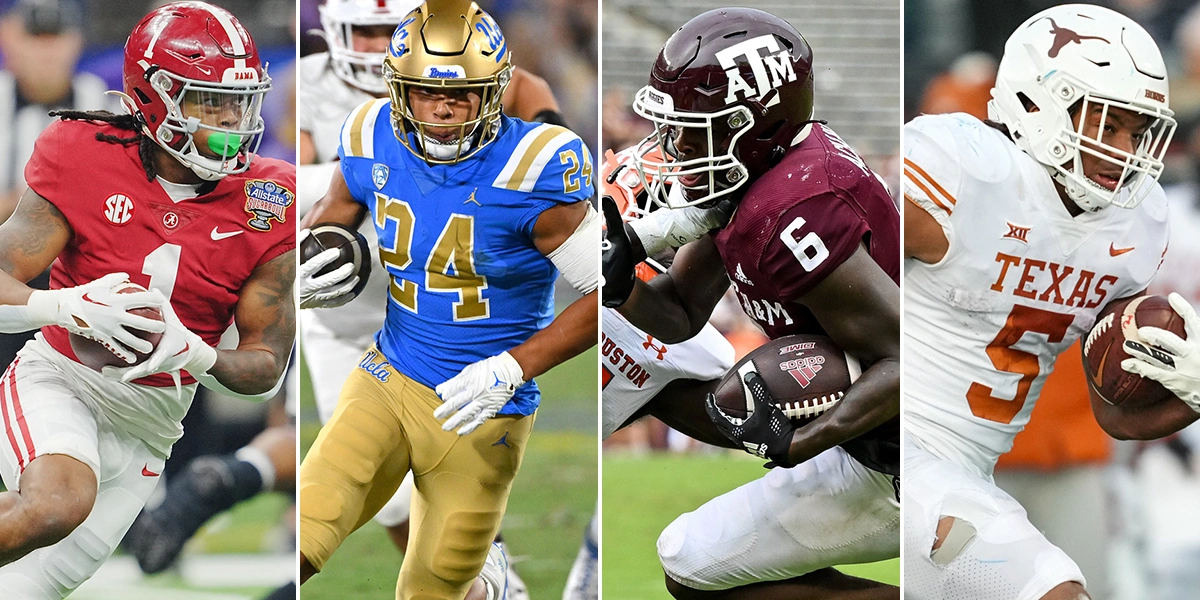 Dynasty Football: 2023 Running Back Rookie Preview
---
2023 Rookie Running Back Class
Boy, are we in for a treat with this running back class. There is a vast amount of talent across the board. There are probably 7 or 8 backs who could be selected in the first few rounds. I realize that is unlikely, but the talent is worth that capital in my opinion. Many people think the running back position is the least valuable, but I would argue that a game-changing running back is a massive advantage for offenses.
With that being said, let's take a brief look at the players coming into the NFL this year.
Check out FantasyData's Latest NFL Mock Draft 1.0
Bijan Robinson - Texas (6', 220 lbs)
3,410 rush yards / 33 TD / 6.3 YPC
60 receptions / 805 yards / 8 TD / 13.4 YPC
Bijan is a guaranteed first-rounder. Barring some crazy change. I would say a lock for a top-10 pick. Would just depend on any draft day trades. Bijan is one of the best running back prospects in the last few years. He is an incredibly well-rounded running back. You don't see that too often with rookies. There are very few flaws to his game. The only flaws I can find are his long speed, which only is a problem on 50+ yard runs when a speedy corner is faster than him. It's a big deal, but worth noting. The other thing would be sharpening his pass-blocking. He'll throw himself in front of anyone. Including 300+ pound linemen. But isn't as efficient as NFL teams probably want their backs to be.
His vision is insane. The way he follows the flow of the line and the defense all at the same time is unmatched in this class. On top of that, his power and acceleration once he uses that vision allow him to burst through the line and find the open field. An elite attribute to have if you ask me. Plus, he doesn't go down to arm tackles, so once he makes a move your safety will look silly and he's off to the races.
Easily the best back in this draft. If you didn't get to watch much of him at Texas, go check him out on the ole Youtube. He's a stud in the making!
How high is Bijan Robinson getting drafted?

pic.twitter.com/tZt9DFmxGx

— Thor Nystrom (@thorku) January 18, 2023
Jahmyr Gibbs - Alabama (5'11", 200 lbs)
2,056 rushing yards / 15 TD / 5.6 YPC
102 receptions / 1,151 yards / 8 TD / 11.3 YPC
Jahmyr Gibbs started his college career at Georgia Tech. Accumulated 1,200 rushing yards and 768 receiving yards with 13 total touchdowns. He transferred to Alabama when Brian Robinson declared and led the Tide with 1,370 yards from scrimmage and 10 TDs. Very elusive and extremely fast is the name to his game. He could sneak into the end of the first round, but I imagine he'll be selected in the early to mid-second round.
He is a weapon. Many are comparing his abilities to Alvin Kamara. Which I feel is a tall order, but, I see where they are coming from. I think Kamara has a higher ceiling than Gibbs will ever see. Not a knock on Gibbs, just a thought. He isn't a bruiser. He's a bit lighter for a running back so he's not the guy to lower the shoulder and get an additional 2 or 3 yards. Yes, sometimes that may occur for him, but it's not his best attribute.
His best attributes would be explosiveness and quickness. If you give Jahmyr a hole and green space behind it, he is gone. He is so damn quick and elusive he will burst through the gap and house it. Similar to Bijan's explosiveness, but Gibbs has the long speed to not get caught. His elusiveness is top-tier. He will bounce off tackles and make positive plays out of a bad scenario. Many times he was faced with defenders in the backfield and he turned it into positive yards.
The biggest nack on his game has to be pass-blocking. He's more than willing to step up and block a guy, but if it's a player bigger than him, he often loses that matchup. He puts his head down a lot rather than going low and knocking the defender off his feet. Learn to flip that backer young man!
I always see Jahmyr Gibbs getting hype for his receiving upside.

But why don't I see the same love for Kenny McIntosh?

2022

Gibbs:
• Yds/Route Run: 1.8
• Yds/Rec: 10.1
• YAC/Rec: 10.4

McIntosh:
• Yds/Route Run: 2.2
• Yds/Rec: 12.1
• YAC/Rec: 12.3pic.twitter.com/fiq0pdw9Tm

— Matt FF Dynasty 🏈 (@MattFFDynasty) January 13, 2023
Zach Charbonnet - UCLA (6'1", 220 lbs)
3,346 rushing yards / 39 TD / 5.9 YPC
75 receptions / 589 yards / 0 TD / 7.9 YPC
Charbonnet is much different than Bijan and Jahmyr. Those two are elusive and quick while Charbonnet is a bruiser and downhill runner. At 6'1" and 220 lbs, one of Charbonnet's best attributes is his contact balance + ability to fall forward (aka run through defenders). Any running back who can get bumped or hit while maintaining their balance and continuing to run is a huge plus for a team. That can make a huge difference in short down & distance situations.
Another aspect of his game I admire is his vision and patience. After watching some of his film I noticed his ability to follow his pulling linemen/downfield linemen, find cut-back lanes, and run through the holes. His burst isn't like Gibb's or Robinson's, but he also isn't running into the backs of his line or right into defenders. He has the ability to find the hole they create for him and run for the open space. He can break off big runs at any moment.
A few things he lacks would be long speed and top-tier pass-catching abilities. He's a bruiser of a running back. If he scampers for a long play and it's 50+ yards, he will get caught sometimes by those speedy secondary players. Just the nature of Charbonnet's build. Another thing I noticed is his pass-catching abilities are there, but they need to be tuned up if he wants to take on a workload in the NFL. It's teachable so hopefully, he lands with the right coach. Great coaching goes a long way in the NFL. Especially, when it's with a prospect that is as talented as Charbonnet.
We'll see. I hope he can land somewhere that needs a bruiser at running back so he gets a chance to shine. I imagine he will be a 3rd or 4th round pick.
The more I watch Zach Charbonnet the more I'm loving him as a prospect

Just another reason you need that 1.08-2.02 range in this rookie draft in a loaded class

It's the #SmashZone while others are overpaying for top 3

pic.twitter.com/YQXTyXSYeF

— Dynasty Dad (@Dynasty_DadFF) January 18, 2023
Devon Achane - Texa A&M (5'9", 185 lbs)
2,376 rushing yards / 21 TD / 6.4 YPC
65 receptions / 554 yards / 5 TD / 8.5 YPC
Devon Achane may not be your prototypical NFL running back size, but that isn't as big of a factor as it used to be. Heck, in today's game, it can provide an advantage for a team. At least, if said running back is as fast as Achane and as light on his feet as Achane. Devon may have the quickest feet and fastest explosion on his cuts in this draft class. His ability to turn corners and accelerate past the defense elevates his game to a professional level in my opinion.
There were multiple instances watching his film where you see Achane burst past the initial defensive front, and take off downfield for a massive gain or a huge touchdown. Check this run out against #10 Arkansas at the time (Video). 1st & 10 from their 7-yard line and Achane flips the field on an impressive 61-yard scamper. That's a drive-altering play. He immediately puts his team scoring position. It is plays like this that stand out to me. Sure, he's not the biggest and strongest back in this draft class, but he makes huge plays and is extremely athletic giving him an advantage at his size.
Every prospect has their attributes they need to work on, and Achane is no exception. He wasn't utilized in the passing game much outside of goal-line situations. Only 36 catches for 196 yards in his final year at Texas A&M. I think he is capable of taking on a pass-catching role in the NFL, but he will need to sharpen his skillset a bit.
With that being said, I love the way he plays for his size. He will fight for those extra yards and can drive with his strength to get them. Considering he is turning 22 years old in the middle of the 2023 season, I expect him to put on some weight and most likely end up around 195-200 lbs, which would put him at a similar build as Austin Ekeler (who is listed as a 5'10" and 200 lbs). Achane could easily wind up in that same ballpark.
Devon Achane with a nice combo of four dynamic and efficient moves in succession to earn five. #NFLDraft pic.twitter.com/J0YIxoqwR1

— Matt Waldman (@MattWaldman) January 15, 2023
Kendre Miller - TCU (6'0", 220 lbs)
2,353 yards / 26 TD / 6.7 YPC
20 receptions / 229 yards / 1 TD 7.9 YPC
I'm really glad Zach Evans (Ole Miss RB) transferred before the 2022 season because if he hadn't, we would not have seen the floodgates open for Kendre Miller in his junior season at TCU. Miller went from 623 yards with 7 TDs to 1,399 yards and 17 TD on the ground once Evans was out of the picture. Massive production from the junior running back. I would say he was a big reason why they made it to the CFB Championship.
Kendre Miller has yet to declare for the NFL draft as of 1/13, but if he does I am really excited for his potential. While he isn't the sexiest prospect, he has attributes I believe will give him the chance to establish an NFL career. He may not have the quickest feet or be the most elusive back, but he does possess the ability to beat backers to the edge and accelerate to the second level for big plays.
At 6'0" and 220 lbs he has a fantastic frame that allows him to lower his shoulder into defenders and maintain his balance to continue the play. If you ask me, that attribute can go a long way in the NFL. Another aspect of Miller's game I believe will allow him to thrive at the next level is his vision and instincts. He can dissect his offensive line quickly and efficiently and then explode through the gaps to gain large chunks of yardage.
Kendre Miller is one of the best RBs in the #2023NFLDraft class.

His combination of speed, elusiveness, and physical running style at 220 pounds makes him an ideal candidate to be a lead back at the next level.

Some Rhamondre Stevenson to his game. pic.twitter.com/p3kiNjw9MV

— Ray G 🏁 (@RayGQue) January 16, 2023
Other Names to Know
Zach Evans - Ole Miss (6'0", 215 lbs)
Very explosive runner
Incredible burst & quick feet
Solid pass-catching abilities
Stout vision at the LOS
I have seen some have Zach Evans in their top five. I'm just not there yet. With very little passing-work in college, he will need to show he is capable of being a receiving back to earn a workload in the NFL. I do think Zach Evans has the talent to be able to compete in the NFL as a running back, but he has some tuning up to do. Again, extremely athletic and gifted, just needs to put it all together.
I would love to see him wind up in a situation like Rachaad White in the 2022 season. A team needing a change-of-pace running back could benefit from adding Evans to their arsenal. A great running back coach could go a long way with this young man.
Sean Tucker - Syracuse (5'11", 205 lbs)
Acceleration is top of the class
Finishes runs HARD
Start-stop ability allows him to create separation
Despite his size, uses body control at LOS to shed tackles and drive
I think Sean Tucker is being slept on. I don't have him in my top 5 because I think he needs the right NFL RB coach to get him right. I love his speed once he turns the corner and finds open space. One thing that stood out to me in his film was his quick recognition. Often times, the line would get blown up or the gap he was intending to hit quickly closed. Tucker has the ability to quickly recognize that, adjust and find the nearest opening. There is such a finite amount of time to to this, and I think Tucker's ability to do so will give him an edge.
A couple things to note, he is not the best pass blocker. So that will need to be fixed. Also, I saw a lot of plays that consisted of Tucker sprinting to the edge to get past defenders and go upfield. It's not impossible to do that in the NFL, but it is far more difficult to accomplish on a regular basis. There were some clips were Tucker cut it up field once he realizes he won't beat them to the edge, so I know his has that ability to adjust, but I would like to see it more often.
Tank Bigsby - Auburn (6'0", 208 lbs)
Solid frame & a physical runner
Explosive upside
Glides in open space
Quick planting skills
I've been excited for Tank Bigsby ever since his SEC Freshman of the Year nomination. You don't just come into the SEC and earn that with ease. You have to be one hell of a running back to do that. Tank Bigsby is that dude. On paper, he is one of the most physical backs in this class. He always is finding the extra yards by lowering the pads and using his solid frame to gain a couple extra yards. My biggest knock on Bigsby would be his decision-making.
There were times watching Tank's film where had he followed the original blocking scheme, he would have turned a 7-yard play into a 27-yard play. He tends to bail prematurely and bounce it outside where a corner or linebacker is waiting and prevents a big play whereas if he trusted his line and the blocking scheme, he could have ended up with a first down or an even bigger play. Coachable, but worth noting.
Late-Round Flyers
Chase Brown - Illinois
Quality receiving back and has top-tier vision & patience at the LOS
Needs to sharpen pass-blocking
Mohamed Ibrahim - Minnesota
Great at making defenders miss/shed their tackles
Solid pass-blocking
Not much of a pass-catching back, will need to earn time on the field in other ways
Late-Late Round Flyers
Kenny McIntosh - Georgia
Eric Gray - Oklahoma
DeWayne McBride - UAB
Chris Rodriguez Jr - Kentucky
Israel Abanikanda - Pittsburgh
Deuce Vaughn - Kansas St
Tyjae Spears - Tulane
Roschon Johnson - Texas
Tavion Thomas - Utah
Most of the names above will either be special team players or someone who gets a chance due to injury. It is not very often that we see late-round running backs thrive. You don't run into Aaron Jones in the 5th round or Terrell Davis in the 6th very often.
STAY IN TOUCH
Sign up for FantasyData's newsletter and get awesome content sent to your inbox.
We'll never share your email address and you can opt out at any time, we promise.
---

Ever since Tony decided he was going to major in Sports Management at the University of Cincinnati, he knew his life would revolve around sports. Tony is an avid Miami Dolphins fan who grew up in Columbus, Ohio. Home of the Buckeyes, who Tony was born and raised to root for. Tony has been playing fantasy football for just over a decade. He approaches fantasy football with the same mentality he approaches everything else, "If you ain't first, you're last." Specializing in redraft, Tony's goal is to bring a fresh perspective to the Fantasy Football world.