Elijah Mitchell Fantasy 2022: Risk vs. Reward?
---
Elijah Mitchell 2022 Fantasy Outlook
With the NFL season around the corner, fantasy football is coming right along with it. After a nonsensical 2021 season followed by one of the craziest offseasons in recent memory, football fans should be excited for a return to normalcy in the 2022 season. However, judging by recent NFL news cycles, we have a ways to go before the NFL can return its focus on being the National Football League. To celebrate the unpredictability of this bizarre league, let's take a look at the leader of one of the most erratic backfields in all of football, Elijah Mitchell of the San Francisco 49ers.
Mitchell's 2021 Performance
Prior to the start of the 2021 season, the San Francisco 49ers seemed to have their backfield locked up with Raheem Mostert and third-round rookie, Trey Sermon, projected to assume the bulk of the carries. But after an unexpected healthy scratch to Trey Sermon and a season-ending injury to Raheem Mostert in Week 1, Elijah Mitchell, a sixth-round rookie from Louisianna-Lafayette, took the field as the next man up. While Mitchell was a no-name to most, he quickly gained recognition with his efficient running and strong fantasy performances. After his appearance in Week 1, he maintained control of the backfield for the remainder of the 2021 season which resulted in him being one of the better waiver acquisitions for fantasy managers.
After he emerged from seemingly out of nowhere, Elijah Mitchell became one of the most surprising fantasy producers of the 2021 season. Mitchell had an impressive rookie season, finishing with 963 rushing yards (8th in the NFL) on 207 carries, six total touchdowns, zero fumbles, and five games with over 100 rushing yards.
One of the few disappointing aspects of his performance was his limited usage in the passing game. Despite his 80.8% opportunity share (3rd in NFL), Mitchell had only 19 receptions on 20 total targets as most of the receiving work out of the backfield was given to Kyle Juszczyk and JaMycal Hasty. So, while he wasn't bad as a receiver, Mitchell's upside was capped to a point due to the 49ers' coaching staff favoring other running backs in that role.
#49ers RB Elijah Mitchell was playing hurt toward at the end of the season. He said he required a clean-up procedure on his knee.

— Matt Maiocco (@MaioccoNBCS) April 25, 2022
Another concerning piece of Elijah Mitchell's rookie season was his inability to stay healthy. Over the course of the year, Mitchell sustained five separate injuries that resulted in six missed games. He was also reported to have had knee surgery earlier in the offseason that he described as a "clean up" procedure. Those injuries could just be a result of his unexpected workload but it is a concern for fantasy managers and the 49ers alike.
Kyle Shanahan's Revolving Door
San Francisco has proven to be a hotbed for productive running backs over the years so you'd think that Elijah Mitchell would be a sure thing to hit again in 2022 right? Well… it's not that simple. Despite having one of the most efficient rushing attacks in the NFL, Kyle Shanahan has managed to have a different running back lead San Francisco in carries ever since he became a head coach in 2017.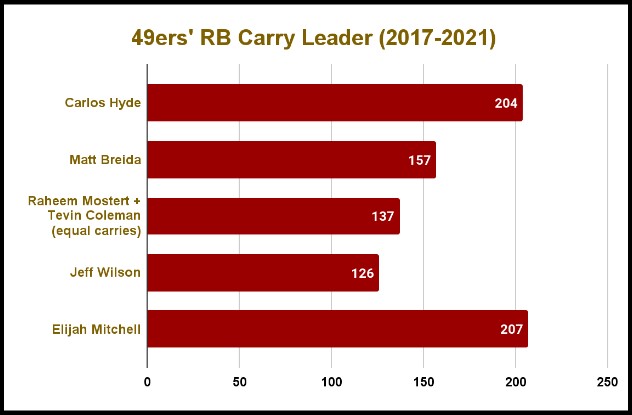 On top of that, the 49ers decided that they were in the market for another running back. So in the 2022 Draft, they selected LSU's Tyrion Davis-Price with a third-round pick. While there haven't been too many reports on him before training camp, his addition to the backfield doesn't spell great things to come as far as Elijah Mitchell's share goes. Davis-Price isn't the only other option as well. The 49ers still have other possible contributors like Jeff Wilson, JaMycal Hasty, and Trey Sermon.
Prior to Mitchell taking the bulk of the workload last season, Kyle Shanahan favored the use of a committee approach over an every-down workhorse. They seemed to be headed in that direction for 2021, but from the playing time we saw Trey Sermon get in his rookie year, it should be safe to say that the 49ers feel that they completely whiffed on that selection. If this scenario is indeed true, then Davis-Price being taken in the 3rd in 2022 makes a little more sense. With the addition of Tyrion Davis-Price and the 49ers' infatuation with his size complimented by Elijah Mitchell's speed, it wouldn't be surprising to see a return to a running back by committee.
According to NBC's Matt Maiocco, Elijah Mitchell is "no longer alone" as the top option in the 49ers backfield due to concerns about his durability. At the moment, Mitchell seems to have his position secure as a lead contributor in this running back group. But the real question now is whether that position will provide solid fantasy production, similar to what we saw last season. The jury is still out on who Mitchell's main running mate will be but from what we've seen in the past, Kyle Shanahan holds his cards close so reports could be anywhere from spot on to completely off at the moment. For a substantial report on who will see the other portion of backfield work, it'd be best to wait for news from training camp.
The Price is Right?
Heading into the 2022 season, Elijah Mitchell can be characterized as the poster boy for the running back dead zone. For anyone that is unfamiliar, the running back dead zone is the range of running backs that are being taken in rounds 3-6. That area is considered the "dead zone" because running backs in that area usually have a wide range of outcomes and are seen as much less stable options compared to those that are available in the first two rounds.
For Mitchell, his situation is a bit translucent at the moment. On one hand, you have a running back that has proven his worth and appears to be guaranteed a role. But on the other hand, the 49ers are incredibly unpredictable and have just drafted another solid running back in the third round. Mitchell currently has his ADP on Underdog set at 63.5, which is around the middle of the fifth round. A couple of other running backs going in that range include Josh Jacobs (61.4 ADP) and AJ Dillon (65.6 ADP).
Elijah Mitchell appears to have a wide range of outcomes now with a committee approach being rumored. Fantasy managers could either be pleased with Mitchell's performance or left wondering if he'll get the work on a weekly basis. If you have a strong risk tolerance or if you're building a robust RB lineup for 2022, then feel free to take your shot on Mitchell. But be prepared for things to go sideways in this San Francisco backfield because they easily could at a moment's notice.
---
Win Your Fantasy League!
Become a member at FantasyData and get access to the industry's best fantasy football subscription available!
---
---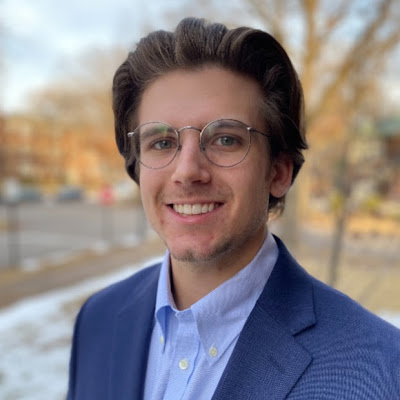 Jack Camenzind is a writer for FantasyData as well as RotoBaller but he spent time previously as a writer for 5th Down Fantasy. He is a recent graduate of Butler University who is currently residing in St. Louis, Missouri. His deep sports knowledge is primarily tied to the NFL but he's still a massive fan of the MLB and NBA. He is also a huge St. Louis sports fan but his NFL loyalty is tied to the Denver Broncos, and not just because the Rams moved to Los Angeles. Outside of sports, Jack is a crime drama fan, a frequent runner, and an occasional gamer.