Fantasy Baseball: Hot and Cold Players Week 6
---
Win Your Fantasy League!
Become a member at FantasyData and get access to the industry's best fantasy baseball subscription available!
---
Fantasy Baseball: Hot and Cold Players
The offenses have heated up in May after a slow start in April. Runs and home runs per plate appearance nearly doubled in the first half of May versus April. Oddly, the barrel rate has dropped about one percent, although the SLG and wOBA slightly improved.
We discuss one hot and cold hitter, then a crafty pitcher performing well after a breakout 2021 season in this week's fantasy baseball hot and cold assessment. After looking at the recent data, we'll examine whether it's sustainable for the rest of the season.
Hot Players
Josh Naylor (1B/OF, CLE)
With that designated hitter-type profile for Josh Naylor relying on the hit tool and power, it's a lot counting on the bat. Naylor has heated in May with a .407 batting average, 1.267 OPS, and three home runs. It's not like the production came out of nowhere because Naylor hit well in April with two home runs, a .311 batting average, and .815 OPS.
Naylor posted low strikeout rates with an 11.1% walk rate and 12% strikeout rate across Double-A and Triple-A in 2018 and 2019 throughout his minor league career. After bouncing around with San Diego and Cleveland, Naylor's bat led to consistent playing time. Naylor's 13% strikeout rate in 2022 remains low while the BABIP of .345 rides high.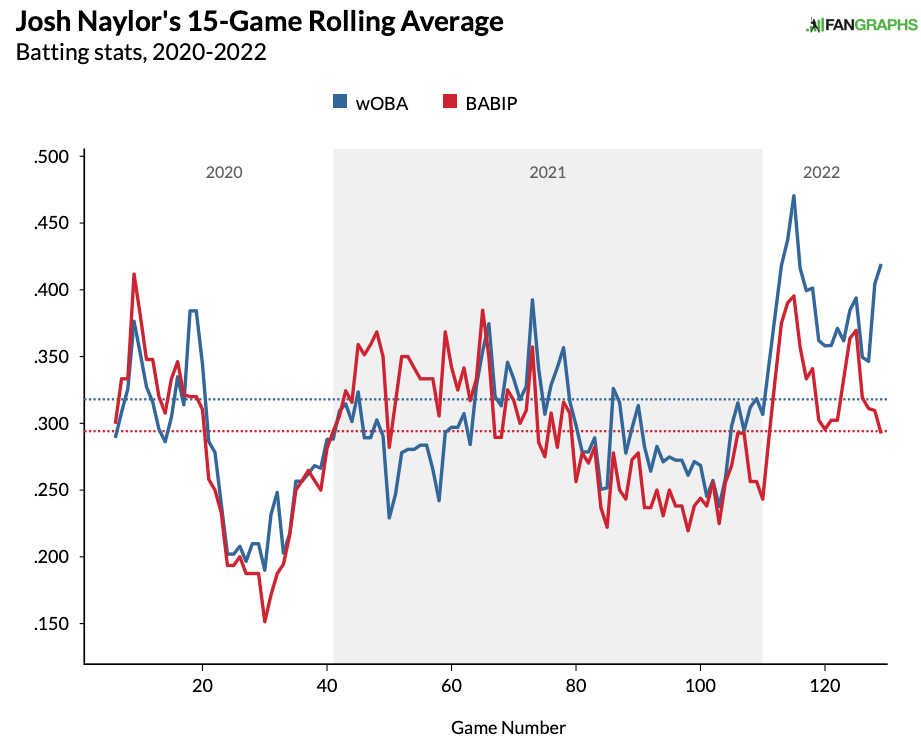 Like many young hitters, Naylor rocks a higher groundball rate at 47.6%, with a pull rate at 44.4%. It's positive to see a healthy LD% of 23.8%, but hopefully, Naylor trades groundballs for flyballs.
Interestingly, Naylor uses a more aggressive approach, evidenced by a 37% O-Swing% and 53.4% Swing%. However, Naylor makes contact at an above-average rate with a 90.2% Z-Contact% and 83.3% Contact%.
Hammering Naylor's
Naylor boasts high contact rates, with the contact quality remaining high with an 11.1% Barrel% (74th-percentile) and 9.1% Barrel/PA. Unsurprisingly, Naylor's hard-hit jumped to 49.2% - the highest of his short MLB career.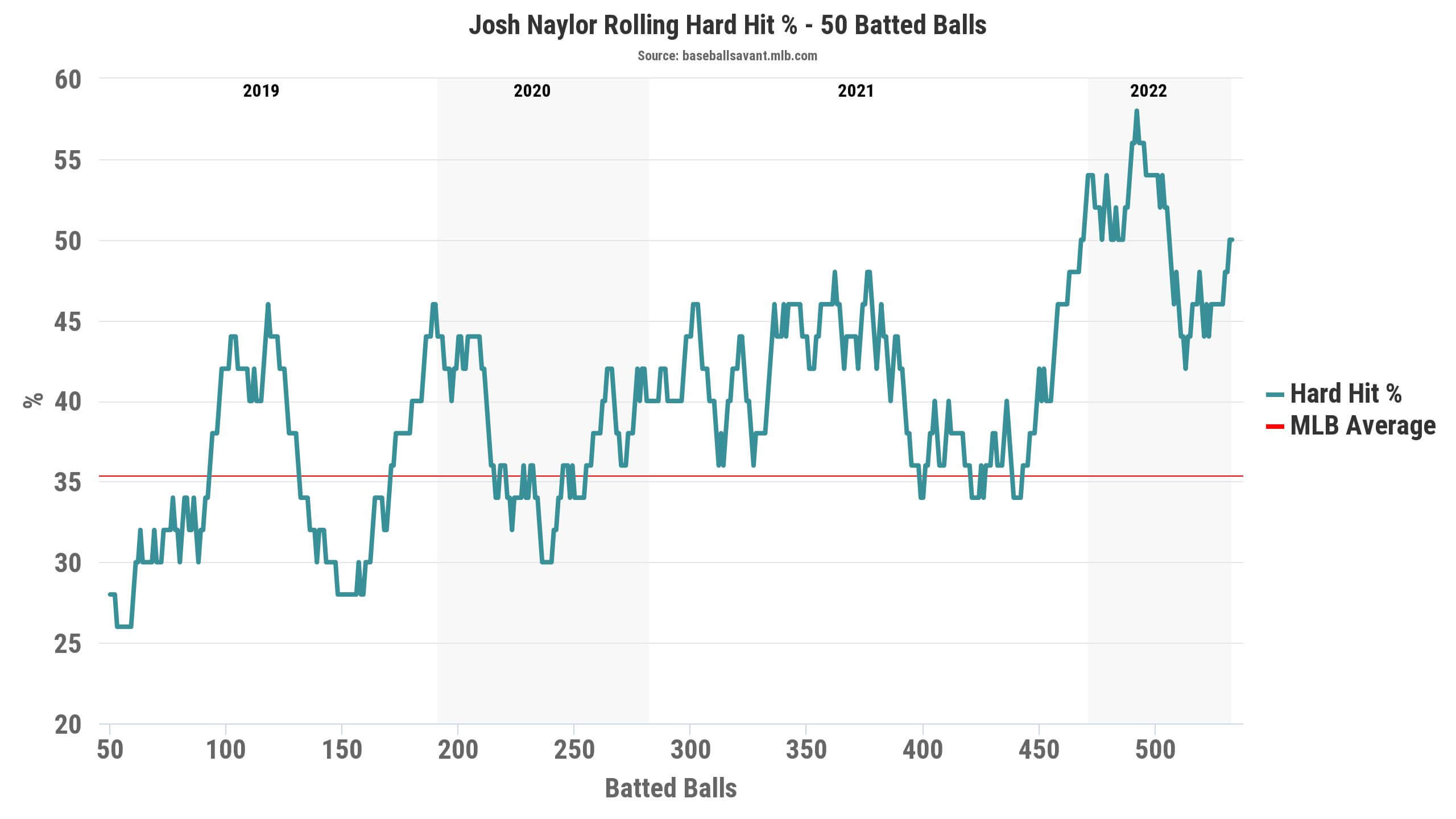 We've seen higher hard-hit rates for Naylor, but he is surpassing the peaks from previous seasons. Hitters like Naylor with high contact and high groundball rates can maintain success, assuming the exit velocities stay high. It's no surprise to find Naylor atop the leaderboards in EV on FB/LD at 97.7 mph (No. 12).
Takeaways
Cleveland mostly played Naylor at first base with a few games at rightfield or designated hitter. In 12 and 15-team leagues, Naylor's hot streaks led to managers quickly scooping him up. The lineup spot looks juicy too at fourth or fifth, even if the lineup context as a whole isn't sexy. Ride the hot streak with Naylor. It's hard to find flaws in Naylor's profile outside of the groundballs and defensive concerns. Although Naylor landed on the COVID-19 injured list, stay calm and hold in most formats.
Nestor Cortes (SP, NYY)
Unfortunately, I don't have Nestor Cortes on any redraft team outside of a dynasty league. After a dominant 22 appearances and 14 games started in 2021, Cortes posted elite ratios of a 2.90 and 1.08 WHIP with a 27.5% strikeout rate and 6.7% walk rate in 93 innings. In 2021, the .265 BABIP and 85% LOB% seemingly would regress.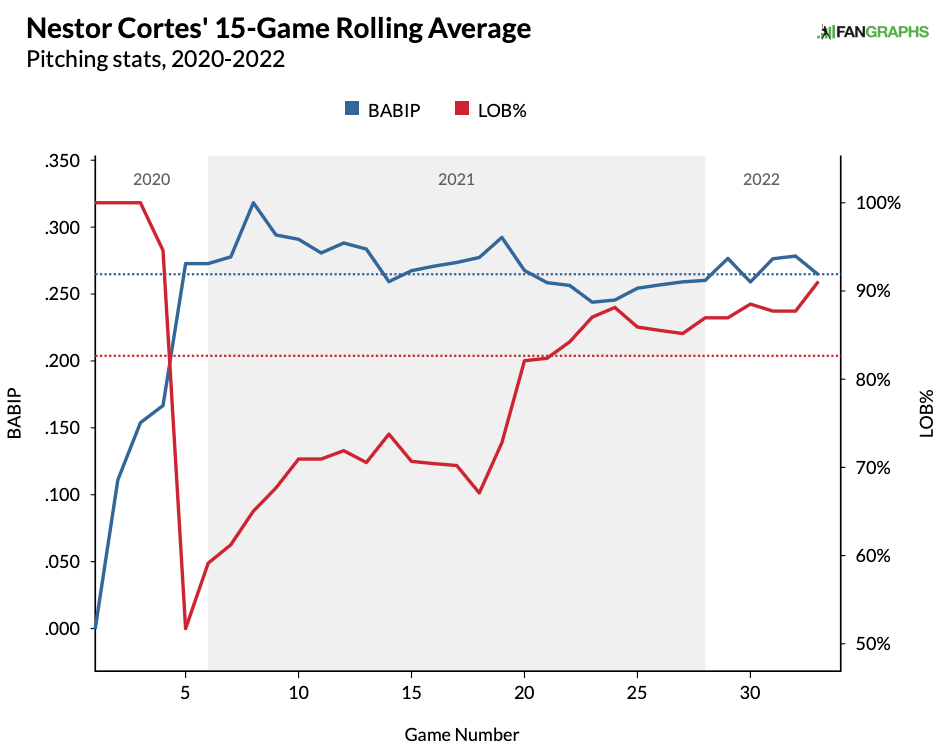 However, Cortes has a .261 BABIP and 88.7% LOB% with even better ratios of a 1.41 ERA and 0.97 WHIP. The strikeout rate increased to 33.9%, and the walk rate climbed too at 8.9%, though it's in 32 innings. He has a nearly identical .261 BABIP and 88.7% LOB% in 2022. On the surface, it appears Cortes can't possibly sustain a strikeout rate north of 30% with a 33.3% O-Swing% and 10.2% SwStr%.
The Underrated Arsenal For Cortes
It's probably cliché, but Cortes qualifies as a pitcher versus a thrower, meaning sometimes the arsenal plays up rather than overpowering stuff. Cortes swapped the usage rates for the cutter and four-seamer.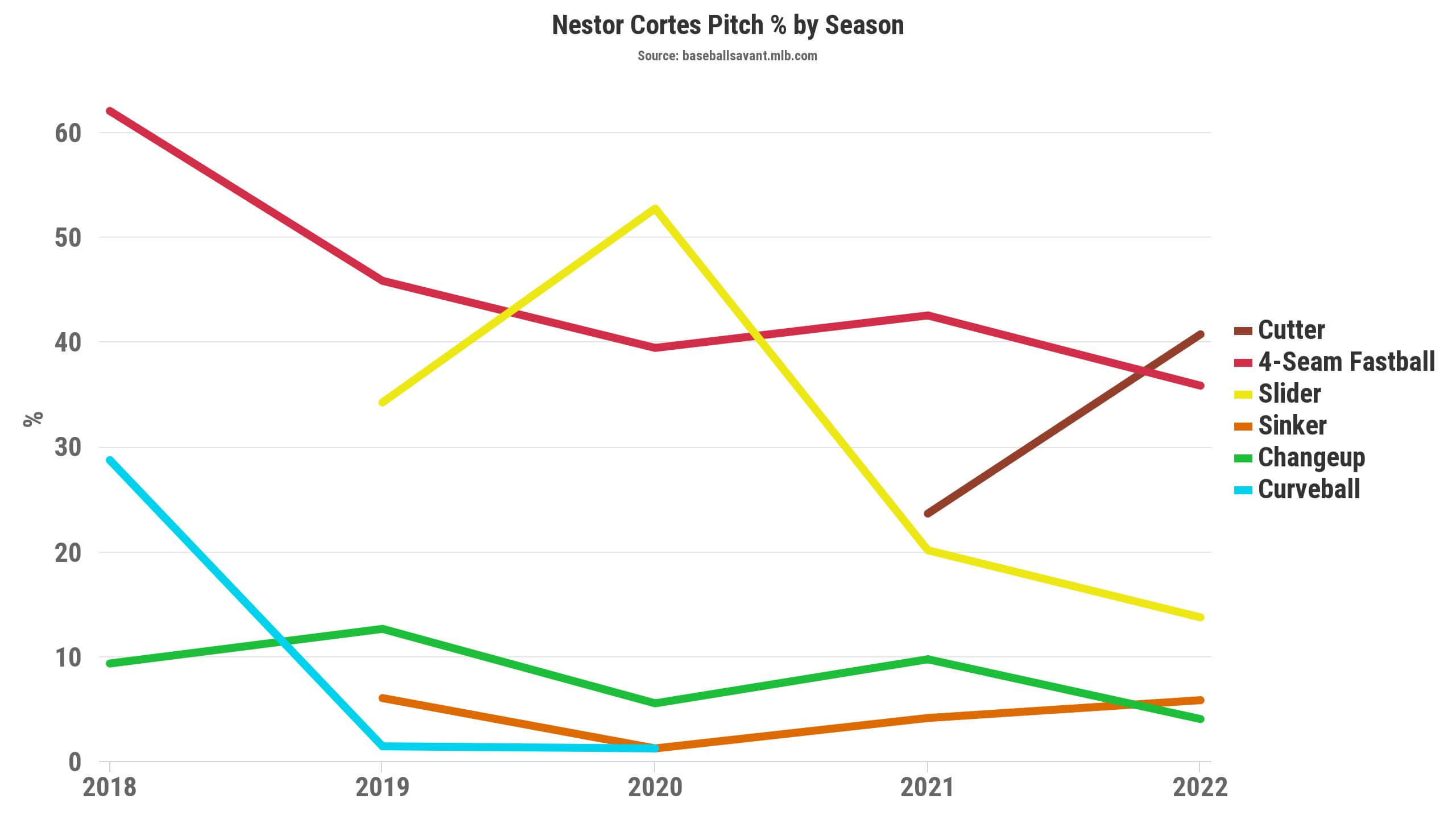 He relies on the cut fastball and four-seamer over 75% of the time, with the slider usage dropping from 20.1% to 13.7%. The results remain elite on the two primary pitches.
2022 Cutter: .137 BA, .294 SLG, .232 wOBA
2022 Four-Seam: .206 BA, .235 SLG, .260 wOBA
2021 Cutter: .271 BA, .447 SLG, .341 wOBA
2021 Four-Seam: .196 BA, .365 SLG, .268 wOBA
It's early, but the cutter and four-seamer have performed better in 2022, which aligns with the elite ratios for Cortes. For reference, the league on four-seamers in 2021 and 2022 remain worse than Cortes' metrics with a .255 BA, .449 SLG, and .344 wOBA. The same trend applies to the league averages on cutters with a .258 BA, .433 SLG, and .326 wOBA.
Unsurprisingly, the four-seamer and cutter possess above-average movement profiles aligning with the elite results. The four-seamer has 2.9 inches of vertical rise versus the average, with the cut fastball standing out with above-average break. Cortes' four-seamer and cutter movement profiles appear nearly identical to 2021.
Takeaways
Although it's a small sample of over 130 innings for Cortes, he warrants attention as a buy-high candidate. When we find a pitcher that relies on control with a 20.9% K-BB% in 2021 and 25% K-BB% in 2022, it should draw our attention. Fantasy managers are eating up his fantasy value as a top-100 player on the Razzball Player Rater, yet an ADP inside the top-300 picks on NFBC leagues. With the league-wide offense heating up, don't sell Cortes to sell unless someone values him as a top-100 player.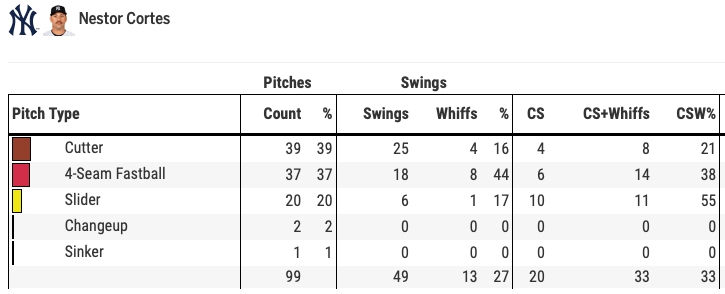 Update: On Sunday, Cortes dominated the White Sox with a quality start across eight innings to earn the win. Cortes allowed three hits, an earned run, and zero walks with seven strikeouts, though 12 hard-hit batted balls. It's his longest start this season, with the four-seamer eliciting a 44% Whiff% and 38% CSW%.
Cold Players
Whit Merrifield (2B/OF, KC)
After accumulating over 700 plate appearances for three full seasons from 2018 to 2021, Whit Merrifield appeared like a "safe" player. A fantasy manager could bank those 20-30 stolen bases with 40 in two seasons with a career batting average of .286.
Merrifield has stolen five bases to start 2022, but the batting average of .173 dipped due to the .191 BABIP. The 14% strikeout rate and 4.4% walk rate remain nearly identical to previous seasons, so it doesn't appear that's an issue.
2022: 79.2% Contact%, 10.8% SwStr%
Career: 83% Contact%, 8.3% SwStr%
It's a small 2022 sample, but we'll want to monitor the lower contact rates and increased swinging-strike rate. A big part of Merrifield's profile involves contact rates and line drives.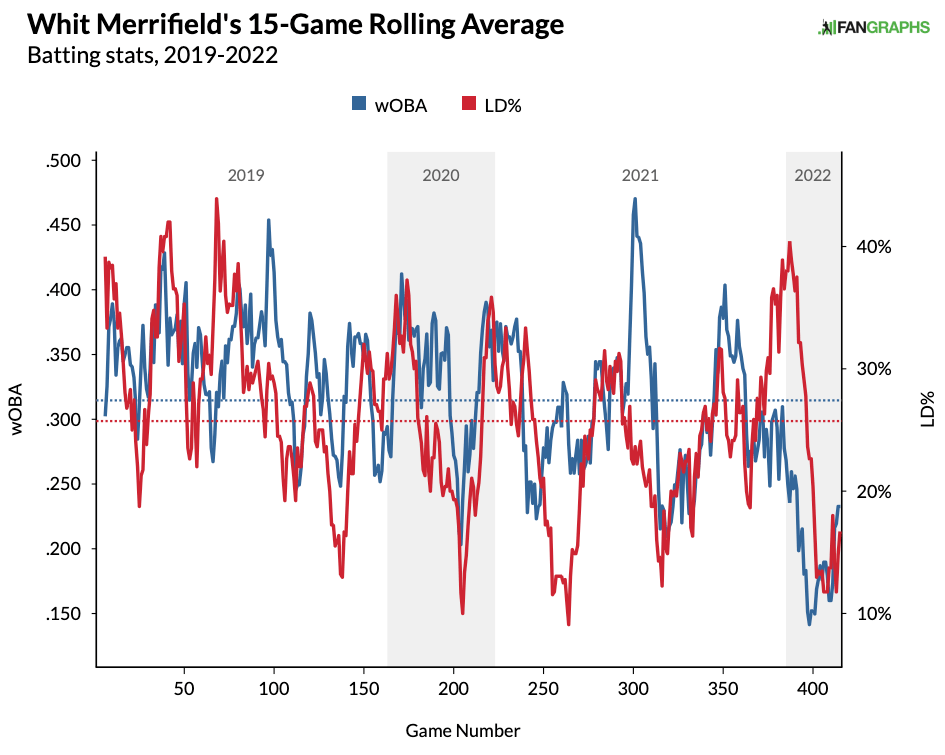 Unsurprisingly, Merrifield's LD% dropped to 19.1%, down from a career LD% of 25.8%. Merrifield traded line drives for flyballs with a 43.6% FB%, so that's concerning if the power metrics don't jump.
Merrifield's Statcast Data
It's hard to examine Merrifield's Statcast data and conclude anything actionable since he doesn't strike the ball hard. Merrifield's 2.3% Barrel% and 1.9% Barrel/PA align with the career Barrel% of 4.2% and 3.2% Barrel/PA.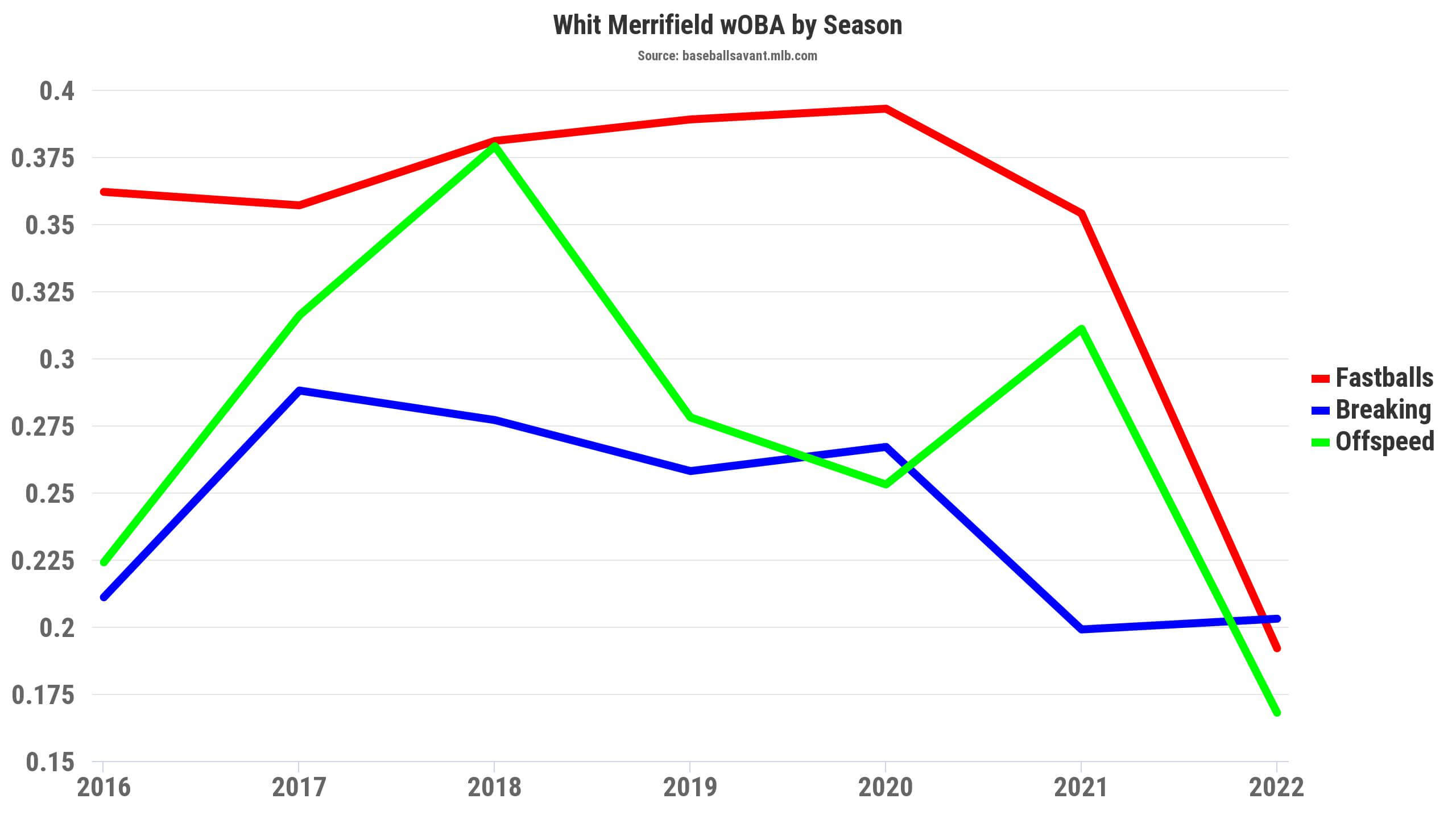 Merrifield has struggled against fastballs in 2022 with a .162 BA, .230 SLG, and .192 wOBA. Since 2016, Merrifield rocks a .325 BA, .494 SLG, and .373 wOBA against fastballs, not including 2022.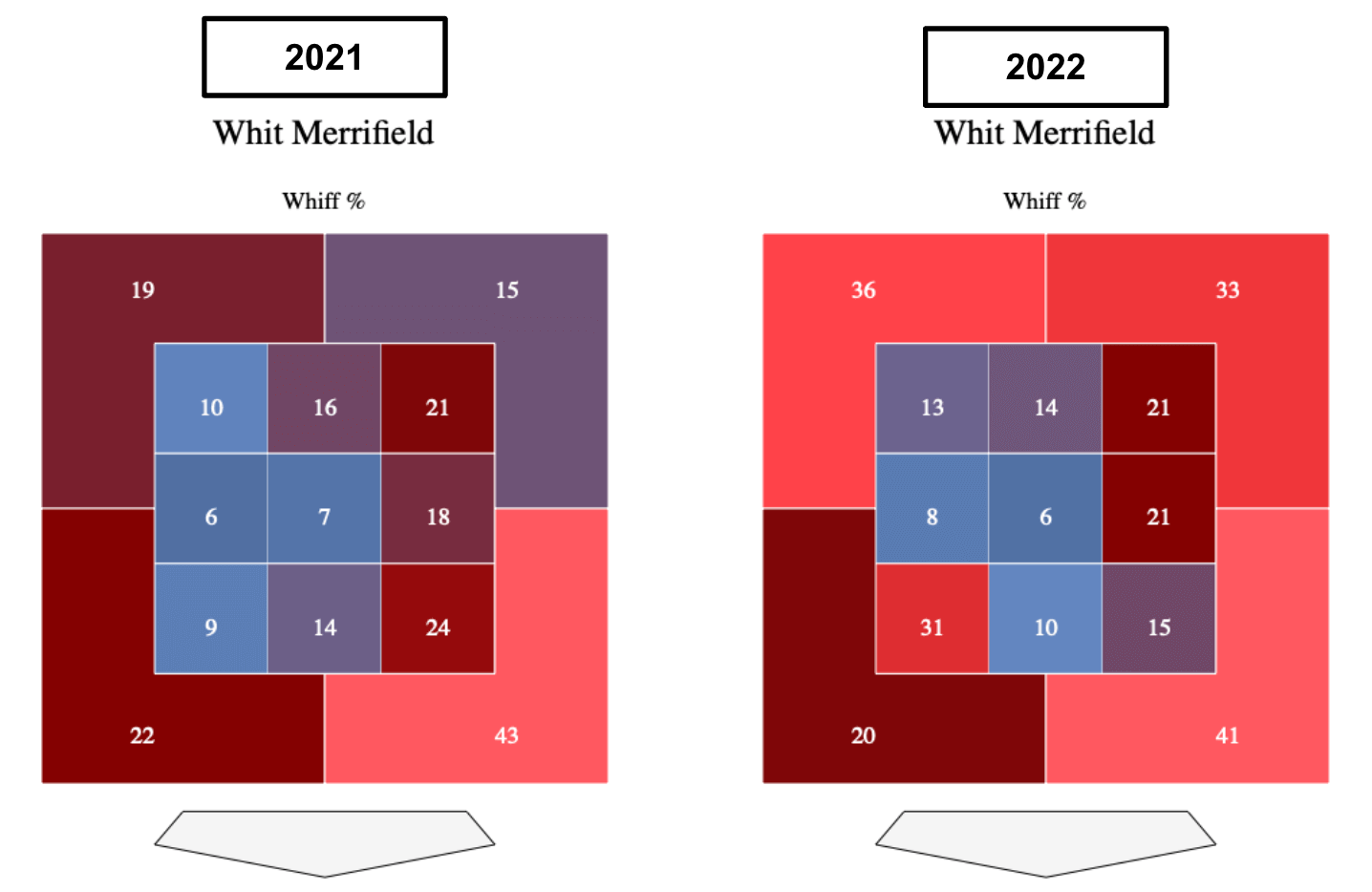 Across Merrifield's career, he averaged a 73% O-Contact%, down to 69.8% in 2022. Although the overall chase rate remains similar to the career norms, it aligns with the whiff rates outside the zone. In 2022, the whiff rates increased outside compared to 2021 and 2020.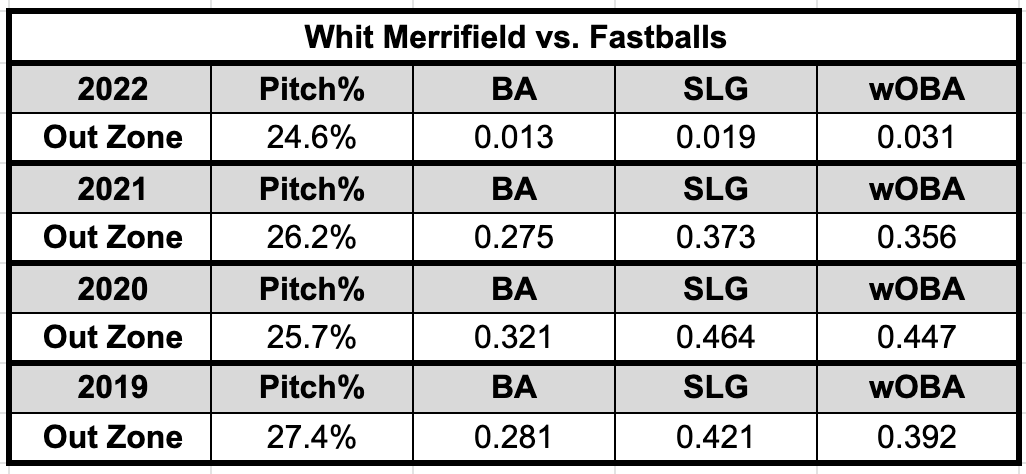 Merrifield is performing well versus fastballs in the zone, though the overall results against fastballs aren't great. The results outside the zone on fastballs sit on the other end of the spectrum. Hopefully, the out of zone results regress closer to the career norms.
Takeaways
Like Nelson Cruz in last week's article, it's whether you buy into Merrifield's history of success and stat accumulation. Fantasy managers have to weather the storm in 15-team leagues as a second or early third-round pick. At a smaller level, Merrifield has "heated up" with a six-game hit streak entering Monday to raise the batting average to .185 with a .468 OPS in May. The Royals moved Merrifield out of the leadoff or two-hole for seven straight games in May, then he batted leadoff in two straight. Look for Merrifield to bounce back, especially against fastballs.
---

Corbin is passionate about fantasy baseball and football. He loves diving into and learning about advanced metrics. Corbin is a Mariners and Seahawks fan living in the Pacific Northwest. Corbin's other hobbies are lifting weights, cooking, and listening to fantasy sports podcasts.