9 Fantasy Baseball Rebound Candidates in 2020
---
Are you excited about the upcoming fantasy baseball season? FantasyData has a bunch of new tools and weekly features scheduled this year, one of which is our new MLB Daily Lineups page. This page will feature up to date batting orders and starting pitchers, perfect for daily fantasy sports fans and those looking to get an edge with sports betting.
---
Fantasy Baseball Rebound Candidates
Most if not all fantasy players go into a draft with some kind of rankings close at hand. When it comes to our turn to make a selection, we use these rankings as a guide to help us decide who to take. Theoretically, if we follow those rankings we should end up with a competitive team. The problem, of course, is that not every player will perform up to expectations.
There will be injuries that lead to a decline in performance. Some injuries allow a player to stay in the lineup but hurt his performance. Sometimes we are just better off if a player goes on the injured list for a couple of weeks and returns to 100% health rather than try and play through the injury and not perform up to those expectations.
In this column, we will look at players who could move up your rankings after a poor 2019 season for whatever reason. You may not want to bank on more than one or two of these players, but they could also be the type of player that wins you a league as your opponents may have buried them because they will only look at last year's numbers and think that player was terrible without doing the homework to find out why they were terrible.

1. Luis Severino, New York Yankees: Severino only started three games and threw just 12 innings for the Yankees last season due to multiple injuries. He is completely healthy this season and is once again expected to be one of the best starting pitchers in the American League. What should help Severino, besides his offense, is that he will no longer feel the pressure of having to be the ace of the staff. That job falls to Gerrit Cole and when James Paxton is healthy, Severino might actually be the third-best SP on that staff.
2. Daniel Murphy, Colorado Rockies: Injuries have also hurt Murphy over the past two seasons as he has missed over 100 games. The good news is that Murphy is still playing in Coor's Field and fantasy owners will always take notice of any hitter playing there, but the bad news is that the Rockies seem to have several players (Ryan McMahon/Ian Desmond) who will vie for playing time at 1B which may limit the number of games that Murphy will play, especially if he were to get off to a slow start.

3. Didi Gregorius, Philadelphia Phillies: Gregorius missed approximately the first half of last season due to his recovery from Tommy John surgery and then struggled to perform like his normal self once back in the lineup. Leaving Yankee Stadium and the short right-field porch won't help, but I'm not sure he could've found a better landing spot than the launching pad that the Phillies play in. Gregorius is betting on himself by only signing a one-year deal. If you decide to wait on shortstop, Didi would be a pretty good pick in the middle to late rounds.
4. Khris Davis, Oakland Athletics: If there was one person in MLB that the change in the baseball didn't help, it was Davis. After hitting 133 home runs in the previous three seasons, Davis managed only 23 last year. Here is the problem with Davis, if he's not hitting HRs, then he is worthless to your team as we know his AVG is never going to be a plus. Davis does play in a park in which the ball does not travel well and at 32 years of age, maybe that 40-HR power never does return, but 30+ should still be within his reach.

5. Rhys Hoskins, Philadelphia Phillies: Hoskins may have been feeling the pressure last season of high expectations. The Phillies spent quite a bit of money during the offseason (Bryce Harper) and a winning season was expected to come along with it. That didn't happen and as the season ran along his numbers kept falling and falling. Hoskins did hit 29 long balls, but that came with a .226 AVG, 85 RBI and two SBs. Those numbers really came nowhere near what fantasy owners expected of him during drafts.
6. Vladimir Guerrero Jr., Toronto Blue Jays: Speaking of expectations, what was expected from Vlad was just crazy. He was supposed to hit 50 HRs, win Rookie of the Year, and pretty much be the hope for the future for the Blue Jays. Yeah, no pressure there. People forget that when Mike Trout first came up, he failed and had to go back to Triple-A. Vlad should have a much better sophomore season now that he has had time to adjust to major league pitching.
7. Justin Upton, Los Angeles Angels: There will be quite a bit of pressure on Upton this season. Last year was a bust as he suffered multiple injuries. This year, the Angels have made several moves to try and make themselves a contender in the AL West. They have added Anthony Rendon and possibly Joc Pederson (as of this writing that deal is still not official), Ross Stripling (also not official), Julio Teheran, and Dylan Bundy. They will also have Shohei Ohtani available for the entire season. The Angels want to win and if Upton were to get off to a slow start again, that may give the team all the reason they need to call up top prospect Jo Adell and have him try and take Upton's starting job.
8. Edwin Diaz, New York Mets: It's hard to understand what happened to Diaz last season but there is no denying that you can't have your closer with an ERA north of five. Was Diaz hurt? His average fastball velocity was 97.5 MPH, that's higher than in his three previous seasons in Seattle. Was it the pressure of pitching in New York? Possibly as we have seen several pitchers over the years wilt under those bright lights, just think of Sonny Gray. One has to believe that Diaz will rebound this season, but if he doesn't, then Dellin Betances (who could've also been on this list) could take over the role.

9. Trevor Bauer, Cincinnati Reds: To be fair, Bauer wasn't pitching great before the trade to Cincinnati last season, but he was certainly worse after it. We forget that players are human also and a trade means they have to uproot their lives and try to get used to a completely new environment. Then again, maybe it was because the Reds were out of the playoff hunt and also play in a bandbox which will hurt the numbers of just about any pitcher. Bauer should rebound this season as he has had a complete offseason to get used to his new surroundings.
STAY IN TOUCH
Sign up for FantasyData's newsletter and get awesome content sent to your inbox.
We'll never share your email address and you can opt out at any time, we promise.
---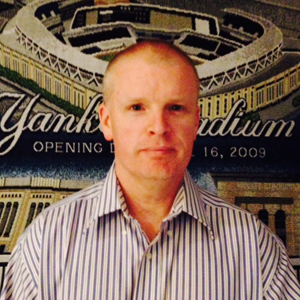 George Kurtz was born in Queens, NY and currently lives on Long Island. He started playing fantasy football in 1988 with baseball and hockey coming soon after. George got his start in the fantasy industry by luck when a friend started his own site (Fantasy Sports Forum) in 2006 and asked George to write for him. One thing led to another and George started working for RotoWire in 2007 and is still with them today. George has also written for FFReport, Leatherheads, Seamheads, Going9, Gotham baseball, and FantasyPros911. George started with RotoExperts in 2012 and is an analyst on the Fantasy Sports Radio Network. You can listen to George on weekends when he is the host/analyst of The Weekend Fantasy Update and RotoExperts in the Morning.