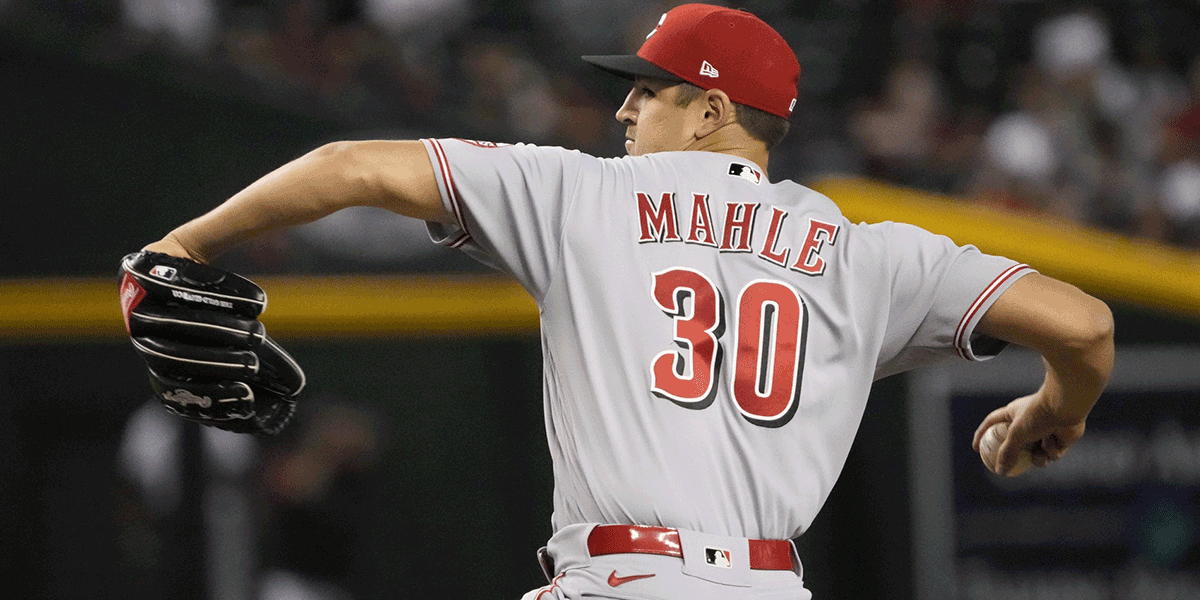 Fantasy Baseball Week 11: Hot & Cold Players
---
Hot & Cold Players Fantasy Baseball
The major league rosters will reduce to 13 pitchers starting Monday, June 20, after teams held onto an additional pitcher on their roster to begin the 2022 season. With innings pitched and pitches per start trending downwards, it's safe to wonder how that will impact a team's plans for their pitchers.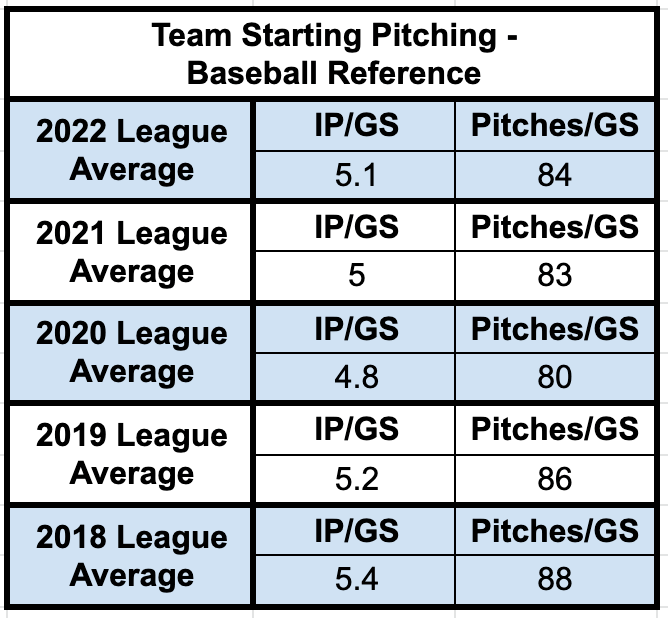 Over the past few seasons, the league averages fell, not including 2020. The Tampa Bay Rays come to mind, and the data aligns with the team finishing towards the bottom in pitches per game by their starters.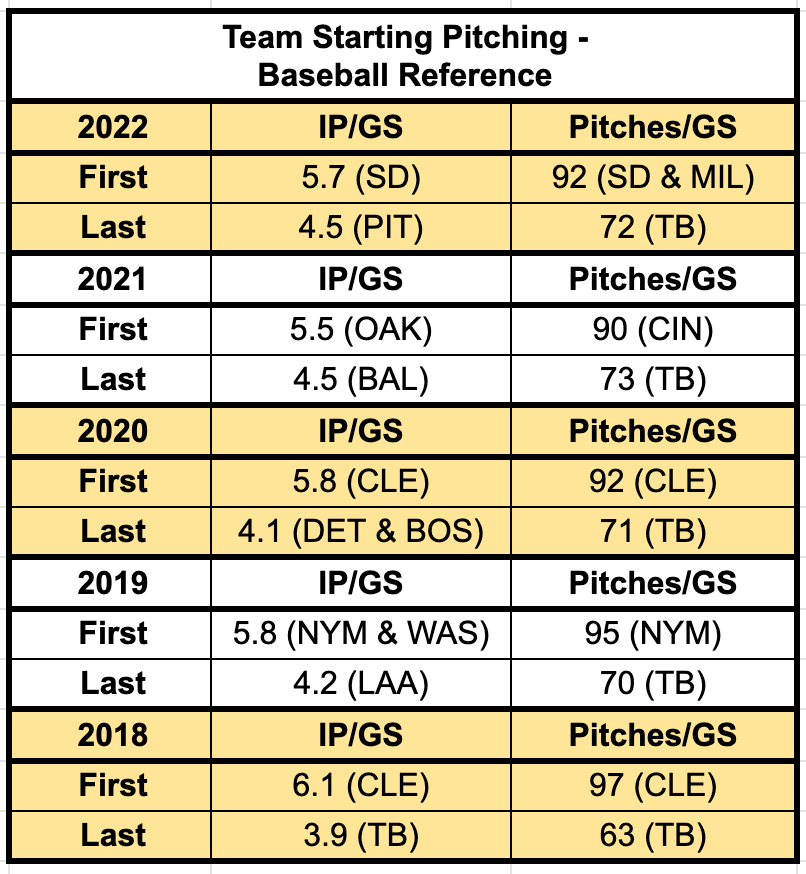 With the roster cutdowns and offenses heating up, we'll remind fantasy managers to be cautious in streaming pitchers. However, if you find a few skills, indicators, and friendly matchups, it might be worth the risk with someone like Mitch Keller or Ross Stripling over the past two weeks.
Mitch Keller quality start vs. the Giants. Happy Father's Day. That'll do.

Keller two step:
11.1 IP, 10 H, 3 ER, 4 BB, 6 K

Leggoooo 🙃🤙🏼 https://t.co/CkLQf4Rqki pic.twitter.com/1znp5xJOID

— Corbin (@corbin_young21) June 19, 2022
As usual, we'll look at four hot and cold players with one pitcher and hitter under each section. What do the underlying metrics indicate? Can these players sustain the hot surge? Or should we expect a bounceback for these cold players?
Hot Players
Tyler Mahle (SP, CIN)
Hey, we have an excuse to discuss Tyler Mahle positively. Gradually, Mahle's ratios improved from a 6.45 ERA and 1.66 WHIP in April to a 4.88 ERA and 1.18 WHIP in May. Then throughout 21 innings in June, after nine scoreless innings, Mahle has a 1.71 ERA and 0.90 WHIP. Mahle dealt with some misfortune in April and May with a .295 BABIP and 58.8% LOB%.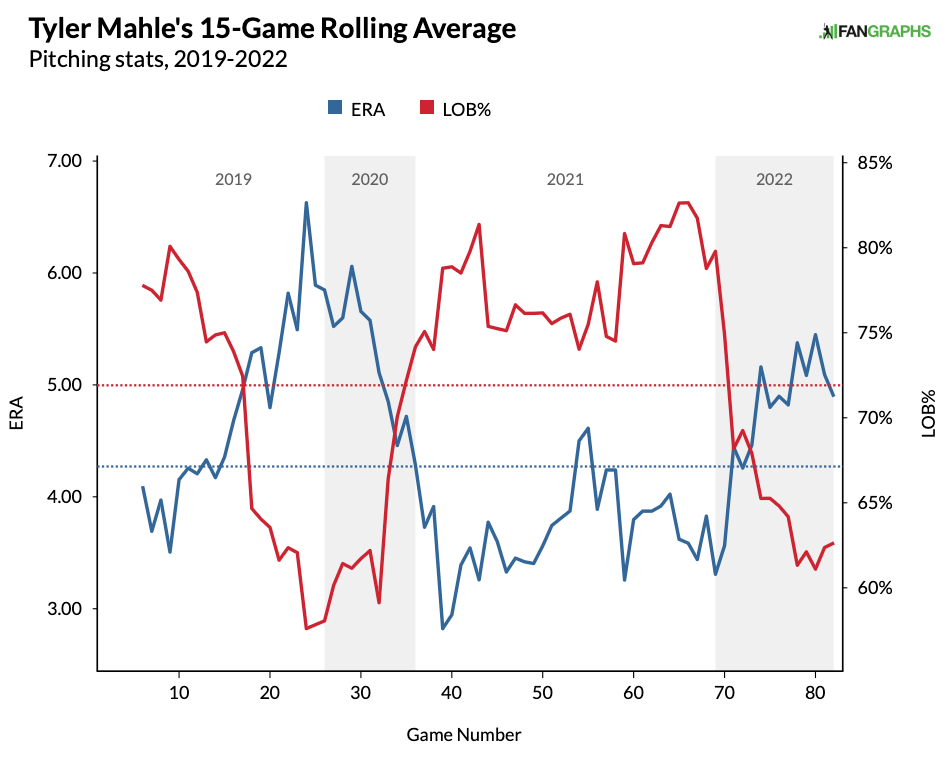 Although the BABIP isn't too much of an outlier, Mahle's strand rate looked brutal, with an 11% BB% not helping the cause. That also came with a 24.6% K%, translating into a 13.6% K-BB%.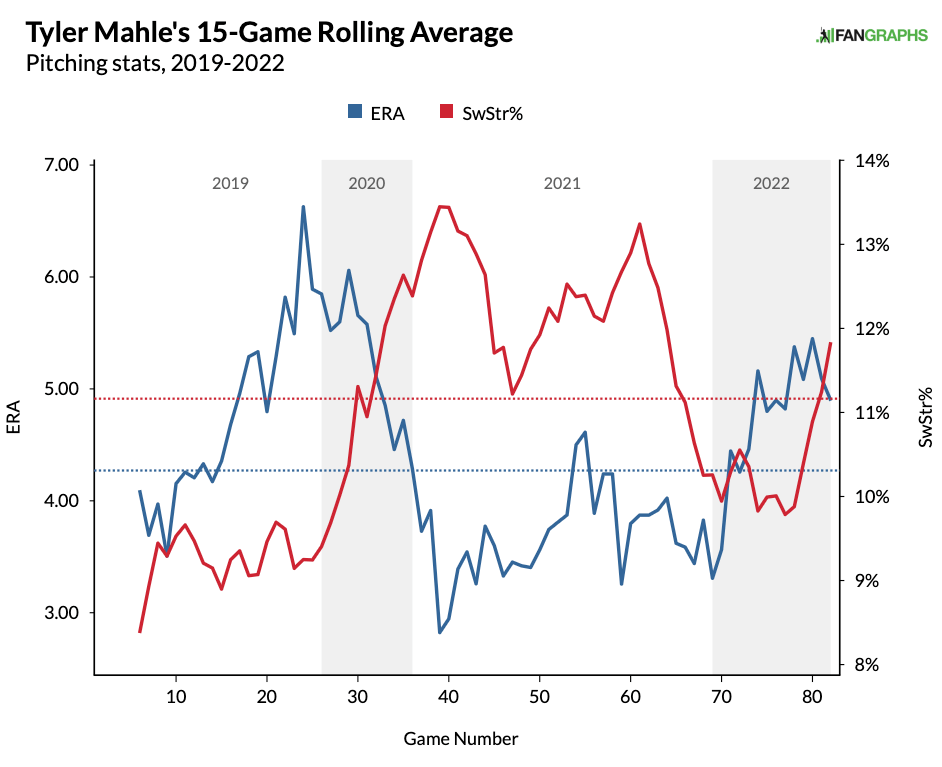 Unsurprisingly, Mahle's metrics regressed positively to 34.6% K% and 4.9% BB%, though he faced the Diamondbacks twice and Nationals once. The BABIP dropped to .255, with the LOB% improving to 92.1%. Mahle's SwStr% also increased by nearly three percentage points to 14% in June.
It's a small sample in June, but Mahle seemingly lowered the slider usage from 15% to 8.8% with more cutters and four-seamers. Mahle's stuff typically looked above-average, but it's positive to see the results follow.
Mahle's Arsenal & Results
Mahle continues to rely on the four-seamer, slider, splitter, and cutter like in 2021. Thankfully, Mahle possesses three pitches with a double-digit SwStr% in the four-seamer, splitter, and slider. Mahle's four-seamer and cut fastball allow a .wOBA south of .300, with the splitter and slider not far off.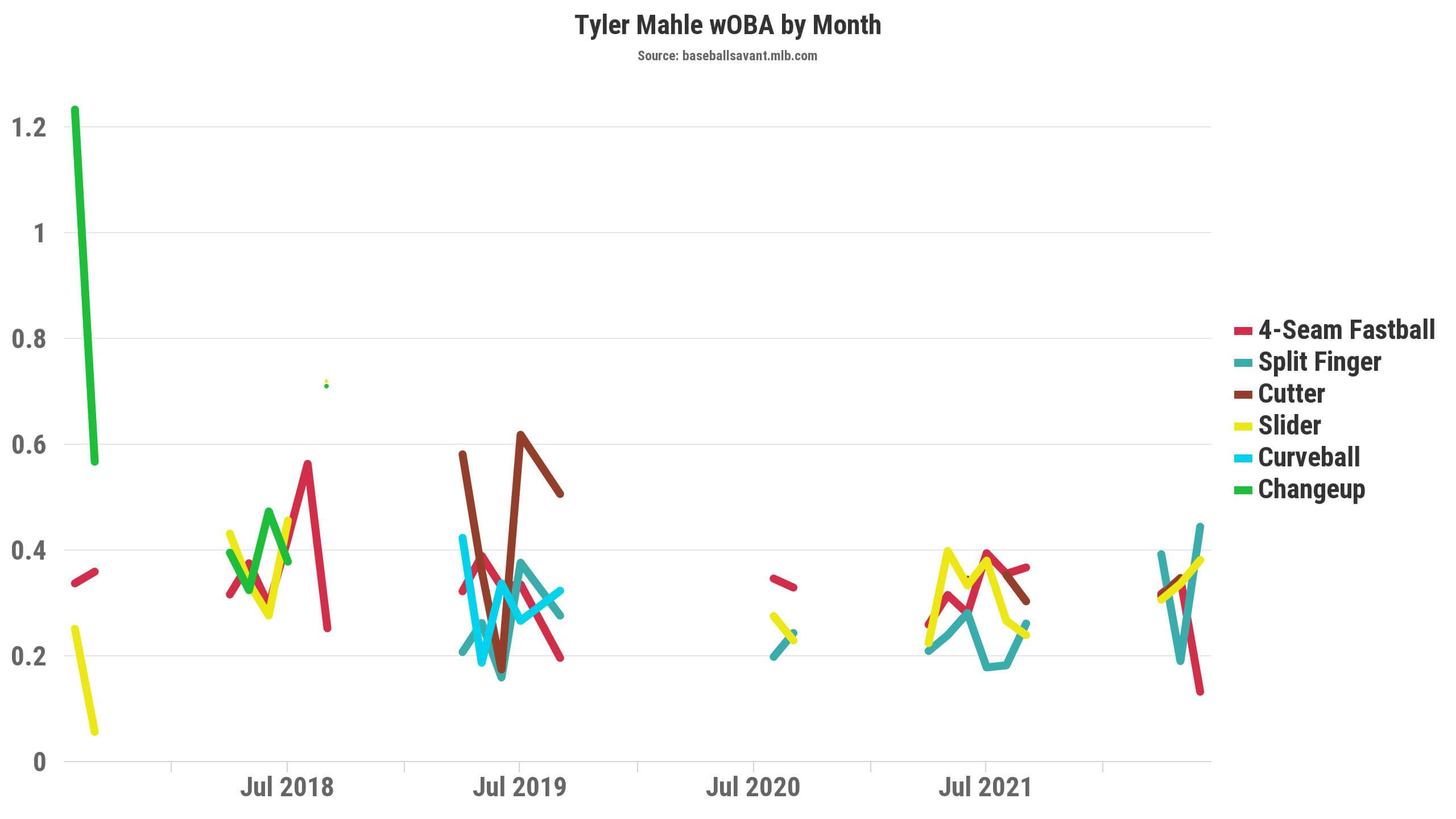 Mahle's slider previously posted better results than in 2022, but it's been inconsistent. The four-seamer and splitter remain similar from a movement profile, with the fastball having above-average vertical and horizontal movement. That aligns with the quality SwStr% and .179 BA, .331 SLG, and .274 wOBA.
Mahle's cutter might be something to monitor with 3.9 inches versus more drop than the average. However, the 25.8 inches of vertical movement remained similar to the 27.3 inches in 2021.
Takeaways
After back-to-back starts with ten or more strikeouts, this is the nature of Mahle's profile with some ups and downs. We can only hope Mahle will have more ups than downs, plus a chance the Reds move him to a better team for wins and park factors. The BAT projects Mahle to regress in the ratios and LOB% with an ERA of 4.21 and WHIP at 1.28. Overall, the ERA estimators hint at buying high on Mahle with a 3.24 FIP, 3.83 xFIP, and 3.70 SIERA.
Luis Arráez (1B/2B/3B/OF, MIN)
The Twins utility-man in Luis Arráez has crushed in BA, plus ready for a career-best in home runs, currently at three. Arráez has been hot all season with a .317 BA and .783 OPS in April, then a .376 BA and .892 OPS in May. Those numbers have maintained with a .361 BA and .970 OPS in June.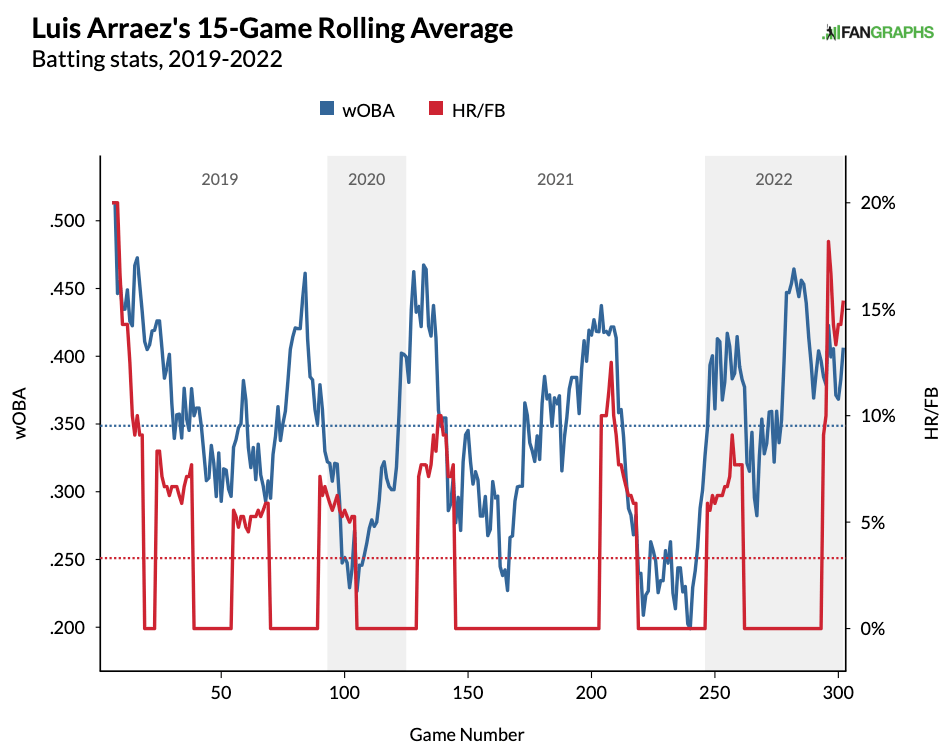 Although it's a small sample in 2022, Arráez's Pull% increased by two percentage points to 31.9%, with a career-best HR/FB% at 6.4%. While it isn't mind-blowing, it aligns with the home runs per plate appearance at 1.3% in 2022 versus 0.04% in 2021 and 1.1% in 2019. Given the lineup spot and projected playing time, Arráez could compile career highs in runs and RBI, plus the chance to push near home runs in the double-digits.
Arráez has a whopping 4.4% Barrel% and 3.5% Barrel/PA in 2022, above the career Barrel% of 3% and Barrel/PA at 2.4%. It's one data point, but Arráez's 107.3 mph maximum exit velocity ranks as a career-high, yet that's still underwhelming. However, Arráez's EV on FB/LD hasn't changed much, from 91.1 mph in 2021 to 90.7 mph in 2022.
Takeaways
Arráez hardly provides any pop, but the hit tool and batted ball skills rank highly amongst hitters. After 310 plate appearances (65%) at leadoff in 2021, Arráez has 42% at leadoff in 2022. However, batting first or second 77% of the time in 2022 versus 66% in 2021 adds to the value via runs. Arráez's earned auction value of $17 places him near hitters like José Abreu, Nelson Cruz, and Tommy Pham. If Arráez maintains value near those hitters, it's a massive win given his ADP around pick 300.
Cold Players
Kole Calhoun (OF, TEX)
In Week 8, I noted Kole Calhoun as one of the hot hitters of note. After surging in May with a .326 BA and 1.012 OPS, Calhoun fell off with a .146 BA and .416 OPS in June. Calhoun's .390 BABIP in May boosted the numbers with elite contact quality metrics, evidenced by the 18.2% Barrel%.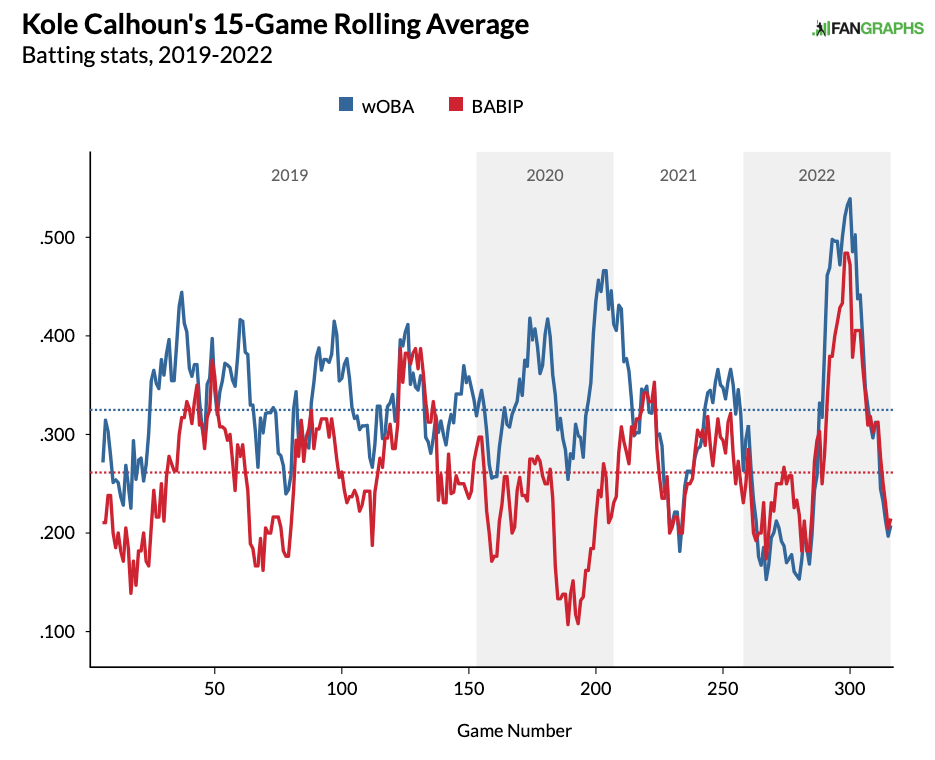 Meanwhile, Calhoun's BABIP dipped to .189 in June, with the Barrel% dropping to 8.1%. The plate discipline metrics look similar, so it's likely misfortune for Calhoun in June. Sure, the 29.2% HR/FB% in May couldn't sustain with 0% in June and a season-long rate of 12.7%.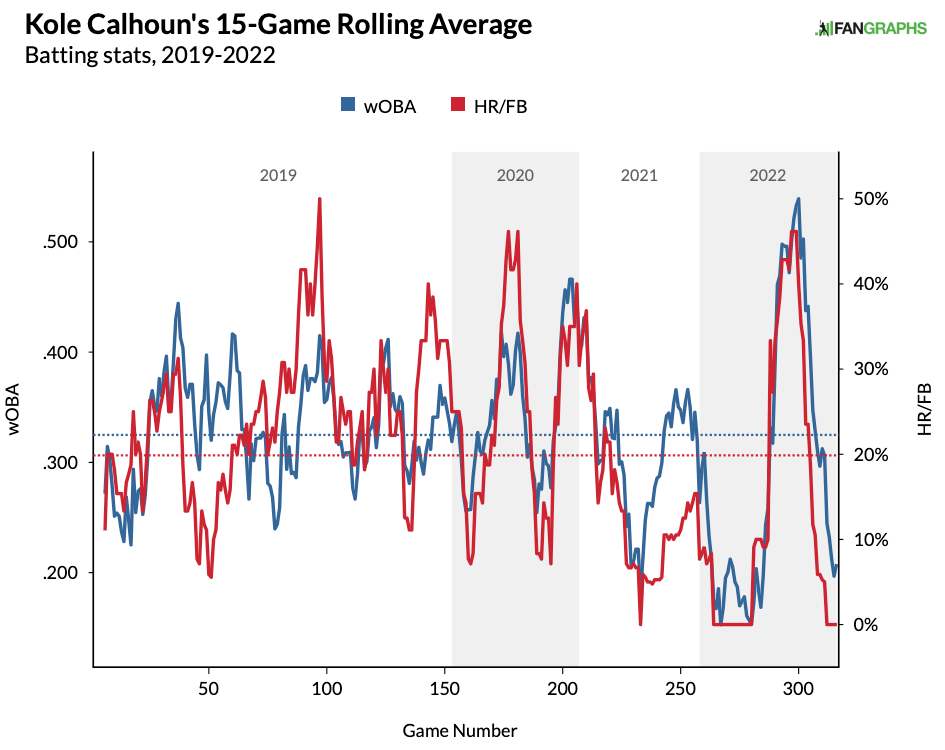 Calhoun provides power which sometimes that translates to ups and downs when healthy. In 2019 and 2020, Calhoun peaked at an HR/FB% of 22.9% in 2019 and 28.6% in 2020. We note that since it hints at Calhoun's 25-30 home run upside.
Calhoun's Batted Ball Profile
Thankfully in June, Calhoun's LD% sat at 27%, though the Pull% (45.9%) and FB% (40.5%) remained high. It's similar to May with a 28.8% LD%, 36.4% FB%, and 51.5% Pull%. Seeing that data makes us guess at the natural ups and downs after a peak month in May.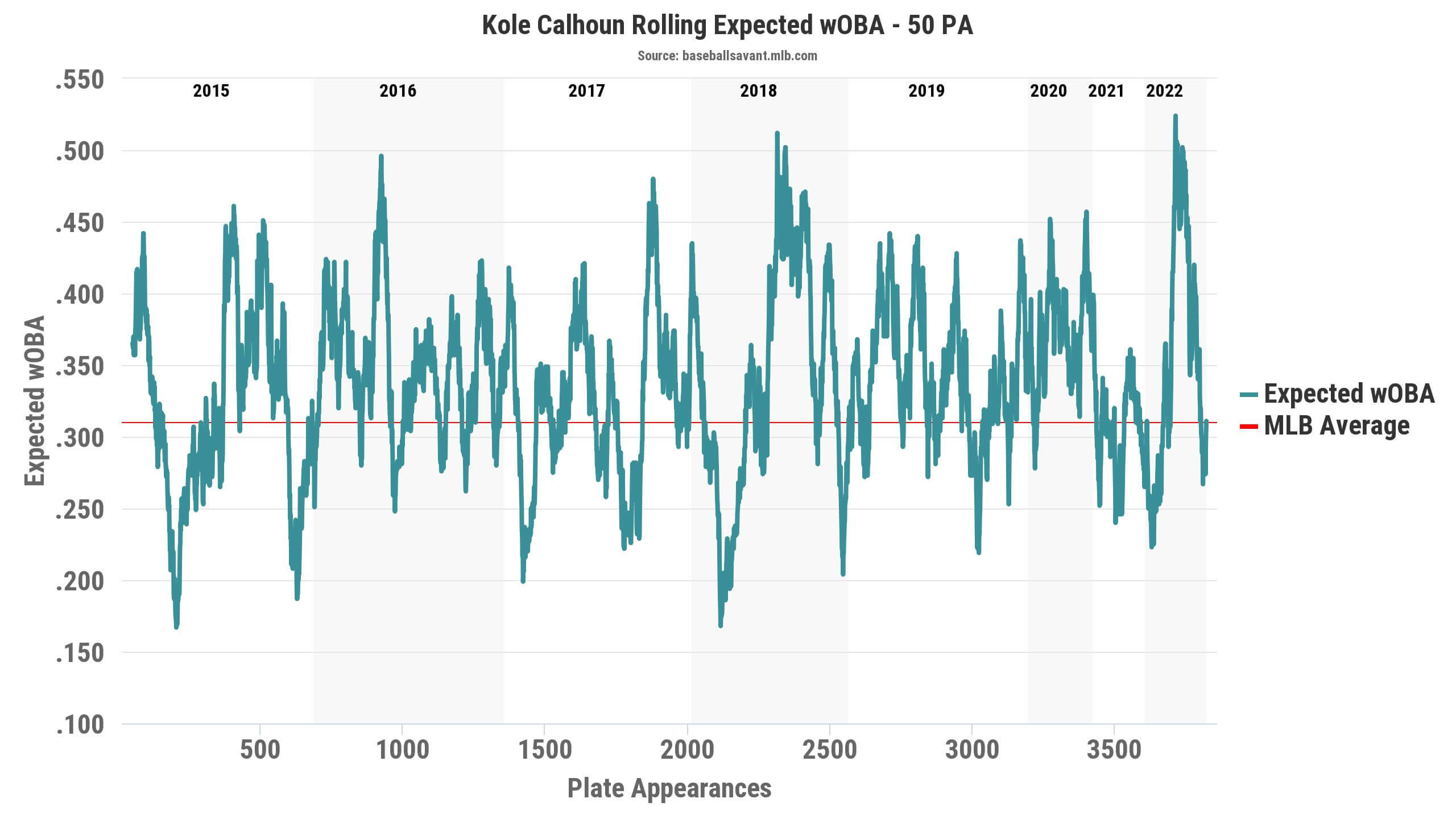 Calhoun's 12.4% Barrel% and 8.3% Barrel/PA align with the 2019 and 2020 seasons with a high HR/FB%. He hardly lacked the contact quality metrics, though it's a matter of consistency. We notice Calhoun's xwOBA increased to career-best levels, though it tumbled in June.
Takeaways
Lately, it seems Calhoun moved to a platoon role with the recent cold stretch, making it possible to find Calhoun on the waiver wire in deeper leagues. THE BAT X projects Calhoun for 11 home runs, 34 runs, 36 RBI, and one stolen base with a .230 BA. With an earned auction value of $5, Calhoun seems like a streaming hitter to cut in deeper formats for another hitter streamer.
---
Build Winning DFS Lineups!
Become a member at FantasyData and get access to the industry's best fantasy baseball subscription available!
---
Aaron Ashby (SP, MIL)
On the surface, the results look brutal, with an 8.40 ERA and 1.80 WHIP in June for Aaron Ashby. However, the once high-end Brewers rotation with Corbin Burnes, Brandon Woodruff, Eric Lauer, and Freddy Peralta lost two of their top options. Ashby remained one of the top sleeper pitchers heading into 2022 and finally received his chance to start.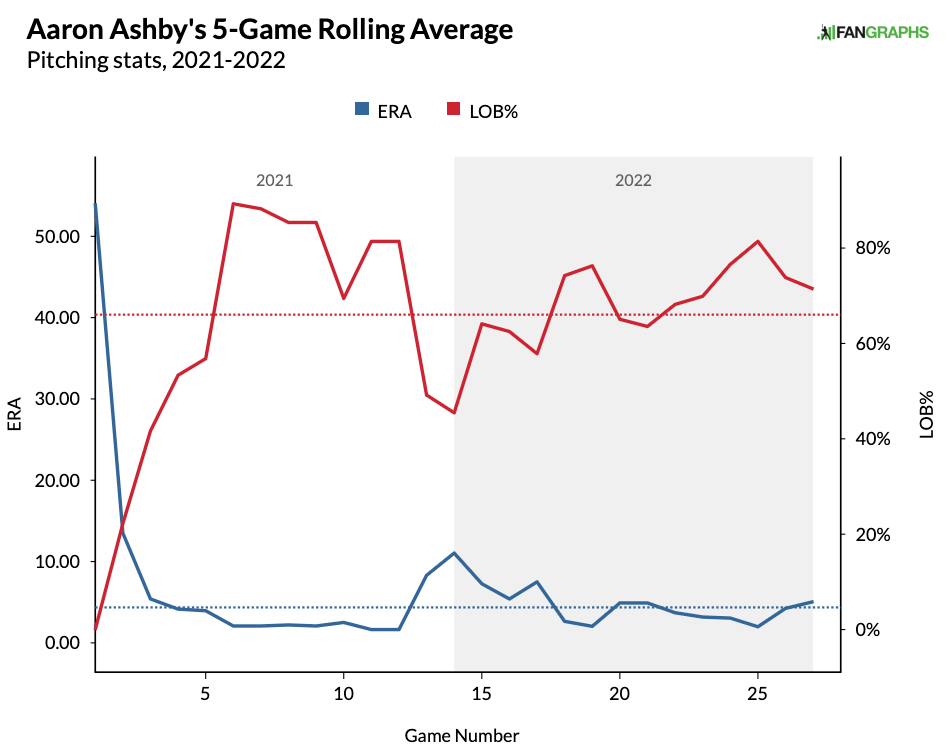 After quality ratios in May with a 2.74 and 1.17 WHIP, Ashby's performance dropped to an 8.40 ERA and 1.80 WHIP in June. Part of the issues in June involved a .426 BABIP and 58.8% LOB%. However, in May, Ashby's .296 BABIP and 78.5% LOB% looked reasonable.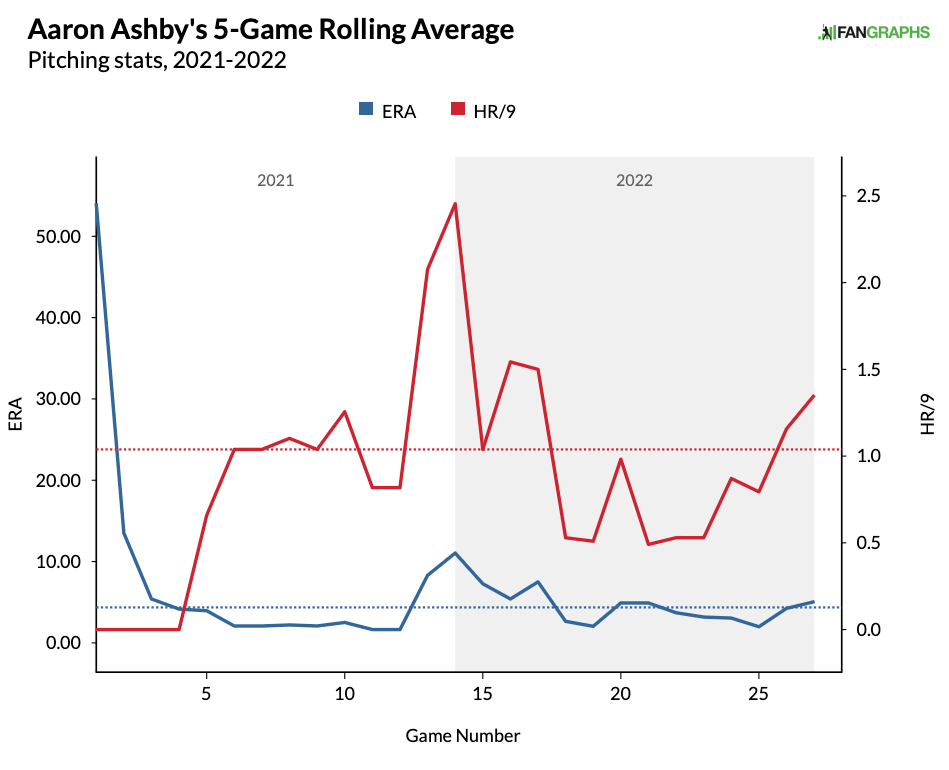 Additionally, Ashby gave up too many home runs with a 0.78 HR/9 and 13.3% HR/FB% in May. Then Ashby has a 1.80 HR/9 and 37.5% HR/FB% in June. Although it's a smaller sample in June, Ashby's 33% K% and 9.3% BB% regressed to a 22.5% K% and 5.6% BB%. Unsurprisingly, the K-BB% decreased to a 16.9% K-BB% in June from a 23.7% K-BB% in May.
Ashby's Arsenal & Results
It's hard to compare past seasons for Ashby since only four of his games came as a starter in 2021. However, Ashby relies on four pitches over 95% of the time, including the sinker (32.1%), slider (31.9%), changeup (21.1%), and curveball (11.8%). He generates a 62.2% GB% via the sinker, changeup, and curveball with a GB% north of 64%.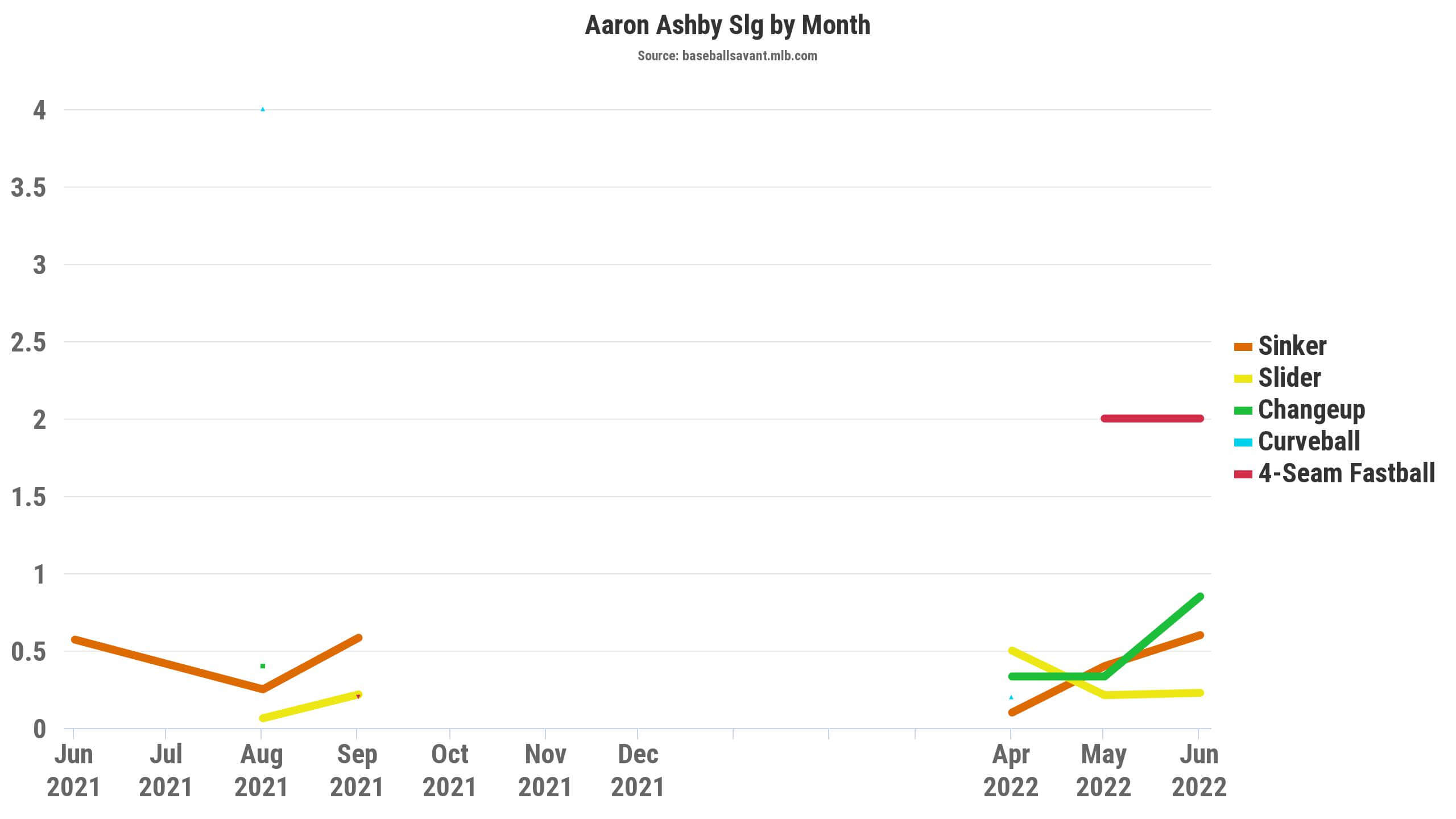 Ashby possesses quality stuff, evidenced by three pitches with a double-digit SwStr% in the slider, changeup, and curveball. Although the curveball remains elite with a .067 BA, .067 SLG, and .134 wOBA, Ashby only throws that pitch 11.8% of the time. Ashby increased the curveball usage against righties and lefties with above-average vertical movement (6.7 inches vs. Avg.).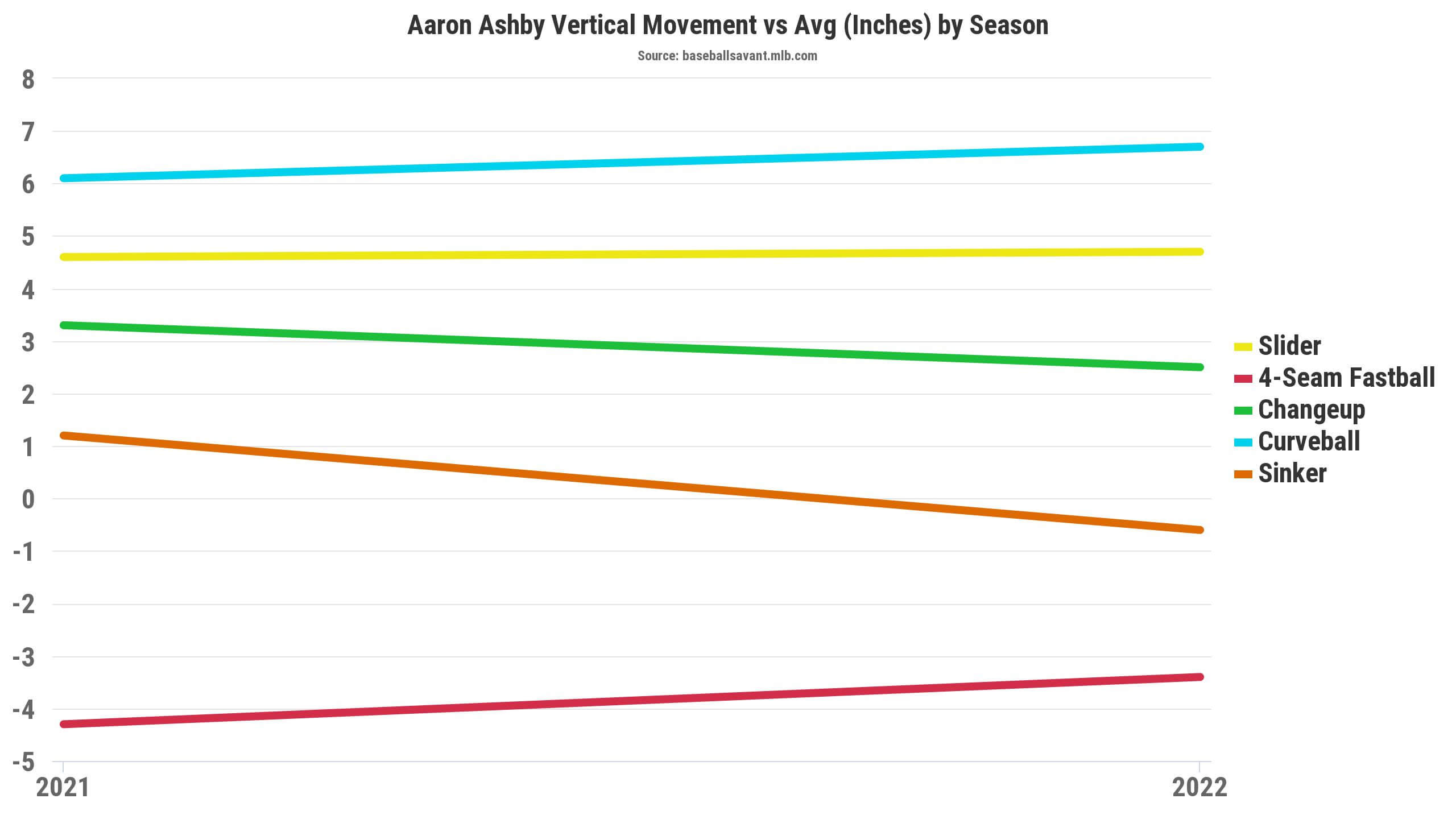 Most of Ashby's pitches have similar movement profiles in 2021 and 2022, with minor changes in the sinker. The sinker vertically and horizontally moves less in 2022. However, Ashby's sinker possesses 20.2 inches of vertical drop and 15.5 inches of horizontal break down around two inches. The underlying metrics point at Ashby rocking the stuff over control or command profile.
Takeaways
One of the organizations to trust with pitching includes the Brewers based on their track record with Corbin Burnes, Brandon Woodruff, and Freddy Peralta. The expected ERA points to optimism given the 3.65 FIP, 3.08 xFIP, and 3.28 SIERA. Assuming Ashby's BABIP and LOB% regress, the surface metrics should help, though it's unclear on future expectations.
STAY IN TOUCH
Sign up for FantasyData's newsletter and get awesome content sent to your inbox.
We'll never share your email address and you can opt out at any time, we promise.
---

Corbin is passionate about fantasy baseball and football. He loves diving into and learning about advanced metrics. Corbin is a Mariners and Seahawks fan living in the Pacific Northwest. Corbin's other hobbies are lifting weights, cooking, and listening to fantasy sports podcasts.