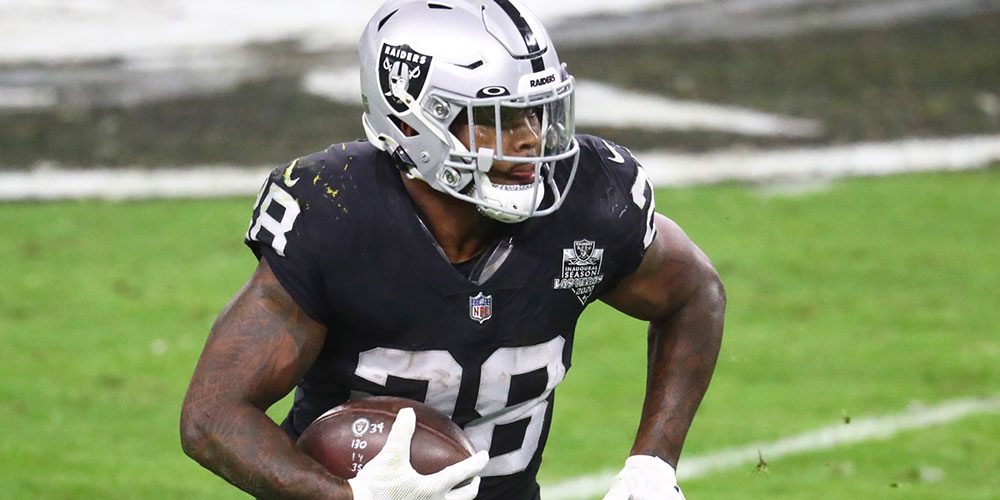 Fantasy Football Buy Low/Sell High: Week 2
---
Buy Low/Sell High: Week 2
Well, folks, we made it to Week 2 of the 2021 NFL Season. Week 1 showcased a lot of important factors to consider for your fantasy team. It also was a dreadful week for a ton of players. On the other hand, some players rode Week 1 to perhaps the peak of their fantasy point season. Now, be sure to exercise caution if your team didn't score a bunch in week 1. After all, it has only been one week. Although your team might have scored awful, your players might be primed for bounce-back weeks. The last thing you would want is to sell players who score a ton after you trade them. Additionally, you might have guys who scored a ton in Week 1 but don't have the circumstances week-in and week-out to continue that high scoring. Whether your team has been beset by injuries or is the picture of health, you should be always trying to improve your team.
Waivers in Week 1 are always a huge part. A lot of people want to pick up the "next best player" after only a one-week performance. This will encourage teams to sell other players who didn't do too well to either make room on their team or because they think this new player, they got will be better. This'll allow you to buy low on big names and get your team built for the long haul. On the other hand, if you have a player that flashed, you can sell high to capitalize on the hype of this player. You can get players in return you never would've dreamt of in return. That's the key to making your team successful over a long season. In fact, this year will be the longest in NFL history due to it being 17 games. If you never have bought or participated in the stock market, this is a good practice run. You buy stocks (players) when they are at their lowest price. That way, you only increase your monetary value and improve your net worth (how good your team is). If you do it right, you can "win" a lot (win a championship).
On the other hand, you want to predict when the stocks (players) are at their peak price (trade value). That's because you want the most return you can get for your investment (player). That way you can ensure your team is always heading towards its peak throughout the season. You want your guys to peak to come playoff time. You want to win a championship. Of course, scoring a bunch early on is fun. Yet, if you can trade the high-risk guys who blew up one week and turn them into steady high-performing contributors' week-in, week-out, do it. That's how you win championships. You play the fantasy football market.
Now, it's always helpful to have people give you some advice on players that should only rise in value or have hit their peak. As such, that's why I'm here. I'm here to help guide you through the fantasy football season and decide who you should go try to trade for or trade away. So that way you can keep on winning and hopefully win a championship. Right now, you're still assessing your team. Thus, you don't want to react too quickly to veteran players who had a rough Week 1. That doesn't mean you can't take advantage of other people who want to get rid of them. Just FYI, the scoring is for PPR. FYI, all the stats come from our very own Fantasy Data. Here's my opinion on who you should Buy Low/Sell High:
Quick Links
Buy low:
Brandon Aiyuk, San Francisco 49ers, Wide Receiver
Brandon Aiyuk played only 26 snaps last week vs the Lions. He had barely practiced for weeks prior to the game. That's because he's been dealing with a hamstring injury. Not to forget, Coach Shannahan has spoken about how due to Aiyuk's limited practice time the past few weeks, and Trent Sherfield's emergence (darn Cardinals for letting him leave), Aiyuk sat. Trent caught a touchdown in Sunday's game. Yet, allowing Aiyuk to sit and perhaps mature/heal might be a good thing. As Aiyuk gets healthier and shows his 2020 self out on the practice field, his role will surely grow. After all, he was a first-round pick who excelled out on the field. In 2020, he had 60 receptions for 748 yards and 5 touchdowns. That's really good when he only played in ten games. I am positive that as he plays more and more, his price and play will exceed expectations. He's a risk right now since you don't know if Shanny is being honest. Despite that, you buy your stocks when they're cheap and you do that with your fantasy players. Aiyuk most likely won't be this cheap again! Get him on your team and watch those point totals rise as you make your way to the playoffs. Don't make me tell you Aiyukidding me you didn't acquire him!
Aaron Jones, Green Bay Packers, Running Back
Pretty much, actually not just pretty much, Everything went wrong for the Packers in Week 1. They couldn't pass. They couldn't run. They definitely couldn't defend. Aaron Rodgers looked like the crypt taker was knocking on his door. They fell behind by a lot and fast. Thus, that's why Aaron Jones only had five rushing attempts in the whole game. You can't afford to drain the clock on rushes when you're down multiple scores. To make matters worse, Arod couldn't throw the ball right to anyone. Jones had only two targets. You know it was a blow-out when Jordan Love finished the game. However, that's all in the past. Jones is 26 and has been a beast in fantasy for the past few years. They have an amazing matchup Monday against the Lions. It's a get-right game. You know that the team is embarrassed after that pitiful performance. This will be your last chance to get Jones for a discount all year. Some people are worried the Packers are fakers. I am not one. There are no obvious signs of regression for Jones. If you can snag him on the cheap somehow, DO IT. I'd even pay a bit more for him. He's a top-10 RB week-in and week-out. One game doesn't decide a season. Don't worry about Jones, go get him!
Saquon Barkley, New York Giants, Running Back
The O.G. Quadfather shall return to demolishing defenses soon. We have been saying that Week 3 will be his debut week. These two weeks are just his practice rounds. After all, he hasn't played in games since the game he tore his ACL. You got to have some real game time to be able to get back into form. Despite that, he still had 11 touches in the game. Now he plays Thursday night and against a formidable Washington Football Team. The chances he plays much are slim. It's a short week. However, he'll have a week and a half to recover and prepare for his next game. If you have, don't expect much this week. Yet, don't get rid of him. He's going to blow up in Week 3 against Atlanta! We all know what Saquon is capable of. Looking at his rushing paths last game, it's rather encouraging to see him bouncing it outside. It shows he trusts his knee to survive the jump cuts and quick maneuvers. He can get 5+ catches and 100+ yards rushing easily. If you find someone in your league is nervous about him, go get him! He's being valued as a mid-late RB2. He's going to finish this season as at least a mid-RB1. Grab Mr. Quads and enjoy him the rest of the season. Let's win that championship!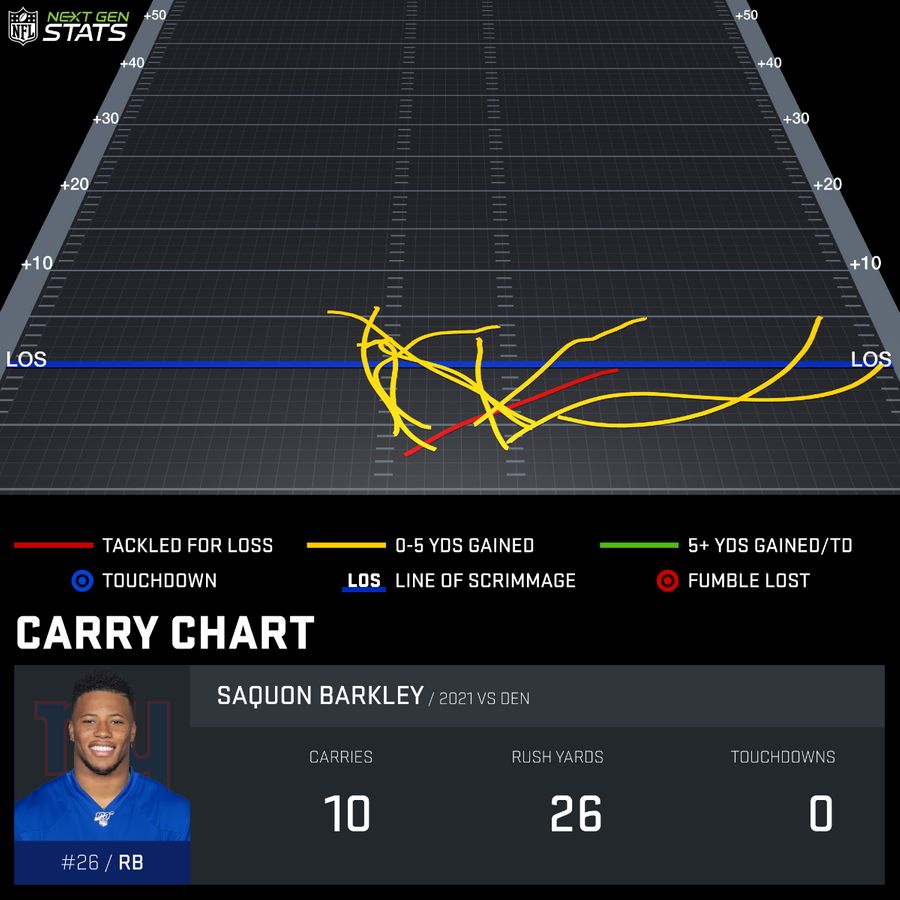 Honorable Mentions: Mark Andrews, Julio Jones, DJ Chark Jr (12 targets), Najee Harris (100% Snap Share), and Mike Evans
https://charts-cdn-a.nextgenstats.nfl.com/static-charts/900/carry-chart_ING656964_2021-REG-1_1631484829093.jpeg
Sell High:
https://charts-cdn-a.nextgenstats.nfl.com/static-charts/900/carry-chart_ING656964_2021-REG-1_1631484829093.jpeg
Christian Kirk, Arizona Cardinals, Wide Receiver
This happens every year. Christian Kirk is the ultimate player to own, IF, you're in a best-ball league. He's the greatest high-low player in fantasy football that I know of. He's even more high-low than Tyler Lockett. He is known for having huge games and then ghosting for weeks at a time. Yet, it never fails that people fall for his lure. You can get a weekly-flex player or better for Kirk right now. Don't wait until after Week 2 since he could easily just disappear.
Don't believe me? I'll prove it to you. In 2018, his rookie year, he had 3 games above 16 points. He either had a touchdown or 90+ yards in those three games. Meanwhile, he had 6 games under 10 points. How about 2019? He had 5 games above 15 points. That includes a 37-point game in which he got 3 three touchdowns. Sound familiar with this week? Well, those 3 touchdowns were the only ones he scored all year. Again, he had 6 games under 10 points, including a 0.9 game! How about 2020? He had a massive 3 weeks from Week 6-9 where he scored at least 20 points a game and had 5 touchdowns total. What about the other 13 weeks? He had ten points or less in 8 of those games. So, we have established a pattern of Kirk blowing up huge in a few weeks a year. Then, the rest of them, he completely hurts your roster if you dare start him. Find someone who believes in him and SELL NOW. Go get a reliable flex player. There's no guarantee he will have another peak value again this year.
Mark Ingram, Houston Texans, Running Back
Ingram's a 31-year-old running back in a timeshare backfield with three other running backs. Mark Ingram was gifted this game due to three things, score, opponent, and opportunity. The Texans were ahead of the Jaguars at one point by 20+ points. That meant that the Texans didn't need to throw the ball. They could just rush after rush after rush. They needed to run the clock out. Rex Burkhead and David Johnson are their receiving backs. Therefore, they weren't getting much work. Meanwhile, Philip Lindsay wasn't doing nearly as much as Ingram for whatever reason. Nevertheless, Ingram, Lindsay, and Ingram all scored TDs. That means that Ingram isn't even the goal-line running back. One more point is that Ingram had 26 rushes for a measly 85 yards. He had 14.6 PPR points. Just look at the chart below. hardly any of his rushes went for any kind of distance. Finally, since 2000, only 7 running backs over the age of 31 scored over 230 PPR points. That doesn't bode well for Ingram. SELL him now. Get the value that people are giving for him. This very well could be his peak value as his next 5 opposing teams are the Browns, Panthers, Bills, Patriots, and Colts. Four out of those five teams are tough matchups plus the Texans should be losing in all of them. Trade him.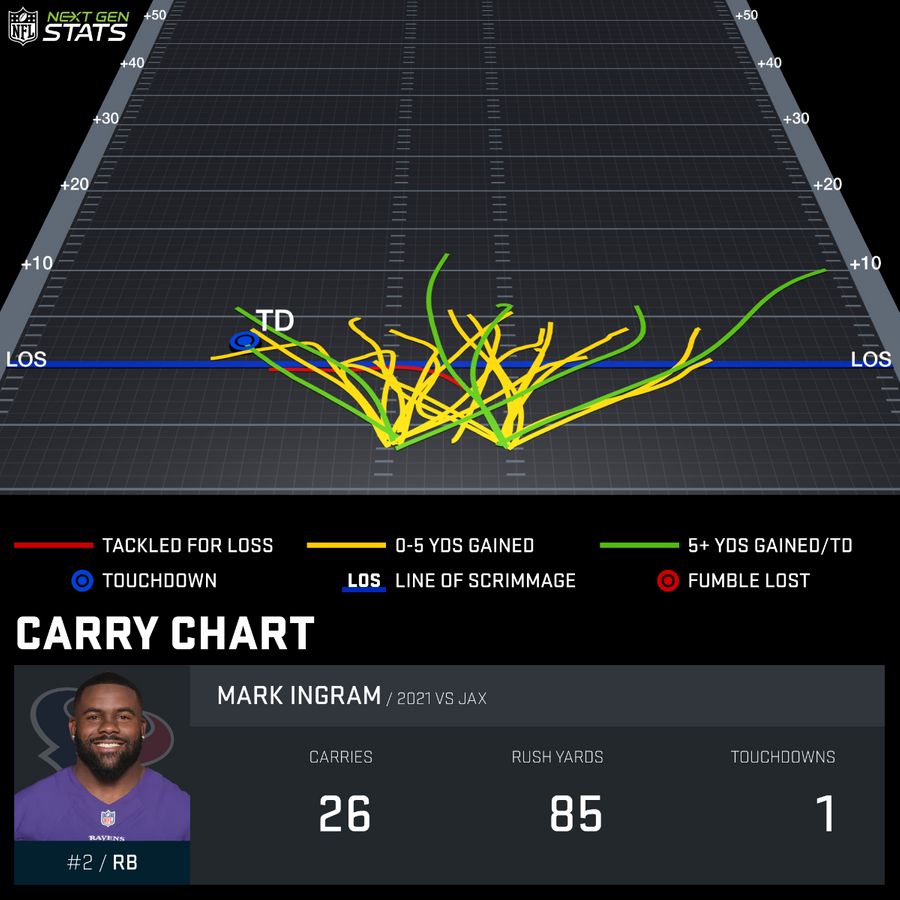 Josh Jacobs, Las Vegas Raiders, Running Back
How the great have fallen. Jacobs was the chosen running back for the Raiders and fantasy football. He was destined to be the next Derrick Henry after dominating at Alabama. After 2 straight 1,000-yard seasons to begin his career, what do Jon Gruden and the Raiders do? Why did they sign Kenyan Drake and get rid of their good offensive line? There's logic in there somehow, I'm sure. Not only is he battling a toe injury right now, but he struggled a lot Monday night. If you're in a PPR league, Jacobs is getting no receptions or targets. Jacobs saw only 2 targets whereas Drake had 5 receptions. The only saving grace to Jacobs is that he is the goal-line back. He scored two touchdowns from within the ten yard-line. Other than the touchdowns, he only had 10 rushes for 34 yards. With TWO touchdowns, he only finished as the RB10! Imagine if he didn't get those touchdowns. Now the Raiders face the Steelers. They are dominant against the rush. With Jacobs banged up already, don't expect much. If you can get a reliable running back such as David Montgomery or another RB1/2 caliber back, TAKE IT. You're trading off of his two touchdowns and name value. Get off the crazy train and pick the safe train. Remember, running backs are crucial for fantasy, you need consistent points from that position. Peaks and Valleys are fine for Wide Receivers, but not for running backs. Trade Jacobs while his value is still high, don't get caught holding the lost value.
Honorable Mentions: Miles Sanders, Juwan Johnson, Brandin Cooks, Ty'Son Williams (50/50 timeshare with Lat. Murray), and MG3 (besides 70 yd run, avg 3.69 y.p.r.)
As always, I'm more than happy to talk on Twitter and Discord. Let me know your thoughts on these players if you managed to trade for/away them. If you need thoughts on any trade, my DMs are open 18/7. I respond to everyone. Hope you win your week this week. Let's have a successful fantasy football season this year. We are about to be two weeks into our Championship winning season!
Of course,
May the Force be with You...
STAY IN TOUCH
Sign up for FantasyData's newsletter and get awesome content sent to your inbox.
We'll never share your email address and you can opt out at any time, we promise.
---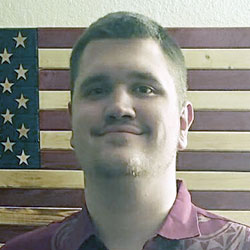 Jake is a native Phoenician and die hard fan of all the Arizona sports teams as well as the NFL and MLB. He is a Christian and a college student pursuing a dual degree in Sports Management and Sports Journalism. He is currently writing for DynastyNerds as well as a site expert at Fansided. He is obsessive about sports and stats. Jake's other hobbies include music, movies/TV, traveling and studying history. He is an avid Star Wars, Marvel, and DC fan (nerd). He wants you to know that the Jedi were the reason the Republic fell and that Dynasty>redraft. You can follow him on twitter @Darthdbacks or Discord @DarthDbacks. He is Open to doing any AMA's or podcast guest spots.