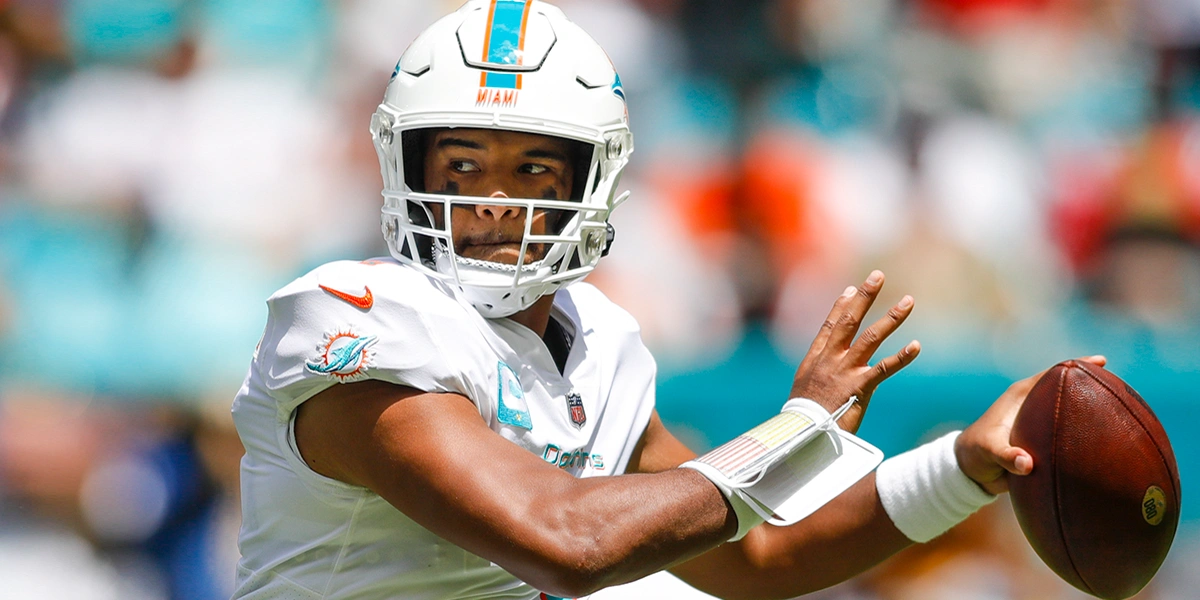 Fantasy Football Recap and Overreactions: Week 2
---
Week 2 Fantasy Reactions
No doubt about it, week 2 started off with a fantastic matchup on Thursday night. Chargers at the Chiefs. Mahomes vs Herbert. I love that we get this matchup at minimum 2 games a year. Maybe three if we're lucky! And how about the Dolphins and Ravens game?! Incredible. I am one happy Dolphins fan. The Browns lost in the most Browns fashion possible. You know what's crazy, I feel like I say that every year… The Lions won the first game that they were favored in,
in a long time! Dan Campbell is doing something special up in Detroit. Mike Evans and Marshon Lattimore got ejected, because of course they fought. A story as old as time. The Bucs got the win, but this game was rather ugly. Not much to say about the Panthers/Giants game. Lotsa mediocrity. The Steelers couldn't ride the momentum from beating the Bengals week one and allowed the Patriots to get a win. The Colts stink. The Jaguars shut them out. That's embarrassing. The Bears don't know how to pass, apparently. Fields attempted 11 passes…Eberflus has some decisions to make if their offense can't get going. The Bills absolutely smacked the Titans, who are missing everything but a RB it seems. And finally, the Eagles and Jalen Hurts controlled the Vikings like a puppet & won comfortably. That being said, let's hop into the week 2 recap!
Chiefs vs Chargers
While the "over" didn't hit like many were anticipating, this game was excellent to watch. The Chiefs were down 10 to zip early in the game, but the second half was ALL Chiefs. The Chargers were held to 7 points in the second half. Without Keenan Allen playing, it was the Mike Williams show. He finished with 8 receptions for 113 yards and a touchdown. Josh Palmer was a hot topic for DFS, and luckily he had a solid game. Ekeler did well thanks to 9 catches on 10 targets, but he did not get a score. Ekeler, Williams and Everett each had 10 targets. You LOVE to see that. Herbert scored 24 fantasy points, can't be mad about that. Mahomes had an okay night, 17 fantasy points isn't ideal, but it's not horrible against a stellar defense. CEH had another good fantasy week, scoring just under 16 points. Can't be mad with that when you drafted him as a low-end RB2/high-end RB3. Kelce probably let down a lot of his owners, but 10 points is better than 0! I can't wait to watch these two rematch later in the season.
Panic or Patience: Ekeler - The first half usage was gross, I know. But, he had NINE catches. You can't ask for much more from an RB. Ekeler will get into the endzone, I promise. Don't panic about him.
Luck or Trend: Everett - Gerald Everett just may be a weekly play at this point. He's averaging 7 targets a game and is seeing scoring chances. What more can you want from a tight end who was a waiver wire pick-up in most leagues? There's no luck here.
Jets vs Browns
If you're reading this and you're a Browns fan, you probably aren't very happy. Brown's defense allowed 2 offensive touchdowns with less than 2 minutes left in the game. That is poor execution. That is not even related to Jacoby Brissett. That man did everything he could to get that win. Nick Chubb led the Browns' rush attack with 3 touchdowns. What a great fantasy week for him. Kareem Hunt didn't quite have the fantasy week like week 1, but he did have 13 carries to Chubb's 17. So he will be fine. Look at that, Amari Cooper can put up WR1 numbers with Brissett! 9 catches for 101 yards and a touchdown. A solid week from Coop. On the other side of the field, rookie WR Garrett Wilson had himself a day! 14 targets hauling in 8 of them for 102 yards and 2 touchdowns. Two! He just might be the WR1 for the Jets. Corey Davis reeled in a deep ball for a score. Solid day for him. Breece Hall and Michael Carter both had 7 carries for a combined 73 yards. Not very good. But they were involved in the passing game. Breece caught 1 and scored on that catch. Michael Carter caught 5 passes for 27 yards. Real mediocre day for these 2 minus the touchdown by Breece. Heck of a win from ELITE Joe Flacco and the Jets.
Panic or Patience: Elijah Moore - He only notched 6 points this week, but as you can see, it was the Garrett Wilson show in week 2. Elijah Moore is still getting targets, just not quality ones. He will be a weekly starter in no time if you ask me.
Luck or Trend: Amari Cooper - I think we're going to see more weeks like this from Cooper (25 points). I can say that it won't be consistent, but he will put up top 12 weeks throughout the season. Especially, when Deshaun Watson is back.
Commanders vs Lions
After coming off a hot performance in week 1, I didn't expect the Commanders to struggle out of the gate. Detroit took an early lead but the Commanders fought themselves back to a close game. It's always a great day when Jared Goff throws 4 touchdowns. Oh, and 2 of those went to Amon-Ra St Brown. I said last week he was going to a PPR machine, guess what? I was right. 9 receptions for 116 yards. WR1 (top 12) season incoming. D'Andre Swift was definitely used differently due to the ankle situation, but he still made some great plays and caught one touchdown, so he did just fine for fantasy with 16 points. Jamaal Williams led with 12 carries, but little production with 53 yards. T.J. Hockenson is getting worrisome. He is seeing targets, but they aren't quality targets. Not much action in the redzone if I'm remembering correctly. The Commanders had so much passing production because they were losing big most of the game. Wentz finished with 327 passing yards, but only 1 touchdown. Curtis Samuel and Jahan Dotson yet again showing they can be weekly starters. Both with 17+ point weeks. I knew Terry McLaurin would see more targets in week 2. He had 8. Twice as much as week one. He didn't find the endzone this week, however. Antonio Gibson was there, but his rushing abilities weren't utilized much this game because of the game script and being down the entire game. I am confident in the Commanders going forward, not every team has grit like the Lions. Fun game to watch!
Panic or Patience: Hockenson - As I said above, he isn't seeing quality targets like redzone throws or deep balls. For where people drafted T.J. Hockenson, they are looking for more than a ceiling of 10 points.
Luck or Trend: Curtis Samuel - This guy is a weekly value in fantasy now. Two weeks of 19+ fantasy points. He is a favorite target of Wentz's. Easily a WR2 going forward.
Buccaneers vs Saints
Go figure, Mike Evans & Marshon Lattimore get into a scuffle and they get ejected. Luckily, I sat Mike Evans in fantasy this week. From a fantasy perspective, nothing really exciting happened for New Orleans EXCEPT Michael Thomas scoring 18.5 points. Because he's elite when he is on the field. Olave wound up with 11 points, which isn't bad, but it's not great. Olave's 13 targets is what I'm happy about. Those will translate when it isn't the Bucs defense they are facing. I mean, look, Jameis had 3 interceptions. Played through injury, but still, 3 is too many. Taysom Hill wasn't used much and they had injured Jameis and no Kamara on offense. Seems like a time you'd want to utilize Taysom Hill? Maybe he got injured. Either way, a very vanilla day from the Saints offense. The Bucs started off slow too. 190 passing yards and 1 touchdown from the GOAT Tom Brady? Sounds like their offense was injured/out. Oh wait, they were. Godwin and Julio were injured and Mike Evans got ejected. Clearly, they are very valuable to the Bucs offense. Breshad Perriman scored the most fantasy points for the Bucs (13.5). Not a good day. Tom was frustrated and started throwing his toys on the sideline. He was pissed at punt returner Scotty Miller for not catching passes he had to dive for. It was just a bad day for the Bucs offensively. And I say offensively because their defense won them that game. No doubt.
Panic or Patience: Tom Brady - Don't panic on Brady. The offense just hasn't found its groove with all of the changes. They'll be fine. Tom will get in stride. He's just old! ;) Takes him a bit longer to get into form. That joke is for my Dad. Hopefully he sees this.
Luck or Trend: Michael Thomas - Yeah, he is an automatic play every week now. He is the elite receiver we once knew he was. He just needs to be on the field. Start him comfortably going forward.
Panthers vs Giants
Well, the Panthers won the toss, then fumbled on the return. Giants went and scored a field goal. Panthers got the ball back. Fumbled AGAIN. Giants go and score another field goal. The defense bailed the Panthers out. I find it hilarious Baker had 145 passing yards and Daniel Jones had 176. Such bad quarterback play. Luckily, these teams have elite running backs CMC and Barkley. CMC had 102 rushing yards with 4 catches and Barkley had 72 rush yards with 3 receptions. Neither found the endzone and I feel like that falls on coaching. Get your best players the ball. I have a bad feeling that DJ Moore's ceiling is going to be in the mid-teens, like 12-16 points. That's really not bad at all. He may have inconsistency, but if you can play a guy like Tyler Lockett, you can play DJ Moore. There really isn't much to recap for this game because it was not a very productive one. I would say the highlights of this game was CMC topping 100 yards & Daniel Bellinger (Giants' rookie tight end) scored his first touchdown. They don't have a deep TE room, so he is an interesting name to keep an eye on for fantasy. Another thing, Sterling Shepard is a great add if he's available. He's averaging 8 targets a game. Two weeks is a small sample size, but if it becomes a trend, you have a solid waiver add. Anyways, this game was unamusing. I really wish Matt Corral never got injured. I think he could have won the QB battle, but if not, would have taken over in season. Oh well. Hope he heals up!
Panic or Patience: CMC - There are no good options for this blurb, but as a CMC manager, I would be anticipating bigger scores based off where you drafted him. I think in due time, he will. Matt Rhule just needs to adjust and run the offense through CMC. It's a proven recipe.
Luck or Trend: Sterling Shepard - This is a trend. As long as Sterling Shepard is on the field, he will be targeted plenty. He is a route technician. He is a solid waiver add if he is there. He's rostered in 10% of ESPN leagues, and that is up from 2% in week one. The trend is going up!
Patriots vs Steelers
It's never a good sign when a game doesn't show up on Redzone much at all. This game was ugly. Simply put. It was going to end up 3-3 at halftime but Mac Jones tossed a deep ball to Nelson Agholor and he mossed the defender for an end-of-the-half touchdown. That was the highlight of the game. Gross. The Steelers did not execute well. They could have easily won this game. Their offense has no identity, and without TJ Watt, the defense is bland. Outside of Cam Heyward & Minkah Fitzpatrick, they need people to step up in a big way. Najee Harris can't have 49 rush yards and no touchdowns. He is their best player. Diontae Johnson is their second-best player, he is seeing the most targets on the team but they aren't quality targets. They need to get in scoring position. Is it Kenny Pickett time?? The Patriots' offense is so average. Mac Jones is not taking the next step in his development. I know he isn't really surrounded by much talent, but a little improvement would have been nice. Nelson Agholor led the team with 6 catches for 110 and a touchdown on the halftime deep ball. Jakobi Meyers led in targets, per usual, 13 targets. He'll find the endzone soon. Damien Harris led the backfield with 15 touches and 79 yards plus a score. He got banged up, I'm not sure what he injured and I'm not sure of his status. But, he was such a good value pick in the 8th/9th rounds of drafts. At least, through two weeks he is. Both of these offenses need to step it up going forward.
Panic or Patience: Najee Harris - I'll tell you what, I'm panicking myself. I had Najee ranked as THE RB1 for this season. I thought he could make that leap for how talented he was. I knew there was risk involved, but didn't see a 10-point and 13-point week from him to start the season. As a first-round pick on average, you should be a little worried about Najee right now.
Luck or Trend: Patriot's RB's - This backfield being very split is not going away. There's going to be some weeks where Rhamondre has more production, and then weeks where Harris has a better week. It's going to be annoying, but both will still have value.
Colts vs Jaguars
This game was awful. The Colts lost to the Jags 24-0. They got shut out. The team with one of best RB's in the league scored zero points. Unreal. I know they were missing their stud WR Michael Pittman Jr., but still. Matt Ryan couldn't throw for shit. 3 interceptions against the Jags defense? Wow. Jonathan Taylor having 9 carries and 1 target is why the Colts played like garbage. Run your offense through your best player. There's really nothing worth noting for the Colts skill players. Ashton Dulin had a good day with 5 catches for 79 yards. But he was filling in for their top 2 receivers being injured. On the other side of the ball, Christian Kirk reeled in 6 catches for 78 yards and 2 touchdowns! He is on his way to a WR1 season right now! Evan Engram saw 8 targets today. That's solid for a tight end. James Robinson dominated in carries 23 to Etienne's 9. I think James Robinson might be the guy with Etienne sprinkled in, I dunno. Time will tell on that one.
Panic or Patience: Travis Etienne - Don't panic here. Have patience with Travis Etienne's production. The Jags won't be winning all the time. Which is when Etienne will be utilized more if you ask me. Unless they really do just end up being good with Doug Pederson!
Luck or Trend: Christian Kirk - I told you last week in my recap that he would be Lawrence's main man. And you saw it this week. WR1 season for Kirk incoming??? The people are asking!
Dolphins vs Ravens
Holy. Shit. What a game! I don't even know where to start. If you are new here, I am a Dolphins fan for as long as I can remember. This is the most exciting football I have ever seen this team play. The Ravens went up BIG. It was 35-14 Ravens at one point in the game. Lamar was running their offense like it was practice. 79-yard TD run, deep ball after deep ball. I was very discouraged at halftime. I think the craziest part of this game was there were 4 players with over 100 yards receiving. Two of them, Tyreek Hill and Jaylen Waddle, had 190 and 171 themselves. Each scored 2 touchdowns. Unreal. The Dolphins came back and won 42-38. Incredible. I have so many adjectives for this game. Tua Tagovailoa showed this offense's ceiling and it looks beautiful; 469 passing yards with 6 touchdowns!??! What a game! Lamar himself had 318 passing, 119 rushing and 3 passing/1 rushing touchdowns. All around great QB performances. Mark Andrews led the Ravens in receptions but Rashod Bateman had a big day with 4 receptions and 108 yards with a long TD catch and run.
Panic or Patience: Chase Edmonds - I don't think I'm panicking on Chase Edmonds yet. I am a little weary, however. If this backfield is used like the 49ers, it's going to be messy for fantasy. If it was just a game plan, and Raheem's abilities were more fitting for the Ravens defense, then Chase will be fine.
Luck or Trend: Jaylen Waddle - So many were worried Tyreek would take away production from Waddle. Those are silly people. Waddle is going to THRIVE with Tyreek alongside him.
Rams vs Falcons
This game was wacky. The Falcons were down 21-3 at half, and wound up coming back at the end to make it 31-27. Really it was 31-25 but the Rams used strategy at the end that got them a safety but also the win because it ran time off the clock. Then the Falcons had a hail-mary chance because the punt after the safety went out of bounds. So the Falcons had the ball at the fifty-yard line. Of course, Mariota got sacked. Lol. Such a Falcons thing to happen. Cam Akers actually had more carries than Henderson. I didn't see that coming. Henderson got the TD, though. This is good because I predicted he would get one this week. Of course, Cooper Kupp saw 14 targets and caught 11 of them for 108 yards and 2 touchdowns. That man is unstoppable. Higbee had a solid day with 9 targets reeling in 7 of them for 71 yards. I'll take 14 points from Higbee any day of the week. Allen Robinson had a resurgence and caught 4 passes for 53 and a touchdown. The Falcons had some production from their rookie Drake London. He caught 8 passes for 86 yards and a score. 24.6 fantasy points from a rookie is fantastic. Unfortunately, Kyle Pitts was not heard from today. 2 catches for 19 yards and only 3 targets. Same exact stat line as last week. Was Jalen Ramsey locking him up or something??? The Rams escaped this one, but what an interesting finish to this game.
Panic or Patience: Kyle Pitts - Don't panic here. Pitts is too talented to not be productive. His time will come. He is an elite athlete. The better London does, the more it'll benefit Pitts.
Luck or Trend: Drake London - It's clear he and Mariota have a connection. London is talented and Mariota is peppering him with targets. Keep playing him.
49ers vs Seahawks
I am so bummed that Trey Lance got hurt. I think he was going to progress nicely and be a solid starting quarterback for the 49ers. I love Jimmy, but Trey has a great ceiling if he can get there. Jimmy just doesn't have that anymore. Still good, but not as good as he used to be. There wasn't a lot of fantasy production from this game. Deebo Samuel and Tyler Lockett were the only skill players worth mentioning. Jeff Wilson Jr., did have 12 points but some were probably expecting more. I wouldn't be mad with 12 from him. The Seahawks just stunk. Rashad Penny didn't show up, Kenneth Walker didn't look all that spectacular in his debut, DK was missing. 4 catches for 35 yards? C'mon now. The offense didnt score…The only points were from a blocked field goal returned for a touchdown. You have to give Drew Lock the start after that. You need to at least see if your trade asset has a chance, no? I would think so. If that fails, go back to Geno. Who cares? You're trying to win, are you not? Anyways, like I said, from a fantasy perspective this game was lame. Hopefully, we see our fantasy assets from these teams trend back up soon!
Panic or Patience: DK Metcalf - It's not time to panic yet. DK's time will come, we saw it with Geno last season. For now, just cross your fingers hoping Drew Lock becomes the starter. The worst that can happen is probably the same points as with Geno.
Luck or Trend: Brandon Aiyuk - I think Aiyuk is going to put together a nice lil season for himself. He saw an uptick in targets in a game with better weather. That's something! Plus, the offense will look a little different with Jimmy G now under center. I think that's good news for Aiyuk.
Bengals vs Cowboys
The Super Bowl runner-ups are off to a tough start. 0-2 to begin the season. One loss to the division rival Steelers and another loss to the Dak-less Cowboys. What a rush. Get it? Joe Burrow is simply not feeling himself. He looks a tick off. I don't know what it is, but he isn't himself right now. We need the swagged out Joe. It's good for football. You know what also isn't good for football? Ja'Marr Chase having 5 catches for 54 yards. Luckily, Tee Higgins stepped up. Higgins racked up 6 catches for 71 yards and a score. Mixon had the backfield work, just didn't have a great day. 19 carries for 57 yards. Not much-passing work, only 3 catches for 26 yards. Was just missing a touchdown to make it a good day. The offense just wasn't clicking. The Cowboys offense wasn't really either. This was a barn burner. Who else had Noah Brown as the leading receiver? No one. No one did. He also scored the most fantasy points on the Cowboys. For all those worried about CeeDee Lamb, don't be. He had 11 targets. He played a solid Bengals defense. He will be fine. Zeke needs to get it together, 15 carries for 53 yards ain't gonna cut it when guys like Tony Pollard are out-producing you. This game came down to a Brett Maher field goal and Dallas got the win.
Panic or patience: CeeDee Lamb - Yeah, he didn't have the week you would have wanted, but he scored 15 points. He was lacking a touchdown from a 21-point week. He will be fine with Cooper Rush.
Luck or Trend: Noah Brown - I'm going with trend here. He saw 9 targets in week one, 5 in week 2 but was able to geta score this week. He's definitely being utilized in the offense and is a solid flex play going forward.
Broncos vs Texans
I don't know how to dissect what is going on with Denver. They got the win, great. But, it was exceptionally painful to watch. I know Russell Wilson only having 219 passing yards and 1 touchdown isn't a good thing. Seeing that, you'd think Javonte had like a 100+ rush yard game. Well, nope. That didn't happen either. He did have 75 yards on 15 carries, but it wasn't a spectacular day. Cortland Sutton is definitely Wilson's favorite target. He threw it to Sutton 11 times today, connecting on 7 for 122 yards. No score but it will come. Luckily, Eric Saubert (who?), caught the touchdown to get the Broncos the win. After leading the Texans in touches in week 1, Rex Burkhead didn't run the ball once. Dameon Pierce had a much better day than last week. 15 rushes for 69 yards. Nico Collins and Brandin Cooks had average days. Both had 4 catches for 50-some yards with similar targets (9 Collins, 10 Cooks) Not much else to say about this one. It was a barn burner, for sure. Oh, Jerry Jeudy injured his shoulder. Praying it's not bad, he looked great week one.
Panic or patience: Dameon Pierce - I'm still going to be patient with him, but I am a little weary. He isn't being used in the passing game, which limits his ceiling for fantasy. Hopefully, the Texans can get ahead in games, allowing Pierce to control the ground game.
Luck or Trend: Courtland Sutton - Yep, him and Wilson are a legit duo for fantasy. 7 targets in week 1, and 11 targets in week 2. The touchdowns will come. He had end zone targets this week, just didn't connect.
Cardinals vs Raiders
I can't believe the Raiders lost this game to Kyler Call of Duty - I mean Murray. I kid, I kid…Kyler put together a solid finish to this game. Executed, some would say. It was so hard to watch all of his crazy long scramble plays. He wound up with 25 fantasy points. The Cardinals best receiving option was Zach Ertz, of course. My "start TE" of the week. *bows* However, I will say Greg Dortch is finding himself comfy in the Cardinals WR group leading them with 15.5 points and got a touchdown! I see him earning playing time going forward. James Conner injured his ankle, which he is known to have issues with. Go add Darrel Williams or Eno Benjamin. They may not be your "answers," but they will help fill in. Marquise Brown had plenty of targets, 11, but only wound up with 6 catches for 68 yards. He will get his, in due time. They got the win, but man was it something. Derek Carr was my "start QB" of the week. Sure, he did alright with 18 points. Not a bad score. But I did call for a 20+ point well, so that stinks for me. Davante Adams started off hot! But man, did he cool off? Ended up with the same stat line that Mike Evans likes to put up. 2 catches for 12 yards and a touchdown. I guess you can't be upset as a fantasy manager, but that's only 9 points. You want more from him! It's clear that Josh Jacobs owns this backfield. 19 carries to Zamir White's 1 carry.
Panic or Patience: Davante Adams - Don't worry, Davante will be fine. He is elite. He still scored a touchdown! He had a good real football day, just not fantasy. He will be FINE.
Luck or Trend: Darren Waller - Darren Waller doing Darren Waller things scoring 17 like the good ole days. Yes, folks, this is a trend. He had double-digit points in both weeks so far. He may range anywhere from 10-20 points but you can't hate that.
Bears vs Packers
For the life of me, I cannot figure out how the Bears only managed to throw 11 times…They have Darnell Mooney and Cole Kmet! Those two have shown they're solid receiving options. Throw them the ball…I want Justin Fields to be a thing so bad. The talent is there! David Montgomery was the bright spot in this offense, he had 15 carries for 122 yards. Love to see Monty get that volume. Fields saved his day by getting a rushing touchdown, but that was just rude to take it from Monty like that. Absolutely no one had a good receiving day for the Bears. They have a lot to figure out. For the Packers, it was the Aaron Jones show. He had 132 rush yards, 38 receiving yards and two total touchdowns. Hell of a day for Aaron. 32 fantasy points was a top 5 finish for him. Aaron Rodgers hasn't had the start to the season as most fantasy managers would have wanted. 16 points this week and a dud last week. Gotta get it figured out Mr. Rodgers! Packers won 27-10.
Panic or Patience: Rodgers - Patience young Padawan. Rodgers was the back-to-back MVP in 2020 & 2021. He'll turn it around. He is too good not to hit his stride. The offense is working on its identity.
Luck or Trend: David Montgomery - His volume isn't a fluke, he has always been a volume guy. That is going to continue.
Titans vs Bills
This was the Bills show from the moment the ball was kicked off. Josh Allen and Stefon Diggs couldn't be stopped. Diggs was targeted 14 times ans caught 12 of those passes for 148 yards and 3 touchdowns! THREE. Stefon saw what Tyreek and Waddle did and said, "Hold my beer." Without Gabe Davis in the lineup, the Bills were using all kinds of personnel packages. 8 different people caught a pass last night. I feel like thats not typical for the Bills. James Cook wound up being their leading rusher, which isn't saying much, but after week 1's disaster debut, he had a much better night. The Titans, didn't have a good night. At all. Ryan Tannehill couldn't get the ball in his playmakers' hands very often, the Bills D was in King Henry's face every time he touched the ball. Taylor Lewan got hurt, not sure if he came back in, but it was bad without him. Henry managed to scored a touchdown. Saving his fantasy week, but that was about it from production on the Titans. The only other noteworthy tid bit was that Treylon Burks led the Titans in targets and yards. Otherwise, this game stunk for the Titans and was fantastic for the Bills.
Panic or Patience: Derrick Henry - That's now two games in a row where Derrick Henry was allowed less than 10 fantasy points…I'm not sure what's going to happen moving forward with the Titans. The offense is lacking the spunk it once had now that AJ Brown is gone, and Henry can't carry the team by himself. May want to jump ship!
Luck or Trend: Treylon Burks - It's not a coincidence he lef them in targets and yards this week, heck, I bet an average joe could've done it this week. It was a gross game. Burks' talent is prevailing, I believe as the season goes on, he will blossom into a nice flex play fantasy guy.
Eagles vs Vikings
Another game that was one-sided. The Eagles controlled this game from the start. Jalen Hurts racked up 333 pass yards and 57 rush yards and had 2 touchdowns on the ground and one in the air. Hell of a day scoring just over 33 fantasy points. AJ Brown had a quieter night than week 1, he scored just shy of 12 fantasy points in this blowout. DeVonta Smith had a get-right game, notching 15 fantasy points. I knew he wouldn't be a dud. Miles Sanders just barely hit 11 points, I will take that from him. Solid day for the Eagles. The same can't be said for the Vikings. Nothing was working for them from the get-go. Dalvin Cook couldn't hit his stride, Justin Jefferson couldn't feed off his week 1 performance, and Kirk Cousins in primetime is alive and well. He stunk. Less than 9 fantasy points? C'mon Kirk. Irv Smith Jr. wound up leading the Vikings in fantasy points, let alone production. That was a long time coming, though. There are a good amount of Smith-truthers for the young tight end. He just had some setbacks the past two years. The Vikings looked like the complete opposite as week 1. Offensively, they struggled, bad. There was no groove and not much production. Fantasy managers hope to see that flip-flop again in week 3.
Panic or Patience: Dalvin Cook: I'm beginning to panic with Dalvin. Right now, his ceiling is less than 14 points, and that's not what you were hoping for when you drafted him in the middle of the first round. I hope he can get things going, but the Vikings offense has to, for that to occur.
Luck or Trend: Devonta Smith - I will say, it was lucky that he caught 7 of 7 targets, but it's not lucky that he turned it around from his week 1 performance. DeVonta Smith will be fine going forward. This is a trend.
Quick Links
STAY IN TOUCH
Sign up for FantasyData's newsletter and get awesome content sent to your inbox.
We'll never share your email address and you can opt out at any time, we promise.
---

Ever since Tony decided he was going to major in Sports Management at the University of Cincinnati, he knew his life would revolve around sports. Tony is an avid Miami Dolphins fan who grew up in Columbus, Ohio. Home of the Buckeyes, who Tony was born and raised to root for. Tony has been playing fantasy football for just over a decade. He approaches fantasy football with the same mentality he approaches everything else, "If you ain't first, you're last." Specializing in redraft, Tony's goal is to bring a fresh perspective to the Fantasy Football world.