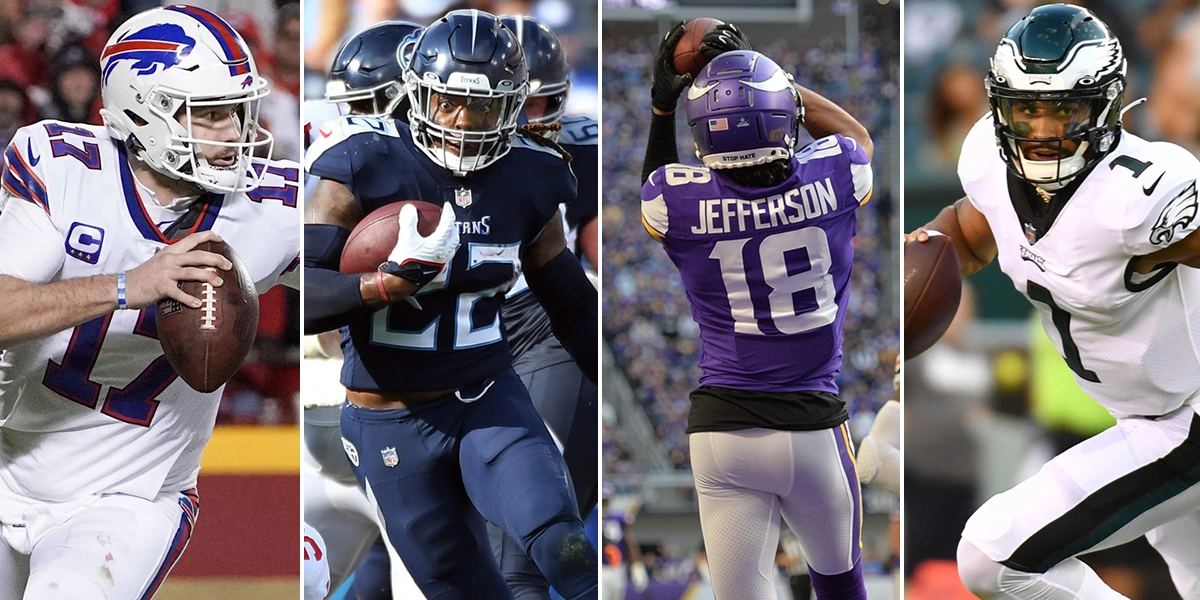 Monday Night Football Double Header Preview
---
Monday Night Football Double Header
Titans vs Bills (Buf -10), Vikings vs Eagles (Phi -2)
Titans vs Bills
The Bills handled the reigning Super Bowl champions, LA Rams, in week 1 while turning the ball over four times. The Bills defensive line applied pressure all game while not blitzing once. The Bills front seven stacks up very well against the run-first offense of the Titans with Derrick Henry. I believe this is where both teams will win or lose this game. If the Titans cannot run the ball, they don't have a chance to keep up with the Bills explosive offense in this matchup. Running well with Derrick Henry will also keep the time of possession with the Titans and keep the ball away from Josh Allen. I would like to see more from the pass-catching options for the Titans this week. Robert Woods is a talented receiver but was barely involved in week 1. Rookie Treylon Burks should see his usage go up as the year goes on and as he gets accustomed to the NFL.
Keys to Victory
Bills: Can the Bills defensive line hold Derrick Henry? If Derrick Henry runs wild, which we know he can do, this game could be tougher than the betting line (Bills -10) indicates. Von Miller and the defensive line need to make Tannehill throw and the Bills should win this game.
Titans: Easier said than done, but containing Josh Allen in the running game is vital for the Titans success. The Bills can beat you in so many ways so stopping their electric quarterback on the ground is very important. Josh Allen ran for 56 yards and a touchdown in week 1. If the Titans can limit his rushing upside, this will help their chances of winning this game.
DFS Plays
Isaiah McKenzie: Buffalo Bills number 3 wide receiver Isaiah McKenzie is a cheap DFS option to throw into your lineups if you want a piece of the lethal Bills Offense. He caught a touchdown in week 1 and Diggs should attract a lot of attention from the Titans secondary. With Gabe Davis' health up in the air for tonight's game, McKenzie should see more involvement in the offense.
Titans Offense: It is very tough to play anyone in this offense besides Derrick Henry in this matchup. DFS and fantasy players cannot be confident in playing any Titans wide receiver this week. Robert Woods was basically a non-factor in week 1 and I would recommend waiting on rookie Treylon Burks. A real deep shot on the Titans offense could be Kyle Philips. Philips saw 9 targets in week 1.
Thinking about playing DraftKings of Fanduel tonight, check out FantasyData's NFL Optimizer.
Vikings vs Eagles
Vikings visit the Eagles in the later Monday night game and this one could be a shootout. I know the Vikings held the Packers to just 7 points in week one but I think that was just a stroke of good luck for them and one of Aaron Rodgers worst games of the season. The Vikings offense torched the Packers secondary in week 1. Justin Jefferson had 9 receptions on 11 targets for 184 yards and 2 touchdowns. The Eagles gave up 35 points to the Lions in Week 1 so the Vikings should have no trouble putting up points in this matchup. Dalvin Cook should get back to his normal self in this matchup as well. Cook didn't have a bad week in week 1, 90 yards on 20 carries, just not as efficient as he can be. The Eagles offense looked great in week 1 as well, dropping 38 on the Lions. The rushing attack was overpowering in week 1 with Jalen Hurts, Miles Sanders, Boston Scott, and Kenneth Gainwell all rushing for touchdowns. Those four players combined for 216 rushing yards in week 1. Basically, all the passing game work went to AJ Brown, bringing in 10 receptions for 155 yards.
Keys to Victory
Vikings: Make Jalen Hurts throw. The identity of the Eagles offense is clearly on the ground and is led by the quarterback, Jalen Hurts. Hurts is an amazing athlete and incredibly hard to tackle in space. Keeping him in the pocket should be a top priority for the Vikings defense.
Eagles: Get Devonta Smith involved. Not every pass can go to AJ Brown, right? Smith did have a drop in week 1 but only had 4 targets. In fact, wide receivers only had 11 catches in week 1 for the Eagles, and AJ Brown had 10 of them. Devonta Smith needs to be utilized to spread the field for this fast-paced Eagles offense.
DFS Plays
Vikings: The Vikings offense is pretty clear-cut when it comes to who will be involved: Jefferson, Thielen, and Cook. KJ Osborn is the Vikings 3rd receiver and should see some involvement. I expect Irv Smith Jr. to bounce back in this matchup after having zero catches in week 1. Jalen Reagor revenge game? (Probably Not)
Eagles: Kenneth Gainwell should see some opportunities in this matchup. He is cheaper than Sanders in DFS and has the potential to find pay dirt. I like Gainwell for his pass-catching upside.
STAY IN TOUCH
Sign up for FantasyData's newsletter and get awesome content sent to your inbox.
We'll never share your email address and you can opt out at any time, we promise.
---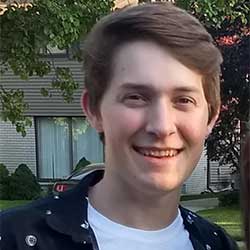 Matthew St.Pierre has always had a deep love for sports. Throughout his life, he has played and watched just about every major sport there is. With over nine years competing in fantasy leagues for football, hockey, and baseball, sports have always been a huge part of his life. Matt looks forward to building a successful career as a journalist, offering in-depth investigations and quality insights across all sports topics. Outside of sports, you'll find Matt playing video games, walking his dog, Simba, and traveling.