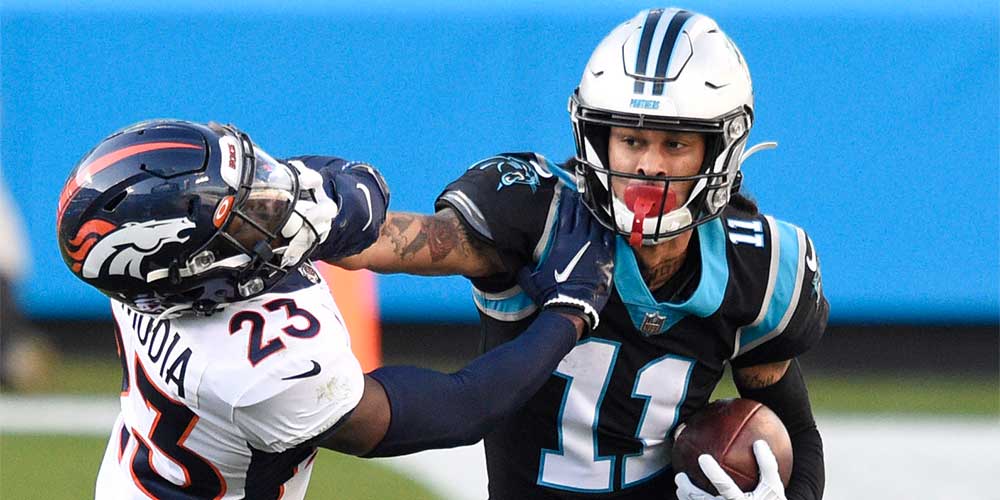 Week 7 Fantasy Football Sleepers
---
Week 7 Fantasy Football Sleepers
In one of the wilder bye weeks, fantasy managers will have to adjust and plug holes, especially given the fantasy-relevant players on those teams. The fantasy sleepers last week finished with better results. Hopefully, that sustains in Week 7. As noted in previous sleeper installments, we hope the process leads us to positive outcomes. Sometimes our process evolves with more data and information as we observe various player and team trends. As always, we'll review Week 6 and look ahead to Week 7. That said, let's dive in.
Week 6 Review
After averaging 35 rushing yards per game over the past three, Taylor Heinicke didn't record a single rushing attempt against the Chiefs. Heinicke also struggled through the air with 182 passing yards on 39 attempts with 4.7 yards per attempt, one touchdown, and one interception. In a game where the Washington Football Team trailed in the second half, the offense couldn't muster much production outside of J.D. McKissic and Ricky Seals-Jones.
On the other hand, Carson Wentz relied on efficiency with 223 passing yards and two touchdowns on 20 attempts for 11.2 yards per attempt. Wentz connected with Parris Campbell for a 51-yard touchdown and Mo Alie-Cox for a 28-yard score. With six touchdowns and zero interceptions combined over the past three games, fantasy managers can stream Wentz in the upcoming weeks.
Latavius Murray ended up as an RB sleeper in my #FantasyFootball sleeper article @FantasyDataNFL before the news of Ty'Son inactive. Facing the Chargers allowing a league-worst 157.6 rushing yards per game - I'm even more optimistic about Murray https://t.co/b6XFz8dZzT

— Corbin (@corbin_young21) October 17, 2021
Before Latavius Murray suffered an injury, he salvaged his day with one rushing score on nine carries for 44 yards. Murray also hauled in both targets for 12 receiving yards. Not bad for a bye week streamer at running back, although he's a touchdown-dependent option most weeks. However, Murray's injury could open the door for Devonta Freeman and Le'Veon Bell in 2021 - what a year.
In a relatively high-scoring affair, the Bills and Titans went back and forth down to the wire. Josh Allen passed for over 350 yards with three touchdowns and one interception. However, the Bills running game mustered 27 yards for Devin Singletary and 24 rushing yards for Zack Moss. Unfortunately for Singletary, Moss continued to receive work in the red zone while Singletary garnered opportunities between the 20-yard line. Singletary caught all five targets for 16 receiving yards, which looked better than the actual yardage in PPR leagues.
In a smash matchup, Michael Pittman Jr. only garnered three targets against the Texans. With the Colts' defense limiting the Texans and Wentz's passing efficiency, they didn't need to feed Pittman many opportunities. Attempt to buy-low on Pittman as he boasted the 16th highest target share and 14th best Air Yards Share heading into Week 6.
The big win of the last week in my article involved Jaylen Waddle, who soaked up 13 targets for a 27.7% target share. With Tua Tagovailoa back at quarterback, Waddle hauled in ten receptions for 70 receiving yards and two touchdowns. Both of the touchdowns came as short-yardage ones, which indicates Tagovailoa may look Waddle's way near the goal line. We love the receptions and yardage, so the touchdown upside adds to the optimism.
Unfortunately, both tight ends couldn't hit in Dan Arnold and Ricky Seals-Jones. Arnold played on 61.5% of the snaps and ran 30 routes with five targets. The snap share drop concerns us, but the routes ran remained high. After the top-5 at the position, it's gross. That said, Arnold should have solid usage moving forward. We'll need to monitor the snap share, routes, and target rate or targets per route run.
With the negative game script of the Washington Football Team, Ricky Seals-Jones played on 100% of the snaps with 37 routes run. Anytime a tight end scores, it's a positive in fantasy lineups. Thankfully, Seals-Jones boasts the usage plus opportunities after hauling in four of six targets for 58 receiving yards and one touchdown.
Just a reminder - we have six teams with a Week 7 bye, including the Bills, Cowboys, Jaguars, Chargers, Vikings, and Steelers. That eats into the player pool, meaning it might be hard to find healthy players to plug into lineups.
Week 7 Sleepers
Tua Tagovailoa vs. ATL
Last week, Tua Tagovailoa tossed a season-high 329 passing yards on 47 attempts. Tagovailoa ranked inside the top10 with 22.4 fantasy points. The Dolphins currently rank 7th with 39.5 Team Pass Plays Per Game with a -4.85 (No. 27) Game Script. With the Falcons allowing the 4th most fantasy points and Tagovailoa coming off his best game this season, he ranks as the top sleeper quarterback in Week 7.
Unfortunately, the advanced metrics don't look appealing with a 6.3 (No. 24) Adjusted Yards Per Attempt and the -18 (No. 44) Production Premium. The Dolphins provide the 4th best protection rate at 87.8%, with the Falcons bringing the 4th fewest pressure at 21.1%. Stream and start Tagovailoa with so many teams on their bye week, given the fantasy-friendly matchup.
Jameis Winston at SEA
Before their bye week, Jameis Winston proved efficient once again with 279 passing yards on 30 attempts for 9.3 yards per attempt. Winston continues to rely on efficiency with four more passing touchdowns to finish as QB5 in Week 5 against the Washington Football Team. He currently leads the NFL with a 10.3% touchdown rate over two percent higher than Matthew Stafford, Joe Burrow, and Russell Wilson at 8%.
Before Week 5, Winston averaged 21.5 pass attempts per game with the 32nd ranked Team Pass Plays Per Game at 24 and the 4th best Game Script (+3.37). Given the Saints' early-season schedule, they relied on the run game with 31.2 (No. 5) Team Run Plays Per Game, and there's a chance Winston remains efficient against a Seahawks offense without Russell Wilson. The Seahawks rank middle of the pack with 19.1 (No. 15) fantasy points allowed to the quarterback position. However, they allow opposing quarterbacks to throw 306.2 passing yards and 1.7 touchdowns per game.
Given the lack of options at quarterback, let's see if the efficiency continues for Winston with the 7th highest Adjusted Yards Per Attempt (8.0), highest fantasy points per dropback (0.75), and the 5th ranked Production Premium (+12.1). Outside of Week 5, where Winston threw 279 passing yards, Winston averaged 153.3 passing yards in the previous four weeks. Will we see fewer passing yards and touchdown efficiency against the Seahawks or something in the middle? Winston could throw for 250-270 passing yards with 1-2 touchdowns and still produce solid fantasy numbers since we lack the starting options in Week 7.
Rhamondre Stevenson vs. NYJ
The Jets allow the 2nd most fantasy points to the running back position. However, they allow the 14th most rushing yards with an average of 111.2 per game. Most of the production against running backs comes via the receiving game, given the 3rd most receiving yards to the position for an average of 71.2 per game. Although neither Damien Harris nor Rhamondre Stevenson garners many targets, Stevenson earned more snaps and touches recently.

Stevenson's snap share hovered at 37.1% and 32% the past two weeks with six and eight routes. The snap share for Damien Harris isn't much higher at 33.9% and 42%, with a drastic difference in routes run during the past two games. In the previous four weeks, Harris averaged 10.5 routes per game. There's a chance Stevenson's role in the passing game remains or slightly increases, which qualifies him as a Week 7 sleeper against the Jets.
Devonta Freeman vs. CIN
It's wild to think we're considering Devonta Freeman, Latavius Murray, and Le'Veon Bell as viable options in the Ravens running game in 2021. Murray left Sunday's game against the Chargers with an ankle injury. As of Wednesday, Murray didn't practice. That said, Devonta Freeman could have the "lead" role in the Ravens backfield, which ends up split regardless. Although the Team Run Plays Per Game dropped from 34.7 (No. 1) in 2020 to 31.8 (No. 3) in 2021, we still have some fantasy options here.
Last week, Freeman logged a season-high 29.2% snap share, nine carries, and 53 total yards. In Week 5, Freeman ran 14 routes with four targets, which gives us optimism for an increased role in the receiving game. Unfortunately, Lamar Jackson doesn't typically target the running backs with a 10.8% combined target share to four different backs. However, Freeman showed the ability to make plays as a receiver out of the backfield in previous seasons.
Freeman ranks as a running back sleeper in Week 7 under the assumption that Latavius Murray misses the game. Even if Murray plays, Freeman will earn opportunities in the rushing and receiving game. There's a scenario where Ty'Son Williams, a healthy scratch in Week 6, plays and takes on a lead role too. However, the Ravens shifted away from Williams potentially due to pass-blocking struggles. The Bengals allow the 7th most receiving yards to the position for an average of 48.5 receiving yards per game. Due to bye weeks and injuries, Freeman sits as an RB3 or flex option in Week 7.
Darnell Mooney at TB
It's a rollercoaster ride with Darnell Mooney, who averages 15.5 and 5.3 fantasy points in three games each this season. Unfortunately, Mooney plays on a team that averages 24.7 (No. 31) Team Pass Plays Per Game, but Justin Fields threw more than 20 passes for the first time this season in Week 6. Given the low-volume passing game, there's a slim margin for error for Mooney and Allen Robinson.
Justin Fields attempted more than 20 passes for the 1st time this season.

Darnell Mooney reached a season-high in targets while Allen Robinson reached the 2nd highest mark of the season.

Robinson's dip in Air Yards over the past 3 years looks concerning. pic.twitter.com/dEhVJm9u3J

— Corbin (@corbin_young21) October 18, 2021
The Bears will need to throw against the Buccaneers, who allow the 10th most receiving yards to the position for an average of 182.5 per game. Given the stingy run defense, hopefully, the Bears can have success in the passing game. The advanced metrics for Mooney look intriguing with a 26.9% (No. 11) target share, 32.7% (No. 28) Air Yards Share, and a 27.5% (No. 19) Target Rate or Targets Per Route Run. Mooney matches or bests Allen Robinson in the same opportunity categories. Based on bye weeks, Mooney serves as a WR3 with WR2 upside in Week 7.
Robby Anderson at NYG
Over the past three games, Robby Anderson averages 9.7 targets and 101 Air Yards per game. Unfortunately, that only translated into an average of 3.3 receptions and 29 receiving yards. Over the past three games, Anderson's 24.8% target share and 29.2% Air Yards Share rank higher than the season-long numbers. Anderson's season-long 28.2% (No. 41) Air Yards Share remains on-par, but the target share increased from 18.8% (No. 45) on the season.
The Giants currently allow the 4th most fantasy points at 28.3 per game to wide receivers. I love D.J. Moore, but Anderson's opportunities have ticked up the past few weeks. Let's see if the opportunity and efficiency crossover. That should translate into fantasy production for Anderson as a Week 7 sleeper.
A.J. Green vs. HOU
Say what you want about A.J. Green, but the Cardinals continue to involve him in the offense with an average of six targets per outside of Week 5. Green remains on the field for an 84.4% (No. 26) Snap Share and 29.8 routes run per game. The season-long 17.3% (No. 52) target share and 25.2% (No. 46) Air Yards Share don't look that appealing. However, the Cardinals continue to spread the passing opportunities around with DeAndre Hopkins with 20.5% (No. 39) target share - the lowest of his career since the 2013 rookie season.
Outside of Week 5, A.J. Green earned six targets per game. In games where Green receives six targets, he averages four receptions for 65.4 receiving yards.

It's ugly this week, but Green should serve as a safe-ish play in Week 7. #FantasyFootball pic.twitter.com/8taaQOLMUv

— Corbin (@corbin_young21) October 21, 2021
The Texans allow the 8th most fantasy points to the running back position, with the 6th lowest to receivers at 19.4 per game. That's likely a product of game script against a struggling team like the Texans. In games where Green receives six targets, he averages four receptions for 65.4 receiving yards. Let's see if Green reaches that threshold in Week 7 as a WR4.
Ricky Seals-Jones at GB
With Logan Thomas on injured reserve, Ricky Seals-Jones continues to serve in the Thomas' role. Last week, Seals-Jones sat as a sleeper tight end, and it will continue into Week 7 based on usage. In the past two weeks, Seals-Jones played on 98.3% and 100% of the snaps with an average of 35 routes in each.

A reminder that the tight ends at the position have similar usage in snap share, routes run per game, and target share. That said, Seals-Jones should rank as a TE1 until Thomas returns. Seals-Jones can stay involved when Thomas comes back, according to coach Ron Rivera.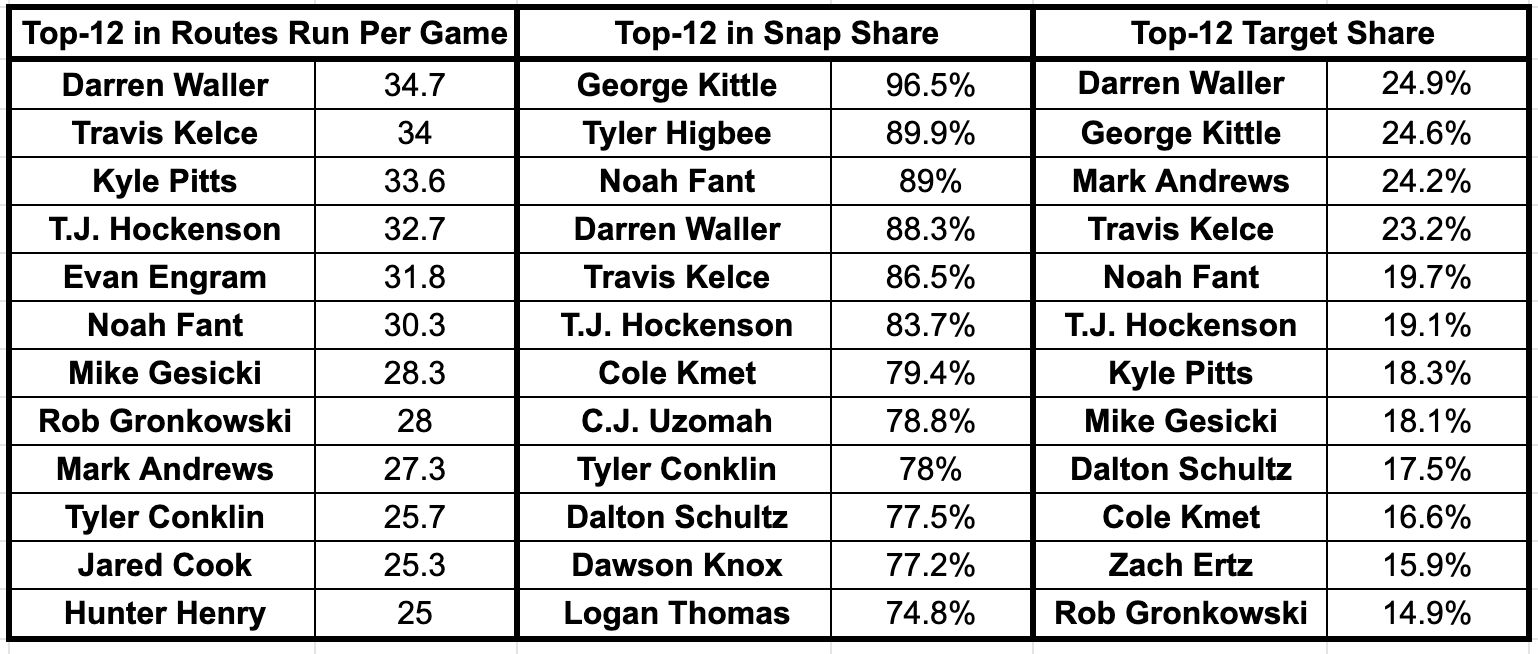 STAY IN TOUCH
Sign up for FantasyData's newsletter and get awesome content sent to your inbox.
We'll never share your email address and you can opt out at any time, we promise.
---

Corbin is passionate about fantasy baseball and football. He loves diving into and learning about advanced metrics. Corbin is a Mariners and Seahawks fan living in the Pacific Northwest. Corbin's other hobbies are lifting weights, cooking, and listening to fantasy sports podcasts.