Matt Breida's Sneaky Fantasy Value in 2020
---
Matt Breida Fantasy 2020
Former San Francisco 49ers running back, Matt Breida was traded to the Miami Dolphins this offseason. We know Breida's an explosive athlete that has a history of nagging injuries and shared touches with other running backs, but could he thrive in a new location? Getting a chance to compete in Miami might allow his fantasy stock to take off if given the right opportunity. In this article, I'm going to dive into the numbers and see if Breda's being overlook in fantasy drafts this summer.
Let's start with a highlight you may have forgotten. Last season in week 5, Brieda clocked was clocked as the fastest ball carrier in the NFL at 22.3 mph on an 83-yard rushing touchdown. According to Player Profiler, Breida's burst score ranked in the 99th percentile which shows evidence of his explosiveness.
Matt Breida ran over 22 MPH on this 83-yard TD run 🏎

(via @NFL)pic.twitter.com/4VGz6Czu3d

— Bleacher Report (@BleacherReport) October 8, 2019
Breida's shared touches and injuries limited his production although he surpassed 1,000 total yards in 2018. In 2018 Jerick McKinnon tore his ACL right before the season started, so Breida led the team in running back touches. Right when we thought Breida might be the lead back in 2019, the 49ers signed Tevin Coleman in the offseason. In week 1, Coleman suffered an injury and Breida compiled two 100-yard rushing games in weeks 2 and 5 with limited touches. In that stretch with Coleman injured, Breida shared touches with Raheem Mostert.
We'll dive a little deeper into the running back touches and opportunity shares, but all three 49ers running backs ended with a similar amount of carries and touches spread amongst three guys. The Dolphins also signed Jordan Howard a month before they acquired Breida in a trade. So it looks like Breida will again share touches with at least one running back in Howard. Let's take a look at Breida's fantasy value in 2020.
49ers Running Back Touches in 2019
| | | |
| --- | --- | --- |
| 49ers RB's | Rushing Production | Receiving Production |
| Tevin Coleman | 137 carries, 544 rushing yards, 6 TDs | 30 Targets, 21 rec, 180 rec yards, 1 TD |
| Matt Breida | 123 carries, 623 rushing yards, 1 TD | 22 Targets, 19 rec, 120 receiving yards, 1 TD |
| Raheem Mostert | 137 carries, 772 rushing yards, 8 rush TD | 22 Targets, 14 rec, 180 receiving yards, 2 TDs |
Season Long Opportunity and Snap Share
| | | | | |
| --- | --- | --- | --- | --- |
| 49ERS RB'S | OPPORTUNITY SHARE | SNAP SHARE | RED ZONE TOUCHES | FANTASY PPG |
| Tevin Coleman | 37.50% | 41.60% | 36 | 9.7 (39th) |
| Matt Breida | 34.30% | 32.50% | 7 | 8.6 (45th) |
| Raheem Mostert | 32.20% | 36.40% | 16 | 11.1 (30th) |
Keep in mind the table above shows the season-long snap and opportunity share, but it's pretty reflective of the splits amongst all three running backs. Here are some general trends. Coleman and Breida reached the double digits in fantasy points for five weeks each with week 5 being the only week where they overlapped. On the other hand, Mostert finished with double-digit fantasy points in eight total games, and six of those games came in the final six weeks of the season.
Mostert really came on towards the end of the season and had most of the snaps, touches, and fantasy points. Around the time when Mostert took over related to when Breida suffered an injury and missed weeks 11-13. As you can see in the table, Breida also had a low usage in the red zone which limited his touchdown opportunities. Overall the 49ers running backs finished with over 1,900 rushing yards and 15 total touchdowns.
Breida's Efficiency
Let's look at Breida's efficiency. In 2019 Breida's 5.2 yards per touch ranked 21st, but his production premium ranked 44th amongst running backs. Both of those are efficiency metrics on Player Profiler, so it's interesting to see them not line up. When looking at his 2018 numbers, Breida was even more efficient with 6.0 yards per touch that ranked 7th and his production premium ranked 33rd. Even though his production premium metrics don't line up with the yards per touch, we do see that he's been efficient on a per touch basis. It looks like much of the efficiency came in the receiving game in 2018 when he had 9.7 yards per reception that dropped down to 6.3 yards per reception last season. Breida's 6.5% breakaway runs ranked 6th last year, which further explained the efficiency and explosiveness.
Comparing the 49ers vs. Dolphins
We know the 49ers ran the ball a ton. Let's take a look at the table below comparing the 49ers and the Dolphins. We're comparing the 49ers and Dolphins to see the differences in the rushing production, game script, and more.
Comparison
49ers
Dolphins

Rushing attempts per game

32.1 (2nd)

21.8 (last)

Rushing yards per game

153.5 (2nd)

72.2 (last)

Passing attempts per game

28.2 (31st)

38.4 (7th)

Passing yards per game

220.7 (21st)

237.8 (13th)

Game script

4th

28th

Opponent yards per game

284.8 (2nd)

397.8 (30th)

Opponents points per game

19.5 (7th)

30.9 (last)

Offensive line

(Football Outsiders)

8th

32nd
There were drastic differences in the 49ers and Dolphins run game with the 49ers running the ball a ton and the Dolphins ranking dead last in rushing attempts and rushing yards per game. Given the polar opposites in rushing attempts and yards, it's expected to see the differences in-game script. In addition, the 49ers defense was elite while the Dolphins defense was terrible, which therefore led to more passing for the Dolphins. We can also see that the 49ers offensive line was much better than the Dolphins offensive line according to Football Outsiders.
In the offseason, the Dolphins drafted and signed a few offensive lineman, so hopefully, that helps Breida. Can you guess who the leading rusher for the Dolphins was? It was Ryan Fitzpatrick with 243 rushing yards and that's partly because they traded Kenyan Drake in late October to the Arizona Cardinals. Regardless, the Dolphins run game and offensive line were awful. It's yet to be seen whether the offensive line additions will help the rushing production in 2020, but let's take a look at the Dolphins backfield this year.
Miami Dolphins Backfield in 2020
So far we've looked at Breida's production and compared the Dolphins and 49ers, now let's look at the Dolphins backfield coming into 2020. As mentioned earlier, he'll be competing for touches with Jordan Howard. So let's first take a look at Howard's past production. Say what you want about Howard's struggles with the Eagles last year, but he averaged 1,123 rushing yards with the Bears from 2016-2018. With that being said, it likely that Breida will split snaps and touches once again in Miami. The Dolphins also have Kalen Ballage and Patrick Laird who were pretty terrible themselves last year, so expect the Dolphins to rely on Howard and Breida.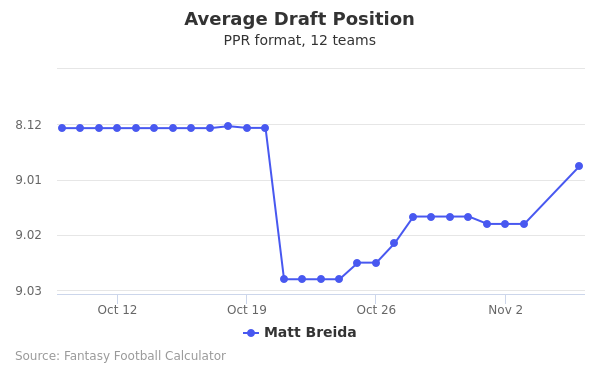 ADP from Fantasy Football Calculator
Breida's 2020 Outlook
First let's note that the Dolphins hired Chan Gailey as their offensive coordinator. They fired Chad O'Shea due to his complicated offense, so it sounds they're attempting to simplify the offense. Gailey uses a spread offense that translates well to rookie Tua Tagovailoa's skill set of making good decisions with the run-pass option. Although it doesn't appear that Tagovailoa will be the starter right away, we know that Gailey's familiar with Fitzpatrick from his days with the Bills and Jets.
Breida's 92.9 ADP on Fantasy Football Calculator makes him the 39th running back drafted right in front of James White. He's currently going about eight picks after teammate Jordan Howard, and that's great draft value for both running backs. We've seen the explosiveness and efficiency from Breida in a much better 49ers rushing offense. However, we could see the Dolphins rushing production improve with the upgraded offensive line additions.
---
Dominate Your Fantasy League in 2020!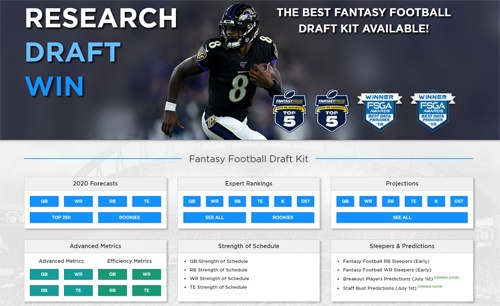 FantasyData has just launched it's exclusive 2020 Fantasy Football Draft Kit to help you prepare and destroy the upcoming NFL Fantasy season. Get expert projections, rankings, cheat sheets, and over 250 player forecasts for the season. FantasyData also is the home to some of the most advanced metrics in the industry.
Fantasy Football Rankings
Fantasy Player Projections
Strength of Schedule
Advanced Metrics
Cheat Sheets
250 Player Forecasts
---

Corbin is passionate about fantasy baseball and football. He loves diving into and learning about advanced metrics. Corbin is a Mariners and Seahawks fan living in the Pacific Northwest. Corbin's other hobbies are lifting weights, cooking, and listening to fantasy sports podcasts.