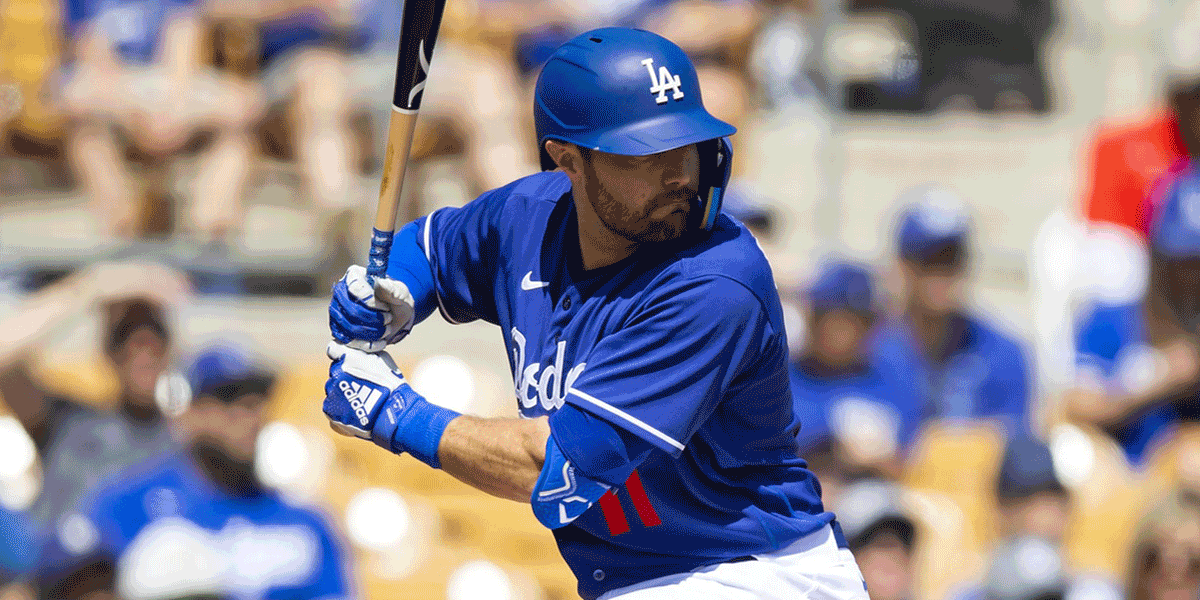 MLB DraftKings Picks Today: Free Wednesday Picks
---
MLB DraftKings Picks
Wednesday, Mary 25th provides us with a bit of a smaller five-game main slate of baseball with the first pitch coming at 7:05 p.m. ET. This of course narrows down our options, especially at pitcher, and drives up ownership numbers across the board. Further complicating things is the fact that we have weather concerns in Atlanta and Chicago. It is going to be one of those nights where we need to be ready to pivot in a hurry as the news comes in before the first pitch.
All of the pitchers are under $10k and there are not a lot of top-tier options. Choosing the right pitchers tonight will be vital in cashing in regardless of the contest type you are playing. The good news is, you will be able to spend freely on big bats if you so desire.
The daily dose will highlight some red hot hitters in great spots along with some pitchers that have beatable matchups or low totals. The fantasy data favorite bats and arms values will be in the $4k and $6k range respectively. At the end of the article, we will provide our lineup for the night at the time of writing the dose. Let's get started. The daily dose will highlight some red hot hitters in great spots along with some pitchers that have beatable matchups or low totals. The fantasy data favorite bats and arms values will be in the $4k and $6k range respectively. At the end of the article, we will provide our lineup for the night at the time of writing the dose. Let's get started.
---
Win Your Fantasy League!
Become a member at FantasyData and get access to the industry's best fantasy baseball subscription available!
---
Fantasy Data Favorite Bats
Trevor Story BOS @ CWS ($5,400) — We don't know what made the light switch turn on for Trevor Story, but the man has been the hottest hitter in baseball since he hit three home runs versus the Mariners on May 19th. Since that game, the former Rockies infielder has homered in four of five games, scoring 16 or more DK points in those same contests. There was a disappointing zero for three performance on Saturday, but that can be forgiven.
The matchup is a tough one, but Story has hit five of his eight home runs against right-handers. Giolito throws primarily a fastball, slider, and a changeup. The 29-year-old has a 34.44% or higher hard-hit rate against those types of pitches and truly crushes the changeups and fastballs to the tune of 51.61% or higher.
Ownership will probably be through the roof, and rightfully so. Jean Segura is a nice pivot worth considering if you want to zig while others zag.
Tim Anderson BOS @ CWS ($5,400) — Tim Anderson may be the one player to give Story a run for the money in the race for the hottest hitter. Anderson is now hitting a ridiculous .365 on the year and has a five-game hitting streak. In those five contests, the White Sox shortstop has put up 10 or more DK points, including 24 and 26 points performances. The brush with the Yankees seems to have the slugger seeing red of late.
Anderson has been even better against left-handed pitching this season, going 14 for 27 with two home runs, 19 RBIs, and 23 runs. Did we mention the seven stolen bases on the year? Wow. The veteran is just getting it done in all facets of late. There have been two at-bats for Anderson against tonight's starter Rich Hill and he has yet to get a hit against him. Look for that to change tonight.
They should get this game in as the forecast is calling for just light rain throughout. It may start late but will finish dry according to the early indications. You can set it and forget it with Story and Anderson. Each should be good for at least a hit or two tonight and if things fall our way, they both reach double digits easily based on their recent hot streaks.
Value Bat
A.J. Pollock BOS @ CWS ($3,200) — Pairing up Tim Anderson tonight with A.J. Pollock is a solid start to building your lineups. Pollock has hit Rich Hill well throughout his career. The average sits a bit low at just .191 but he does have three homers in just 21 at-bats and has only struck out twice. The former Dodgers outfielder is also hitting lefties well this season, going six for 23 and hitting both of his home runs against left-handers.
The White Sox have the fourth-highest total on the board tonight and as a team fair pretty well versus left-handed pitching so the opportunity for runs and RBIs should be there for Pollock. Pollock is coming off of a good series against the Yankees and is projected to hit third tonight.
At just $3,200 we just need a base knock or two from the right-hander to cover his cost. Rich Hill is not an imposing pitcher by any means and Pollock hits both the fastball and knuckle-curve well. Those are the primary pitches he will see tonight.
Fantasy Data Favorite Arms
Cristian Javier CLE @ HOU ($9,300)— Picking the correct pitchers tonight is going to be vital to our success. Lucas Giolito will likely be a popular choice but there are weather concerns in Chicago and the Red Sox bats have been red hot. Vegas seems to like the right-hander to do well tonight as they are only projecting Boston to score a slate low 3.26 runs tonight. We are pivoting from what will probably be the chalk tonight and suggesting Christian Javier.
Javier is coming off his best start of the season and has an ERA of just 0.99 if you remove the anomaly that was the Washington game. The K/9 is there with 39 strikeouts across just 31.1 innings. The Guardians are tops in the league in terms of whiff percentage so they do not strike out a ton. On the other side of that stat is the fact that they don't hit the ball hard either, ranking in the bottom 7% of the league in hard-hit percentage at just 35.1%.
Cleveland checks in with the second-lowest total of the night behind the aforementioned Red Sox with an implied run total of just 3.51. Javier is also much better at home, posting a 19.5 DK point average in the confines of Minute Maid Park while scoring just 9.4 DK points on the road. Ownership will likely be high here also but it is a safe, smart play on a slate devoid of stud options.
Reid Detmers TEX @ LAA ($8,400)— Reid Detmers struggled in his last start after throwing a no-hitter on May 10th. Those struggles came against this same Texas Rangers team. The rookie only went 3.2 innings and allowed three runs on three hits but did strike out four. This Texas squad is undisciplined and sits near the top of MLB with a 28.1% whiff rate.
While the Angels left-hander has allowed a batting average of .310 to the current roster, he has also produced a stellar 28.1% strikeout rate over 32 plate appearances. We know there will be up-and-down performances throughout the season just like any other rookie, but this is a good spot for a bounce-back for the 22-year-old. The strikeout rate could be a bit higher but we are looking for any upside tonight that we can find and few options fit that definition. We are banking on Texas being Texas and swinging early and often.
Much like Javier above, Detmers excels in his home park, posting 19.5 DK points per outing while pitching in sunny California as opposed to just 4.8 DK points averaged on the road. The salary is palatable but if you want to take a risk on the weather in Atlanta, you could gamble on Ranger Suarez in the same price range and hope to get some strikeouts there as well. Be careful though, Vegas has the Braves pegged to score 4.74 runs tonight. This should be another safe play, similar to the Astros starter tonight.
Value Arm
Tyler Wells BAL @ NYY ($5,300) — Suggesting a starting pitcher versus the Yankees? Are we crazy? Hear us out. This is not your everyday New York lineup. Giancarlo Stanton left last night's game with a calf injury and will probably be out of the lineup tonight. Also absent are Josh Donaldson and Joey Gallo. Outside of the top four hitters, we are looking at a lineup consisting of bench players and others that were recently called up from the minors to fill in.
Despite all of this, the Yanks are still projected to score 4.75 runs and that is okay. Tyler Wells has been solid against the Bronx Bombers across nine innings pitched. All told he has allowed just two earned runs on six hits while striking out seven. This equates to an average of 12.4 DK points over two appearances. We will take that for just $5,300. The other option here would be the opposing starter, JP Sears as the Orioles do strike out at a big clip.
It is also worth noting that the current Yankees roster is batting just .186 against Wells across 47 at-bats. Going with Wells will differentiate your lineup in a big way as many players will likely be stacking bats from the opposition tonight. On a small slate such as this, we need to pick our spots to be contrarian in larger field tourneys. If you are playing in a head-to-head or 50/50 format, then Sears is your man.
Wrapping it Up
Watch the weather in Atlanta and Chicago. Have backup plans in place. Try to pick your spots with bats and be contrarian by going with Wells against the Yankees. It could be what you need to take down a tourney. Good luck out there tonight fellow DFSers.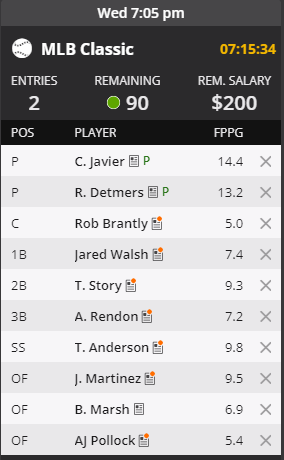 STAY IN TOUCH
Sign up for FantasyData's newsletter and get awesome content sent to your inbox.
We'll never share your email address and you can opt out at any time, we promise.
---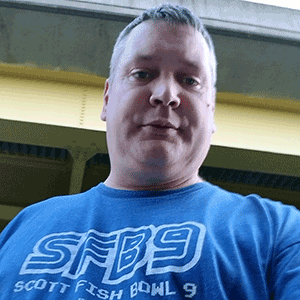 Jeff Smith has been playing fantasy sports (football and baseball) for nearly 20 years. Jeff is a member of the FSWA and a Senior Writer at DLF. Despite growing up in Buffalo Bills country, he is an avid Chicago Bears fan. It was Walter Payton that did it. When not writing or researching fantasy sports or playing DFS, Jeff enjoys spending time with his wife and their Bichon Poo, Daisy. He also likes video games, craft beer, and recently became the owner of his own business.