Monday Night Football Draftkings Showdown
---
MONDAY NIGHT FOOTBALL PREVIEW
Saints -5.5 at Raiders I O/U 48.5
We have a great matchup to close out week two on Monday Night Football this week. The Saints will be traveling to Las Vegas to take on the Raiders as they open their new stadium in their new home. No one quite knew what to expect heading into week one with no pre-season, but the games were entertaining, and it felt great to have football back. Of course, if you lost, you are now looking to dismantle your team because someone had a bad week. Let's not overreact, and let's keep things intact for the time being; it's a long season, and a loss in week one doesn't mean your season is lost. Let's breakdown the matchup and try to finish the week strong or point out some better matchups if you are trying to build a winning DFS lineup. All salaries and spread information are from Draft Kings based on the Showdown Contest.
How The Las Vegas Raiders Win
The Raiders are going to try to keep the potent Saints offense off the field in this one. Week one, the Raiders ran 31 rushing plays for a total of 133 yards for a 3.1 average. This offense lacks an elite receiving option in the passing game, and until one emerges, this offense goes through Josh Jacobs. Derek Carr will try to take his shots when he sees an opening, but if the Raiders are going to win, the damage will be done with the ground game. This is a very underrated Raider offense with a ton of young talent at the skill positions.
How The New Orleans Saints Win
Even with being down an elite talent like Thomas, the Saints are still loaded with weapons offensively. Kamara will play a significant role in this one on the ground and catching passes out of the backfield. One of the receivers is going to have to step up and be a playmaker. Last week the offense was almost a dead split, running 31 pass plays to 34 rushing plays; however, if the Raiders control the clock, they may need to throw more to get some points on the board.
QUARTERBACKS
Derek Carr ($9,200)
The Raiders got their first win of the year out of the way last week, beating the Panthers 34-30. Carr had a decent outing throwing for 239 yards with one touchdown while completing 73.3% of his passes. The Saints defense opened the year against Bucs with Tom Brady under center and allowed 239 yards through the air and two scores. Carr has faced the Saints just once in his career back in 2016, where he threw for 319 yards and one touchdown. The Saints are a much tougher test than the Panthers were, but the Raider offense was firing on all cylinders last week, and I expect that to carry over to this week. If the Raiders fall behind in this one, Carr will have to throw the ball to keep up with the high powered Saints offense.
Drew Brees ($10,600)
Brees opened the year against an underrated Tampa defense that held him in check for the most part. He threw for just 160 yards and two scores but got the job done nonetheless. The Raider defense allowed 270 yards through the air and gave up one touchdown last week. Top receiving threat Michael Thomas is expected to be out for multiple weeks with a high ankle sprain, so Brees loses his best-receiving option for the foreseeable future. Brees is matchup proof, but the Saints may lean more on running the ball without a real number one receiving threat. The game script is not here for Brees this week, and expectations should be hampered.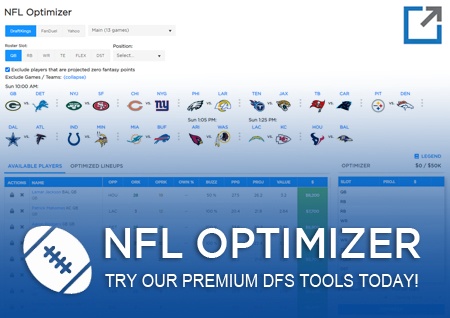 RUNNING BACKS
Josh Jacobs ($9,600)
Jacobs crushed in his opening game, carrying the ball 25 times for 93 yards and scoring three touchdowns. He also grabbed four balls on six targets, good for an additional 46 yards. It was only one week, but he played on 77.8% of snaps and was very involved in the offense; if he is going to continue to see that kind on volume, he could finish as a top-five running back. I'm expecting the Raiders to control the clock to keep the Saints offense off the field, so Jacobs should be in for a busy night.
Alvin Kamara ($11,400)
With his new money in the bank, thanks to his contract extension Kamara delivered last week right on cue. He didn't have a great day running the ball, going for just 16 yards on 12 carries, but added five catches on eight targets for 51 yards and had two total touchdowns. The Raiders did allow two rushing touchdowns last week, and with the injury to Thomas, Kamara may see an uptick in work. Kamara is matchup proof, and he's in your season-long lineups no matter what, but with the possible workload increase, he's a lock for DFS lineups this week as well.
WIDE RECEIVERS
Henry Ruggs III ($6,800), Bryan Edwards ($4,800), Hunter Renfrow ($5,800)
The Raiders have compiled a fantastic group of young up and coming receivers. Ruggs looked great in his first NFL game totaling five touches, three catches for 55 yards, and two carries for 11 yards. The speedster out of Alabama can take the top off any defense in the league providing great big-play potential, and for at least one week, the Raiders got creative in getting him involved. Renfrow and Edwards were both quiet; however, Edwards did out snap Renfrow 47 to 30. Ruggs is a fair play this week as I expect the Raiders to try to control the clock with the run game and possibly catch the Saints defense sleeping for some shots down the field to Ruggs.
Emmanuel Sanders ($8,800), Tre' Quan Smith ($6,400)
With no Michael Thomas for the Saints, someone is going to have to catch passes. Smith caught his lone target week one for just four yards, while Sanders caught three of five targets for 15 yards and a score. Sanders is still new to the offense and only played 33 snaps, compared to 44 for Smith, but one of these guys will have to step up. Although neither will match the production of Thomas, I'd lean towards Sanders, making more of an impact that Smith will.
TIGHT ENDS
Darren Waller ($7,400)
Picking up right where he left off, Waller saw eight targets catching six balls for 45 yards. Waller is currently the best pass-catching option on this Raiders roster, and Carr is not afraid to pepper him with targets. The Saints allowed 47 yards and a score a week ago to the tight end position. Waller is a reliable red zone target; all three of his touchdowns last year were inside the red zone.
Jared Cook ($8,000)
Cook had a stellar opening catching five balls on seven targets for 80 yards. Cook is another beneficiary of Thomas being out and should see more ball throw his way. He's also a significant red zone threat. He could end up leading the Saints in targets in this one, making him a viable option in lineups for the slate.
PICKS
Saints -5.5/ Under 48.5
LINEUP
Josh Jacobs- Captain
Alvin Kamara
Jared Cook
Henry Ruggs III
Hunter Renfrow
Raiders D
---

Being from New York Nick is loud and opinionated. Known as the Hot-Headed Italian within his circle, his takes are bold, with facts and stats to back them up. While playing across multiple leagues and serving as commissioner of his hometown league for the past 13 years, he's been consumed by football. Being a seasoned player, he's had success in various formats and league setups. When he's not reading or writing about football he can be found spending time with his wife and son.