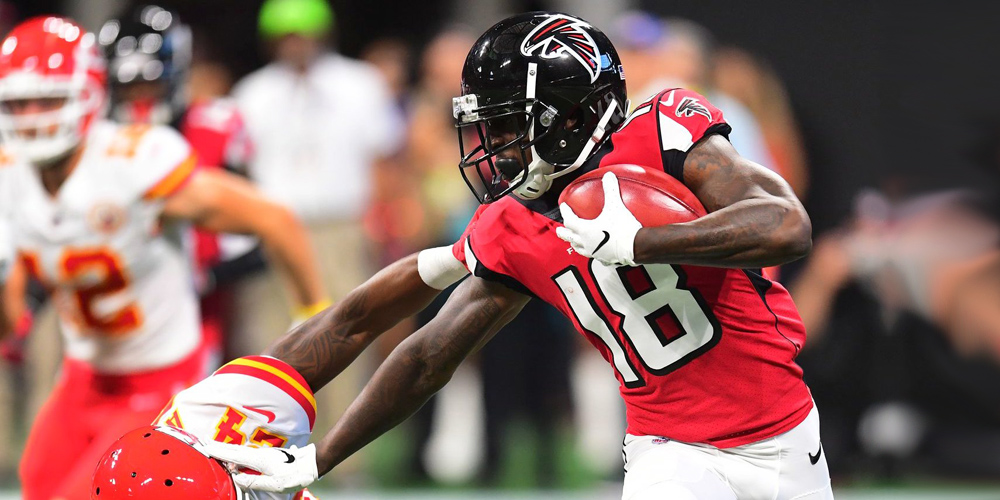 DraftKings NFL Picks: Chalk, Pivots, and Punts for Week 2
---
DraftKings NFL Picks Week 2
INITIAL THOUGHTS
Heading into NFL Week 2 on DraftKings gives us less pricing anomalies but there are still spots we can find value and situations we can gain an edge. One of the ways we can give ourselves an edge starts with predicting what the field will do. Once we identify the highly owned plays, then we can decide how much exposure to those players we want. The contrarian way to play it would be to consider the ways in which the chalk misses and figure out who picks up the slack if that happens. For instance, what happens if Aaron Rodgers has a mediocre game? Does that mean the TDs come from goal-line runs by the Packers RBs? How does that affect Davante Adams? If Deandre Hopkins only gets 8 targets this week, then where do the rest of Murray's targets go? Another thing that gives us an edge is creating several lineups (even if we don't use them all) to discover what combos of players we seem to keep landing on. Do we keep arriving on the same players because pricing forces us there when we build certain stacks? If so, then we need to look for pivots because it's likely other players are landing in the same spots with their builds. For me, I tend to start building lines after injury reports come out on Friday and spend most of the weekend re-working those lines looking for ways to get around predictable builds. Let's take a look at who the pivots might be for us this week, but first here's a look at who I believe will be the chalk of the slate along with some guys to pivot over to, and if needed, some punt plays.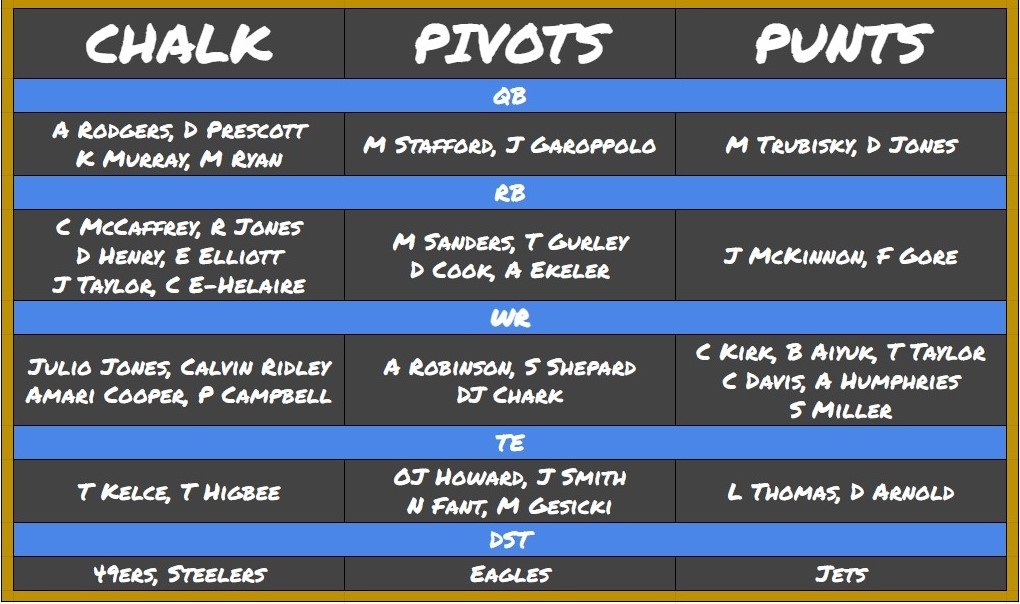 ***By the way, don't forget to check out the awesome tools that FantasyData added for this year, including Fantasy PROJECTIONS, a DFS NFL Optimizer, and a DFS NFL stacking Tool ***
QUARTERBACKS
BEST BETS: Aaron Rodgers, Dak Prescott, Matt Ryan, Kyler Murray
PIVOTS: Matthew Stafford, Jimmy Garoppolo
PUNTS: Mitchell Trubisky, Daniel Jones
Lamar Jackson is $8200 so I wouldn't expect heavy ownership. He's got a great shot to be the QB #1 for the slate, but I don't think you need to pay that high of a price with so many other good QBs on the slate that will save you some salary. However, with a salary so high, it will force us into some unique builds if we pay up for him. Jackson is the most appealing player from either side of this game, so he's where we'll want to land if we're doing any construction involving these teams. Aaron Rodgers was the only QB to crack 30 DK points last week and will face off against a team that Mitch Trubisky threw for 270 against. The last three full games Rodgers has played against these Lions have amounted to 323, 283, and 442 passing yards and 7 combined TDs. If you have the salary to go over $6500 for QB, Rodgers is the best bet up there. The field is going to look at the box score of the SEA/ATL game last week and see that ATL is playing another high powered offense in Week 2. This game is sure to be one of the popular games to build stacks from, starting with Dak Prescott and his trio of WRs. Prescott should be able to accomplish much of the same things Wilson did against Atlanta, as this could be another shootout for the Falcons if their coverage is as poor as it was last week. In turn, Dallas did not cover well last week (or last year) either which boosts the probability for Matt Ryan turning in another solid performance here. Kyler Murray is in a great spot this week with all the weapons he has and his ability as a scrambler to pick up yards on the ground. My only concern with Murray will be his ownership percentage, as I see him being among the top (if not #1) QBs rostered this week after his big game against a stout 49ers defense and his palatable $6100 salary on DraftKings.
Matthew Stafford and the Lions may have their work cut out for them staying in the game against Rodgers and the Pack's aerial attack. The Packers defense ranked 24th in defensive pass DVOA in week 1 against the Vikings 25 passes. Even with all of what AP was doing on the ground last week, Stafford attempted 42 passes in that game. This should have the making for a shootout and allow Stafford to be the in-game pivot for building stacks from this game. Jimmy Garoppolo was the 8th highest owned QB in the Milly Maker last week and disappointed those owners by being the 14th highest scoring QB in a match-up that started well for the 49ers. This week he will likely see similar ownership after the Jets faceplanted against Josh Allen and the Bills offense in their opener. The Niners should get 1st rounder Brandon Aiyuk back in the line-up this week and perhaps that will give Jimmy someone better to throw to on the outsides. There are clips of Dante Pettis getting open last week, but JGQ doesn't seem to trust him enough to throw him the ball. The one target he did see was a lazy/scared effort deep down the middle of the field. Kittle being healthy will determine how heavy I go on Garoppolo this week.
Mitch Trubisky makes an appearance on the punt list for each of the first two weeks. He gets home-field advantage against the 6th-worst defensive pass DVOA team from week 1, the Giants. New York allowed 3 passing TDs from the Steelers on Monday night and graded out in the bottom 10 for coverage per PFF. The Bears have some weapons for Trubisky to make plays with, as we saw last week when he connected for 3 TD passes against the Lions higher-rated pass defense and spread the ball around to several players. Across the ball is another solid option to pluck from the lower tier of QB salaries this week. The Bears did a pretty good job in coverage against the Lions receivers with Golladay out last week, which is why I have Daniel Jones in the punt category instead of a pivot. Jones is mobile, and as long as he can prevent himself from turning the ball over, this game could turn into an interesting back and forth affair, giving Jones a shot to post a solid salary-per-point score.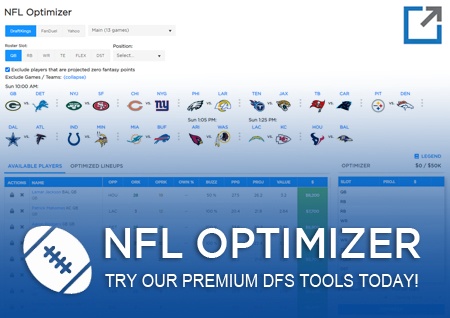 RUNNING BACKS
BEST BETS: Christian McCaffrey, Derrick Henry, Ronald Jones, Ezekiel Elliott, Jonathan Taylor, Clyde Edwards-Helaire
PIVOTS: Miles Sanders, Todd Gurley, Dalvin Cook, Austin Ekeler
PUNTS: Jerick McKinnon, Frank Gore
Christian McCaffrey Is plug-play-play where ever you can afford him and is a minimum 20% exposure guy. The Bucs allowed Kamara to catch 5 passes for 51 yards and what was almost 2TDs. That's what CMC does, too. Derrick Henry should be set to receive a massive workload this week against a team he has had massive games at home against over the past couple of years. Without AJ Brown in the lineup, the Titans will put the game in Henry's hands. What will be interesting to see will be how many targets Henry gets. He's coming off a 3 target game and JAX surrendered 17 targets to the Colts back-field last week. Ronald Jones is likely to be one of the higher owned players this week, and here's why: 1) the Bucs will be without Chris Godwin at WR and don't have anyone else on the roster near his talent to fill that void, 2) Byron Leftwich is speaking like he wants more run-balance in the offense this week, and 3) Carolina hasn't stopped the well for over a year now (just ask Josh Jacobs). Jonathan Taylor is likely to be uber-chalky this week (possibly highest owned RB) against a Minnesota defense that allowed 176 total yards to the Packer backs. With Mack going to IR, there's one less mouth to feed in the backfield (assuming Reich doesn't decide to give Wilkins a bunch of random touches), and the Colts have a terrific OL against Minnesota's defensive line left a lot to be desired last week. The match-up, the salary, the expected touches are all aligning for the rook to have a monster day. Clyde Edwards-Helaire should be a popular play this week after the heavy workload he saw in his first NFL game last week. The Chargers run defense isn't a push-over, so he has his work cut out for him here, but perhaps we see him get a little more target volume to offset some lost carries if the Chargers defense is slowing him down at all.
The Eagles look like they'll get Lane Johnson and Miles Sanders back this week. Sanders interests me because I don't think he'll be used to challenge Aaron Donald up the middle all game but instead will be targeted plenty, like we saw Dallas do with their RBs and we all know targets are more valuable than carries. We just saw Todd Gurley's 2019 back-up mashed the Cowboys for 110 total yards and 2 TD last week. If the Falcons are smart, they take notes and give Gurley the workload they started to give Gurley early in last week's game. If the Falcons can be successful with the run and slow the game down the way LA did, then they have a better chance of staying in the game into the second half. Hopefully, that's where Gurley gets the majority of his points because Dirk Koetter doesn't seem to enjoy calling run plays after halftime. Gurley makes for a great contrarian pivot off the chalking passing games from both sides of this game. Ezekiel Elliott turned in an elite performance last week under new coach Mike McCarthy and that does not need to change against this Atlanta defense. For the same reason Atlanta will want to keep Dallas off the field, it gives McCarthy reason to lean on Zeke to slow the game down and keep the Falcons offense off the field. As long as Zeke stays involved in the passing game like he was last week, then he has #1 RB potential for the slate here.
The Vikings are going to have to rely on Dalvin Cook and Adam Thielen to provide the spark on offense this week and they will not shy away from giving Cook all he can handle as long as the score is close. The Vikes ranked #1 in run play-calls while the game was in neutral situations for week 1. A lot of people are going to see that red 1 next to Cook's name on DraftKings, indicating that the Colts are the toughest run defense. Perhaps that proves to be true for the rest of the year, but for now, at least, we have a contrarian pivot by rostering Cook at very low ownership in the event Minnesota figures out a way to get him going. A lot of folks were freaking out over Austin Ekeler's lack of involvement in the passing game last week, and for good reason. We don't want to see the most efficient pass-catching RB from last year have his greatest asset taken away from him through the play-calls. The Chiefs LBs did not grade out well in coverage for week 1, but also did not allow much in the way of pass-catching fantasy points to the Texans RBs last week. Last year against the Chiefs, Ekeler was targeted 12 and 11 times. The lack of passing involvement from Ekeler should get rectified here and he should be able to capitalize against those KC linebackers.
Jerick McKinnon played an important role as a receiving threat for SF last week and may have to continue to do the same stuff here with the lack of proven receiving threats on the 49er active roster. AT $4200, he gives us a solid punt option with target value on his side. With Lev Bell sent to IR, Frank Gore will get a crack at the team that drafted him back in 2005. Gore is going to have to punch in TDs to make this a worthy punt, but the narrative and lack of better weapons available for the Jets may force Gore to carry a heavy load here.
WIDE RECEIVERS
BEST BETS: Julio Jones, Calvin Ridley, Amari Cooper, Parris Campbell, Deandre Hopkins
PIVOTS: Allen Robinson, Sterling Shepard, DJ Chark, TY Hilton, Adam Thielen
PUNTS: Christian Kirk, Brandon Aiyuk, Trent Taylor, Corey Davis, Adam Humphries, Scotty Miller
The Falcons/Cowboys game should draw a ton of ownership for the top 3 receivers from either side (Julio Jones, Calvin Ridley, and Amari Cooper), as well as people pivoting and salary-saving by dropping down to CeeDee Lamb, Michael Gallup, and Russell Gage. These guys are going to be cycled through a ton of stacks in large-field tourneys and deserve exposure in smaller stuff, too. Given the home team is the favorite, I'd probably go heavier on Jones and Ridley, then counter with Zeke. Anyone who digs into the box score or tape of the Vikings defense against Green Bay last week will see they struggled against Davante Adams when he was lined up in the slot, allowing him to catch all 6 of his targets for 53 yards and both TDs. Parris Campbell will be the primary slot guy for Indy this week and comes at a very manageable $4500 salary. Because of the match-up and salary, it would make sense to see Campbell in a lot of builds this week, and I'll have my exposure as well. However, I may lean into TY Hilton more than Campbell because of his match-up with the third-round rookie on the right side of the offense. If we take a peek at Rodgers passing chart from last week, we can see a lot of deep strikes and TDs going to that side of the field. Hilton was a bust last week which could keep a majority of folks away from him here.
Allen Robinson is priced right between Ridley and Cooper this week giving us a pivot option off of either player if we're looking to diversify exposure. He's in a fantastic match-up against a secondary that could not cover any of the Steelers receivers last week. He's low-key one of my favorite players on the slate this week at any position. The Giants have a trio of WRs that will allow any one of them to pop any given week. Last week it was Slayton. This week it could be Sterling Shepard because of his match-up in the slot against the weakest link in the Bears secondary, Buster Skrine. DJ Chark was only targeted 3 times last week against a healthy Colts secondary. This week he runs into a Titans secondary that features two declining veterans on the outside and two rookies on the inside. This could be an opportunity for Chark to have his first big game of 2020. Adam Thielen is the only reliable receiver the Vikings have at this point and he will see the volume worthy of adding him to your builds as a pivot off the Atlanta guys if you want to go that route. The Colts secondary did not have a good showing last week and if that happens again here, Cousins and Thielen will figure out ways to get the ball into the open spots of the field.
Christian Kirk saw a mere 4 targets come his way last week as the Cardinals chose to avoid Sherman's side of the field and had Nuk on the left side catching quick-hitters for run after the catch yards. This week he should be less invisible if he sees a lot of Ronald Darby in coverage. Darby graded out the worst of the Washington corners and lines up on the same side of the field Kirk primarily does. Kirk gives you the pivot off the Hopkins chalk in case Washington goes all out to slow him down. The 49ers starting WRs last week were not what they had in mind to start the year. This week they get Brandon Aiyuk back to partner with Kendrick Bourne and the Niners leading Red Zone target-getter last week, Trent Taylor. It's clear Jimmy G has trust in Taylor, as he was the guy JGQ targeted on his last three passes of the game during a drive the Niners needed to score to win the game. Taylor is the slot receiver and does not see a full complement of snaps, but he may prove to be more valuable as we learn how limited (or not) Kittle will be in this game. Corey Davis is coming off his best game in nearly a year and a half and will have to take on the role of #1 WR this week with Brown out. It'll be interesting to see if he can manage to build on last week's performance without the benefit of Brown taking away the primary coverage focus. He's priced so low it's worth a shot in a few builds. The same goes for Adam Humphries, who takes on DJ Hayden in the slot, who is coming off one of his worst performances of his career. Scotty Miller deserves a mention here coming off a solid game last week and looking at a big role again against the Panthers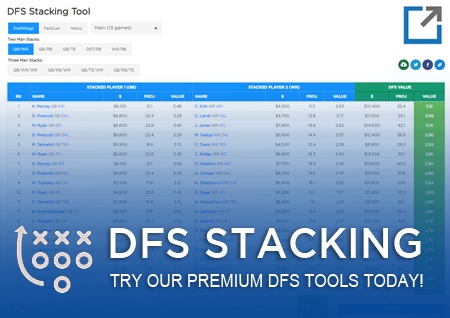 TIGHT ENDS
BEST BETS: Travis Kelce, Tyler Higbee, Hunter Henry
PIVOTS: Jonnu Smith, OJ Howard, Noah Fant, Mike Gesicki
PUNTS: Logan Thomas, Dan Arnold,
The Chargers defense has a way of filter the targets away from their trio of shut-down corners into the middle of the field and to TEs and RBs. Travis Kelce is already an elite play and this week he's the top play at the position, where you can afford it. Of all the Rams offensive pieces, my thought is Tyler Higbee has the best shot at having a good game. Slay will likely follow Woods around (not that Woods can't beat him a few times), and Kupp will likely see a lot of former team-mate Nickell Robey-Coleman, who has spent a lot of practice time covering Kupp. Reynolds and Jefferson share a position, but Van seems to be on his way to taking it over. In the meantime, we have an Eagles defensive middle that allowed Logan Thomas to haul in 4 of his 8 targets, including one for a TD. Hunter Henry had 15 targets in 2 games against KC last year and could play a major role, especially in the Red-Zone this week, similar to what Houston was doing with Akins. As we mentioned with Ekeler, the Chiefs LBs didn't grade well in coverage last week which creates a path to targets for Henry here.
Jonnu Smith may be the bigger beneficiary to AJ Brown's absence among the Titans pass-catchers, especially when it comes to Red-Zone passing opportunities. O.J. Howard and Rob Gronkowski are going to need to pick up a lot of the targets that Godwin might be leaving available should he miss this game due to a concussion. Mike Evans may also not be at full health leaving these guys to benefit. Of the two, I prefer Howard because of his athleticism and his target share being twice what Gronk saw last week. The field of sheeple may choose Gronk because of the familiarity with Brady and because he was once great while Howard has been a bit of a disappointment so far. However, if we look over on PlayerProfiler.com we can see both TEs ran 13 routes last week with OJH seeing 6 targets compared to Gronk's three. Pittsburgh's defense tends to funnel action inside to the TE position, and with all the injuries Denver is facing on offense, they may be forced to target Noah Fant heavily here. He's a tough play to love, but a solid contrarian pivot. Mike Gesicki has a favorable match-up with the Bills' Matt Milano ruled out. Milano is their best coverage linebacker and with him out last week, the Jets targeted Chris Herndon 5 times in the 4th quarter. The Bills have good corners and if Parker misses, it would create even more opportunity for Gesicki to have a nice game.
Logan Thomas led Washington in targets last week and gets to take his cracks at rookie LB Isaiah Simmons who was getting roasted by the 49ers before Arizona made adjustments. Thomas will see more than just Simmons in coverage and will likely have to deal with Budda Baker a bit, but Thomas will still be a key to what Washington does on offense. Dan Arnold, the pass-catching TE for Arizona, hauled in both of his targets last week for 21 yards. This week he faces a Washington defense that got exploited by the Eagles TEs and could see more than those 2 targets last week if Washington commits to spying on Murray with a LB and is worried about the talent at WR the Cards roll out.
DEFENSE/SPECIAL TEAMS
BEST BETS: 49ers, Steelers
PIVOTS: Eagles
PUNTS: Jets
The Jets are limping into their game without their two best offensive players (Crowder & Bell). They have one of the worst offensive play-callers in the game, a guy that should see his walking papers after this week's game. If the 49ers, even without Sherman, cannot cover the 7 point spread and shut these guys down, then we'll need to reassess SF as a top tier defense going forward. The Steelers have one of the strongest all-around defensive units in the league. The Broncos don't have the weapons to stay in this and their young QB could be forced into mistakes. Steelers are the top defense on the slate for me this week. The Eagles will get Barnett back on the defensive line rotation for this week and face an offense that didn't look great (outside of Malcolm Brown) last week. If they can pressure Goff into mistakes while their dominant DL shuts down the run, then they could be a solid choice as we scale down the DST salary ladder. The 49ers are banged up on offense to start the year. There's a reasonable path for them to find some success shutting down the Niners offense if Jimmy G continues to struggle to throw to anyone but Kittle and the RBs again this week.
FINAL THOUGHTS
There are a couple of games on this slate that will dominate ownership percentages and stacks. These are hard to fade games so we're going to want exposure but we need to be mindful of how we're doing it. As I said in the intro, continue to build and adjust line-ups around the chalk plays to the point you found a line(s) that will be unique for those stacks.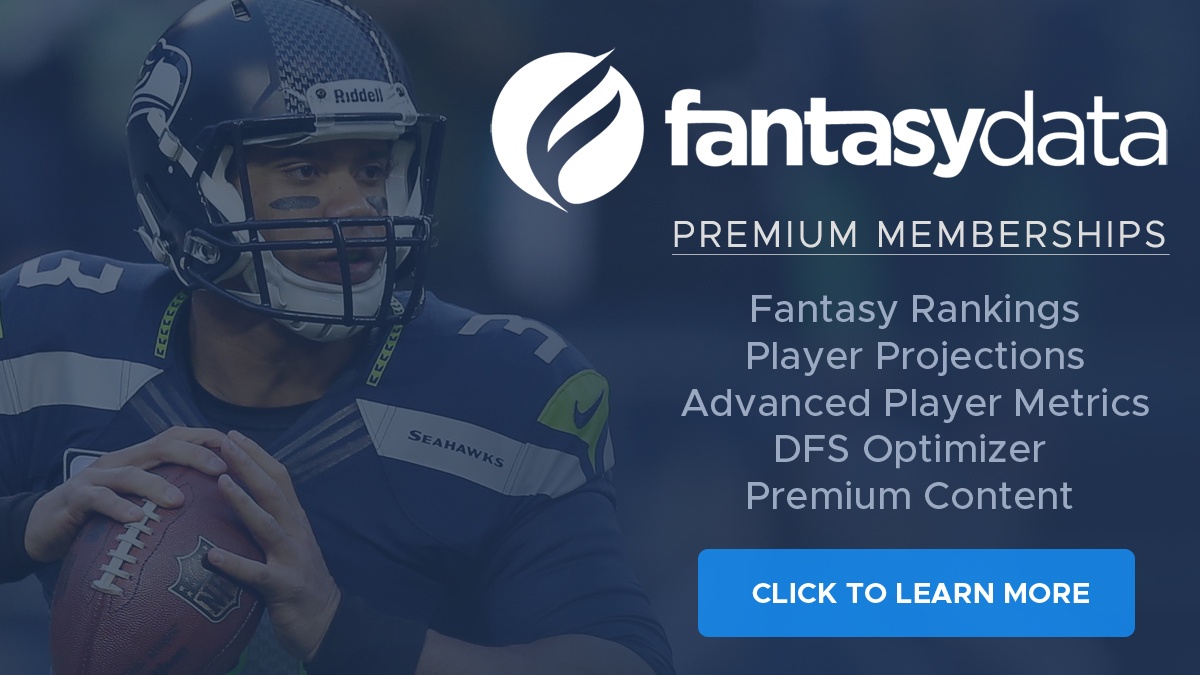 STAY IN TOUCH
Sign up for FantasyData's newsletter and get awesome content sent to your inbox.
We'll never share your email address and you can opt out at any time, we promise.
---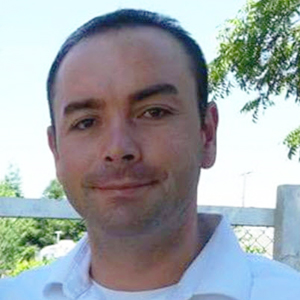 NorCal native Jesse Jones has been obsessed with fantasy football since first joining and winning a league in 1994. Always looking for an edge, Jess has been ahead of the curve mining data and building customized spreadsheet rankings and projections while others showed up to draft day asking for a pencil and a cheat sheet. As an avid NFL DFS, Bestball, and re-draft player Jess will work hard to find the edge you need to win in all formats. Jess is married to the wonderful wife of their 2 kids and enjoys traveling, playing tabletop games, and trying new craft brews. Let's make some money at this hobby of ours!