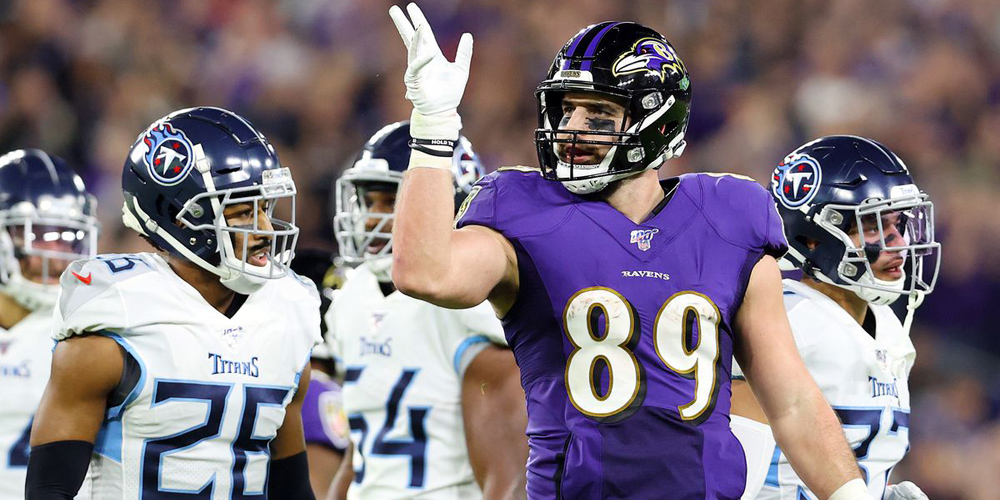 NFL DFS Picks: Wild Card Round
---
NFL DFS Picks
Thought we were done? Of course not—the expansion of the NFL playoffs means we'll have an especially hectic first weekend of games, and as long as football rolls along, DFS will carry with it. While I often touch on subjects seemingly far away from fantasy football when leading off, I'd like to use my introductory space this week to lay out the landscape for this week. After all, the playoffs are a different beast.
First, you should flag that both DraftKings and FanDuel offer three core slates; one including just the Saturday matchups, one including just the Sunday matchups, and one including all six games from the weekend. The single-day slates do have larger total prize pools, but unless you're hunting for large fields (or just wanting to get as much money down as possible), my preference would go toward the big six-game slate. Variance increases as you have fewer games available—the reason showdown works well is because there are significantly more opportunities to play single-game contests, not because having kneel downs swing your entire nightly performance is enjoyable—and you can get an additional edge by making adjustments to your lineups throughout both days.
With that in mind, I'm going to use the player salaries from the full Saturday-Sunday slate on DraftKings for this breakdown (they're nearly identical to the split slates); common sense will also tell you that if a player is a good play in the overall context he'll still be appealing when you cut the player pool in half. It is worth noting that ownership heavily condenses in the playoffs, so while Josh Allen and Lamar Jackson can suppress each other's popularity where both are available, it's likely they'll each be wildly popular on their individual days—so make sure you're finding ways to construct unique lineups for tournaments, even if aspects of your build feel uncomfortable. Without further ado, let's dive into my Wild Card Round NFL DFS Picks.
Fellow FantasyData expert Chris Mitchell and I co-host a podcast, Slate Breakers, going into further detail on each DFS main slate. Episodes will be embedded in these preview articles once live later in the week, and for even more content, make sure to follow me on Twitter.
Quarterback
With only 12 starting quarterbacks—and four spots where the implied team total is under 21 (Browns, Rams, Bears, Washington)—emphasis deservedly lands on a handful of players. Lamar Jackson ($7800) returned to form near the end of the regular season, averaging 28.5 DraftKings points over his final five games, and is a great play. The other no-brainer is Josh Allen ($7500); my inclination is that Lamar has a more accessible ceiling, but Allen has a terrific floor-ceiling combo in his own right. I'll also note that Jackson put up 35.9 points in Baltimore's playoff loss to Tennessee last season while accounting for over 500 yards of offense; the Ravens don't need to win for him to smash.
It seems like Tom Brady ($6900) should come at more of a discount given Washington is unlikely to push the Bucs into a shootout, and he needs touchdowns to match the rushing equity of the aforementioned studs. Ryan Tannehill ($6600) would have more appeal to me as a tournament play, while Drew Brees ($5700) offers stronger savings as far as statue QBs go. The last name I'll mention is Mitch Trubisky ($5300), who would have the easiest potential path to garbage time points (the Saints are favored by 10) and is easy to stack. Obviously, though, you can make a case for getting exposure to just about any QB if you're entering a mammoth of lineups.
Favorite Plays: Lamar Jackson ($7800), Josh Allen ($7500), Drew Brees ($5700)
Running Back
There aren't any slouches in the playoffs—you will be missed, end of season Lions defensive effort—so getting Derrick Henry ($9200) against an average run defense sparks clear excitement. To me, he's somewhat of a situational play, with a floor still in the single digits despite averaging 164 rushing yards over his last two matchup with the Ravens, though you can't ignore the upside if you're scripting the Titans to put up points. Signs are pointing to Alvin Kamara ($8500) coming off the COVID list in time to play on Sunday, though it's worth noting that he won't be able to practice at all. Jonathan Taylor ($7900) has reached a new peak cost, but as long as the Colts can stay competitive, odds are he's going to put together a solid performance.
Life is very contextual for the next trio, which I'd rank David Montgomery ($6900) > J.K. Dobbins ($6600) > Nick Chubb ($6700). Montgomery's the least fragile given his usage in the passing game, but you should be apprehensive about paying in this range in lineups where you think the team could get blown out. It's a similar situation for Chris Carson ($5900), Ronald Jones ($5500), and James Conner ($5000)—all are favorites, for what it's worth—with Conner quietly seeing some extra targets to close the year.
The pattern of threes continues with underdog receiving backs: J.D. McKissic ($4900) genuinely gets WR-level usage oftentimes, Nyheim Hines ($4700) seems to always reach 2-3x his salary, and Kareem Hunt ($4800) sits at a season low given his general volatility. There's some vulture potential for guys like Latavius Murray ($4500), Gus Edwards ($4400), and the Bills RBs, too. Murray would be the primary beneficiary of any drop in Alvin Kamara's usage.
Favorite Plays: Derrick Henry ($9200), David Montgomery ($6900), Ronald Jones ($5500), J.D. McKissic ($4900), Latavius Murray ($4500)
Wide Receiver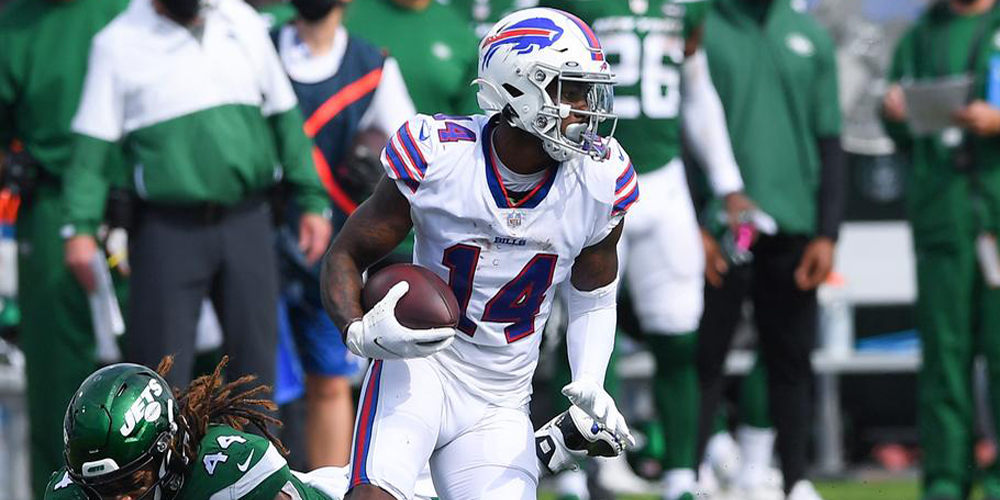 Given the lack of depth RBs on this slate, you're going to have to lean WR in the flex more often than usual. The position's headliner is Stefon Diggs ($7700), who's probably even a slight value—though pairing him with Josh Allen does quickly limit potential for spending elsewhere. A.J. Brown ($7100) is your built-in Titans pivot, and his college teammate, D.K. Metcalf ($6700), is undoubtedly going to be lower owned than he should be in tournaments. The status of Mike Evans ($6500) will determine how to navigate Tampa Bay wideouts, with Chris Godwin ($7000) the safest and Antonio Brown ($6100) the cheapest.
If there's one player that I'm going to be jamming into as many lineups as possible, though, it's… Michael Thomas ($6400). I will repeat: Michael Thomas is $6400 on a six-game slate coming off weeks of rest and is on the team with the third-highest total. Play him. There's a great secondary stack to be had with Allen Robinson ($6600) on the other side, and Diontae Johnson ($6200) is probably featured in these columns as much as anyone. I'm also bullish on Chase Claypool's ($5200) playoff outlook—his usage should spike up again.
We should all be glad that Marquise Brown ($5400) was finally revived; Corey Davis ($4800) and John Brown ($4700) are significant savers that also function as leverage. I'll be considering Darnell Mooney ($3900) if he plays, and since you'll need to get creative with Bills stacks, keep an eye on Gabriel Davis ($4000) as well as Isaiah McKenzie ($3300). McKenzie had a 91% snap share in Week 17 prompted by the absence of Cole Beasley.
Favorite Plays: Stefon Diggs ($7700), Michael Thomas ($6400), Diontae Johnson ($6200), Corey Davis ($4800), Isaiah McKenzie ($3300)
Tight End
A thin position becomes even thinner. If you have the space to fit in Mark Andrews ($5200) or Logan Thomas ($4900), you can certainly jump on board. If you can't, however, I'd generally lean a) punting the position or b) finding a way to knock it out through a stack. There's not much added value in the tier of guys such as Rob Gronkowski ($4000) and Austin Hooper ($3900) compared to other "close your eyes and hope for a TD" players.
And that's exactly why your thrill-busting options are Jonnu Smith ($3200), Dawson Knox ($3100), and Cole Kmet ($3000). A deeper pick might be Jacob Hollister ($2700), who has played the majority of snaps for Seattle down the stretch. After winning a tournament with a crisp 1.9 points from Jordan Akins last week, though, I'd suggest not sweating it too much.
Favorite Plays: Mark Andrews ($5200), Jonnu Smith ($3200), Cole Kmet ($3000)
Popular Pages & Links
STAY IN TOUCH
Sign up for FantasyData's newsletter and get awesome content sent to your inbox.
We'll never share your email address and you can opt out at any time, we promise.
---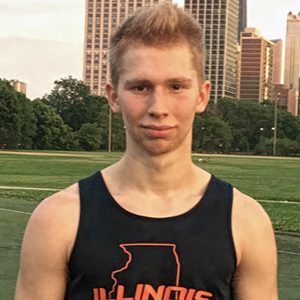 Peter Gofen started playing fantasy football at the age of seven and has amassed numerous meaningful and even more meaningful championships in the years since. His YouTube channel, PeterJaguars, has over 2.5 million total views, in the heyday of which he correctly predicted the entire 2017 NFL playoff bracket. Peter currently resides in California as a student at Stanford University, where he commentates Cardinal Sports for Stanford's campus radio station, KZSU 90.1 FM.