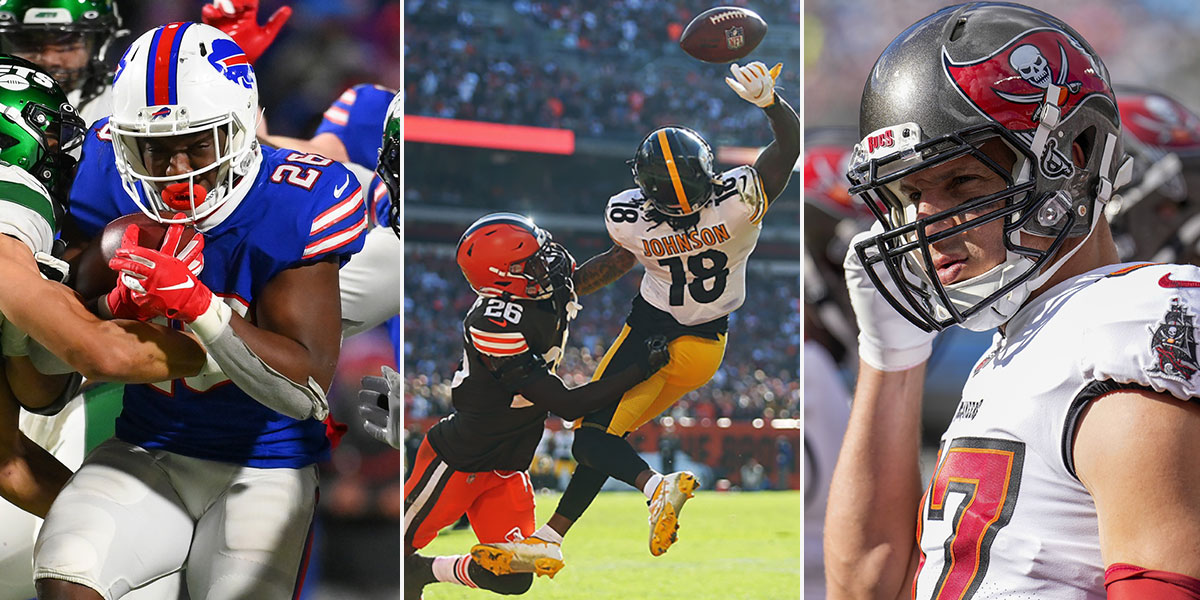 NFL DraftKings Picks (Wild Card Round)
---
NFL DraftKings Picks
We have six playoff games this weekend that culminate with the first-ever playoff game being played on Monday Night Football. The action starts Saturday afternoon and carries us through Sunday night. Draftkings will be offering several "main slate" options including a Saturday only, a Sunday only, a Saturday-Sunday, and finally a full six-game contest. For the purpose of this article, we will be covering the action that continues throughout the weekend.
Quick Links
Fantasy Data Bargains
We are going to switch things up a bit from the regular season format where we break down high salary plays, low percentage plays, and favorites. We will be focusing solely on sleepers, players projected to be less than 15% rostered. Being a small slate, there will be tons of players rostered by the masses. Smaller slates are difficult to navigate, and you often need to go against the consensus to see any kind of ROI (return on investment). There are not many players out there that will come with rostership under 15 or even 20% for that matter. We will provide you with two plays from each position to help set your lineup apart from others in larger tournament formats. Without further ado, here are our faves.
Quarterbacks
Tom Brady | $7300 | PHI @ TB | 8.97%
It is a bit surprising that Tom Brady is projected to be the sixth most rostered quarterback of the 12 playing this weekend. One would think it would be higher. Perhaps the recent success the Philadelphia Eagles have versus opposing quarterbacks is part of it, or it could be the number 12 for the ranking against the position. This is all good and well, but here are some of the signal-callers Philly has faced of late in no particular order: Taylor Heinicke, Garrett Gilbert, the combo of Jake Fromm/Mike Glennon/Daniel Jones (twice), Zach Wilson, Teddy Bridgewater, and Trevor Siemian. Not exactly a murderer's row. Believe it or not, Wilson and Siemian both posted 20 plus DK points on them and great quarterbacks such as Mahomes and Herbert lit them up for 30 or more. Brady should equal and best the 18.98 DK points he managed against them in Week 6 on the road. In fact, the former Patriot should smash that number as the Bucs advance in the playoffs with ease.
Derek Carr | $5500 | LV @ CIN | 5.55%
Derek Carr has been a good, not great, fantasy quarterback for many years. Carr finished fifth in the league in passing yards with 4,804. The Cincinnati Bengals have allowed the 11th most DK points to the position since Week 14. If the Las Vegas Raiders, who backed into the playoffs, hope to compete on Saturday, they are going to have to throw the rock. A lot. The Bengals tied for 7th in the league at 27.1 points per game scored. The combo of Burrow, Mixon, Chase, and Higgins will be hard to keep up with. This game has the third-highest total on the slate at 49 points, just half a point behind the Cardinals-Rams matchup. Carr is also a bit of a value on this slate, as he averages 17.3 DK points per game and allows you to pay up at other positions if you choose. Oh, and he is cheaper than Gardner Minshew. Go figure.
Running Backs
Devin Singletary | $5700 | NE @ BUF | 13.55%
Devin Singletary keeps producing, yet DraftKings refuses to adjust his salary. Over the past five games, the Florida Atlantic grad has scored 14.9 or more DK points, including 20 or more in the past two. The weather is going to be brutal on Saturday night in Buffalo. Like record lows. The passing game will be non-existent and would have likely been regardless of the weather. The Bills and Patriots rank 1st and 2nd in the league respectively in passing yards allowed. New England can be beaten on the ground and rank 18th against the position according to the DK ranking system. Since Week 12, they are allowing 23.4 points per game to running backs, including 18.8 to Singletary in Week 16. One of either Matt Breida or Zach Moss has been inactive every game since the third-year player reclaimed the backfield in Week 14. Look for Moss to be active in this one as his bruising style will suit the weather more, but that should not take away from Singletary's value in this one.
Darrel Williams $5500 | PIT @ KC | 3.50%
Clyde Edwards-Helaire | $5600 | PIT @ KC | 6.49%
We are listing both Darrel Williams and Clyde Edwards-Helaire here because of the cloudiness surrounding their availability. At the time of this writing, both are considered day-to-day. However, with the cost being almost identical, you can easily pivot if one is inactive. The Pittsburgh Steelers have been atrocious against running backs all season long and allow the most points per game to the position since Week 10. The Chiefs are likely going to try and keep T.J. Watt at bay and can do so by establishing the run. Both players can fill the three-down role in Kansas City and one becomes a must-start if the other happens to miss. If they both get cleared, it is sort of a coin flip unless we can get clear information on who is likely to play more. In six games played without CEH, Williams is averaging 19.1 points. In the ten games the two have played together, Williams still averages a modest 7.4. That number could and should increase as it has turned into more of a timeshare this season. Play either with confidence when more news is available to us.
Wide Receiver
Diontae Johnson | $6700 | PIT @ KC | 14.05%
Diontae Johnson has been a solid option all season long. The price is the lowest it has been since Week 12 due to some ho-hum performances of late. All Johnson did in 2021 was finish second in targets (169) to Cooper Kupp (191) and fifth in receptions (107). The shifty wideout also accumulated 1,161 yards and eight touchdowns. The Chiefs have been great against the run of late and possess one of the most potent offenses in the league. As much as the Steelers probably would like to grind it out on the ground with Najee Hariss, that is likely not going to be an option for them. Ben Roethlisberger may be playing in his last game in the NFL and will go out guns-blazin' in this one. Look for Johnson to be the beneficiary of many of those bullets. At the very least we are assured double-digits as the Toldeo alum has managed to do so in every game but one.
Odell Beckham Jr. | $5100 | ARI @ LAR | 12.10%
Many savvy betters will flock to Cooper Kupp on this slate, and rightfully so. This piece is about differentiating from the pack and Odell Beckham does just that for us. Kupp is projected to be rostered by 28.64% of the players this weekend, the fourth most on the slate. Beckham has been more than serviceable since joining the Rams, scoring touchdowns in five of seven games, including one against this same Cardinals team in Week 14. In that contest, the controversial wideout also went for 77 yards on seven catches, good for 19.7 DK points. The salary also plummeted to the second-lowest it has been since that contest thanks to a 3.8 point dud in Week 18 versus the rival 49ers. These are the types of values we look for to take advantage of and pay up for some of the chalkier plays while still maintaining some variance. This game has the second-highest total of the weekend at 49.5 and gives us someone to root for to close out the slate. This also gives you the option of pivoting to Van Jefferson ($4,700) if you are in it and want to leverage the field.
Tight End
Rob Gronkowski | $6400 | PHI @ TB | 10.94%
There is not a "chalk" tight end to speak of for this slate. The roster% will be pretty evenly divided amongst Kelce, Gronk, Kittle, and Ertz. It could pay off huge to stack Rob Gronkowski with Tom Brady in this one. Especially if we see playoff Gronk. The last time the former Patriot faced the Eagles was in 2017. You all may remember that Super Bowl. But, do you remember the "actor" going for 32.6 DK points? Across 20 postseason appearances, the future Hall of Famer has scored 14 touchdowns and caught 89 balls for 1,273 yards. That is good for a 4.45/63.65/.7 line. The best part of this all is the matchup. The Eagles rank 31st against the tight end position and have been torched by the likes of Foster Moreau, Adam Trautman, and Stephen Anderson. Imagine what a healthy USAA spokesman can do.
Darren Waller | $5700 | LV @ CIN | 7.95%
The price on Darren Waller is criminal this week. The stud tight end is the cheapest he has been all season. Sure, the veteran only put up 4.2 DK points in Week 18, but that was his first game back from injury/Covid. Waller still saw nine targets and has always been a favorite of quarterback Derek Carr. Another stack is in line here if you want to pair one of our favorite sleeper QBs with a tight end. This one would only cost you $11,200 and leaves you a ton of salary to pay up for the big dogs. The duo could certainly flop, but that is part of the risk you take rostering players such as this. There is a reason the rostership is low. No risk it, no biscuit The Bengals are not known for their prowess against the position. In fact, they rank 26th according to the little green number in the DK ranks column. As is the case with Beckham, this is the type of upside we look for at a low cost. If they fizzle out, you did not break the bank to roster them. If they hit their ceiling, then hello bankroll! The Georgia Tech grad should be heavily involved in the game plan and can pay off for us big time.
Summing It All Up
As we all know, football is unpredictable, we make these picks using the data available to us at fantasydata.com and try to help our readers make educated, thoughtful decisions when creating their DK lineup. If you find this helpful or have any comments, be sure to notate them below. Thank you for reading.
STAY IN TOUCH
Sign up for FantasyData's newsletter and get awesome content sent to your inbox.
We'll never share your email address and you can opt out at any time, we promise.
---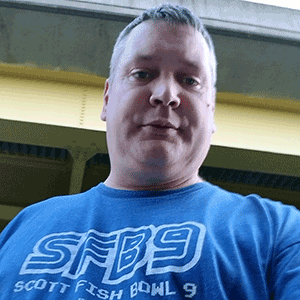 Jeff Smith has been playing fantasy sports (football and baseball) for nearly 20 years. Jeff is a member of the FSWA and a Senior Writer at DLF. Despite growing up in Buffalo Bills country, he is an avid Chicago Bears fan. It was Walter Payton that did it. When not writing or researching fantasy sports or playing DFS, Jeff enjoys spending time with his wife and their Bichon Poo, Daisy. He also likes video games, craft beer, and recently became the owner of his own business.