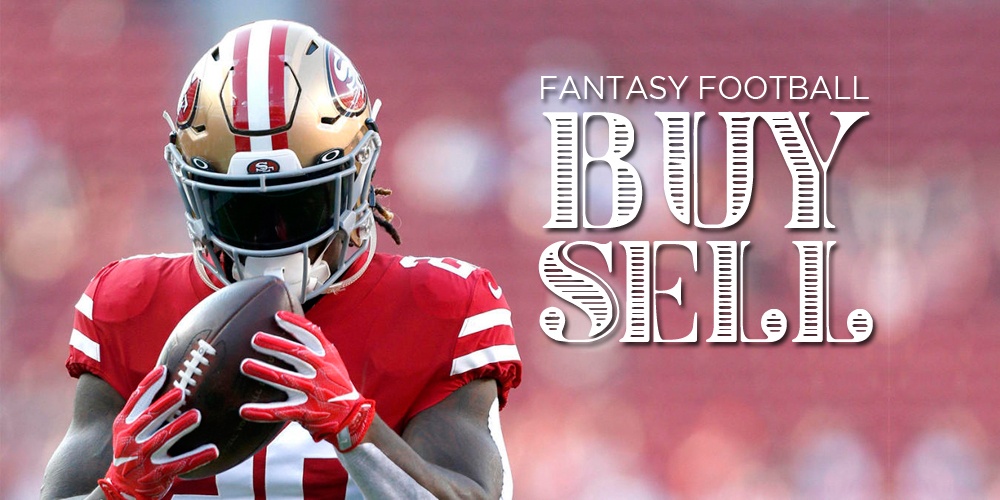 Fantasy Football Buy Low/ Sell High: Week 2:
---
Buy Low/ Sell High: Week 2
Week 2 of the 2020 fantasy football season kicks off as scores have gone final league-wide on Tuesday. The race to figure out who is the best value for waiver wires claims, or FAAB bidding wars will be the weekly norm from now until the end of the football season.
Let's take a dive into the players to buy low and sell high.
Buy Low
Jerick McKinnon, San Francisco 49ers, Running Back
Jerick McKinnon served as the primary backup to Raheem Moster in their 24-20 loss to the Arizona Cardinals. McKinnon ended the day with 6 total touches, 3 rushes for 24 yards, and 3 receptions for 20 yards and a touchdown. While most would like a backup running back to have much more than 6 touches in a game, McKinnon should continue to be the pass-catching back. However, Keep an eye on Tevin Coleman, as the 49ers and Kyle Shannan like to use all three of their running backs throughout games. This was McKinnon's first game since 2017, he may have fallen off the radar in the mind of most fantasy football players. In PPR leagues McKinnon is worth a roster spot as the pass-catching role, as that's what made him fantasy relevant going back to his days with the Minnesota Vikings. Mostert is without a doubt the RB1, but the backup running back for the 49ers has value, and should be picked up or traded for a fairly low price.
Logan Thomas, The Washington Football Team, Tight End
Logan Thomas had the most targets on the team with 8, this also tied him as the second most targeted tight end in the league. The Washington Football Team plays a very safe offense while they continue to progress their first-round pick, Dwyane Haskins. The tight end is the security blanket for young quarterbacks, easy and very safe throws. Thomas will continue to receive a nice amount of volume. Thomas may not out-target Terry McLaurin every single game, but he will get a fair share of footballs thrown his way. There is nothing more you can ask for from a position that is top 3 heavy, and the rest of the players have highs and lows.
Diontae Johnson., Pittsburgh Steelers, Wide Receiver
Diontae Johnson didn't have a great Sunday night performance against the New York Giants secondary. Johnson only managed to haul in 6 receptions for 57 yards a total of 9.7 fantasy points. The bright side of his average performance was the 10 times Johnson was targeted. Those 10 targets tie Johnson for the 8th most targeted wide receiver last week. While Juju Smith-Schuster found the end zone twice, he was only targeted 6 times. This might be the best candidate to buy-low while owners may be upset with the 9.7 points. Ben Roethlisberger's elbow seemed to be just fine as he completed 21 of 32 attempts for 229 yards and 3 touchdowns. Johnson would be a value to snag off of one of your opponents, FAAB bidding, or waiver wire. Johnson is the clear number two wide receiver for the Steelers, and his route running makes him an easy, trustworthy target for Big Ben.
Odell Beckham Jr., Cleveland Browns, Wide Receiver
Odell Beckham Jr. struggled against the Ravens, with a stat line of 3 receptions on 10 targets for 22 yards. It was beyond disappointing for Beckham Jr, owners who most likely grabbed the wide receiver in round three of their drafts, or decided to claim him as a keeper. The targets for Beckham Jr. are still at a high enough volume to not lose hope. As previously mentioned the 10 targets had Beckham Jr. tied for 8th most last week. The problem seems to be the inconsistent quarterback play and offensive scheme. Baker Mayfield and the new coaching staff will figure out that every Beckham Jr. target doesn't need to be a deep pass. The Ravens continue to hold Beckham to the worse games of his career, which is nothing new. Take advantage of the bad stigma most have when they think of the Browns and Beckham Jr. This can be a low-risk high reward scenario with the right trade, if you have the depth to make the move get it done.
Sell High
Sammy Watkins, Kansas City Chiefs, Wide Receiver
Sammy Watkins has done it again. Watkins had an excellent game finding the endzone on opening night against the Texans. He hauled in 7 of 9 targets for 82 yards and 1 touchdown. Leading the team in targets was impressive, but realistically it won't be happening on a consistent basis with Travis Kelce, Tyreek Hill, and rookie running back Clyde Edwards-Helaire. Watkins consistency is an issue, the talent is there and he has the best quarterback in the league throwing him the deep ball. Sell Sammy Watkins while he is hot, and upgrade at a position of need for your team.
Malcolm Brown, Los Angeles Rams, Running Back
Malcolm Brown had an impressive week against the Los Angeles Rams. He finished the week as the RB4 or RB5, with 18 carries for 79 yards and 2 touchdowns, plus 3 receptions for 31 yards. The Rams offense seems to be more balanced as they attempted 31 passes and 36 designed rushes. The starting running back role is Brown's to lose with Cam Akers waiting for that misstep to happen. We've seen the efficiency of Brown in past seasons filling in or as the second option to Todd Gurley. He has a very similar style to a C.J. Anderson or Frank Gore. Odds are Malcolm Brown was a late-round draft pick for depth at the position. His stock may continue to slightly grow, but the time to move on from Brown is now while you can get the most value out of him. Find the Le'Veon Bell or James Conner owners and make a sweet deal would be my suggestion.
Russell Gage, Atlanta Falcons, Wide Receiver
Russell Gage is a perfect candidate to sell high. The wide receiver had 9 catches on 12 targets for 114 yards a total of 20.4 PPR fantasy points. Russell Gage, Julio Jones, and Calvin Ridley all had 12 targets and monster games. Matt Ryan leads the league in passing yards with 450. The third-year speedster slot receiver impressed, but the unknown of the Falcons target share keeps his value a question mark. The Falcons haven't implemented new tight end, Hayden Hurst, into the offense just yet, and Ryan loves throwing to the tight end. Gage's value right now is sky high, sell this flex receiver as soon as possible.
Quick Links
STAY IN TOUCH
Sign up for FantasyData's newsletter and get awesome content sent to your inbox.
We'll never share your email address and you can opt out at any time, we promise.
---
The go-to sports fanatic friend with an encyclopedia-like memory. Sports have been apart of my life for as long as I can remember. A lifelong fan of the Chicago Cubs, Chicago Bulls, Chicago Blackhawks, and New England Patriots. (Yes, Brady is the GOAT). Proud dad, Avid gamer on PS4, 10-year Fantasy Football vet. 2020' Governors State University Graduate B.A. Communications/ Journalism concentration