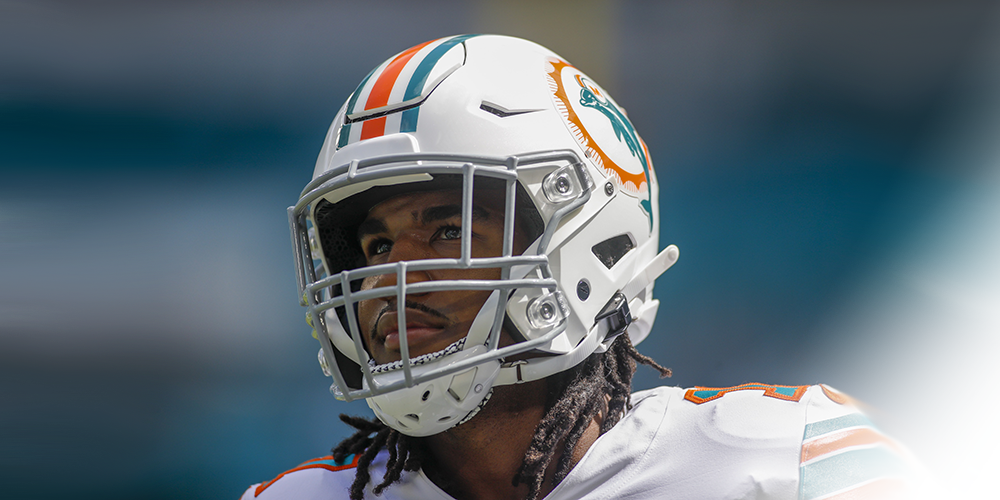 Week 6 Winners, Losers, and Takeaways
---
NFL Week 6 Fantasy Recap
With the first set of bye weeks underway, fantasy managers felt the struggles with Darrel Williams, Latavius Murray, Khalil Herbert, and Devontae Booker taking on key roles. In Week 7, the bye weeks look even scarier with the Bills, Vikings, Cowboys, Chargers, Steelers, and Jaguars. Unfortunately, several players not on a bye week in Week 7 also suffered injuries or those already ruled out in Nick Chubb, Kareem Hunt, Kadarius Toney, and Antonio Gibson. Hopefully, fantasy managers can survive the bye weeks and injuries. We have a few early waiver wire pickups based on injury situations. That said, let's dive into the Week 6 highlights, wonders, and disappoints.
Injuries to Monitor
Kadarius Toney (ankle) left early in the first quarter against the Rams. The Giants quickly ruled him out of the game, which isn't a great sign.

The trainers checked on Antonio Gibson (shin), and he walked off the field. Gibson has dealt with a shin injury, so it's something to monitor. Gibson returned to the game shortly after leaving. Later in the game, reports surfaced that Gibson's calf bothered him too.

Pick up Jaret Patterson for the WFT as he should earn some touches in case Gibson misses time. J.D. McKissic's role should remain as the pass-catcher and be involved in the two-minute drills.

Latavius Murray (ankle) left Sunday's game with an ankle injury. Thankfully, Murray scored a touchdown for fantasy managers, but, unfortunately, he didn't finish the game.

Tyreek Hill (quad) left with a quad issue. Hill came into Sunday's game with a questionable tag due to a quad injury. Thankfully, Hill came back into the game and finished well.

After missing the first five games, T.Y. Hilton (quad) returned on Sunday. Hilton splashed for a 52-yard reception to finish with 80 receiving yards. Hopefully, Hilton remains healthy because he's a critical piece of the Colts' passing game.

Odell Beckham Jr. (shoulder) left Sunday's game then returned. Donovan Peoples-Jones capitalized on Sunday with Beckham falling into the background.

Baker Mayfield (shoulder) joined teammate Odell Beckham Jr. with a shoulder injury. Like Beckham Jr., Mayfield also returned to the game.

With Nick Chubb out, Kareem Hunt (calf) led the Browns backfield. However, Hunt needed help off the field as he got carried off without as he couldn't put weight on his leg. The Browns carted Hunt off the field. D'Ernest Johnson and Demetric Felton could warrant more opportunities, but it's a significant talent level gap.

Per Browns head coach Kevin Stefanski, it's a calf injury for Hunt, not an Achilles. That's good news early on, but let's monitor the reports in the coming days.
#Browns head coach Kevin Stefanski told reporters that RB Kareem Hunt suffered a calf injury, NOT Achilles.

— Doug Kyed (@DougKyed) October 17, 2021
It's the year of the calf injury, and Dak Prescott (calf) is the next player with a calf issue. It sounds like Prescott injured his calf in overtime. However, with the Cowboys' bye week next week, maybe that gives him enough time to recover for Week 8.
Week 6 Highlights
Leonard Fournette is a Stud
On Thursday night, Leonard Fournette finished with 22 carries, 81 rushing yards, and two rushing touchdowns. Fournette also hauled in all six targets for 46 receiving yards. Before Week 6, Fournette garnered a 61.1% (No. 16) Opportunity Share and 71.3 (No. 11) Weighted Opportunities. He ranked 6th with 167 receiving yards, 7th with 19 receptions, and 21st with a 10.9% target share amongst running backs. With only one touchdown through five weeks, Fournette positively regressed in the touchdown category, which added to the boom game against the Eagles. It's hard to find a running back with Fournette's ADP providing RB2 fantasy value, so fantasy managers may want to hold on as he gives a safe floor with upside.
Jaylen Waddle Scored 2 TDs
With Tua Tagovailoa back in action, he fed the ball to Jaylen Waddle with DeVante Parker out. Waddle caught ten of 13 targets for 70 receiving yards and two touchdowns. His 27.7% target share bodes well compared to a 20% (No. 43) target share. Waddle ended up as one of my Week 6 sleepers, and glad he produced well on Sunday. Even without the touchdowns, Waddle's second career double-digit reception game gives us optimism.
Move Over Odell Beckham Jr. - DPJ Incoming
Just like many of us expected, Donovan Peoples-Jones, not Odell Beckham Jr., led the Browns on Sunday. Beckham caught five passes for 79 yards, then dropped a 4th down pass in the red zone. After Peoples-Jones caught five of six targets for 70 receiving yards last week, he should warrant a waiver wire pickup in Week 7. Peoples-Jones finished with four catches on five targets for 101 receiving yards and two touchdowns.
Can we rely on OBJ anymore? Is it time for DPJ to take over? All kidding aside, Beckham Jr. should still have WR3 value with WR2 upside, but it'll be inconsistent at times. For Peoples-Jones, scoop him up in deeper leagues or on WR needy teams because he boasts the efficiency and upside in a Browns offense needing playmakers on the outside.
CeeDee Lamb's Best Game of the Season
We witnessed a wild sequence of events towards the end of the Patriots and Cowboys game that went into overtime. Trevon Diggs picked off Mac Jones and took it to the house to take a 26-21 lead. Then Mac Jones delivers a pass to Kendrick Bourne for a touchdown after Cowboys defenders had no one behind Bourne.
After four straight games where Dak Prescott averaged 26.8 pass attempts, he threw 51 times in a high-scoring game.

CeeDee Lamb garnered double-digit targets for the 2nd time this season. Lamb also set a career-high in receiving yards against the Patriots. pic.twitter.com/uQcH924A11

— Corbin (@corbin_young21) October 18, 2021
After four straight games where Dak Prescott averaged 26.8 pass attempts, he threw 51 times in a high-scoring game. Lamb hauled in nine of 11 targets for 149 receiving yards and two touchdowns, including the game-winner in overtime. Over the past three games, we had volume concerns with Lamb and Prescott since Lamb averaged 4.7 targets per game. Although Lamb's 21.6% target share isn't exciting, we love the volume for a talented WR1 like Lamb. CeeDee Lamb garnered double-digit targets for the second time this season. Lamb also set a career-high in receiving yards against the Patriots. The buy-low window closed if any fantasy managers had concerns.
Breaking News - Justin Fields Attempted More Than 20 Passes
Since Week 2, Justin Fields averaged 17.5 attempts per game, which translated to risk surrounding the Bears pass catchers. Against the Packers, Fields completed 16 of 27 pass attempts for 174 passing yards. Allen Robinson garnered seven targets (25.9%), and Darnell Mooney earned eight opportunities (29.6%). Mooney reached a season-high in targets while Robinson reached the second-highest mark of the season.
Justin Fields attempted more than 20 passes for the 1st time this season.

Darnell Mooney reached a season-high in targets while Allen Robinson reached the 2nd highest mark of the season.

Robinson's dip in Air Yards over the past 3 years looks concerning. pic.twitter.com/dEhVJm9u3J

— Corbin (@corbin_young21) October 18, 2021
At this point, it's preferable to stash Mooney over Robinson, but both receivers need more volume because they likely won't rely on efficiency until we see improved efficiency for Fields. The low Air Yards per game concerns us, especially with Robinson due to the past seasons. Heading into Week 6, Robinson garnered 48 Air Yards Per Game down from 93.1 in 2020 and 109.9 in 2019.
Sunday Night Special
With Geno Smith at quarterback, the Seahawks kept it close after trailing 14-0 at halftime. Alex Collins filled in nicely for 20 carries, 101 rushing yards, and one touchdown. The Seahawks stuck with the trend of feeding their lead-back opportunities - a good sign for fantasy managers with Collins on their roster.
On the flip side, Chase Claypool garnered seven targets (18.4%), yet a measly two catches for 17 receiving yards before overtime. Before Week 6, the Seahawks allowed the 3rd most receiving yards to the position with an average of 212.2 yards per game. We figured Claypool and Diontae Johnson would feast against the Seahawks, but only Johnson performed well. With a 41% (No. 10) Air Yards Share and 26.5% (No. 20) Target Rate heading into Week 6, Claypool should have better production moving forward. However, the low 6.0 (No. 26) Adjusted Yards Per Attempt for Ben Roethlisberger before Week 6 provides reasons for concern.
Week 6 Wonders
Zero RB Sunday
With so many injuries, it looked like a Zero-RB Sunday. Darrel Williams, Khalil Herbert, Devontae Booker, and Latavius Murray played in the early games that made for a waiver-wire type week of running backs. Three of the four running backs scored a touchdown except for Booker, who totaled 16 touches (12 carries and four receptions) for 69 total yards. Booker should continue to garner most of the running back touches on that team until Saquon Barkley returns.
Khalil Herbert exploded on Sunday with 19 carries for 97 rushing yards and one touchdown. Herbert also hauled in two of three targets for 15 receiving yards. Darrel Williams punched in two touchdowns with 62 rushing yards on 21 carries. Although Williams lacked efficiency on the ground, we'll take the two touchdowns plus three more receptions for 27 receiving yards.
Ravens final HB snap count #LACvsBAL

Latavius Murray 26
Le'Veon Bell 22
Devonta Freeman 21

— Nathan Jahnke (@PFF_NateJahnke) October 17, 2021
The Chargers continued to give up a ton of rushing yards, with Latavius Murray rushing nine times for 44 yards and one touchdown. Murray also hauled in both targets for 12 receiving yards before leaving with an injury. Devonta Freeman and Le'Veon Bell also scored a rushing touchdown each. Freeman led the Ravens with 53 rushing yards on nine carries, while Bell finished with eight attempts and 18 rushing yards. If Murray misses time, scoop up Freeman or Bell in deeper leagues. The running back landscape continues to evolve due to injuries, so keep speculating on the waiver wire. However, the snap counts for the Ravens backs indicate the rotation will continue with whichever healthy players remain.
The Stafford - Kupp Connection Continues
The Rams scored four touchdowns in the second quarter with three through the air via Matthew Stafford. Cooper Kupp finished the game after hauling in nine of 12 targets for 130 receiving yards and two touchdowns. Kupp garnered a 42.9% target share for another splash performance. He came into the week as the No. 1 ranked receiver in fantasy, and fantasy managers should value Kupp as a WR1 moving forward. Meanwhile, Stafford's efficient passing continued with 9 yards per attempt on Sunday. Heading into Week 6, Stafford boasted a 9.6 (No. 2) Adjusted Yards Per Attempt, and that passing efficiency should continue.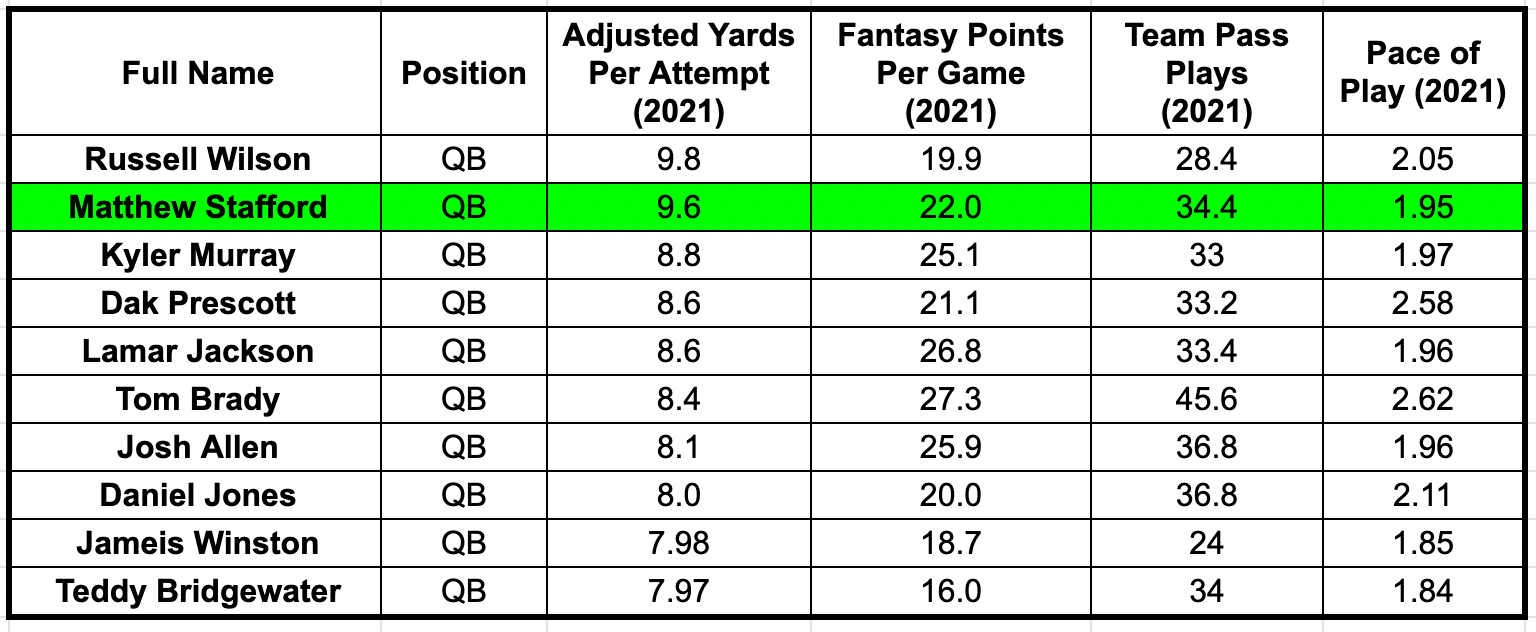 Adam Thielen's Near Career-Best Day
After two down games where Adam Thielen didn't catch a touchdown, he hauled in 11 of 13 targets for 126 receiving yards and one touchdown. It ended up as Thielen's best receiving game of the season in receptions, targets, and receiving yards. Thielen hadn't hauled in double-digit receptions since Week 6 in 2018. The entire Vikings offense clicked with Justin Jefferson playing well and Dalvin Cook back healthy. With some folks thinking Thielen's production would tail off, including me, it looks like Thielen can still have a ceiling similar to previous seasons.
Week 6 Disappointments
Worrisome Eagles Offense
Granted, the Buccaneers present a tougher matchup, but the Eagles' offense has struggled more than just Week 6. Just close your eyes and check the box scores for Jalen Hurts fantasy production, especially in the run game. Hurts saved his day with three touchdowns total, two on the ground on ten carries for 44 rushing yards. Hurts finished with 4.4 yards per attempt after going 12-for-26 and 115 passing yards with one interception.
After three straight games with a YPA of 8.1 or higher, Hurts finished with 5.4 yards per attempt. However, Hurts continues to provide another top-10 performance due to the rushing game through five weeks. We note the passing struggles for Hurts since that impacts the consistency for DeVonta Smith. The opportunity metrics look positive for Smith with a 22.8% (No. 29) target share and 43.8% (No. 9) Air Yards Share heading into Week 6. From a passing volume standpoint, Week 6 looked like an outlier since Hurts averages 36.6 (No. 13) Team Pass Plays Per Game. Buy low on DeVonta Smith, but it's risky with Miles Sanders and Kenneth Gainwell at this point.
Chargers Offense Struggled Against the Ravens
After giving up 513 total yards to the Colts on Monday night, the Ravens limited the Chargers to 208 total yards on Sunday. Justin Herbert finished with a season-low 195 passing yards and 5.0 yards per attempt on 39 attempts. As a result, Keenan Allen and Mike Williams recorded their second-worst games of the season. Even Austin Ekeler combined for 55 total yards - the worst game since Week 1. Don't panic on any of the Chargers. With their bye week upcoming next week, fantasy managers could attempt to buy low because all of them should bounce back after the bye week.
Should We Panic About the Panthers Passing Game?
Is it time to panic about the Panthers' passing game? After four games where Sam Darnold boasted 7.7 yards per attempt or higher and averaged 297 passing yards per game, he's struggling the past two weeks. After a single-digit point finish in Week 5, Darnold salvaged his day with 48 rushing yards in Week 6.

D.J. Moore and Robby Anderson soaked up double-digit targets with 13 for Moore and 11 for Anderson. At one point, Anderson garnered opportunities with zero production until late in the game. It's positive to see the 31.7% target share for Moore plus 26.8% for Anderson as the passing opportunities appear concentrated between two primary receivers. Trust the volume for Moore, but the 29 targets over the past three games for Anderson only resulted in ten receptions, 87 receiving yards, and one touchdown combined. At some point, Anderson's opportunities should translate into production right.
STAY IN TOUCH
Sign up for FantasyData's newsletter and get awesome content sent to your inbox.
We'll never share your email address and you can opt out at any time, we promise.
---

Corbin is passionate about fantasy baseball and football. He loves diving into and learning about advanced metrics. Corbin is a Mariners and Seahawks fan living in the Pacific Northwest. Corbin's other hobbies are lifting weights, cooking, and listening to fantasy sports podcasts.