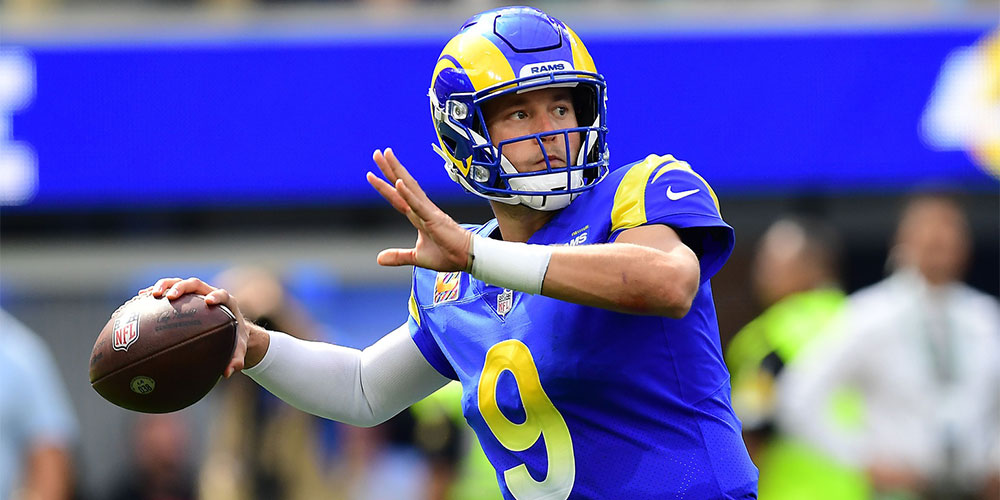 5 Best Value QB/WR Stacks for DFS in Week 6
---
Best Value QB/WR Stacks
Each week, with the help of our premium DFS Stacking Page, we're going to be diving into the main DFS slates for DraftKings, FanDuel, and Yahoo to give you the QB-WR stacks that represent the best value on the board.
When possible, we'll look to avoid throwing out the obvious names. However, just because a player is well known, that doesn't mean they're the easy pick when filling out your roster — and it also doesn't mean that their price tag accurately matches their potential production.
Last week, we took it on the chin for the first time this season. Not getting to see the combination of Daniel Jones and Kenny Golladay definitely hurt — both of them were knocked out of the game — but that's no excuse for missing on the others. We've been rolling all year though, so this week seems like a great opportunity to bounce back.
Here are the five combinations we're rocking with for Week 6 of the NFL regular season:
Indianapolis Colts (vs. Houston Texans)
Wentz is coming off his best performance of the season last week, as the 28-year-old threw for 402 yards with two touchdowns and no picks in what was ultimately a brutal loss to the Baltimore Ravens. Wentz, however, made great decisions throughout the game, and he is really starting to resemble the player he was when he threw for 3,296 yards with 33 touchdowns and seven picks for the Philadelphia Eagles in 2017.
The reason to be so optimistic about Wentz's performance is that it didn't come from nowhere. Just one week earlier, Wentz threw for 228 yards with two touchdowns and no picks in a road win over the Miami Dolphins. After making so many mistakes late in his tenure with the Eagles, it's huge that Wentz is now taking care of the football while also making some big-time throws.
Now, Wentz and this Indianapolis Colts offense get to face a Texans defense that is giving up 28.2 points per game this season — the sixth-worst mark in football. After essentially deciding to tear everything down and go all in on a rebuild, this Houston defense is completely depleted. Wentz will welcome the opportunity of facing a unit like this, as he's had some tough matchups in recent weeks.
When looking for the receiver to pair with Wentz, it's hard to look away from Pittman. The 24-year-old had six catches for 89 yards and a touchdown against the Ravens last week, and he's now had six or more receptions in each of the last four games. The fact that he scored a touchdown last game is also huge, as Pittman has long had the size and skill set to be a legitimate scoring threat. Now that he has broken through and scored one, perhaps they'll begin to come in bunches. It also helps that Pittman is 14th in the league in target share, as you know Wentz is never going to freeze out his top receiver.
This is one of our top values across all daily fantasy sites this week, but it's our favorite one on Yahoo. The Colts are double-digit favorites in this game and it's hard to imagine the passing game not coming through in a big way.
Detroit Lions (vs. Cincinnati Bengals)
The sharp money is on the Lions to cover against the Bengals this week, and this is a game that has a sneaky chance at being a high-scoring affair. With that in mind, it's worth taking a shot on Goff in this matchup.
Last week, Goff struggled in a loss to the Minnesota Vikings and lost receiver Quintez Cephus in the process. It was a huge blow to what was already a lousy group of pass-catching options, but the team has had a week to figure out a plan of attack for a home meeting with a mediocre Bengals secondary.
Perhaps Detroit will lean a bit heavier on the ground game to open up more play-action opportunities for Goff in this one. The team could also opt to just get D'Andre Swift on the field a bit more than usual, as the second-year pro is easily the best offensive player in this offense and can be a huge asset to Goff in the passing game. However, this is also an opportunity for St. Brown to really go out there and show the coaching staff what he can do.
St. Brown had a lot of hype coming into the season and has turned in back-to-back productive weeks heading into this one. The rookie had six catches for 70 yards against the Chicago Bears two weeks ago, and he followed it up with seven catches for 65 yards against the Vikings last week. Now, the next step for St. Brown would be to find the end zone and it wouldn't be surprising if he did it this week. With Cephus out, there's a good chance that St. Brown gets even more targets than the eight he has gotten in each of the last two weeks.
Goff might have a ceiling of 250 yards and two touchdowns or so, but it would be a huge plus to your daily fantasy lineups if he does that and one of those scores comes from St. Brown. It just doesn't get much cheaper than this combination.
Chicago Bears (vs. Green Bay Packers)
This duo is a pretty solid value everywhere, but it's especially enticing on Yahoo. The matchup isn't a great one for a rookie quarterback, but Fields has been improving rapidly since being named Chicago's starter. Two weeks ago, Fields was 11 for 17 for 209 yards and that completion percentage of 64.7% was his highest of the season. Then, he went 12 for 20 for 111 yards with one touchdown and no interceptions against the Las Vegas Raiders last week.
Chicago has won back-to-back games with Fields running the show, and the rookie has taken only three sacks total after being taken down nine times against the Cleveland Browns back on September 26. None of these stats are particularly impressive or anything, but they show that Fields is beginning to process things a bit better and is learning how to avoid mistakes. Now, it's up to Matt Nagy to open things up and allow Fields to make some plays.
One thing that plays into Fields' strengths in this game is the fact that Green Bay has struggled a bit to contain quarterbacks in the running game. In Week 1, the Packers allowed Jameis Winston to rush for 37 yards against them. A week later, Jared Goff — one of the slowest quarterbacks in football — rushed four times for 46 yards against Green Bay. Even Joe Burrow, who is coming off reconstructive surgery to his knee, hit double digits in rushing yards against the Packers last week. Fields is the best runner of the group by far, but he hasn't yet been given an opportunity to use his legs. Look for that to change this week.
Mooney, meanwhile, has the 14th-highest target share in the entire league this season, and he is clearly Fields' favorite option in the passing game. At some point Allen Robinson is going to break out for Chicago, but Mooney is the guy to take a chance on until then. He's an absolute burner and is a threat to break free every week. Don't be surprised if he gets by the defense for a long touchdown in this game.
Los Angeles Rams (vs. New York Giants)
Stafford is coming off something of a down week against the Seattle Seahawks, as the 33-year-old only threw for one touchdown and also had an interception. He did, however, throw for 365 yards in that one, but people were expecting more against one of the worst defenses in the league.
Now, Stafford is priced a bit better for daily fantasy players, and it's worth noting that the Seahawks game was played on a Thursday. That means that Los Angeles has had extra time to prepare for a Giants defense that has given up more passing touchdowns than all but seven teams in the league this season. New York has also given up 270.2 passing yards per game this season, and the team has also given up the eight-most fantasy points to opposing quarterbacks overall.
Don't be surprised if Stafford ends up coming through in a big way this week. We have seen that the veteran is capable of putting up absurd numbers in this Rams offense, as evidenced by his 343-yard, four-touchdown performance against the Tampa Bay Buccaneers back on September 26.
While Stafford struggled in that game against the Seahawks last week, Woods was a monster for the Rams. Bobby Trees had 12 catches for 150 yards in the game, and that performance came after Woods caught four passes for 48 yards and a touchdown against the Arizona Cardinals the week before. Woods has taken a backseat to Cooper Kupp in the early portion of the season, but last week's performance was a sign of things beginning to even out.
If you're playing on Yahoo, this isn't going to be the combination to fire up. However, this could be an absolute steal on DraftKings and FanDuel.
Carolina Panthers (vs. Minnesota Vikings)
After an absurd start to the year, Darnold came crashing back down to earth in last week's 21-18 loss to the Eagles. Darnold completed only 56.8% of his passes for 177 yards in that game, and he had just one touchdown while throwing three interceptions. Carolina blew a 15-3 lead in that one, and it's just a week that all of Matt Rhule's players are going to want to forget.
Look for Darnold to rebound in this meeting with the Vikings, especially if Christian McCaffrey does end up playing. However, even if the star running back isn't out there, it's not likely that Darnold will have two bad games in a row. The coaching staff and receiving group around him is simply too good for that, and offensive coordinator Joe Brady will have a plan in place for how to attack this Vikings secondary.
For as good as Minnesota's numbers against the pass this season look, they're definitely boosted by the fact that the Vikings got to face two mediocre passing attacks over the last two weeks. Neither Baker Mayfield nor Jared Goff are the types of guys that lead explosive passing attacks, but Joe Burrow and Kyler Murray are. The two of them also happened to combine to throw for 661 yards with five touchdowns against this Vikings defense in Weeks 1 and 2.
As far as Darnold's pairing goes, Anderson is 26th in the NFL in air yards per game at 84.8 and is just completely due for a breakthrough performance. Once Darnold's favorite target with the New York Jets, Anderson is yet to crack the 60-yard mark this season. Consider that more of a fluke than anything else, as the advanced stats suggest this drought is going to end very shortly. Also, by playing Anderson over a guy like D.J. Moore, you're saving money that you can use to beef up at running back.
Popular Pages
STAY IN TOUCH
Sign up for FantasyData's newsletter and get awesome content sent to your inbox.
We'll never share your email address and you can opt out at any time, we promise.
---

Zach has been working in the fantasy/betting space for nearly 10 years. He currently serves as the Editor-in-Chief of the Centennial Fantasy Football Guide, and he also does betting previews for Covers. He recently moved from New York to Arizona and has fallen in love with the Phoenix Suns. He's also a die-hard fan of the University of Wisconsin (Go Badgers!), New York Yankees, New York Rangers and New York Jets. Zach enjoys talking sports on Twitter (especially about the NBA Draft) and believes there's nothing better than shooting around in an empty gym. He's also a big fan of television and movies, and he's probably seen every comedy ever made.