Fantasy Football Winners and Losers From The 2020 NFL Draft
---
2020 NFL Draft: Fantasy Football Winners & Losers
While the 2020 NFL Draft will always be remembered for its social distancing-based oddities, for sports-starved football fans, it couldn't have come at a better time. Record-high television ratings back up that theory as millions of sports fans isolated at home around the globe tuned in.
Now that the draft is behind us, looking forward to what is hopefully another full fantasy football season brings many of us a welcomed distraction and break from a rigid routine. While we all hope for that relief, change is definitely on the horizon for many NFL players, who may have directly benefited or been hurt by the incoming 2020 rookie class.
Let's take a look at some of those draft day winners and losers and what kind of impact we might expect in the upcoming 2020 NFL and fantasy season.
Winners
Dak Prescott (QB) Dallas Cowboys - Jerry Jones was expected to add a pass rusher in the first round but lucked into what may be the premier pass-catcher of the entire class in CeeDee Lamb. With Amari Cooper and Michael Gallup already in the fold, the explosive Lamb gives the Cowboys the best receiving corps in the NFL. Already a proven producer who has begun his NFL career with four consecutive QB1 finishes, Prescott is entering elite, top-5 fantasy territory.
Drew Lock (QB) Denver Broncos - John Elway already named Lock as his team's starting signal-caller in 2020 then spent a ton of draft capital improving the weapons around Lock. The Broncos nabbed Alabam play-making wideout Jerry Jeudy with the 15th pick in Round One, then doubled down by selecting Penn State WR K.J. Hamler in the second. Elway also used a fourth-rounder on Missouri TE Albert Okwuegbunam and seventh-round pick on WR Tyrie Cleveland. With the offseason acquisition of RB Melvin Gordon and the emergence of Courtland Sutton, the Broncos have added some dangerous weapons to support an up-and-coming young quarterback who is now an interesting QB2.
Philip Rivers (QB) Indianapolis Colts - In addition to taking snaps behind one of the league's top offensive lines, Rivers also gained two excellent skill position players in the second round with WR Michael Pittman and RB Jonathan Taylor. Free-agent TE Trey Burton and the return of a healthy second-year WR Parris Campbell to complement T.Y. Hilton adds further weapons for Rivers, who is on the cusp of the QB1/2 line and should once again be a solid value at the tail end of fantasy drafts.
Leonard Fournette (RB) Jacksonville Jaguars - Widely rumored to be on the trade market, Fournette remains in Jacksonville, at least for now. Should he stay a Jaguar, Fournette would again offer RB1 value as the team didn't draft any backs and has no quality depth or competition currently on the roster. Jacksonville's offense should be better with the addition of WR Laviska Shenault and Collin Johnson via the draft. Last year, Fournette carried the ball 265 times and saw 100 targets. He's not the most efficient back, but that kind of workload and some positive TD regression should equal a solid 2020 fantasy campaign.
James Conner (RB) Pittsburgh Steelers - The Steelers were thought to be in the market for backfield competition in the early rounds of the 2020 NFL Draft but ended up not addressing the position until Round Four. With that fourth-round pick, Maryland's Anthony McFarland is more of a change-of-pace option than an immediate threat to Conner's status atop the depth chart. Entering a contract year, Conner looks like a solid RB2 target in fantasy drafts this summer.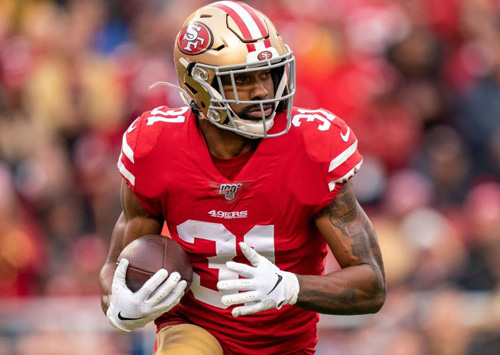 Raheem Mostert (RB) San Francisco 49ers - Not only did San Francisco not select a running back during the draft, but they also jettisoned Matt Breida. After his superb play down the stretch for the NFC champions last season, Mostert should be considered the heavy favorite to act as the lead dog in San Francisco's running back rotation with Tevin Coleman and Jeff Wilson. The absence of any rookies to compete for touches only enhances Mostert's RB2 status.
Mecole Hardman (WR) Kansas City Chiefs - The Chiefs were rumored to be interested in Henry Ruggs but that turned out not to be the case. in fact, Kansas City didn't address the receiver position at all in the draft, which assures Hardman of having a larger role in 2020. Hardman scored a whopping six touchdowns on only 26 receptions as a rookie. With Sammy Watkins potentially relegated to WR3 duties, Hardman looks like an excellent value target at his current ADP.
Allen Lazard (WR) Green Bay Packers - Lazard emerged as Green Bay's No. 2 wideout behind Davante Adams and the Packers amazingly exited the 2020 draft without selecting even one wideout to boost what was the least efficient receiving corps in football. With no real competition, Lazard has real WR3/4 potential opposite of Adams, who will draw the competition's top corners and even double teams.
Justin Jefferson (WR) Minnesota Vikings - Regarded as the draft's second or third best receiver, Jefferson landed in an ideal spot with the Vikings. With Stefon Diggs now in Buffalo, Jefferson has a clear path to an immediate role in a Vikings offense that is usually good for 30 touchdown passes. Jefferson profiles as a solid red-zone weapon that Player Profiler compared to Reggie Wayne. Of all the rookie wideouts, Jefferson may be poised to post the best Year One numbers right out of the gate.
Mike Gesicki (TE) Miami Dolphins - With the exception of a seventh-rounder on Navy QB Malcolm Perry, who was drafted as a wide receiver, the Dolphins didn't invest any picks on their pass-catching group. This is good news for Gesicki, who started to emerge as a solid weapon out of the slot last season. While Miami could elect to redshirt No. 5 overall pick QB Tua Tagavailoa by starting Ryan Fitzpatrick, Gesicki built a solid rapport with Fitzpatrick and would not be hurt acting as the rookie's safety valve should Tagavailoa get the starting nod. Gesicki is an ascending tight end who is a sneaky pick to post top-10 fantasy numbers this season.
Losers
Aaron Rodgers (QB) Green Bay Packers - The Packers entered the draft with one of the least-productive receiving corps in football and were heavily mocked to attack the deep 2020 wide receiver class in the early part of the draft. Instead, Brian Gutekunst and Matt LaFleur exited the entire draft sans any wideouts and actually spent their first-round pick on a project quarterback to eventually succeed Rodgers. Also, with the second-round investment on Boston College tailback A.J. Dillon, the Packers are expected to go even more run-heavy. A deep backfield and thin receiving corps plagued by drops are a troubling 1-2 punch for an aging quarterback who may no longer even be classified as a fantasy QB1.
Marlon Mack (RB) Indianapolis Colts - Mack has actually been a solid contributor but has been plagued by nagging injuries and is entering the final year of his rookie contract. Now, he'll have a more difficult time cashing in on a lucrative second contract with the addition of second-round rookie Jonathan Taylor also competing for touches in the backfield. Taylor was widely regarded as this draft's top running back and offers three-down, workhorse potential. The Colts seem destined to implement the dreaded committee backfield, but Mack will have a hard time holding onto his presumptive lead role after Taylor's arrival.
Aaron Jones (RB) Green Bay Packers - Green Bay made it all the way through to the NFC Championship game then took a curious approach to improve their offense. Along with bypassing much-needed wide receiver, the Packers invested a second-rounder on A.J. Dillon, a bruising back who will only hurt Jones's value in short-yardage. This was a curious addition after Jones led the NFL in touchdowns last season and will make it almost impossible for him to come anywhere near those numbers again.
Mark Ingram (RB) Baltimore Ravens - Baltimore set an NFL record with 3,296 rushing yards in 2019 and added another dangerous option to their backfield in second-round RB J.K. Dobbins. While Ingram fared just fine last season- rushing for 1,018 yards and scoring 15 times- he will turn 31 in December, and Dobbins is a talented prospect with three-down potential who is significantly cheaper. With Dobbins, Gus Edwards, Justice Hill, and QB Lamar Jackson also in the fold, it's hard to envision Ingram getting 200-plus carries in 2020.
Ronald Jones (RB) Tampa Bay Buccaneers - After the second round, it looked like Jones was going to wind up being one of the draft's big winners after the Bucs used their first two picks on the offensive line and secondary. Then, with the 76th pick, the club nabbed versatile Vanderbilt RB Ke'Shawn Vaughn, who is highly regarded as a potential sleeper by many in the draft community. Tampa's offense should be quite prolific, but Jones hasn't impressed in two seasons and could easily be supplanted by Vaughn.
Kerryon Johnson (RB) Detroit Lions - Investing in Detroit's running backs has long been a dicey proposition at best. Johnson simply can't stay healthy and now has to compete with arguably the draft's top tailback in Georgia's D'Andre Swift. After missing half of his sophomore season and averaging an unimpressive 3.6 yards per tote, Johnson is likely to be supplanted on the depth chart be Swift, who is simply a better all-around talent. Of course, Swift is a Detroit back, so invest cautiously.
Darrell Henderson (RB) Los Angeles Rams - Life happens fast in fantasy football. The darling of last year's dynasty draft circuit, Henderson had a few weeks as the presumptive starter after Todd Gurley was released and wound up in Atlanta. But before Henderson even got the chance to live up to his lofty dynasty price tag, the Rams used their first pick (No. 52 overall) on Florida State RB Cam Akers, a 5-10, 217-pound back with good hands and inside running ability. Los Angeles seems firmly committed to using multiple backs to replace Gurley, which drops Henderson's value significantly.
Damien Williams (RB) Kansas City Chiefs - That was fun while it lasted. Andy Reid comped first-round RB Clyde Edwards-Helaire- a favorite among the draftnik community- to Brian Westbrook. Typically, Reid prefers to use his starting running backs in a feature role, so we fully expect CEH to be heavily involved in Kansas City's explosive offense from Week 1 on. Williams went from a potential RB1 one year ago to arguably un-draftable in a matter of months.
DeSean Jackson (WR) Philadelphia Eagles - Last year, the Eagles re-signed Jackson to provide a much-needed downfield speed element to Philadelphia's offense. But Jackson, who will turn 34 this year, was limited to just three games with abdominal injuries. Wisely, Howie Roseman invested heavily in refortifying Philadelphia's receiving corps in the 2020 NFL Draft, adding Jalen Reagor, John Hightower, and Quez Watkins while also trading for veteran WR Marquise Goodwin, a Jackson-esque player. Reagor will start right away and Watkins blazed a 4.35 40-yard dash. The revamped Eagles' offense could also add a wrinkle with QB Jalen Hurts, further diminishing Jackson's potential role in 2020.
John Ross (WR) Cincinnati Bengals - As a whole, Cincinnati's offense should be vastly improved in 2020, but John Ross will find a hard time seeing enough snaps to be fantasy relevant. With A.J. Green expected to return 100% and Tyler Boyd manning the slot, the oft-injured Ross will see immediate competition for his outside spot from No. 33 overall pick Tee Higgins, who was hand-picked by the Bengal's new regime. Ross showed some flashes last season but has mostly been a disappointing first-round bust. Higgins is expected to garner playing time early and it's going to come at the expense of Ross, who is entering the final year of his rookie deal in which the Bengals have a club option after this season.
STAY IN TOUCH
Sign up for FantasyData's newsletter and get awesome content sent to your inbox.
We'll never share your email address and you can opt out at any time, we promise.
---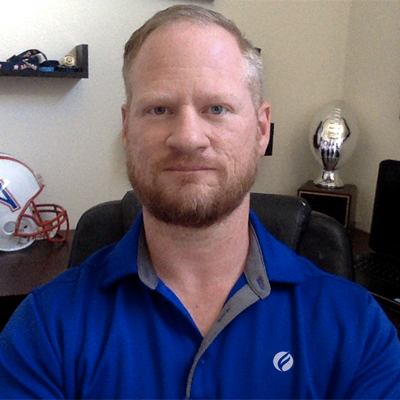 Jody is a member of both the Pro Football Writer's of America (PFWA) and Fantasy Sports Writer's Association (FSWA) and has been covering the NFL and fantasy football for over a decade. Jody won FantasyPro's Most Accurate Expert contest and also garnered the FSTA's accuracy award in 2012. A Houston native, Jody has covered the Texans locally since 2016 for both digital and radio audiences. Past writing stops include CBS Sportsline, Gridiron Experts, Pro Football Focus, Fanball, FantasyPro's. Jody is also a frequent guest on SiriusXM and Houston radio and his work regularly appears in print on newsstands each summer.