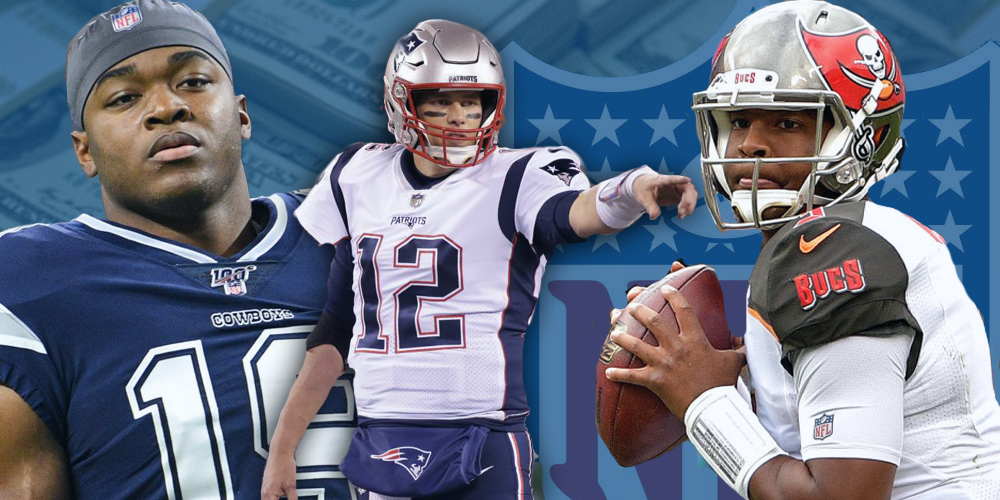 NFL Free Agency: 20 Bold Predictions with Huge Fantasy Implications
---
Bold NFL Free Agency Predictions 2020
The start of NFL free agency in 2020 is nearly upon us. Many high profile names are set to hit the open market on March 18th. This article will take a look at 20 bold predictions that could occur this month.
Tom Brady signs with the Chicago Bears
NFL fans continue to hold their breath while the future Hall of Fame quarterback's future gets determined. There are many rumors linking Brady to multiple teams. His decision will cause a ripple effect in the quarterback market and indirectly affect the Bears. As an example, if Brady signs with the Las Vegas Raiders then quarterback Derek Carr could become available. The Bears' cap situation is the biggest hurdle to this scenario coming to fruition, but the team is in desperate need of an upgrade at quarterback. Mitch Trubisky is not the long term solution for the Bears. He has been an absolute bust was drafted ahead of Deshaun Watson and Patrick Mahomes. Trubisky averaged 13.5 fantasy points per game last season and ranked 30th with a true passer rating of 74. This advanced metric does factor out unpressured throwaways and dropped passes.
Hot take: The only team that *becomes* a Super Bowl contender by adding Tom Brady is the Bears.

— Jake FF'ing Trowbridge (@JakeTrowbridge) March 7, 2020
Even though Brady will turn 43 years old in August he is an upgrade over Trubisky. The Bears have a solid roster on both sides of the ball he can win with. Wide receiver Allen Robinson was productive last season even with Trubisky under center. He averaged 16 PPR fantasy points per game. Robinson finished as a WR2 or better in 62 percent of his games. He was particularly effective from Week 12 through 16 averaging 132.2 air yards and 20 PPR fantasy points per game. Brady would also have additional offensive weapons including Anthony Miller, David Montgomery, and Tarik Cohen. His arrival, if it comes to fruition, would brighten the fantasy outlook of the entire Bears offense in 2020.
Philip Rivers signs with the Indianapolis Colts
The Colts current starting quarterback Jacoby Brissett stills has one more year left on his contract. He only averaged 17 fantasy points per game last season. Brissett finished as a QB1 in only 27 percent of his games. He finished 14th in true passer rating (92) in 2019. The perception in Indianapolis is that Brissett is better suited as a backup quarterback. Many predict that the Colts will target a veteran quarterback in free agency or target one in the NFL Draft. Rivers' is often connected to Indianapolis because of his time with head coach Frank Reich with the Los Angeles Chargers from 2013 to 2015. He played some of the best football of his career during that time averaging 31 touchdowns and 14 interceptions per season. Colts offensive coordinator Nick Sirianni previously worked with the team for five seasons as an assistant. The relationship between him and Rivers would make a transition easier. Here is what I wrote about him in my recent article highlighting 8 Free Agents That'll Impact Fantasy Football:
The veteran quarterback and the Chargers mutually parted ways in early February. Rivers had been the team's starting quarterback since the 2004 NFL season after being drafted No. 4 overall. He disappointed fantasy players last season, averaging 37 pass attempts, 288.4 passing yards, 1.4 passing touchdowns, 1.25 interceptions, and 18 fantasy points per game. Rivers' finished as a QB1 in only 31 percent of his games and a QB2 in 50 percent of them. He ranked 23rd in our True Passer rating advanced metric. This quarterback rating factors out unpressured throwaways and dropped passes. Rivers' finished the 2018 season with the 6th highest True Passer rating (101.7). The only other quarterbacks who averaged more interceptable passes per game than Rivers last season (2.2) were Andy Dalton (2.5), Kyle Allen (2.6), and Jameis Winston (3.1). He did accumulate a high number of passing air yards (2,490) last season and finished sixth in deep-ball passing attempts (75).
Rivers has averaged nearly 272 passing yards and 20 fantasy points per game from 2008 to 2018 with positive passing fantasy points over expectation. He'll have to improve under pressure in 2020 in order to bounce back.
The Chargers offensive line finished eighth with a protection rate of 85.4 percent, but Rivers struggled under pressure in 2019. According to Pro Football Focus, 35.5 percent of his 633 dropbacks were under pressure. Rivers threw for 1,437 yards, nine touchdowns, and nine interceptions when under duress last season.
The Colts have a solid offensive line and skill players that Rivers' can leverage including T.Y. Hilton, Zach Pascal, Jack Doyle, and Marlon Mack. He is the perfect bridge quarterback if Indianapolis targets a young quarterback in this year's draft. Rivers is familiar with the Colts' offensive coaching staff and had success with them schematically in the past. He could thrive from a fantasy perspective in 2020 with this supporting cast.
Ryan Tannehill resigns with the Tennessee Titans

Tannehill revived his career last season with the Titans leading them to the AFC Championship game. He has the ability to threaten defenses as a passer and runner. Tannehill averaged 25.2 fantasy points per game from Week 7 on last season finishing with the highest true passer rating (118.2). It appears the former first-round draft pick has turned a corner. One area that Tannehill can improve upon is the number of sacks he takes. He was sacked on 31.0 percent of his pressured dropbacks according to Pro Football Focus. This was the third-highest rate in the NFL. Tannehill and Brady are at the forefront of the Titans quarterback debate. My belief is that Tennessee is using the future Hall of Famer as leverage in negotiations with Tannehill.
Titans are just using Tom Brady as Ryan Tannehill 'leverage' https://t.co/rPWw1571hd pic.twitter.com/TqXLa895w7

— New York Post (@nypost) March 6, 2020
Tannehill has been very vocal about his desire to return to Tennessee. Is it possible for him to replicate last season's success in 2020? Yes, it is, but Tannehill's success is directly tied to a strong running game. Derrick Henry is more dependent on the quality of quarterback play than the other way around. Without Tannehill under center, the Titans only averaged 16 points per game. Henry averaged a dismal 3.7 yards per rushing attempt on 133 attempts with Marcus Mariota under center. The Titans may franchise tag the NFL's rushing yards leader if they can't agree on a long term deal. They could also address the position with another free agent running back or prioritize the position in the NFL Draft. What if Henry signed with another team who's willing to invest in him long term?
Derrick Henry signs with the Houston Texans
Henry accumulated a career-best 1,985 rushing yards last season when you include the NFL Playoffs. He averaged 20 PPR fantasy points per game during the regular season with the fourth-highest opportunity share (81.4%) among running backs. Henry ranked seventh in evaded tackles with 82, finished with the most yards created (579), and the second-highest number of breakaway runs (15). Yards created are all yards above and beyond what was blocked. They are generated by the runner after the first evaded tackle. While breakaway runs are attempts greater than 15 yards. Henry finished last season as the RB5. This was impressive considering he only averaged 9.5 PPR fantasy points per game from 2016 to 2018.
Henry benefited from the Titans' solid offensive line play. The unit ranked fifth in adjusted line yards according to Football Outsiders and finished sixth in run-blocking grades according to Pro Football Focus. When you pair these factors with Tannehill's play elevating the entire Titans' offense it was a perfect scenario for Henry last season. It would also be beneficial to see his targets out of the backfield increase. Were you aware that out of all of the running backs who finished in the top-25 in PPR fantasy points he finished with the fewest targets (24)?
One team that has the cap space available to sign Henry is the Texans. Houston had success running the football last season averaging 124.7 rushing yards per game. The offensive line finished 22nd in Adjusted Line Yards while the Texans finished 12th in Open Field Yards. This suggests that Houston's running game was heavily dependent on its backs to make the ground game work. Carlos Hyde's contract is now expired and the only other running backs on the Texans roster are Duke Johnson, Gregory Howell, and Karan Higdon. Lamar Miller will also hit free agency after a torn ACL cost him all of last season. The Texans will continue to address their offensive line this offseason. If Houston were able to land Henry to pair with Deshaun Watson and DeAndre Hopkins they would have the best quarterback, running back, and wide receiver tandem in the NFL.
Amari Cooper signs with the Philadelphia Eagles
The Cowboys' front office made Ezekiel Elliott the highest-paid running back in NFL last summer. This decision also prevented Dallas from locking up Dak Prescott under contract before the start of the 2019 season. Now the Cowboys may miss out on the chance to lockdown Cooper's contract during free agency. He has had a positive impact on the Cowboys offense since arriving via trade from the Oakland Raiders during the middle of the 2018 season. Cooper struggled with injuries last season, but he averaged 90.4 air yards per game and ranked ninth with 2.6 yards per pass route. His very good play speed, size, and route running ability continue to be a problem for opposing defenders wherever Cooper lines up. He struggled with drops last season as quantified by his true catch rate of 80 percent. This ranks 48th among wide receivers. The true catch rate metric divides total receptions by catchable targets. Cooper only had four drops in 2018 with a true catch rate of 92.6 percent.
Here are the best plays from #Cowboys WR Amari Cooper in 2019: pic.twitter.com/cYVVrtI1Sy

— Marcus Mosher (@Marcus_Mosher) March 6, 2020
The Eagles could quickly elevate its wide receiver core by adding Cooper. Philadelphia won the AFC East last season while dealing with injuries to DeSean Jackson and Alshon Jeffery. Quarterback Carson Wentz went averaged 20.7 fantasy points per game while finishing as a QB1 in 62 percent of them. Imagine the offensive possibilities if Cooper was paired with Jackson on the outside with tight end Zach Ertz, Dallas Goedert, and running back Miles Sanders dominated the middle of the field.
A.J. Green signs with the Las Vegas Raiders
Green only played 458 snaps in 2018 while missing all of last season with torn ligaments in his ankle. The soon to be 32-year old wide receiver has an impressive statistical resume. Green's averaged an impressive 9.3 targets, 5.5 receptions, 119 air yards, 81 receiving yards, and 17.1 PPR fantasy points per game in 110 career games since 2011. He has the athleticism to threaten defenses downfield and make contested catches. Green's a two-time All-Pro and has been named to the Pro Bowl seven times. He is the type of addition that would elevate the entire Raiders offense and make a splash in the team's first season in Las Vegas. Head coach Jon Gruden and general manager Mike Mayock thought the wide receiver position was addressed by signing Antonio Brown and Tyrell Williams last year, but Brown was released before he played a regular-season game, and Williams struggled with injuries last season. Mayock was asked about the Raiders' need for a playmaking wide receiver in an article earlier this year with the Las Vegas Review-Journal. Here is his response:
You need playmakers in today's NFL. And I don't even think you need to put labels on them anymore. That's some of the things Jon and I talk about. Josh Jacobs can be a playmaker. Darren Waller can be a playmaker. Renfrow can be a playmaker. But we don't have enough outside speed. People started to load up on Josh and Darren. Our offensive line is a big, strong, tough group that we're happy with. But let's be honest. If we're going to take it to another level, that position has to get better.
The Raiders have two first-round selections and three third-round picks in this year's NFL Draft. The recent history of wide receivers drafted in the top 15 hasn't bode well for teams needing an impact player. It would be wise for the Raiders to target Green and continue to address the wide receiver position with some of their later draft picks. His presence would immediately elevate the fantasy outlook of quarterback Derek Carr or whoever's under center for the Raiders in 2020.
Jameis Winston signs with the Los Angeles Chargers
Winston's statistical line from last season speaks volumes. He finished with over 5,000 passing yards, 33 touchdowns, and 30 interceptions. Winston's propensity for turnovers continues to be his Achilles heel, but he also has a history of generating passing yards and touchdowns. The 26-year old quarterback has averaged 35.43 pass attempts, 274.2 passing yards, 1.7 passing touchdowns, 1,22 interceptions, and 20.6 fantasy points per game with positive passing fantasy points over expectation in his entire career. All signs are trending toward Winston not returning to the Buccaneers with a new contract. One team that would be an intriguing landing spot would be the Los Angeles Chargers.
Jameis Winston played through a torn meniscus last year, in addition to a broken thumb, per @RapSheet.

This offseason he had LASIK eye surgery.

Jaboo finished 2019:
➖ No. 1 in passing yards
➖ No. 2 in TD passes pic.twitter.com/Q0his4XgqH

— B/R Gridiron (@brgridiron) March 1, 2020
Many would be surprised if the Chargers move forward with Tyrod Taylor as their starting quarterback in 2020. It's not the best move for the Spanos family for the franchise from a business perspective considering the Los Angeles market. Winston could provide the Chargers with an offensive spark they desperately need. His turnovers are a concern, but Rivers wasn't the quarterback epitome of ball security. Winston would have numerous offensive weapons at his disposal including Keenan Allen and Austin Ekeler. Mike Williams could finally have a breakout season considering he had the 14th most air yards last season.
Marcus Mariota signs with the New England Patriots
Mariota hasn't had the NFL career many projected after winning the Heisman Trophy and being drafted No. 2 overall in the 2015 NFL Draft. He's only averaged 209.6 passing yards, 22.5 rushing yards, and 17.5 fantasy points per game in 63 career games. Mariota has shown flashes of greatness with a QB2 or better performance in 65 percent of his games. The 26-year old quarterback has also struggled to stay healthy. Mariota lost his starting job with the Titans to Tannehill last season due to poor play. The former Oregon star could find redemption with the Patriots.
Marcus Mariota's name has come up several times over the last few weeks as a potential hot reclamation project for several teams.

— Benjamin Allbright (@AllbrightNFL) March 6, 2020
Mariota has Pro Bowl level talent which could be unlocked by Bill Belichick. Considering how the Patriots coaching staff developed Jimmy Garoppolo and Jacoby Brissett this scenario is a win-win even if Brady returns in 2020.
Hunter Henry signs with the Arizona Cardinals
Henry averaged 6.3 targets, 4.6 receptions, and 54.3 receiving yards per game last season. He finished as TE9 last season in PPR formats. Henry finished with the fifth most air yards among tight ends. He also finished 12th with 2.03 yards per pass route. Henry has only played in 41 games in his three-year career. The 25-year old tight end's biggest asset is his versatility as a blocker and a receiver including in the slot. One team that is need of a tight end and cap space is the Cardinals.
The Cardinals didn't use the tight end much early in the season, but head coach Kliff Kingsbury began to use them more as the season went on. Maxx Williams and Dan Arnold are still on Arizona's roster, but it would be surprising to not see the Cardinals make a play Henry in free agency. Kyler Murray had a solid rookie season and would benefit greatly from another receiving weapon to leverage against opposing defenses. The word on the street is the Chargers will use the franchise tag on Henry.
Update: Chargers Put Franchise Tag On Hunter Henry
Robby Anderson signs with the Denver Broncos
Anderson would make a great addition to a Broncos offense with Drew Lock under center and top two receiving weapons Courtland Sutton and Noah Fant. Denver has over $60 million in cap space and could free up more with roster cuts. The Broncos would be an excellent spot for Anderson because he'd be surrounded by other offensive weapons and a defined role. He has a track record of making plays down the field and creating yards after the catch. Anderson ranked 13th in yards per catch among receivers with 50 or more receptions last season. He's averaged 6.1 targets and 90.3 air yards per game in his career. Here is what a wrote about Anderson in another article:
Anderson has had positive receiving fantasy points over expectation his entire NFL career. This is impressive considering the Jets have had eight different quarterbacks start games during that time frame. Anderson hasn't displayed the ability to run the entire receiver route tree and his career catch rate is at 54 percent. He's is better suited as a No. 2 receiver as opposed to a No. 1. The ideal scenario is for him to join an NFL team that already has playmakers.
The Broncos would be an intriguing fit and general manager John Elway has a history of addressing weaknesses via free agency. Anderson's ability to stretch the field complements Sutton's size and play strength.
Eric Ebron signs with the Dallas Cowboys
Ebron set career highs in receptions (74), receiving yards (827) and touchdowns (14) back in 2018 with Andrew Luck under center. Last season he regressed with Jacoby Brissett under center in an injury-plagued season with 31 receptions, 375 receiving yards, and three touchdowns. Ebron did finish with the 3rd highest target separation (2.0) among tight ends. He will turn 27-years old this season and has been a disappointment after being drafted No. 10 overall by the Detroit Lions in the 2014 NFL Draft. Cowboys tight end Jason Witten is unlikely to return in 2020 and may expect Blake Jarwin to fill the void. Dallas' new head coach Mike McCarthy believes in using multiple tight ends who can play all over the field. Ebron played 152 snaps lined up in the slot, 69 out wide, and 102 as an inline tight end last season according to Pro Football Focus. He could be a nice addition for a Cowboys team looking to maximize their cap space considering the number of high profile free agents they are looking to lock up.
Breshad Perriman signs with the New Orleans Saints
Perriman finds himself on the free agency radar for many NFL analysts and writers after a strong finish to last season:
Opportunity knocked once Mike Evans and Chris Godwin suffered season-ending injuries in back to back weeks. Perriman answered the door and accumulated 54 percent of his receiving yards in 2019 during the Buccaneers' last three games. He averaged 5.7 receptions, 116.3 yards, and 174 air yards per game.
Perriman was drafted No. 26 overall in the 2015 NFL Draft by the Baltimore Ravens. It was nice to see him finally rise to the occasion considering Perriman entered the NFL with a College Dominator Rating of 36.6 percent. This metric available at Player Profiler represents a wide receiver's percentage of his team's offensive production. A player with a 35 percent or greater dominator indicates that a wide receiver has the potential to be a team's No. 1 receiver or a high caliber contributor. Perriman will turn 27 years old this year and could thrive in New Orleans with Drew Brees as part of the Saints offense as a vertical threat lining up opposite of Michael Thomas. The team will look to diversify Thomas' target share considering he led all wide receivers in hog rate. This advanced metric represents targets per snap to capture the rate of passing game utilization on a per play basis. Perriman would be catching passes
Melvin Gordon signs with the Detroit Lions
Gordon's holdout in training camp last summer didn't end up with the Chargers providing him with a sizable contract extension. Here is what I wrote about him in another article:
Gordon's contract holdout extended through Week 4 of last season as the Chargers leaned heavily on backup Austin Ekeler. The two-time Pro Bowl running back was forced to return to the fold without an extension to gain momentum for NFL free agency. Ekeler averaged 20.2 opportunities and 27.2 PPR fantasy points per game with Gordon out of the lineup. For the remainder of the season, both operated in a running back by committee. Gordon averaged 18.1 opportunities per game for the rest of the season. Once the dust settled on the 2019 season he wasn't as effective as Ekeler. Gordon averaged 0.83 fantasy points per opportunity while Ekeler averaged 1.29.
The Chargers recently resigned Ekeler to a four-year, $24.5 million contract. The deal contains $15 million guaranteed and cements him as the Chargers No. 1 running back in 2020. One team that could use Gordon is the Lions. If Detroit wants to extend the career of 32-year old quarterback Matthew Stafford after an injury-shortened season they should prioritize the running game. The Lions third year running back Kerryon Johnson cannot stay healthy. Detroit's second-round back from the 2015 NFL Draft has missed a total of 14 games out of a possible 32 after dealing with two consecutive knee injuries. Gordon would be a perfect fit for a Lions team looking for three-down back. The soon to be 27-year old running back is only one season removed from making the Pro Bowl. Gordon accumulated 885 rushing yards and 10 touchdowns while averaging 5.1 yards per attempt. He also had 50 receptions for 490 yards and four more scores. Gordon could have a career renaissance with the Lions in 2020.
Quick Hits
Kenyan Drake signs with the Washington Redskins.

Last season he recorded 817 rushing yards and eight rushing touchdowns to go along with 50 receptions for 345 receiving yards with the Miami Dolphins and Arizona Cardinals. Drake averaged 0.89 fantasy points per opportunity. He could contribute to Washington's offense as a runner and a receiver. The opportunity is there for the taking considering Adrian Peterson's age and the injury history of Derrius Guice and Bryce Love.

Nelson Agholor signs with the Seattle Seahawks. The thought of tethering him to quarterback Russell Wilson is an intriguing one. Agholor could thrive as Seattle's slot receiver as pass defenses attempt to stop Tyler Lockett, D.K. Metcalf, and Greg Olsen.
DeAndre Washington signs with the Miami Dolphins. He

has averaged four yards per rush on 282 attempts and seven yards per catch, having caught 88 of his 110 career targets. The 27-year old running back is looking for an expanded role and could have that opportunity with the Dolphins.

Jordan Howard signs with the Buffalo Bills. The Athletic's Joe Buscaglia mentioned that he could be a target for the Bills in free agency. Devin Singletary finished last season with an opportunity share of 59.4 percent as part of a running back by committee with Frank Gore. He finished with the third-highest juke rate (33%) and seventh in yards created per attempt (1.76). Howard would be an excellent change of pace option with Singletary as the lead back.
Devin Funchess signs with the New York Giants. Golden Tate (37%), Sterling Shephard (15.4%), and Darius Slayton (33.3%) all had a very low contested catch rate last season. Funchess can provide the Giants a big-bodied receiving threat on third-down situations and in the red zone.
Austin Hooper signs with the Green Bay Packers. He thrived last season with the Falcons playing with Julio Jones and Calvin Ridley finishing as TE7 in PPR formats. Hooper finished with the second-highest true catch rate (97.4%) and the fourth-highest hog rate at the tight end position. This metric divides total receptions by total catchable targets. Hooper could thrive catching passes from Aaron Rodgers and playing alongside Davante Adams.
Taylor Gabriel signs with the Minnesota Vikings. The team needs to add another wide receiver to the fold whether or not Stefon Diggs remains with the franchise. Gabriel could thrive as the Vikings third receiver. Gabriel had a solid rookie season with the Bears back in 2018 finishing with 67 receptions, 688 receiving yards, and two touchdowns. He missed seven games last season due to injuries and finished with 29 receptions for 353 yards and four touchdowns. Gabriel could bounce back with quarterback Kirk Cousins and the Vikings in 2020.
Conclusion
The NFL has become a year-round business. The regular season may run from September through January, but the league has many events that dominate the sports news cycle. These include the combine, free agency, the NFL Draft. Before you know it, we'll be a few weeks away from training camps. It's important to stay on top of NFL news whether you participate in dynasty or redraft formats. Fantasy Football News allows you to stay up to date on all of your favorite players. It covers a wide range of players so that you'll never miss a beat. Every season there are free agents who make significant contributions to someone's fantasy football team. What did you think of these bold predictions? Reach out to me on Twitter (@EricNMoody) and let me know. Thanks for reading, and don't forget to sign up for FantasyData Premium, which will provide you access to our advanced metrics and other resources.
STAY IN TOUCH
Sign up for FantasyData's newsletter and get awesome content sent to your inbox.
We'll never share your email address and you can opt out at any time, we promise.
---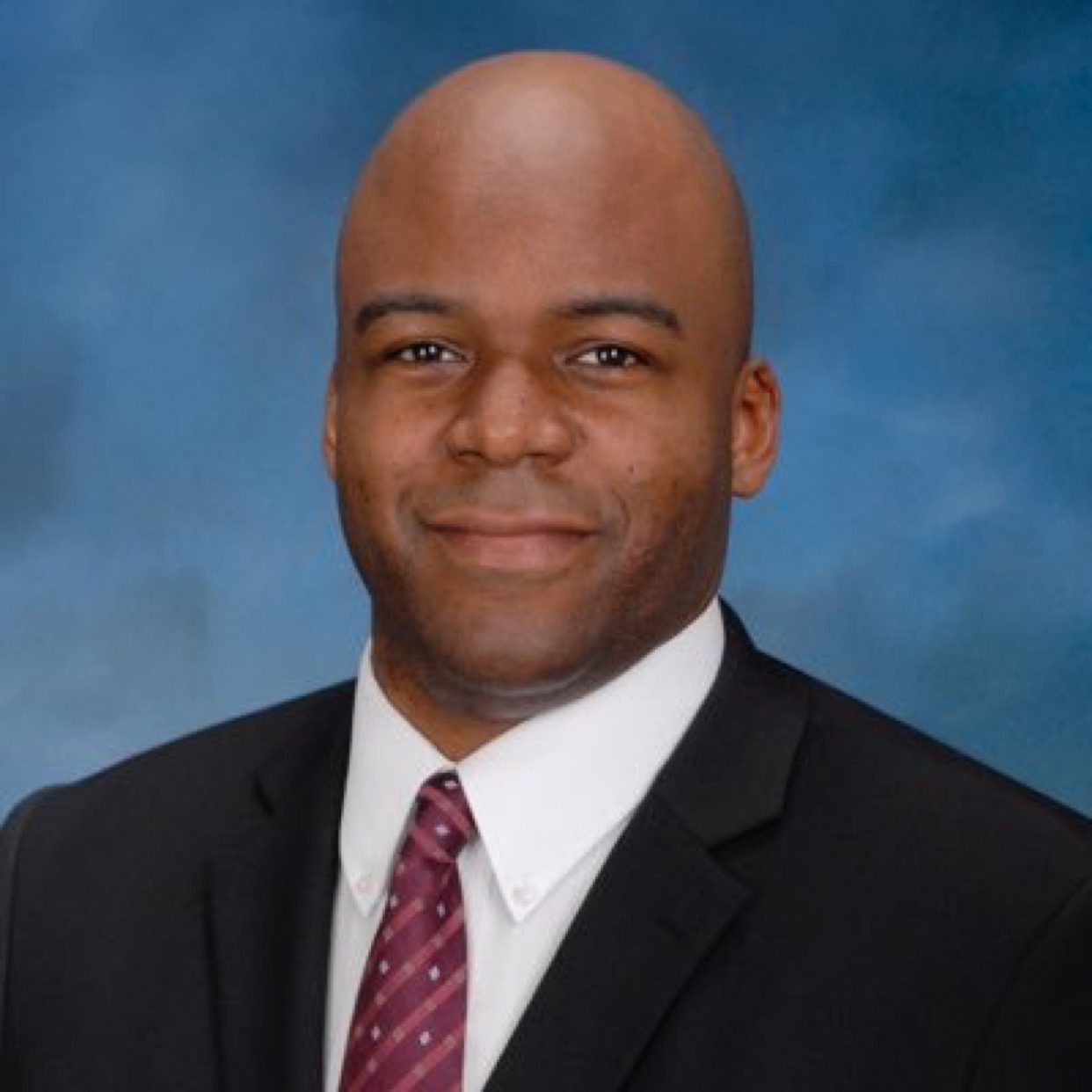 Eric Moody is a member of the FSWA (Fantasy Sports Writers Association). His writing has been featured at FantasyPros, Gridiron Experts, RotoViz, and TwoQBs. He has a lifelong passion for the game and even played at the collegiate level as an offensive lineman. Eric also participated in Dan Hatman's Scouting Academy in order to learn the process of player evaluation at an NFL level. When Eric provides advice, he uses game film, analytics, and statistics to help you understand his perspective. He enjoys time with his family, Netflix, music, bass guitar, and coffee