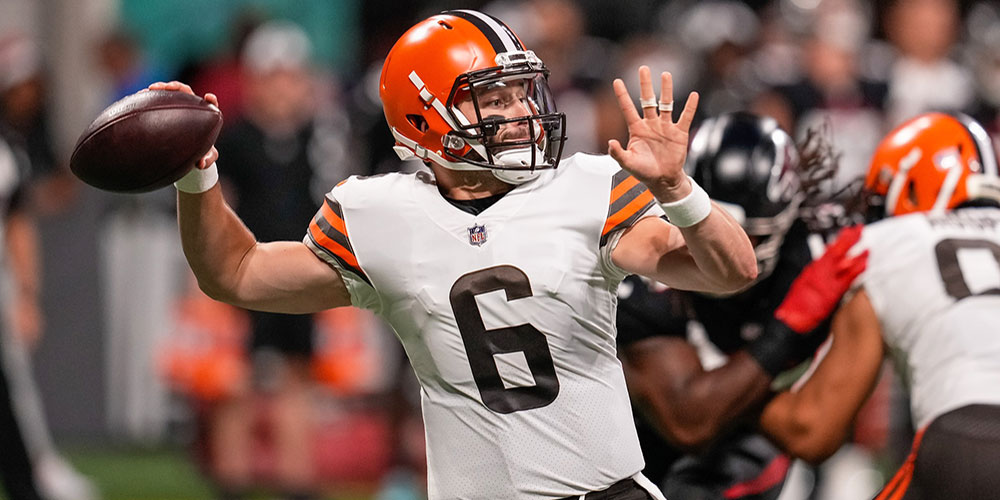 5 Best Value QB/WR Stacks for DFS in Week 2
---
Best DFS Value Stacks
If you read this story last week, it's extremely likely that you came away with a quarterback-wide receiver combination that helped you win some money in daily fantasy — whether it was at DraftKings, FanDuel or Yahoo.
In this piece, with the help of our premium DFS Stacking Page, we're going to be diving into the main DFS slates to give you the QB-WR stacks that represent the best value on a weekly basis. When possible, we'll look to avoid throwing out the obvious names. However, just because a player is well known, that doesn't mean they're the easy pick when filling out your roster — and it also doesn't mean that their price tag accurately matches their potential production.
Here are the five combinations you'll want to consider heading into Week 2 of the NFL regular season:
Tampa Bay Buccaneers vs. Atlanta Falcons
We'll start off by getting the chalkiest pick out of the way, as it's never hard to suggest Brady as a fantasy option. The guy threw for 379 yards with four touchdowns and two interceptions against the Dallas Cowboys in the season opener, and the two picks weren't his fault at all. One of them was a dropped pass that went right into the defender's hands, and the other came on a Hail Mary at the end of the first half. All in all, Brady was as sharp as ever.
The reason this combination is one that is worth mentioning is that Brady's price is actually pretty low considering this juicy matchup with the Falcons. Nobody in the league allowed more passing yards than the Falcons a year ago, and the team didn't do much to address its weaknesses in the offseason. Atlanta lost by 26 points at home against the Philadelphia Eagles in Week 1, and Jalen Hurts threw for 264 yards with three touchdowns in that game. Considering Hurts' ability to throw the ball is his biggest question mark, that's not a great sign for the Falcons secondary. With that said, the fact that Brady is so affordable on DraftKings and FanDuel is rather surprising. He's an absolute steal on both of those sites, as he has the potential to score more than anybody at his position.
As for Evans, there's a good chance he isn't rostered by a lot of people after a dud in Week 1. Evans caught just three passes for 24 yards in the opener, while Antonio Brown, Rob Gronkowski and Chris Godwin all ate. People will likely wait for Evans to break out before paying up for him, but being the person that's early on his first stellar performance is what can make your weekend a little more profitable. For that reason, it's worth firing him up and hoping for the best. There's nobody in this Falcons secondary that has the size to bump him off his spots. Atlanta also struggled in the red zone last week, and that's where a guy like Evans thrives.
The only place you might not want to play these two is at Yahoo, where our tool isn't crazy about the value.
Cleveland Browns vs. Houston Texans
The Jacksonville Jaguars only converted on three of their 11 third-down situations against the Texans last week, and a lot of that ultimately came down to rookie Trevor Lawrence being a little rattled in the first start of his career — which also happened to come on the road. That won't be the case for Mayfield, who has looked as poised as can be since Kevin Stefanski took over as the head coach of the Browns. Having said that, the 26-year-old has to be looking at a matchup like this with wide eyes, as he is more than capable of turning in a huge performance against a defense this bad.
Mayfield played a really good game against the Kansas City Chiefs last week, going 21 for 28 for 321 yards. He didn't throw for any touchdowns in the loss, but that wasn't on him. The Browns leaned heavily on the run, with Nick Chubb and Kareem Hunt combining to rush for three touchdowns — and Jarvis Landry contributing one himself. Mayfield moved the ball down the field with ease, and his lone interception came on a play at the end of the game in which he was trying to make something happen while being taken to the ground. Things had already been spiraling for Cleveland at that point, but Mayfield won't be under much pressure in this one. The Browns are huge favorites in this game and it's hard to envision them not winning by at least a touchdown, with a second 300-yard performance very much in play for Mayfield.
With Odell Beckham Jr. out again, Schwartz is a good guy to target out of this Cleveland receiving group. The rookie is absurdly cheap and was surprisingly a big part of the game plan in Week 1. Not only did Schwartz reel in three of his four targets for 69 yards, but he also added a 17-yard run. That type of usage is definitely going to be there for him moving forward, and the 21-year-old's game-breaking speed makes him a real threat to score on any given week.
This is our 13th-ranked stack in DraftKings for Week 2, but it also offers some similar value at both FanDuel and Yahoo. Just make sure you monitor Schwartz's status for this one. He's questionable with a banged-up knee right now, but it does seem like he's going to give it a go.
Chicago Bears vs. Cincinnati Bengals
Last week, Kirk Cousins went 36 for 49 with 351 yards and two touchdowns against this Bengals defense, and he didn't have a single turnover in what was ultimately a losing effort. Now, Dalton gets a chance to face that same secondary, and he's as cheap as it gets at the quarterback position in daily fantasy.
While everybody in the world wants to see what Justin Fields can do as the Chicago starter, it appears that Matt Nagy plans on seeing a lousy start out of Dalton before he makes the switch. And unfortunately for football fans everywhere, it's unlikely that the Red Rifle will turn in a stinker this week.
Last week, Dalton was actually somewhat decent in a loss to the Los Angeles Rams, as he went 27 for 38 with 206 yards and an interception that wasn't his fault. In fact, Dalton marched the Bears inside the Rams 10-yard line and then a batted ball was intercepted in the Los Angeles end zone. If that drive ended up turning into a score, we might be talking about his performance a lot differently.
The veteran didn't end up throwing for a score on the night, but he got the ball out quickly and took good care of the football. That's all he was asked to do against a stout Rams defense, but Nagy will surely open things up a bit against the Bengals. This is a home game that Chicago should win, and Cincinnati's defense is much more susceptible to breakdowns in coverage than Los Angeles' is. That's why you'll want Mooney to be the one you pair with Dalton.
While Allen Robinson is the receiver that Dalton will look to the most this season, it's Mooney that has the breakaway speed and big-play ability. You won't find many wideouts in the league that can turn on the jets like Mooney can, and it wouldn't be surprising if he gets by the defense for a bomb.
In playing a duo as cheap as this one, you'll have the opportunity to load up the rest of your lineup with stars. And if these two end up outscoring their projections — which they should — then it'll be a nice day for the people bold enough to take them. Last year, Dalton threw for 185 yards with two touchdowns and no picks against the Bengals on December 13. That type of performance looks like his floor for this week.
Indianapolis Colts vs. Los Angeles Rams
The Colts weren't able to beat the Seattle Seahawks in their season opener, but Wentz did throw for 251 yards with two touchdowns and no interceptions in that game. He did lose a fumble in the loss, but it was definitely a positive that he didn't throw any picks in his first start. Wentz should continue to get better as he gets more and more comfortable with his new supporting cast.
This week, the 28-year-old gets another chance to win one at home. This time, Wentz will be facing a team that should be better defensively than Seattle, but that doesn't mean he can't go out and have a productive start from a fantasy standpoint. As previously mentioned, the Rams allowed Dalton to do some good things last Sunday, and Wentz has a heck of a lot more talent than Dalton does. He also has a better offensive line. That will come into play in a meeting with Aaron Donald, as Indianapolis should be able to keep its quarterback upright in this game.
It's also important to remember that Frank Reich is the coach of the Colts. There might not be a better schemer in the game right now, so look for him to have a really solid plan in place to help Wentz be successful against Sean McVay's team. That might mean some quick throws like we saw out of the Bears last week, but they'll also let Wentz show off his cannon on some designer deep shots. Even without T.Y. Hilton on the field, the Colts have some speed on the outside.
Speaking of Hilton being out, Pittman is now the top receiver that the Colts have. Last week, the second-year wideout only had three catches for 29 yards, but he should be a bit better this time around. Pittman is the type of big-bodied wideout that Wentz loved targeting in Philadelphia, and he can use a guy with Pittman's possession skills in a matchup with this type of defense.
This duo is currently our top-ranked stack on Yahoo and it's also playable on DraftKings. The only place you might want to avoid it is on FanDuel.
Denver Broncos vs. Jacksonville Jaguars
Bridgewater was absolutely dealing against the New York Giants last week, throwing for 264 yards with two touchdowns and no interceptions. He also added another 19 rushing yards, which isn't something to take lightly. Sure, Bridgewater lost his top receiver when Jerry Jeudy went down with a significant ankle injury, but the Broncos offense should be able to get it going against this Jaguars defense.
In Week 1, the Jaguars defense gave up 449 total yards against a Texans team that many pegged as the worst in football entering the season. Considering that might still be the case, it's a true sign of weakness for Urban Meyer's group — which just might be distracted by the USC head coaching job becoming available earlier in the week. Tyrod Taylor, who has been a journeyman throughout his career, threw for 291 yards with two touchdowns against Jacksonville last week. If he can shred this secondary, there's no doubt that Bridgewater is capable of doing the same.
Sutton will probably be rostered at a pretty high rate this week, but that doesn't mean you have to stay away from him. With Jeudy out, there's going to be a lot of targets heading in Sutton's direction, and he has been productive as the top receiver for this Broncos team before. The 25-year-old is excellent at high-pointing the football and will be given opportunities to go up and make plays against smaller corners in this game.
Check out our Tools!
STAY IN TOUCH
Sign up for FantasyData's newsletter and get awesome content sent to your inbox.
We'll never share your email address and you can opt out at any time, we promise.
---

Zach has been working in the fantasy/betting space for nearly 10 years. He currently serves as the Editor-in-Chief of the Centennial Fantasy Football Guide, and he also does betting previews for Covers. He recently moved from New York to Arizona and has fallen in love with the Phoenix Suns. He's also a die-hard fan of the University of Wisconsin (Go Badgers!), New York Yankees, New York Rangers and New York Jets. Zach enjoys talking sports on Twitter (especially about the NBA Draft) and believes there's nothing better than shooting around in an empty gym. He's also a big fan of television and movies, and he's probably seen every comedy ever made.