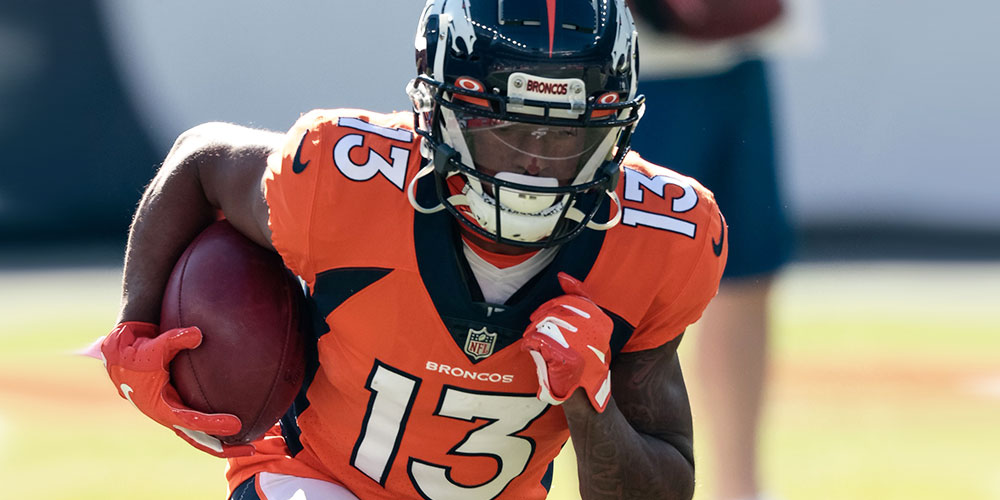 Fantasy Football Sleepers: Week 2
---
Fantasy Football Sleepers
Let's quickly review my sleeper picks from last week and reflect on them. Each week, I'll analyze the advanced stats to see what happened last week. Then I'll look ahead for several sleepers. A reminder that we're typically looking at players with a roster rate below 40% in Yahoo leagues. That provides us with a roster cutoff so, we're not identifying sleepers as highly rostered and started players.
Quick Links
Week 1 Sleepers Review
Unfortunately, Ryan Fitzpatrick suffered an injury that will keep him out for 6-8 weeks. Meanwhile, Tyrod Taylor smashed with a top-12 performance of 23.6 (No. 11) fantasy points. J.D. McKissic busted and probably a fade even though McKissic's role could tick up with Taylor Heinicke instead of Fitzpatrick at quarterback since Fitzpatrick didn't typically target his backs.
Ty'Son Williams fared well with 7.8 (No. 2) yards per touch and 6.1 (No. 3) True Yards Per Carry on the backs of a 121.5 (No. 6) Run Blocking Efficiency. However, Williams will need to maintain the efficiency with a 52% (No. 27) Opportunity Share, given Latavius Murray will eat into the opportunities evidenced by his 40% (No. 38) Opportunity Share.
Unfortunately, Elijah Moore and Parris Campbell stunk from a fantasy perspective. However, Moore's peripherals provide reasons for optimism given the 85.5% (No. 29) Snap Share and 93 (No. 26) Air Yards. Zach Wilson targeted Moore deep with a 23.3 (No. 5) Average Target Distance though Corey Davis should earn a high target share. If we add in the wrinkle of Jamison Crowder returning, that only adds competition though we should keep holding onto Moore.
The Week 1 tight ends fare reasonably well, but Gerald Everett relied on the touchdown to boost the production. The Seahawks led against the Colts, so the team didn't need to throw much, evidenced by their 6.41 (No. 10) Game Script. Zach Ertz still ate into the tight end usage, but he suffered a hamstring injury and needed to leave the game, which skewed the Week 1 numbers.
Week 2 Fantasy Football Sleepers
Quarterback
Jared Goff at GB
In most leagues, it seems unlikely that fantasy managers would start Jared Goff. However, we expect a negative game script for the Lions against the Packers, meaning extra pass attempts. Although the Lions won't run 84 plays against the 49ers in Week 2, we should monitor the Pace of Play. In Week 1, the Lions recorded a brutal -13.09 (No. 36) Game Script with the 3rd highest Pace of Play at 2.43 plays per minute. Only the Cowboys and Jaguars recorded a higher Pace of Play in Week 1. If the Pace of Play plus the passing opportunities remains high, that's sneaky positive for the Lions' passing offense.

Unfortunately, the 5.9 (No. 26) Adjusted Yards Per Attempt wasn't great for Jared Goff, and typically we find the top fantasy scoring quarterbacks ranking highly in AY/A. The table below shows some of the quarterbacks that ranked at the bottom in this metric.

However, Goff aired it out with the 8th most Air Yards at 344 in Week 1. Last week, Jameis Winston barely needed to pass the ball with a +12.21 (No. 5) Game Script. Winston finished with an uber-efficient game evidenced by 12.4 (No. 4) Adjusted Yards Per Attempt and a ridiculous 25% touchdown rate. Expect the Packers to come out firing in Week 2, which means Goff and the Lions will chase points. Thus, Goff's passing volume should remain high, and the Pace of Play is the wild card.
Running Back
Ty Johnson vs. NE
Honestly, it's hard to find running-back sleepers since fantasy managers rostered most of the pass-catching backs or the high-end backups. However, one back that could earn opportunities in the passing game involves Ty Johnson. With the Jets trailing given the -7.38 (No. 30) Game Script, their running backs barely received opportunities. Tevin Coleman led the Jets with a 40.9% (No. 37) Opportunity Share, but Ty Johnson led the backs with a 48.4% (No. 29) Snap Share compared to Coleman's 30.6% (No. 46) Snap Share.
It also doesn't help that the Jets' Pace of Play ranked lowly with 1.91 (No. 29) plays per minute. Ty Johnson earned three targets or an 8.3% (No. 31) target share and should continue to garner passing opportunities. We need more data to digest in Week 2. If the Jets continue to split work between three running backs, that will add to the frustration, and we may suggest avoiding this backfield.
Here's one more nugget to like Ty Johnson heading into Week 2. Last week, Johnson ranked 8th with a 25% Evasion Rate tied with Dalvin Cook and James Conner. Granted, Johnson received much fewer opportunities, but it's still notable. Unfortunately, that's possibly a mirage because Johnson boasted a 9.5% Evasion Rate in 2019 and 7.4% in 2020. Overall, Johnson ranks as a deep sleeper at running back, assuming the pass-catching role.
Carlos Hyde vs. DEN
It feels gross suggesting Carlos Hyde as a running back sleeper in Week 2. However, Hyde earned more rushing opportunities last week than some expected. Both James Robinson and Hyde recorded an even split with a 50% (No. 29) Opportunity Share. However, Robinson garnered higher receiving opportunities with 12.4 (No. 23) Weighted Opportunities and a 12.2% (No. 20) target share. Meanwhile, Hyde's 8.5 (No. 39) Weighted Opportunities indicate the Jaguars used Robinson more in the passing game.
In Week 1, the Broncos shut down the Giants as they slowly eased in Saquon Barkley. Daniel Jones led the Giants with 27 rushing yards with 60 total as a team. The Broncos have a solid defense that could stifle and pressure the Jaguars' offense. However, if they use both Carlos Hyde and James Robinson, Hyde still looks viable in deeper leagues. Unfortunately, Hyde is likely a touchdown-dependent running back sleeper. Like mentioned earlier, it's hard to find many sleepers running backs to consider flexing in Week 2.
Wide Receiver
K.J. Hamler at JAC
One of my favorite deep sleepers involved K.J. Hamler. Why draft Mecole Hardman when you can take Hamler much later with similar profiles given their elite speed and profiles. Hamler matched Hardman with a 99th-percentile 40-yard dash of 4.32, yet Hamler bested him with a 19.2 (86th-percentile) Breakout Age. With Jerry Jeudy out for a while, Tim Patrick played well in Week 1 and should slide into the Broncos WR2 role.
However, Patrick lacks the upside that K.J. Hamler possesses. In Week 1, Hamler earned a low 11.4% (No. 70) target share yet a solid 29.1% (No. 34) Air Yards Share. The Broncos will continue to use Hamler as a downfield option, evidenced by a 21.3 (No. 6) Average Target Distance last week. Hamler won't garner the same level of opportunities as Brandin Cooks against the Jaguars last week. However, Hamler can provide efficient production against the juicy Week 2 matchup. Overall, Hamler ranks as my top sleeper and amongst receivers this week.
Did anyone start K.J. Hamler? 😂 pic.twitter.com/ejbWaSjTaG

— PFF Fantasy Football (@PFF_Fantasy) December 13, 2020
Rondale Moore vs. MIN
Pretty soon, Rondale Moore will elevate to deep-league must-start status, if not already. At some point, the Cardinals will realize that A.J. Green isn't someone to keep rolling out there. Moore came into the league with a sexy profile given the 18.2 (99th-percentile) Breakout Age and 31.4% (93rd-percentile) College Target Share. When we add in the elite 4.37 (96th-percentile) 40-yard dash plus a 135.3 (96th-percentile Burst Score and a 10.78 (94th-percentile) Agility Score, it only boosted Moore up the draft boards.
Sure, Rondale Moore's 15.6% (No. 56) target share and 14.1% (No. 70) Air Yards Share don't look great. However, the efficiency numbers give us reasons for optimism. Moore averaged 13.6 (No. 14) Yards Per Target and 5.23 (No. 3) Yards Per Route Run. Sooner than later, Moore will earn more snaps, although he proved efficient given the 34.8% (No. 101) Snap Share. Trust the talent of Rondale Moore to keep surfacing as the season goes on, which could flash even in Week 2.
Tight End
Jared Cook vs. DAL
As one of the more efficient tight ends in New Orleans and previous stops, Jared Cook performed well in Week 1. It's only one week, but Cook popped on film and via the advanced metrics. Cook garnered a 17.4% (No. 12) target share and 21.3% (No. 7) Air Yards Share in Week 1. Although he wasn't efficient with a -21.8 (No. 77) Production Premium and 7.0 (No. 18) Yards Per Target, it's worth monitoring Cook's opportunities in this Chargers offense. Rob Gronkowski feasted on the Cowboys' defense last week, hauling in all eight targets for 90 receiving yards and two receiving touchdowns. Outside of the touchdowns, look for Cook to climb from sleeper to must-start status here soon.
STAY IN TOUCH
Sign up for FantasyData's newsletter and get awesome content sent to your inbox.
We'll never share your email address and you can opt out at any time, we promise.
---

Corbin is passionate about fantasy baseball and football. He loves diving into and learning about advanced metrics. Corbin is a Mariners and Seahawks fan living in the Pacific Northwest. Corbin's other hobbies are lifting weights, cooking, and listening to fantasy sports podcasts.