Buy Low Sell High: Week 2
---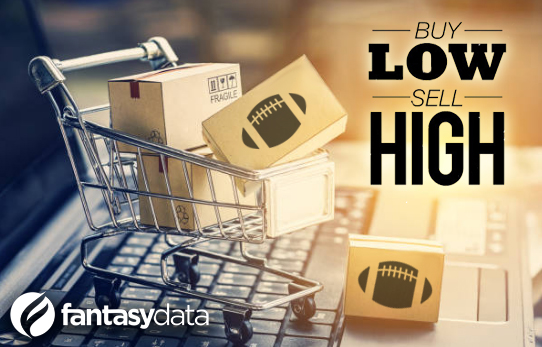 After a rather odd Week 1 in the NFL, it's time to take a look at some players that are worth buying and selling in your fantasy football leagues. Whether you were disappointed by a stud wide receiver like Davante Adams or were lucky enough to start someone like Sammy Watkins, there are always good opportunities to buy or sell players. Buying low and selling high is a basic strategy in fantasy football that you can use to improve your team as the season moves along. Here are some names to consider buying or selling as we head into Week 2 of the fantasy football season. Keep in mind, it's only Week 2, so it will be tough to buy and sell some of these names, but it's worth a shot to find out just how much the owners are worrying.
Buy Low
WR Davante Adams
After a disappointing Week 1 from a handful of big-name wide receivers, it's tough to just name one that's worth buying. In fact, there are plenty of stud wider receivers that are worth making an offer on. The first one is Davante Adams, who was drafted as the number one wide receiver in a lot of fantasy drafts, or the number two behind DeAndre Hopkins. After going on the road against a great defense in Chicago, the whole Packers offense looked rough. After putting up just four receptions on eight targets for 36 yards and no touchdowns, Adams is worth throwing an offer out there for just to see if the owner is panicking. Don't expect to buy him very easily, but after all, there are plenty of owners that freak out after one week, and Adams is worth making an offer for.
WR Mike Evans
Another stud wide receiver worth throwing an offer out for is Mike Evans. After an abysmal day from the entire Tampa Bay offense, Evans finished with just two receptions on five targets for 28 yards and no touchdowns. There is a good chance that the Evans owner is worried after seeing Jameis Winston and that offense struggle in Week 1, but it's also worth noting that Evans was dealing with an illness in the first week and was not 100%. Another reason that the Evans owner might be slightly panicking, is the breakout of Chris Godwin, which kicked off right away this week as he scored the Buccaneers only offensive touchdown of the day.
RB Nick Chubb
Heading into the 2019 season, one of the most popular running backs to have a breakout season is the second year running back in Cleveland, Nick Chubb. As one of the most exciting offenses and one that is expected to be very productive for fantasy purposes, Cleveland was a major letdown this week against the Titans. While Chubb may not have finished the day with outstanding fantasy numbers, he did end up with 17 carries for 75 yards, with a solid 4.4 YPC. He also caught three of four passes for 10 yards. The fantasy points really don't do justice for how productive Chubb was. While he didn't end up finding the end zone, the numbers looked good and Chubb getting involved in the passing game some was promising. He may be a tough one to buy right now, but it's worth throwing an offer out there. On that same note, Baker Mayfield and most of the Cleveland offense is worth throwing some offers out for just to see if owners are panicking.
RB Aaron Jones
Another running back that many fantasy owners have been banking on breaking out this year, is Aaron Jones of the Green Bay Packers. Playing the Bears on the road might just be the worst possible matchup that you could ask for, so the main point here is that things can't get any worse. One main point that is worth noting is that Jones saw the field on third downs, which is something that has always been an issue in the past as the Packers for whatever reason just keep on putting Jamaal Williams on the field. Jones is clearly the more explosive back when he has the ball in his hands, and he's worth targetting in trades before Week 2 kicks off.
RB Devin Singletary
The last name on this is someone who isn't exactly cheap, but will likely only get more expensive as the season goes on. Devin Singletary looks the part when he gets the ball, and he's an explosive runner who makes things happen. He racked up 17.5 YPC after taking four carries for 75 yards, he put up two runs of 20 or more yards, and two yards of 10 or more. He also caught five receptions for 28 yards, which was promising to see. There is a good chance that his value only goes up from here.
Sell High
RB Derrick Henry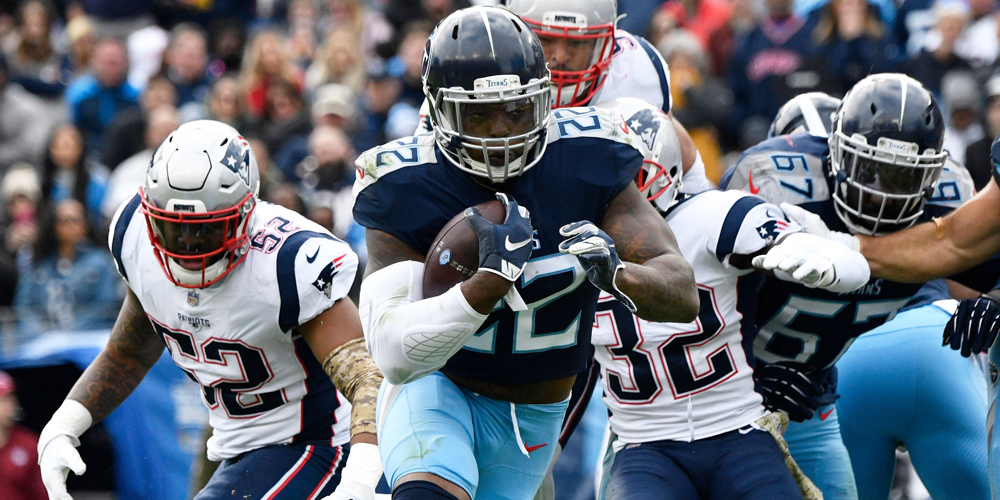 The first name on this list is someone that is an extremely polarizing and started the 2019 season on a very solid note. Derrick Henry is entering his fourth season in the NFL and started this season off with 159 yards from scrimmage and two touchdowns. While this was very promising when you look at total fantasy points, it's worth noting that he had just one reception on the day, which he took 75 yards to the house. Dion Lewis saw 26 offensive snaps, while Henry saw the bulk of the workload with 36 snaps. There is definitely some reason to be excited about Henry, but his upside from the passing game will be limited as long as Lewis is on that team. Henry may end up being a touchdown or bust type of guy, and I'm selling him if I own him.
RB Malcolm Brown
Heading into the 2019 season, one of the biggest question marks was surrounding the Rams star running back, Todd Gurley. After seeing how the Rams utilized him in Week 1, it is clear that Los Angeles still plans on feeding Gurley the ball. While he did not get the touchdowns, the usage was the most promising aspect of his game, and I expect that he'll continue to see a solid workload. Malcolm Brown looked good when he was used in the red zone, and he converted two touchdowns after totaling 53 yards on the ground. While the Rams will likely continue to use Brown, the usage with Gurley was promising and I'd be selling high on Brown now to an owner that is overreacting from Week 1.
WR Marquise Brown
After an exciting and unpredictable Week 1, one name that definitely stands out is Marquise "Hollywood" Brown might be one of the popular players off the waiver wire. If you are one of the lucky few who happened to draft him, this is the perfect opportunity to sell high. Whether you believe in him or not, there is a good chance that his value has peaked after his ridiculous game against Miami. While he did finish with 147 yards on four catches with two touchdowns, it is worth noting that he ended up playing on just 12 offensive snaps. If you happen to own him on one of your rosters, it's a great time to take some offers for him or make some offers and see just how much you might get for him.
WR DeSean Jackson
Seeing DeSean Jackson back in Philadelphia was one of the highlights of Week 1 as he posted 154 yards on eight receptions with two touchdowns. Don't expect the targets and multiple touchdowns to continue. Seeing 10 targets was nice, but it isn't something that you can count on week in and week out. If there's an owner in your league who thinks that Jackson is going to be the man in Philadelphia, try and sell him and see what you might be able to get out of him. Jackson could end up being a nice Flex option here and there, but he won't be someone you'll feel comfortable starting every week.
WR John Ross
The last name on this list is the third-year wide receiver in Cincinnati, John Ross. While AJ Green is out, many owners (Including myself) have been banking on Tyler Boyd to be the WR1 in that offense. Ross had a huge day against Seattle as he put up 158 yards on eight receptions and two touchdowns. He also saw 12 targets which was surprising, but I don't expect Ross to see consistent volume like that to keep him fantasy-relevant. While he did have a nice game, it's worth noting that Boyd quietly had a nice day, minus the touchdowns. Boyd saw 11 targets and caught eight of them for 60 yards. Boyd showed us last year just how good he can be with Green sidelined, and I expect him to be the WR1 on that offense this year. Ross will have big games this year, but I'm selling him after this great Week 1 performance and looking for someone who I expect to be more consistent.
---
Dominate Your Fantasy League!
Become a member at FantasyData and get access to the industry's best fantasy football subscription available!
STAY IN TOUCH
Sign up for FantasyData's newsletter and get awesome content sent to your inbox.
We'll never share your email address and you can opt out at any time, we promise.
---