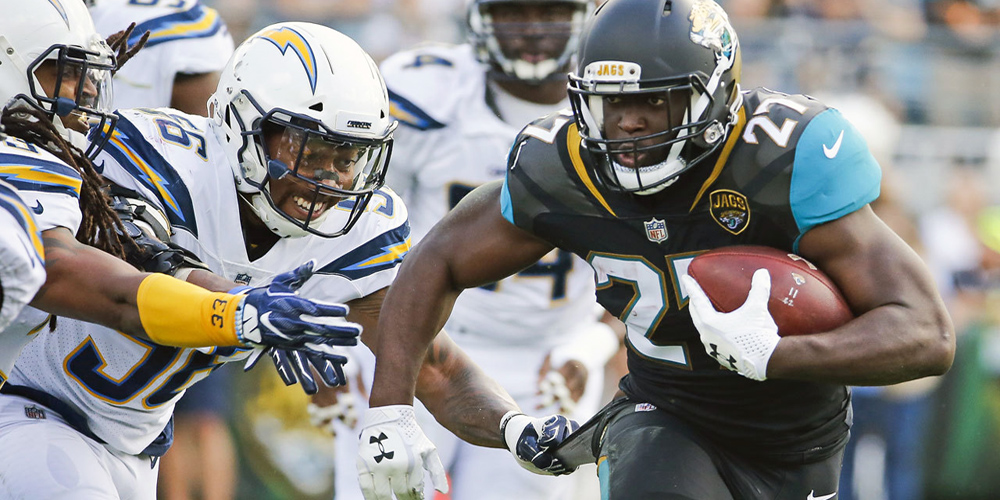 DraftKings NFL Picks: Chalk, Pivots, and Punts for Week 14
---
DraftKings NFL Picks Week 14
Initial Thoughts
Before starting any research, besides glancing at the MATCH-UP CHART HERE, I am excited about the return of full main slates and the end of bye weeks. This allows much more wiggle room for roster construction which leads to more dynamic rosters throughout all contests. The more variables in play can give us an edge or lead us down a rabbit hole of over-thinking and missing on the plays that were obvious all along. I did the latter last week with less games to choose from so here's to getting it right this week.
Review
"Chalk, Pivots, and Punts" is an NFL DFS series focused around main slate GPPs. We go game by game looking at potential chalk plays to pivot away from, and perhaps discover some diamond in the rough type punt plays to add a differentiation piece to our builds. Each game will have a brief write up and will include the team's projected point total and Vegas Implied point spread as of the time of writing. Here is a link to a Google Sheet that presents data I collect throughout the season breaking down points allowed to specific positions, and displays home/road splits, as well as the combined data. Below are links to the final data from last year I posted to Twitter.
Link to Tweet: Chart showing where defenses allowed fantasy points by position last year
Link to Tweet: Chart showing how defenses allowed TDs by Passing & Rushing last year
When discussing pivot plays, it's not always as simple as saying "Player A" is chalk so pivot to "Player B". Pivots can be a pivot from one player to another player at the same position, a pivot from one position to another, or just a way to pivot to the other side of a game that everyone else might be heavy to one side of. Simply put, the pivots will not always be direct pivots, more like other ideas to consider in the macro-view of the slate.
Process
The process I use for this article and for selecting my player pool starts with the data I collect and chart. The match-up chart and individual match-ups are the first layers of the onion. Once we have that peeled we should have a sizable player pool to work with. The next step is to reconcile that data. I use the Google sheet above to reconcile the match-up chart by looking at what the opposing teams did to allow those numbers. Who did they face to get there? What were the game environments like? I try to watch as many games as I can, but I can't watch them all, so I do a lot of reading from my Beat Writer list to keep up with injuries, changes to the way the team is playing, and look for other general trends to consider. Using Fantasy Data's resources helps get a snapshot on a team and player level for the offenses to see what type of numbers they are putting up. Then, it's about identifying what the top plays are for the slate, and how heavily they will be owned. This is where we need to have some pivots in our back pocket, and if necessary some punts if we want to jam in a bunch of elite plays and have to look for a value guy to put up 10 or more points. Game theory, contest selection, and roster construction are the final challenges as we try to put it all together. This where we win or lose.
Below is my Chalk, Pivots, and Punts Chart based on my opinion of the slate and what the field will likely be on this week.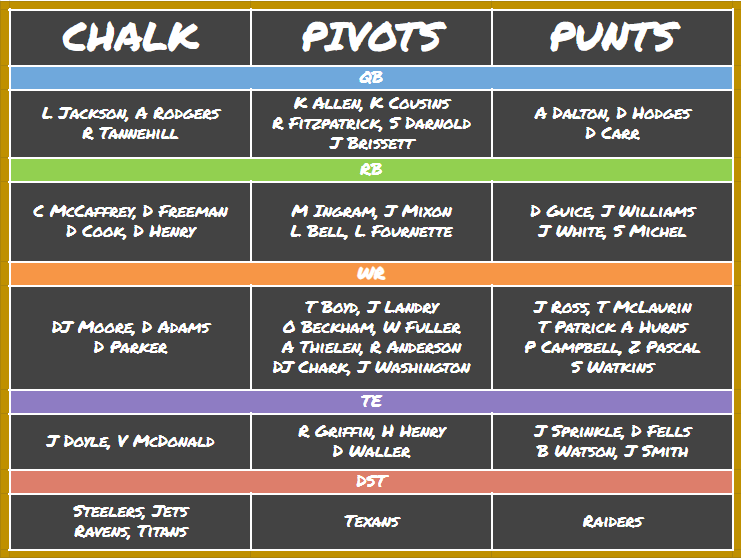 Let's get after it...
Carolina Panthers (22.0/+3) at Atlanta Falcons (25.0/-3) [47]
A couple of days after losing to the first team to fire their head coach this season the Carolina Panthers have come to the same conclusion with theirs and have parted ways with Ron Rivera leaving secondary coach Perry Fewell as the interim chief. Norv Turner and son Scott will continue to oversee the offense so no major changes should be expected there. The team and coaching staff loved Rivera and will play this game in his honor. They face a familiar foe and will have to pick this win up on the road. Lucky for them, they still have Christian McCaffrey ($10,300 - buy the dip! haha) to lean on and should be expected to do so in this game. CMC scored 33.1 DK points against this Falcons defense just a few weeks ago without scoring a TD. His 11 receptions and 121 receiving yards are what accumulated most those stats. With D.J. Moore ($7000) and Curtis Samuel ($4900) out wide and Greg Olsen ($3800) working underneath (if he plays), the Falcons will have a hard time just focusing on CMC. Based on the sides of the field the two receivers predominately line up, Moore gets the benefit of seeing the most of Isaiah Oliver who lines up on the corresponding side of the field Moore often does which is a match-up he should be able to smash. However, Moore only able to muster 17.5 in the home game against the Falcons a few weeks ago and did so on a whopping 15 targets. He'll need similar targets and better efficiency to smash his new $7k pricing. Samuel's price is interesting if we think this will finally be his week. Kyle Allen ($5700) remains on the lower end of QB pricing (18th) and is a reasonable bet to put up 20 or so points. Rivera was a defensive guy and the new head coach is as well. This gives us good reason to roster the Panthers DST ($2800) against the Falcons offense that is averaging only 24 points per game since their bye week and shows a 3-week decline in points scored - keeping in mind the most they did score was against Carolina (29).
This is one of only 4 games over 47 points for the main slate so it will draw some interest, and the Falcons appear to be heading into this game with all their skill guys healthy enough to play. Julio Jones ($7500) should see the Bradberry Blanket which (who) limited him to under 15 points in their last meeting. Julio struggled against Carolina last year as well making him more of a hope for the best because he's good type of play here. The rest of the receivers are viable options, but the main target for DFS players in this game will be using Devonta Freeman ($5400) against the Panthers league-worst run defense. The Panthers are allowing the highest DVOA against the run, the second-highest fantasy points to the position (behind KC), the 4th most rushing yards, and the most rushing TDs to their opponents (and allow more than 1 rushing TD in one out of 2 games - 50%). Matt Ryan ($6600) is often a great play because of the volume of throws he produces creating more opportunity for fantasy points. However, we should note he only threw the ball 31 times last meeting (and only 28 and 26 times in the two meetings last year), which was his second-lowest total of the year. He's worth consideration as a leverage play against the Freeman chalk in case the Falcons have to take to the air to keep up, or Koetter gets bored of calling run plays, as he often does. In this case, you might want to compound the leverage with Julio.
Baltimore Ravens (24.75/-6) at Buffalo Bills (18.75/+6) [43.5]
Similar to last week, the Ravens find themselves in a match-up with one of the best defenses in the league, but this time it's on the road and in what could be a high-winds atmosphere. Lamar Jackson ($7400) seems to be as match-up proof as CMC and I can't talk anyone off of him here. His pricing is the only restriction. The Buffalo defense (and the possible high winds) will force this game to the ground where Jackson has a huge role and we can feel pretty good about having some Mark Ingram ($5900) exposure at that price. Mark Andrews ($5600) is priced way up but doesn't have a friendly match-up here as Buffalo has only allowed 7.7 DK points per week to the TE position. Andrews was in a similar spot against the Niners last week and did well enough, so perhaps he is just as match-up proof as Lamar. I don't know that I can comfortably digest that price to take on that risk for him when there are other solid options at lower price points.
Going back to my approach to the "Ravens vs a good defense" game last week, I'm going to be a spectator and not an investor in this game. Lamar is the only guy I would consider playing but I don't wan to tie up that much of my salary at QB. The 49ers were able to use their well designed and well blocked run concepts to hang around until the end of the game against the Ravens last week. I do not see the same talent and scheme on Buffalo at this point in their journey. Devin Singletary ($5700) is priced reasonably for the 15-18 points he might be able to contribute but I'll look elsewhere on the slate for action.
Cincinnati Bengals (17.25/+7) at Cleveland Browns (24.25/-7) [41.5]
The most significant thing that stands out on the match-up chart for the Bengals offensive opportunity is that the Browns allow multiple passing TDs in 2 out of 3 games and Andy Dalton ($5200) is still priced like DraftKings forgot about him. He'll get an element of speed back on the field with him this week with the return of John Ross ($4400). The pair of these guys make a cheap little stack or you can move up to Tyler Boyd ($5900). The Browns corners have been playing well lately so this isn't a great spot for them, but they do offer some salary relief with upside. Joe Mixon ($5800) falls into that upside category as well and his 18+ opportunities each week over his last five is a solid volume buy for sub-$6k. Also encouraging for Mixon are the 3 to 4 targets he's seen in 4 out of his last 5 games (he had 0 targets against the Steelers).
Nick Chubb ($8000) has 3 games over 20 DK points this year and is at his second-highest price of the year, presumably due to the match-up, as every back who has faced Cincy this year has been jacked-up in price. Chubb has Kareem Hunt ($6600) to share the backfield with now and Hunt is more talented than Hilliard and Johnson, who were Chubb's running-mates early in the year. Hunt takes a major bite into Chubb's opportunity, mainly through the passing game, but he's also siphoning off 6-8 carries per game now as well. In a piece written by Scott Barrett for PFF last year, Barrett provides analysis and an assertion that a target is worth 2.74 times more than a carry. If we average the targets Hunt has seen this year (25/4 = 6.25) and multiply that by 2.47 to get 15.4 then we can conclude that for every 15 carries for Chubb, Hunt holds roughly the same value for every 6 targets. Meanwhile, Hunt has seen 6.25 carries per game in addition to those targets. Chubb would have to carry the ball 21 times to meet Hunt's intrinsic value. Now, Chubb does get a few targets himself (2.5 per game since Hunt's return, but only 2.0 over the last 3 weeks), which if we use the more recent 2 per game average gives him another 5 carries of value. This is the long way of saying that perhaps both of these guys should be priced closer together and that maybe neither is worth $8000. Where Chubb does have an edge on Hunt, and likely where his price point is supported, is in the number of carries he sees inside the 5-yard line (at least 1 per game average). Chubb has been struggling to convert them lately though, which could open the door for Kitchens to see if Hunt could be more successful there. The Browns passing game is not in a great spot. Cincy's pass defense has limited receivers all year, only allowing 3 of them to score more than 20 DK points, with 2 of them just barely clearing that milestone. Two of the receivers that have done the damage to the Bengals have been slot guys making Jarvis Landry ($6500) the most interesting piece from the passing offense. When checking over at Sharp Football Stats the Bengals come up #1 in explosive pass percentage to WRs and there is grumbling about the lack of production from Odell Beckham ($6300) again on Browns Twitter. Perhaps this is a spot to grease the wheel for OBJ here?
Washington Redskins (14.5/+12.5) at Green Bay Packers (27.0/-12.5) [41.5]
The Redskins have two worthy considerations here. Terry McLaurin ($5100) is at his lowest price since he was dirt-cheap for the first two weeks of the season. He faces a Packers defense that allows the 3rd most explosive pass plays to the WR position and will likely be in a scenario where his team is playing catch-up all game. The other player worth considering for Washington is Derrius Guice ($4900). Guice has not seen heavy volume with just 10 carries and 2.5 targets over his last two games, but he did show off some wheels against that Panthers defense that allows that type of behavior from running backs. The Packers have been no strangers to getting run over themselves (see the match-up chart) and Guice's performance last week could give the coaching staff reason to attempt to give him more opportunities per game going forward to evaluate their roster for next season.
Last week I wrote about how I was looking forward to using an angry Aaron Rodgers ($6800) against the Santa Claus of pass defenses, the Giants. I even tweeted out some Allen Lazard ($4200) stuff on Twitter with the intent on rostering him as well. Somehow, I lost focus and did not use either in the three builds I came up with last week. Now I sit looking at this match-up thinking I need to give Rodgers, Lazard, and especially Davante Adams ($8000) (who I did roster last week) a go here, but I am also wondering if I'm chasing if I do. The Redskins are an average defense that plays well at times but they will be on the road. There's nothing on the match-up chart that highlights the Packers passing game as a must-play. Rather, it points to the RBs more than the passing attack. Aaron Jones ($6700) had a few week stretch since Adams returned where his target volume had dropped significantly. Last week it ticked back up to 6 targets. He's still sharing snaps with Jamaal Williams ($4800) at a near 50/50 split, as well as ceding opportunities to Williams each week. The Pack should win this game fairly handily. Vegas thinks so, as the Pack have the highest winning spread of the week, but it seems like the fantasy scoring could be a spread out and there aren't any plays we need to force here. Or, at least, we don't have to force any stacks and could be fine using this group as one-offs in our builds. Green Bay has a nice pass rush that could give Haskins trouble making the Packers DST ($4000) a great, yet expensive option.
Denver Broncos (17.0/+9) at Houston Texans (26.0/-9) [43]
The Broncos have an implied total of 17 in this one which leaves room for 2 TDs if that total hits. Last week Courtland Sutton ($6400) caught two touchdowns of his own. The Texans pass defense has demonstrated vulnerability during the season and has shown to be tougher against the weaker passing games it's faced more recently. It quite conceivable the Texans can scheme Sutton out of this one and make the rest of Denver's ugly offense try to beat them. Since JJ Watt went to IR, the Texans run defense has been a lot softer and has allowed at least 23.5 DK points to a RB in three straight weeks. Phillip Lindsay ($5300) could be a nice, under the radar play if the field hasn't noticed this trend. Lindsay is still splitting snaps with Royce Freeman ($4000) but is hogging the majority of the opportunity. Tim Patrick ($3300) returned to the line-up 3 games ago and saw 8 targets. He's been minimum priced each of the last two week and has sank at least one of my lines each week by doing nothing since that 8 target game. I must not have been the only one rostering him because DK gave him a $300 price increase for no productive reason. Perhaps DK thinks the Texans pass defense is one that garners a price bump to their opponents? I may or may not be like Charlie Brown trying to kick the football by rostering Patrick again this week.
The Texans offense is in pretty good health for this time of year but will face a challenging defense that might be without Von Miller. If he's out, then it's going to be an all-around boost to the Texans offense. Deshaun Watson ($6500) would be a very interesting play without Miller chasing him around. He'd have more time to find receivers downfield and perhaps enough time for DeAndre Hopkins ($7400 - lowest price all year) to shake Chris Harris off in shadow coverage. Or, it would give him enough time to look off the safety then hit a big play down the sideline to Will Fuller ($5500). The Broncos filter passing games toward the RB and TE positions and if Akins misses, then it would be a good opportunity for Darren Fells ($3200) to play a value TE role in our builds. It could also open up a huge value play with Duke Johnson ($3900) playing a pass-catching role out of the backfield the way he did last week. With the low implied total for both the game and the Broncos, the Texans DST ($3300) wouldn't be a bad play for the price.
Detroit Lions (15.5/+12.5) at Minnesota Vikings (28.0/-12.5) [43.5]
The Lions are going to have to throw to stay in this game with Minnesota playing the run so well. Marvin Jones ($5400) will be acknowledged for his 4 TD game against the Vikings already this year and box score chasers will love the price. However, with no real ground threat plus the loss of Hockenson as an inside threat should allow Minnesota to do what they always do when Marvin comes to their house - shut him down. Kenny Golladay ($6700) had a monster game on only 5 targets last week and even though Minnesota does allow a good amount of explosive plays to WRs, he'll need more volume to replicate his turkey day. The fate of both men hangs in the balance of David Blough ($5200) who now has taped out there for defensive coordinators to study. This may be a better spot to avoid than play unless you're a 150/MME gamer.
Seems like it's been a while since we've had Minnesota on the main slate. Dalvin Cook ($9500) has a hugely exploitable match-up this week if the Vikes get him the 6 to 7 targets he normally sees. The Lions allow the third most DK points to running backs and even though the percentage of targets they allow is low for the RB position their explosive pass rate to RBs (15%) leads the NFL by a mile (next closest is OAK at 10%). There's an opportunity for Cook to take some screen passes to the house here. With just Cook and CMC at the top of the pricing sheet, we could see some split exposure but both should carry relatively high ownership numbers. This would be a good opportunity to leverage one or the other by rostering either Cook or CMC and then the passing game of the one you don't roster. Kirk Cousins ($6700) is the 4th most expensive QB on the slate which seems to be mainly match-up driven. Cousins' best game of his year came against these Lions in Detroit 6 games ago. In the meantime, he hasn't done so much since to warrant the increased pricing. Kirk was immediately priced the same as he is now ($6700) after the Lions game, so it seems DK is trying not to get caught allowing us to roster 30 points for $5800 again. Adam Thielen ($6700) was injured in that game in Detroit and hasn't been able to practice all week, leaving his status to be a game-time decision as of writing. If he plays, it should be assumed he is pretty much 100% and should see his normal volume. He's priced $900 below his buddy Stefon Diggs ($7600) making him an interesting buy-low option where the field may want to wait a week before adding him to their builds. Diggs makes for a fine play himself, especially if he's the alpha and Thielen sits out one more week. The Vikings DST ($3800) comes in on the higher range of pricing but would be a solid option if you find the salary to fit them in.
San Francisco 49ers (21.0/+2.5) at New Orleans Saints (23.5/-2.5) [44.5]
There will be no easy paths to big fantasy points on either side of this game. The 49ers offense is limited in skill position talent but is schemed to get yards in big chunks through both the run and passing game. Match-up-wise the single-player the 49ers will want to avoid on the outside will be Marshon Lattimore. If the 49ers put Emmanuel Sanders ($5800) in the slot then he could mostly avoid Lattimore and be a decent play for the price. Sanders had the most slot snaps for SF last week with 50% of his total snaps coming from inside. This scenario would likely put Deebo Samuel ($5600) into Lattimore's coverage. George Kittle ($5900) faces a tough match-up on paper but there have been solid games put up by TEs against this defense. His ankle should be another week healthier and if he isn't asked to stay in and block too much, then he could have the best game of any 49er. The running game may be able to put up good numbers but it's unlikely we'll see a change in the RBBC philosophy here, even after they let Raheem Mostert ($4600) run with the hot hand last week. Tevin Coleman ($5100) has a receiving TD in 4 of his last 5 games against the Saints and makes for an interesting punt option at RB combining his speed element and an indoor/turf environment. The same can be said for Matt Breida ($4600) and his speed, and his desire to re-assert himself in the rotation.
For the Saints, I can only make a case for Michael Thomas ($8300) and Alvin Kamara ($7000) as viable options, but they may struggle to reach a score at their pricing that would warrant the cost. It just seems to me we will see a playoff-caliber chess-match here where neither team shows too much and both teams will prefer to keep the game close until the end, then go for the win. Of course, with these two offenses, a shootout is not out of the question. However, I believe Vegas has this one right and it ends in a 23-20 type of finish one way or the other.
Miami Dolphins (20.5/+5) at New York Jets (25.5/-5) [46]
The last time these two teams met Miami still had Preston Williams. Now it's all about Devante Parker ($6900) in this offense. Parker has 4 straight games of at least 10 targets. The Jets young corners have stepped up since that game (in which only Maulet got any snaps - 3 total). Now Maulet and Austin are starting on the outsides where Parker has lined up 85% of the time over the last 4 weeks. From weeks 10 through 13 the duo of Maulet and Austin have allowed 23 total receptions for just 172 yards (Avg: 5.8 rec for 43 yards). Not saying Parker can't find a way to avoid these guys, but if he's covered by both of them for most of the game it could be a tough go for him. He was in a tough coverage match-up last week and went bananas so we should still consider him in our player pools. Ryan Fitzpatrick ($6000) deserves consideration as well. Also, considering all the attention Parker should get we could look at Allen Hurns ($4100) for a cheap pivot in this game. Hurns runs routes outside as well as the slot. When the Giants receivers caught 2 TDs each against this Jets defense they did it by getting those guys matched up against middle linebacker Brandon Copeland and slot corner Brian Poole.
The last time Le'Veon Bell ($7200) scored 20 DK points it was against Miami. The Dolphins allow explosive plays all across the board but we haven't seen many explosions out of Bell this year. The most explosive player on the Jets is Robby Anderson ($5100) who let us down in this spot last time so we should approach him with some sense of caution, but at his price, he's worth some exposure in our builds. Jamison Crowder ($5300) did most of the damage in the prior meeting catching 8 of 9 targets for 83 yards and a TD. He's a solid play with a likely safe floor. Sam Darnold ($6000) actually got a $100 price decrease for this match-up after a road match-up against a more limiting Bengals pass defense in week 13. He's a solid option for this slate, depending on how many builds you get around to. This isn't a great week for QB and it seems the ones I'm drawn to at this point all start right around Darnold's pricing or are cheaper. Gase has to be looking for revenge here after the loss in Miami, but then again, that dude skipped Thanksgiving to come up with a game-plan that ignored running the ball on the Bengals lack of run defense and the Jets got smashed by the winless Bengals. Maybe what he was really doing on Thanksgiving was planning for this revenge game? I should also mention I like Ryan Griffin ($4100) in this spot when looking at that 23% target rate to TEs against Miami and they allow the third-highest explosive passes to TEs in the league.
Indianapolis Colts (22.25/+3) at Tampa Bay Buccaneers (25.25/-3) [47.5]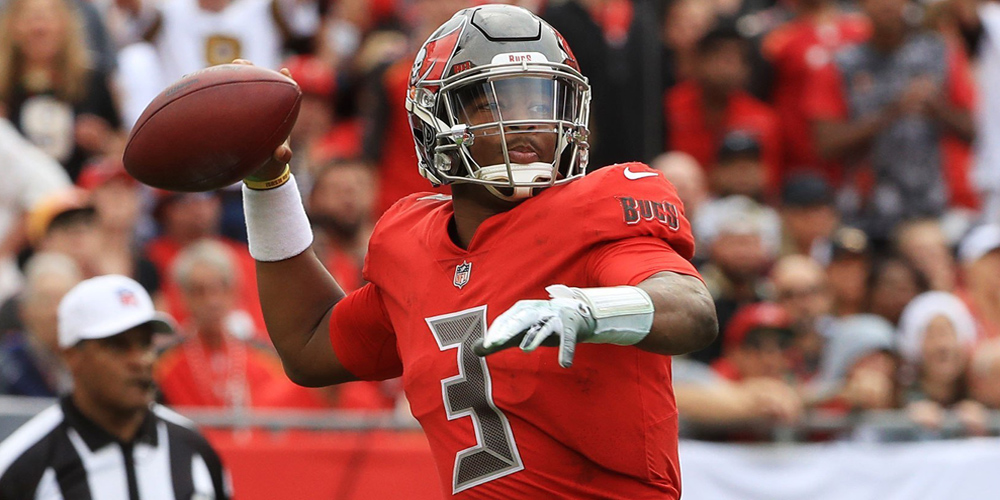 Jacoby Brissett ($6100) sets the cap for what I'm willing to spend at QB this week, as all the "good" QB match-ups belong to all the guys starting from Brissett then down on the QB pricing sheet. Darnold, FitzMagic, Tanny, and Kyle Allen all appeal to me more than using the salary to go up to get a star QB in a bad match-up. Tampa's pass defense has been better than they were to start the season, which culminated in Nick Foles getting benched against them last week. Still, this is a team that has holes in the secondary that Reich should be able to expose, even without Hilton. The first guy I'd look to stack with Brissett will be Jack Doyle ($4600) who should see another double-digit target total this week. Tampa has allowed good-to-decent TEs to score plenty of points on them this year. They have also struggled with slot receivers, which is where Colts second-round pick Parris Campbell ($3200) could step right in and provide a spark to this offense. Campbell has lined up in the slot on 46% percent of his snaps. Zack Pascal ($5500) will also run routes out of the slot (37% last week) and will challenge the outside guys as well. With running games rendered obsolete against the Bucs defense, these are the guys to make decisions about in a game with the second-highest total on the slate.
Jameis Winston ($6400) is always a threat to go over 300 yards and hit that 3-point bonus for DK. The Colts are a tougher defense to move the ball through the air on but they have shown some vulnerability lately (vs Chark and the Texans top 2 WRs). When Winston goes for 300 yards at least one of his receivers will have a big game as well. Colts free safety Malik Hooker could miss or play injured in this game giving Chris Godwin ($7300) the openings to be the stud this week. However, Mike Evans ($7200) has at least 4 inches and 33 pounds on any of the Colts top 3 corners giving him a route to get there through deep strike plays where Winston still leads in our metrics for deep passing attempts and is second in distance per attempt.
Los Angeles Chargers (23.0/-3) at Jacksonville Jaguars (20.0/+3) [43]
The Jags defense has struggled mightily against the run this season giving Melvin Gordon ($6400) a match-up to exploit here. MG3 has carried the ball at least 20 times in 3 of the last 4 games and still sees a few targets per game to add value in that regard. Austin Ekeler ($6300) shares the backfield with MG3 but LA will have both guys on the field for a handful of snaps per game keeping them both viable as options this week. Ekeler spends about 10% of his snaps lined up in the slot which can be an advantageous match-up for him as Jacksonville is only allowing 18% of their targets to go toward the RB position. Sharp Football Stats shows that the Jags allow the 2nd highest rate of explosive plays to TEs but going through my Defensive FPA chart doesn't show a whole lot of points going to the TE except for the week Ryan Griffin jumped them. Hunter Henry ($5100) is one of the more talented TEs in the game so if there is anyone to put them to the test it will be him. The Jags did just allow O.J. Howard to go for 11 points last week after being benched two weeks before and doing next to nothing the rest of the year.
Leonard Fournette ($7800) should see plenty of action again this week. The Chargers defense cripples opposing passing attacks. Well, they did until they ran into Sutton last week. Fournette has seen double-digit targets in back to back weeks now and continues to pick up those valuable PPR points on DraftKings' format. His carries go by the wayside in games they are chasing but that shouldn't be the case here. This should be a fairly close game allowing both sides to utilize all of their weapons somewhat equally. The Jags are turning back to Gardner Minshew ($5400) at QB this week, which is a tough game for any QB. NFL Matchup on ESPN tweeted out an interesting Minshew stat showing he is second in QB rating on deep passes this season. Sutton caught one of his two TDs last week on a deep pass, the other was a 15-yard TD pass. Perhaps Minshew can work some of this type of magic with DJ Chark ($6200) who has faded over the last two weeks after having a monster game in Foles' return versus a depleted Colts secondary in week 11. Chark has 3 really good games this year (each over 27 points) and two have come with Foles. However, Chark's best game of the season came in a tough "on paper" match-up against the Panthers with Minshew under center in week 5. Chark caught a deep TD in that game and another that was just under 15 yards in the air. There are some similarities here we can consider and possibly get back on the Chark train at his reduced price (he was also $6200 when he went bonkers vs IND). With Chark being the big-play threat in this offense I'm not going to chase the small potatoes the other two guys usually provide but they are not bad plays, although Conley has been a bit of a let down with his 7+ target volume he was seeing before last week's dip.
Pittsburgh Steelers (22.75/-2.5) at Arizona Cardinals (20.25/+2.5) [43]
Devlin Hodges ($5900) and Vance McDonald ($4300) find themselves as the latest visitors to the "Flow Chart". Looking back this season, we have two instances of a rookie or first-year starting QB taking on the Cardinals. First, we saw Kyle Allen and Greg Olsen combine for over 50 points in the desert, then we saw Danny Dimes and Evan Engram crap the bed in their game against the Cards in Jersey. With the Steelers top playmakers (Conner and JuJu) looking like they will be out, it increases the chances that Hodges and Vance can do some damage. I trust Hodges to get it done more than I trust Vance but it's hard to fade the flow chart. James Washington ($6000) will be where I go in builds where I can't talk myself into Vance.
The Steelers defense seems to have gotten better as the year has progressed and I can't find a single player from Arizona I feel I have to play. Kyler Murray ($5800) is as close as I can come up with but I do not plan to roster him. The Cards would be interesting plays for MME stuff I suppose.
Kansas City Chiefs (23.0/+3) at New England Patriots (26.0/-3) [49]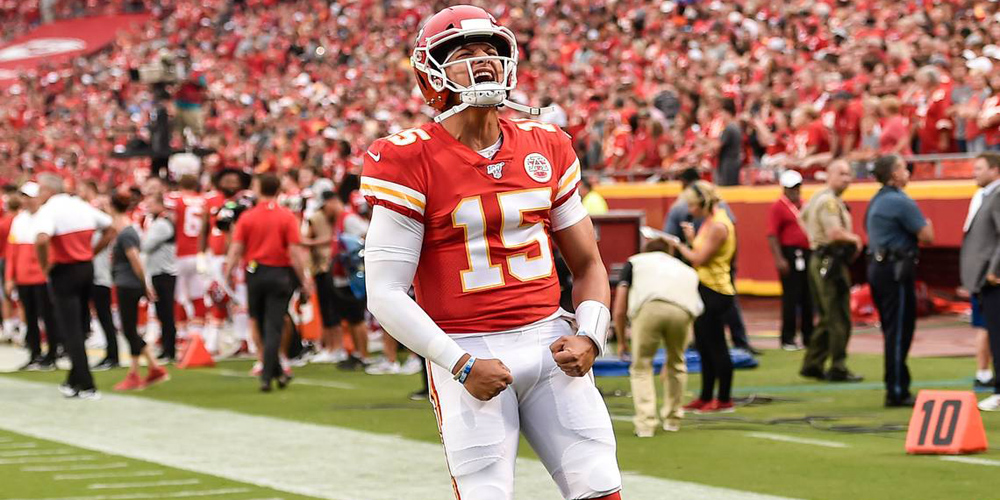 Each of the past few weeks we have been gifted a terrific real-world football game with very little appeal for fantasy purposes. This week we get two with this game and the SF/NO game. There will be a couple of solid plays that come out of either game but it's not likely we see a slate-breaker emerge from either game. The most interesting plays in this one will be whether Belichick and McDaniel attack the Chiefs weakness through the ground game like they did against Houston last week and if they do will it be James White ($5500) again or will Sony Michel ($5600) get some volume. Will they take advantage of the Chief's weakness covering TEs by allowing Ben Watson ($3000) to be a factor? Julian Edelman ($7100) gets the best match-up of the receivers and according to this tweet he has some pretty great volume stats supporting him. For the Chiefs Tyreek Hill ($8100) has the speed to beat Stephon Gilmore, which he did beating the entire pats defense for 3 TDs in last year's regular-season meeting before getting squashed in the playoff game. If Hill gets shut down like that again the likely beneficiary would be Sammy Watkins ($4600) who got the extra looks in the playoff game that Hill was shut down. Travis Kelce ($6200) was just average in both games. This will be an interesting battle of wits between Bill and Andy and neither will want to show too much in case they meet again in the second season, but neither can afford to let their playoff position slip by being too vanilla. I'll have to keep digging into this one all weekend and will tweet out stuff as I find it. Right now I'm not sure anyone player stands out at price point other than the two New England RBs.
Tennessee Titans (25.0/-3) at Oakland Raiders (22.0/+3) [47]
With Tennessee in playoff contention, they will have to battle this one out against a Raiders team that has hardly been home all year to maintain their position ahead of said Raiders. The Titans could be down a couple of starting corners which could add to a back and forth game-flow keeping the Titans foot on the gas. Ryan Tannehill ($5800) seems likely to land in the chalkier side of ownership this week against the Raiders defense that surrenders 2.25 passing TDs per game and a multi-TD passing game in 2 out of every 3 games. There is a lot of positive sentiment on Twitter for Tanny this week which could influence the field into making the choice to start him. The field will also look at Derrick Henry's ($8200) box scores and want to roster him. If wanting to capture all TD possibilities for the Titans in this game, then a Tanny/Henry stack should do the trick. The Raiders are second in explosive pass plays allowed to WRs so we'll need to keep an eye on AJ Brown's ($5300) calf as the weekend progresses, as he was just added to the injury report on Thursday
Friday update: Brown practiced today. He's the best bet for a pass-stacking partner for Tanny. The Raiders struggle against TEs as well, opening up a cheap TE play with Jonnu Smith ($3100) who would be an even better play if Brown were to miss.
The Raiders have some injuries to overcome in this one. Of primary concern is the shoulder of Josh Jacobs ($6500) and road-grading right tackle Trent Brown (various injuries). If Jacobs were to miss this game, then it leads us to what will likely be a split backfield consisting of Deandre Washington ($3000) and Jalen Richard ($3900). Washington should take most of the role Jacobs was handling and Richard may pick up a few extra snaps, especially if the Raiders fall behind and need to throw more than they'd like. With the injuries to Titans starting corners Adoree' Jackson and LeShaun Sims (who has been starting in place of Malcolm Butler), it would leave the Titans with burn victim Logan Ryan, young journeyman Tye Smith, and older journeyman Trumaine Brock - who was just added to the roster this week. With the pricing on David Carr ($5000) being so low, a 20 point game is a 4x conversion of his salary making him a legit option this week. He can be paired with Darren Waller ($5800) (Titans allow plenty of solid scores to TEs) or Jalen Richard as Carr favors throwing to these two positions.
Final Thoughts
It seems like there will be a narrow distribution of chalk this week with the extra games to choose from. I would figure CMC and Cook will carry the highest ownership, with Doyle and McDonald right behind them. Everywhere else has so many options and good spots to pivot or punt. There are several QBs I'd like to have exposure to this week which may be frustrating to narrow down to a tight core, at least it seems that way for now. I'm looking forward to taking my research and comparing it to what some of the trusted members of the community are putting out there to reconcile it all. This will be reflected through my initial Player Pool that starts from this article and gets refined all the way up until games start as I gather more info. Best of luck this week and thanks for reading!
STAY IN TOUCH
Sign up for FantasyData's newsletter and get awesome content sent to your inbox.
We'll never share your email address and you can opt out at any time, we promise.
---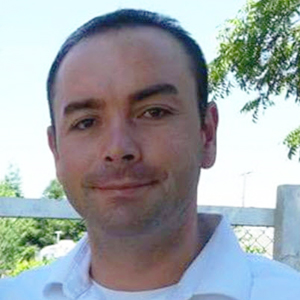 NorCal native Jesse Jones has been obsessed with fantasy football since first joining and winning a league in 1994. Always looking for an edge, Jess has been ahead of the curve mining data and building customized spreadsheet rankings and projections while others showed up to draft day asking for a pencil and a cheat sheet. As an avid NFL DFS, Bestball, and re-draft player Jess will work hard to find the edge you need to win in all formats. Jess is married to the wonderful wife of their 2 kids and enjoys traveling, playing tabletop games, and trying new craft brews. Let's make some money at this hobby of ours!