Should The Atlanta Falcons Move On From Matt Ryan?
---
Matt Ryan Forecast 2022
Atlanta Falcons quarterback Matt Ryan is set to enter the 2022 NFL season with the largest cap hit for any player in history. Ryan's cap number is set at $48,662,500 in 2022 according to Spotrac and $43,612,500 for 2023 to boot.
The former third overall pick in the 2008 NFL Draft has been the face of the franchise in Atlanta for fourteen seasons but hit a wall during the 2021 season statistically. With the unexpected mid-season loss of star wide receiver Calvin Ridley and learning a new offensive system under Head Coach Arthur Smith, Ryan failed to throw for 4000 yards for the first time since 2010.
If the starting quarterback for the Falcons in 2022 was determined solely on performance, Ryan may not be the best man for the job. As we know in a salary cap world, it's never that simple. Once you get into the fine print of his contract, performance won't be the determining factor in Ryan being a Falcon next season.
We shouldn't be asking should the Atlanta Falcons move on from Matt Ryan, it's how can the Atlanta Falcons move on from Matt Ryan? The answer is simple, ask Roger Goodell to veto the final two years of his contract, kidding.
In all seriousness, given the flexibility around the salary cap, there are always options for teams to get out of bad contracts. The catch is, what are the terms of getting out of those bad contracts? To understand those terms and what that means for Atlanta, we have to look at the full picture.
State of the Franchise
The Falcons are a team caught in the middle. Currently, their depth chart has no legitimate threat to win or compete for a Super Bowl in 2022. With a 7-10 record last season and the 8th overall pick in the 2022 NFL Draft, they are still rebuilding.
The roster took a blow recently with the news that Ridley will be suspended for the 2022 season for gambling on NFL regular-season games while he was away from the team on a personal leave dealing with his mental health. Despite these circumstances, the Falcons find themselves in an NFC South division that is undergoing significant turnover.
Tom Brady has retired as quarterback of the Tampa Bay Buccaneers, Sean Payton has left the New Orleans Saints for what looks like the broadcast booth and the Carolina Panthers have been treading water at the quarterback position since Cam Newton's last full season in 2017. It's not far-fetched to say the Falcons, with another impactful draft class and a few key free-agent signings can challenge for the division title in 2022.
With an expected Kyle Pitts year two breakout, another season under Coach Smith, and first with new Defensive Coordinator Dean Pees, why wouldn't the Falcons opt for the status quo at the most important position?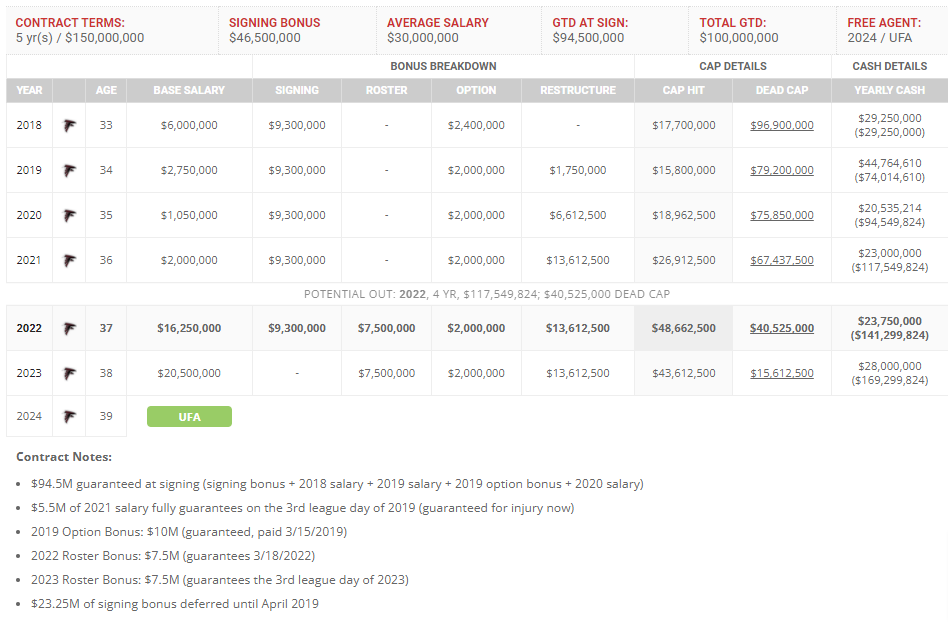 The Contract
The main reason why the Falcons may not have a choice but to run it back with Ryan is his contract. Ryan has two years left on his five-year $150 million contract which carries a significant dead cap penalty of $40,525,000 if the Falcons try to move off of it in 2022.
Things get a bit easier however in 2023. If they decide to keep Ryan this upcoming season and cut him loose in 2023, the dead cap number shrinks to a manageable $15,612,500. Also, the Falcons can make the balance sheet look better by adding voidable years to his contract. As we've seen with many recent large contracts around the NFL, voidable years are added to contracts to spread high cap numbers. While that seems like an easy solution here, the Falcons surely realize that it that would only extend the issue, not erase it.
Given the dead cap number, is it worth Atlanta moving on from Ryan at the cost of $40,525,000 being unusable to improve their team? Especially in a year where they need to replace Ridley's production and have a conceivable path to winning the division.
Other Options
The quarterback carousel may not be spinning as quickly as originally predicted. The elite QB market has already come and gone with Aaron Rodgers locking up a new four-year deal to stay in Green Bay and Russell Wilson heading to the Denver Broncos in a blockbuster. Former starters turned backups like Marcus Mariota and Mitchel Trubisky looking for a second chance will likely be brought to a team to push an incumbent veteran starter and let's not forget about the always intriguing NFL Draft which lacks sure-fire quarterback talent.
Once you sort through all the available options, it's going to be very difficult for the Falcons to find an immediate upgrade at quarterback. The Falcons must ask themselves; would we be better off cutting or trading our long-time quarterback to only have a Mitchell Trubisky-like player to replace him? Coupled with a $40 million dead cap hit on our books? There just isn't much logic in that thinking.
Given the needs of their roster, especially since the Ridley news, their resources might be better suited investing in other positions. The 2022 NFL Draft is well stocked with impact wide receivers and defensive line help, both positions of need for Atlanta. It would be wise to not create another hole at the most important position and focus on how to build up the roster around it.
Better Luck Next Year?
After taking into consideration the current state of the franchise, the NFC South division outlook, and other potential options on the market, bringing back Matt Ryan for 2022 seems like a no-brainer.
He's a competent veteran quarterback with a fourteen-year legacy in the city of Atlanta. Given that and his dead cap number for the upcoming season, the Falcons aren't going to be able to find a better alternate scenario than bringing him back.
Forget the cap number, plug a few holes via free agency and the draft, and who knows, the NFC South is wide open. Kick the issue to 2023 and see if Smith and his team can surprise some people.
---
Win Your Fantasy League!
Become a member at FantasyData and get access to the industry's best fantasy football subscription available!
---
---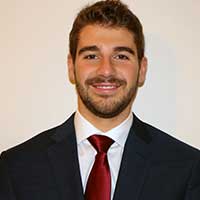 Nick has been an avid fantasy player for over a decade and is a life-long sports enthusiast. He brings two years of writing and some podcasting experience in both hockey and football to FantasyData. Based in Canada, Nick works in Human Resources when he's not stressing out about the Montreal Canadiens or Indianapolis Colts. He enjoys working out, most genres of music, and watching too much television and movies. You can follow him on Twitter @NickAGuido for content and conversation.