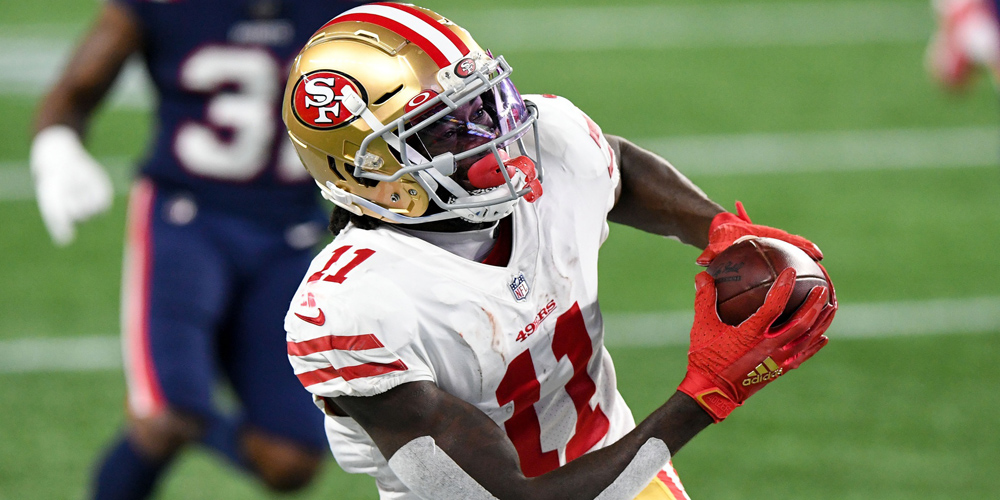 NFL Week 11 Winners, Losers, and Takeaways
---
Fantasy Football Sunday Recap
In a wild Week 11, the Titans lost to the Texans, and Taylor Heinicke, Trevor Siemian, and Colt McCoy all finished as top-10 quarterbacks heading into Monday night. Running backs dominated Week 11 in Joe Mixon, D'Andre Swift, and some back named Jonathan Taylor. The Kansas City and Dallas game totaled 28 points - one of the lower totals of the week. Unfortunately, we had several injuries to fantasy-relevant players. We'll briefly discuss those and dive into the Week 11 winners, losers, and takeaways.
Injuries to Monitor:
Cordarrelle Patterson (ankle) missed Thursday night's game. Some folks, including myself, thought Wayne Gallman could benefit since he landed as a

Week 11 sleeper

. The Patriots defense played tough, and the Falcons gave a team lead of nine carries to Qadree Ollison.

A.J. Brown (hand) left Sunday's game early with a hand injury. Brown returned to the game, but the Texans flipped the game script as they shut out the Titans in the first half plus. Then, Brown left with a chest injury in the third quarter.

The Titans ruled out Marcus Johnson (hamstring) early in the first half. He pulled up on the sideline and grabbed his hamstring.

Michael Carter (ankle) left Sunday's game with an ankle injury. Carter finished with 63 rushing yards and caught one reception for two yards. Rookie Elijah Moore stole the show, but hopefully, Carter returns soon since he trended up recently. Ty Johnson and Tevin Coleman should earn more opportunities if Carter misses with a preference towards Johnson.

Jamal Agnew (hip) suffered a hip injury. The Jaguars barely produced, and with Agnew's injury, he's droppable in most formats.

CeeDee Lamb (concussion) hit the turf hard and attempted to break up a pick. Then the Cowboys ruled Lamb out with a concussion. Unfortunate for Lamb since we hoped he would see an increase in opportunities with Amari Cooper sidelined.

Jarvis Landry (knee) suffered a knee injury in Week 11. The Browns receiver group looks ugly if Landry misses with Donovon Peoples-Jones out on Sunday. Landry took a wildcat snap and rushed for a 16-yard score. It's hard to trust any Browns pass-catchers.

Justin Fields (ribs) left Sunday's game, and Andy Dalton brought the Bears close to an upset win at home. After zero points with Fields at quarterback, Dalton tossed two passing touchdowns and 201 passing yards on 23 attempts. Unfortunate news for Fields since he improved and produced well over the past two games.
From @ChiTribKane: Justin Fields' status for Thursday's game in Detroit is suddenly up in the air due to a ribs injury.

Andy Dalton is readying himself to start on a short week.https://t.co/qu3eNpVOJX

— Dan Wiederer (@danwiederer) November 22, 2021
Ezekiel Elliott (knee) aggravated a knee injury, which isn't a good thing to hear. We know Tony Pollard possesses the massive upside and should be valued in the Alexander Mattison zone when Dalvin Cook misses, so RB1 status. Hopefully, Elliott doesn't miss much time.

Najee Harris left towards the end of the Sunday Night Football Game. Thankfully, they cleared him to return as he got shaken up on a play. If Harris misses time, it's a mix of Kalen Ballage plus Benny Snell Jr. Ballage flashed last year with the Chargers, and Snell performed as a top-24 back in 2019 and 2020 when given the volume.
#NajeeHarris with a leave me alone shove to the @steelers head team physician as he heads off the field. pic.twitter.com/cryXGhMRPD

— David J. Chao - ProFootballDoc (@ProFootballDoc) November 22, 2021
Week 11 Highlights
Jonathan Taylor RB1 SZN Continued
What a game for Jonathan Taylor. The RB1 season continued. Taylor rushed for 185 yards and four touchdowns on 32 carries as the Colts blew out the Bills 41-15. Taylor caught his fifth touchdown with three receptions and 19 receiving yards. He entered Week 11 as the No. 2 running back with 21.1 fantasy points per game. Taylor also boasted over 110 or more total yards in nine out of 11 games total.
Last eight games for #Colts RB Jonathan Taylor:

- 114 yards, 1 TD
- 169 yards, 2 TDs
- 158 yards, 2 TDs
- 110 yards, 1 TD
- 122 yards, 1 TD
- 200 yards, 2 TDs
- 126 yards, 2 TDs
- 204 yards, 5 TDs pic.twitter.com/t4Bs0B5Clh

— Ari Meirov (@MySportsUpdate) November 21, 2021
The Bills came into Week 11, allowing the third-fewest rushing yards per game at 83.9. Through ten weeks, Taylor's talent and production showed up in the advanced stats with 6.5 (No. 3) yards per touch, 54.7% (No. 1) Juke Rate, and 4.53 (No. 2) yards created per touch. Even from a real-life standpoint - Taylor's +20.5 (No. 3) Expected Points Added (EPA) stood out. Taylor garnered yards on his own with a below-average 27.4 (No. 41) Run-Blocking Efficiency.
Elijah Moore With a Touchdown in Three Straight Games
With Joe Flacco at quarterback, Elijah Moore led all Jets receivers in receiving. The rookie hauled in eight out of 11 targets for 141 receiving yards and one touchdown. From Week 8 to 10, Moore totaled the 7th-most fantasy points amongst receivers between Stefon Diggs and CeeDee Lamb. Amongst the top-12 in total fantasy points over the past three weeks (Week 8-10), Moore has the lowest Weighted Opportunity Rating (WOPR) at 0.355. The next closest receiver in WOPR - Michael Pittman at 0.52. That indicates Moore's target share and air yards share hasn't ended up that high during that stretch. However, Moore produced efficiently and pushed himself up into the upside WR4 group.
From Week 8-10, Elijah Moore totaled the 7th-most fantasy points amongst receivers between Stefon Diggs and CeeDee Lamb. Moore 📈📈📈

Side note - during that span, Moore has the lowest WOPR at 0.355. The next closest receiver in WOPR - Michael Pittman at 0.52. #FantasyFootball pic.twitter.com/tMJ1CsmiUP

— Corbin (@corbin_young21) November 21, 2021
Week 11 Wonders
Brandon Aiyuk's Revival
With no Elijah Mitchell for the 49ers, the team used Deebo Samuel again in the running game with eight rushing attempts for 79 rushing yards and one touchdown. The 49ers led the entire game, evidenced by over 38 minutes in time of possession. That said, the passing volume remained low, but Brandon Aiyuk finished efficiently by hauling in all seven targets for 85 receiving yards and one touchdown. Aiyuk landed as a Week 11 sleeper since the snap share, routes, and target volume trended up in Week 8 and 9. Hopefully, that continues down the stretch so fantasy managers can value Aiyuk as a WR3 with upside.
Miles Sanders Returns - Eagles Keep Establishing The Run
In a positive game script, the Eagles rushed for 242 yards. Miles Sanders led the team with 94 yards on 16 rushing attempts. They controlled the time of possession at just over 37 minutes. As expected, the Eagles mixed in another running back in Jordan Howard with ten attempts for 63 rushing yards, but Jalen Hurts scored three rushing touchdowns, which led to empty days for Howard and Sanders. We'll see how the snap shares shake out, but Miles Sanders earned 32% of the team attempts, or 50% of the running back attempts, which gives us optimism moving forward.
Cam Newton Returns Home To Score 3 Touchdowns
The Panthers named Cam Newton the starter heading into Week 11, and he scored three touchdowns. Newton passed for two touchdowns and 189 passing yards with 46 rushing yards and an additional score. As I noted last week, Newton will provide startable weeks, given the rushing ability.
Per @FantasyDataNFL, Cam Newton scored 11.72 fantasy points - No. 14 at quarterback with the afternoon games winding down. Two touchdowns on seven opportunities by Newton. That's fun. He'll have some startable weeks in the future if given the opportunity to start. pic.twitter.com/eK2iZfCPF0

— Corbin (@corbin_young21) November 15, 2021
It's worth streaming and starting Newton even in 1QB leagues assuming fantasy managers don't already have a stud quarterback. Even if you waited for Russell Wilson, folks should scoop up Newton and play him over Wilson until we see more consistency for the Seahawks offense. Christian McCaffrey's role looks unaffected with just under 120 total yards as the Panthers' leading receiver. However, Newton should help D.J. Moore, who scored a touchdown and finished with 50 receiving yards. Moore hadn't reached 50 yards since Week 8, and it's his first game with a touchdown since Week 4.
Week 11 Disappointments
The Jaguars Offense
James Robinson entered Week 11 questionable with knee and heel injuries. In Week 11, the Jaguars totaled 200 yards with an average of 286 over the previous three games. James Robinson rushed for 29 yards on 12 attempts and one touchdown. Thankfully, Robinson caught two passes for nine receiving yards to reach double-digit fantasy points. Outside of Robinson, fantasy managers can't confidently start any other Jaguars player. Even though we remain hopeful for Marvin Jones and Laviska Shenault, Trevor Lawrence averages 4.83 yards per attempt over the past four games. That's brutal for Lawrence and the Jaguars' offense.
Ryan Tannehill Threw Four Picks
Against the Texans, Ryan Tannehill threw four interceptions. That's the first time Tannehill threw more than two picks since Week 13 in 2016 with the Dolphins. Through ten games in 2021, Tannehill threw eight interceptions, then four more against a weak Texans defense. The Texans allowed the third-highest yards per attempt at 8.1 behind the Lions and Jets. Although Tannehill passed 52 times, the 323 passing yards and one passing touchdown don't make up for the turnovers.
Dontrell Hilliard earned a 19.2% target share in Week 11. Only Jeremy McNichols garnered a higher target share amongst Titans' backs in any game. McNichols boasted a 24% share in Week 4.

With no Derrick Henry, this backfield remains frustrating. pic.twitter.com/acgdoy66nk

— Corbin (@corbin_young21) November 22, 2021
The Titans running game keeps frustrating fantasy managers as they mixed in Dontrell Hilliard for 35 rushing yards and 47 receiving yards. With Jeremy McNichols out, Hilliard garnered more playing time and opportunity. Stay away from the Titans running game for now. Keep an eye on Hilliard's usage because it's either the negative game script or an outlier with the ten targets (19.2%). That's the highest target share to any Titans' running back since Week 4 when McNichols boasted a 24% share.
Najee Harris Puts Up Low Rushing Yards Against The Chargers
Before Week 11, the Chargers allowed the most rushing yards per game at 155.1, almost 20 more yards per game than the Texans at 136.9. They gave up the second-most touchdowns (12) and fourth-most fantasy points per game (23.5) to the position. Najee Harris recorded one of his lowest totals since Week 1 but still garnered a decent workload per usual. The Steelers played from behind all game and came roaring back with 24 points in the fourth quarter to tie it at 34.
Through the first 9 games, Najee Harris garnered the highest Opportunity Share (89.9%) & Weighted Opportunities (193.5) amongst qualified backs.

Harris hasn't produced efficiently with a -8.7 (No. 52) Production Premium. Who cares - backs with volume 🔥#FantasyFootball pic.twitter.com/r8ir5Jq6eN

— Corbin (@corbin_young21) November 22, 2021
Harris left the game briefly, and thankfully, they cleared Harris to return. Hopefully, Harris doesn't miss time because he's one of the better young backs in the game. Through the first nine games, Harris garnered the highest Opportunity Share (89.9%) and Weighted Opportunities (193.5) amongst qualified backs. Although Harris hasn't produced efficiently, evidenced by the 4.4 (No. 45) yards per touch and -8.7 (No. 52) Production Premium, he created 618 (No. 3) yards. On a per attempt basis, Harris averaged 2.81 (No. 30) yards created per touch with a 26.4% (No. 33) Juke Rate. With backs, we want volume, and that's what Harris garners.
STAY IN TOUCH
Sign up for FantasyData's newsletter and get awesome content sent to your inbox.
We'll never share your email address and you can opt out at any time, we promise.
---

Corbin is passionate about fantasy baseball and football. He loves diving into and learning about advanced metrics. Corbin is a Mariners and Seahawks fan living in the Pacific Northwest. Corbin's other hobbies are lifting weights, cooking, and listening to fantasy sports podcasts.