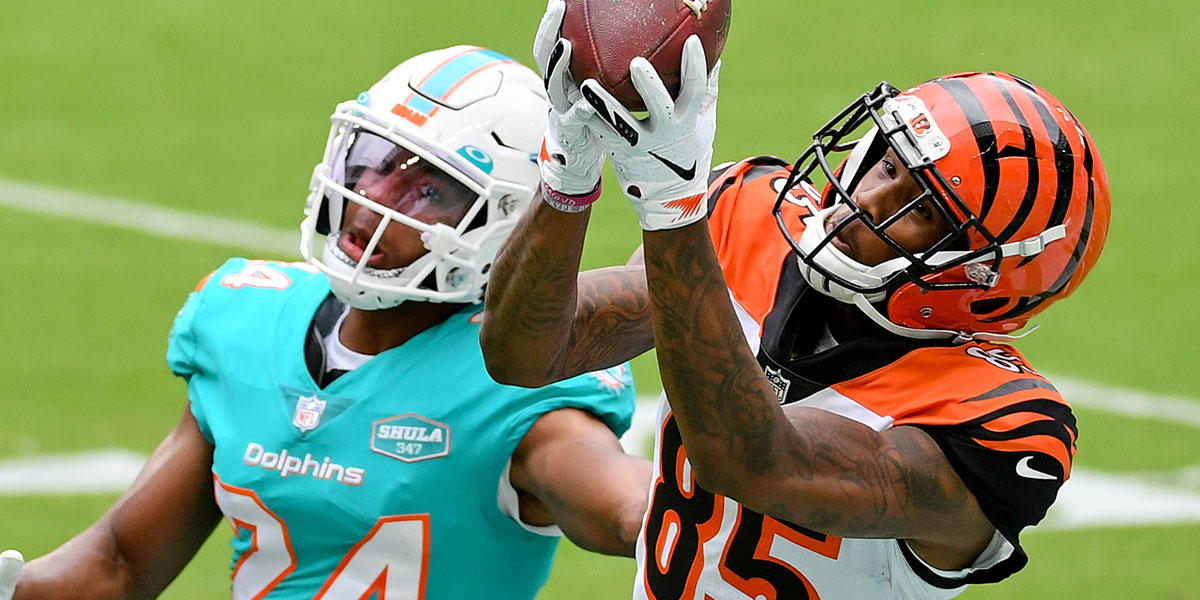 5 Best NFL Value QB/WR Stacks for DFS in Week 13
---
NFL DFS Stacks
Each week, with the help of our premium DFS Stacking Page, we'll be diving into the main DFS slates for DraftKings, FanDuel, and Yahoo to give you the quarterback-wide receiver stacks that represent the best value on the board.
When possible, we'll look to avoid throwing out the obvious names. However, just because a player is well known, that doesn't mean they're the easy pick when filling out your roster — and it also doesn't mean that their price tag accurately matches their potential production.
Last week, all five of the combinations in this article did pretty well, but the best ones in the group were Carson Wentz and Michael Pittman Jr., Tua Tagovailoa and Jaylen Waddle, and Mac Jones and Jakobi Meyers. Wentz threw for 306 yards with three touchdowns and two picks against the Tampa Bay Buccaneers, and Pittman hauled in four passes for 53 yards. Tagovailoa, meanwhile, threw for 230 yards and a touchdown, while Waddle picked him up with nine catches for 137 yards and a score. And finally, Jones threw for 310 yards with two touchdowns and zero interceptions in a win over the Tennessee Titans, with Meyers finishing with five catches for 98 yards. This week, we'll once again look to give you a bunch of combinations you can feel comfortable within daily fantasy.
With that said, here's a look at five duos we like for Week 13 of the NFL regular season:
Other DFS Articles for Week 13
Las Vegas Raiders (vs. Washington Football Team)
Carr is coming off of an awesome Thanksgiving Day performance against the Dallas Cowboys, as the 30-year-old threw for 373 yards with a touchdown and no interceptions in a 36-33 overtime win. Carr also rushed for 21 yards in the game and he had an extra couple of days to get prepared for this meeting with a very beatable Washington defense.
Only two teams in the league have allowed more passing yards per game than Washington this season. Ron Rivera's defense is giving up 266.6 yards per game on the year and the team has given up 26 passing touchdowns, which is tied for the highest mark in football. With that in mind, Carr should be in for a masterful performance in this one. He's had a very good season for a dysfunctional Raiders team, and that should continue here.
As for Renfrow, it's hard to find a guy that is more involved in his team's passing game at this low of a price. The 25-year-old has been targeted 39 times over the last five weeks and is coming off of a performance in which he had eight grabs for 134 yards against Dallas. Renfrow isn't a big body or anything, so it's not easy for him to score touchdowns. However, he's an extremely smooth route runner and should get himself open with ease in this game.
Don't be surprised if Carr throws for at least 300 yards with two touchdowns in this game, and Renfrow just might have 100 receiving yards for a second-straight game.
Cincinnati Bengals (vs. Los Angeles Chargers)
After throwing for at least two touchdowns in each of his first eight games this season, Burrow has cooled off considerably. The 24-year-old has failed to reach the 200-yard mark in each of the past two weeks, and he has just two touchdowns and three picks through the air over the last three games. Cincinnati hasn't been struggling or anything, but the team has opted to pound the rock since its bye week.
While all of that might seem horrible, Burrow has done enough to prove that he is a future star under center. And the good news is that most fantasy players don't exactly think that way. Burrow won't be in as many daily fantasy lineups as he should be this week, but you are going to want to make sure he's in yours. This Chargers defense has allowed 31.3 points per game over the last seven weeks, and that makes this a smash spot for Burrow. Cincinnati has scored 73 points over the last two weeks, and it's now Burrow's time to get in on the scoring.
Last week, Higgins had six catches for 114 yards and a touchdown against the Pittsburgh Steelers. The 22-year-old wideout has started to cut into rookie Ja'Marr Chase's production, but he is still extremely affordable in daily fantasy. That makes him a better value play than Chase, as he's just as likely to help you cash in this week.
Miami Dolphins (vs. New York Giants)
Before giving up just 124 passing yards against Jalen Hurts and the Philadelphia Eagles last week, the Giants had allowed at least 261 yards through the air in each of their previous three games. Sure, this New York defense might be solid, but Miami has started to figured things out on the offensive side of the ball lately. The Dolphins have won four games in a row coming into this game, and Tagovailoa's improvements have been noticeable.
Over the last two weeks, the lefty has thrown for 503 yards with three touchdowns and only one interceptions. He's making better decisions with the football and looks extremely comfortable. Soon enough, that is going to result in the 23-year-old putting up some bigger numbers from a fantasy perspective. But until then, it doesn't hurt that he's an absurdly low price and has Waddle to pick up the slack for him.
As mentioned earlier, Waddle had nine receptions for 137 yards and a touchdown against the Carolina Panthers last week. It was the second-straight week in which Waddle found the end zone, and the rookie has caught at least eight passes in four of the last seven weeks. Waddle has serious big-play potential because of his game-breaking speed, but he also has the ability to make plays at the short-to-intermediate level.
Overall, this duo might be one we've gone to a lot lately, but it's hard to turn away from these two now.
Seattle Seahawks (vs. San Francisco 49ers)
There's no denying that this year has been a rough one for Wilson and the Seahawks, but this team is still good enough to win some games moving forward. And for what it's worth, the sharp money in Vegas is on Seattle to cover in a game that goes Over the total this week. That makes Wilson an enticing play, even if he has thrown for a total of just 615 yards with two touchdowns and two interceptions in the three games since returning from his finger injury.
No matter what the numbers might say this year, Wilson is still one of the best quarterbacks in football. With that said, it's hard not to pounce on him when he's priced this low in daily fantasy. Earlier this season, Wilson threw for 149 yards with two touchdowns and no picks in a 28-21 road victory over this 49ers defense. He also rushed for 26 yards and a score in that game, and it's just hard to rule out him having another big game against San Francisco — especially considering this game is at home.
Lockett is tied for 14th in the league in target share this year, as he's getting 25.3 percent of the looks in this passing game — and he's actually tied with his teammate, D.K. Metcalf. That hasn't exactly turned into massive production yet, but Lockett does have seven catches for 211 yards over the last two weeks. Eventually, the touchdowns are going to come, but the 29-year-old is the Seattle receiver you're going to want this week. The 49ers are going to do everything they can to prevent Metcalf from using his remarkable talent to make home-run plays, which leaves the door open for a clinical receiver like Lockett to work himself open with his precise footwork.
This is our 10th-ranked value combination on Yahoo this week and it's a good option no matter where you end up playing. Fire these two up while you can, as it's not likely you'll see them this cheap in the future.
Jacksonville Jaguars (vs. Los Angeles Rams)
This season has been pretty miserable for Lawrence, who people had extremely high expectations for heading into the year. It's never easy for a rookie to play well right out the gate, and it's even harder when the player is surrounded by a weak supporting cast. Having said that, it isn't the worst idea in the world to roll with Lawrence in daily fantasy this week.
Lawrence threw for 228 yards with a touchdown and an interception against the Atlanta Falcons last week, and he also added 39 yards on the ground. Jacksonville is beginning to utilize Lawrence's legs a bit more, and the rookie has had a run of at least 10 yards in each of the last three games. Now, the Jaguars will be without James Robinson in a meeting with a struggling Rams defense.
Los Angeles is allowing 31.7 points per game over the last three weeks, so it wouldn't be too surprising if Jacksonville had some success on the offensive side of the ball. And given how shorthanded the Jaguars are right now, Lawrence is going to have more opportunities than usual to make plays.
When looking to pair somebody with the rookie, Jones still looks like the best option on this Jaguars team. Sure, Laviska Shenault Jr. is the most talented wideout on this roster — and Laquon Treadwell looked solid for Jacksonville last week — but Jones is an experienced veteran and has been targeted 13 times over the last two weeks. His upside might not be through the roof, but Jones could easily have five catches for 80 yards and a score this week.
STAY IN TOUCH
Sign up for FantasyData's newsletter and get awesome content sent to your inbox.
We'll never share your email address and you can opt out at any time, we promise.
---

Zach has been working in the fantasy/betting space for nearly 10 years. He currently serves as the Editor-in-Chief of the Centennial Fantasy Football Guide, and he also does betting previews for Covers. He recently moved from New York to Arizona and has fallen in love with the Phoenix Suns. He's also a die-hard fan of the University of Wisconsin (Go Badgers!), New York Yankees, New York Rangers and New York Jets. Zach enjoys talking sports on Twitter (especially about the NBA Draft) and believes there's nothing better than shooting around in an empty gym. He's also a big fan of television and movies, and he's probably seen every comedy ever made.