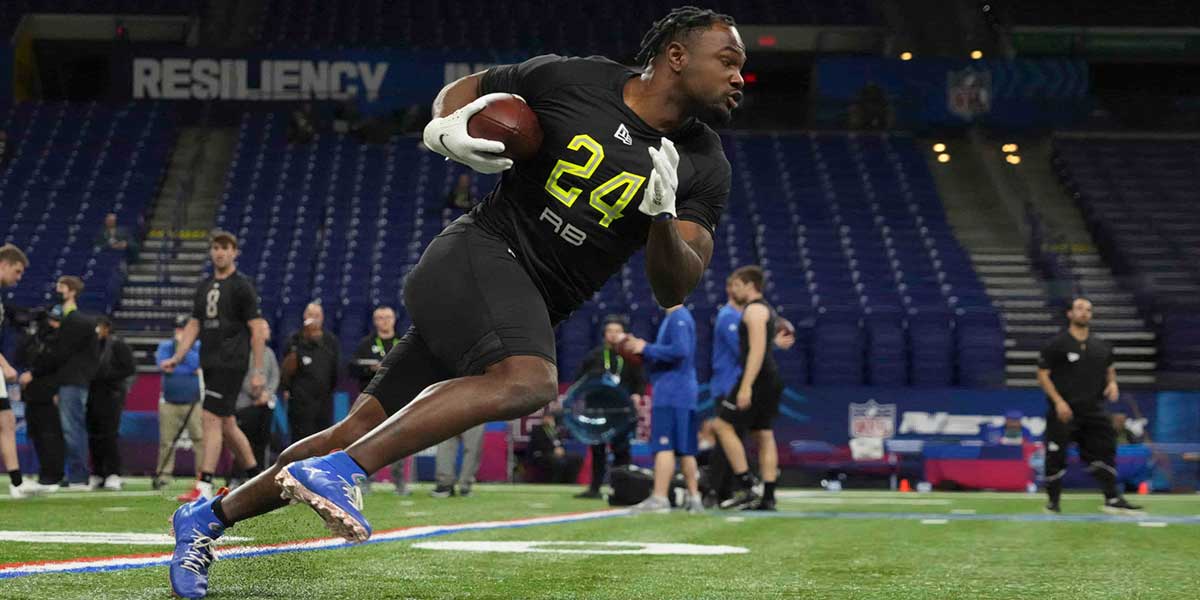 5 Late Round NFL Rookies That Could Find The Field in 2022
---
Fantasy Football NFL Rookie Report
We know the feeling of hitting on a late-round pick in fantasy football drafts. It's partly luck and strategy, but grabbing James Robinson (2020) or Elijah Mitchell (2021) late in drafts feels good. First, let's define late-round picks, which we'll describe as those in the double-digit rounds. If we use the Underdog best ball settings of 16 roster spots, we're looking at picks in Round 10 through 16. We may veer up one round earlier if a rookie's ADP starts creeping up. Using Underdog ADP, we'll look at five late-round rookies, plus two honorable mentions that could find the field in 2022 with their paths for upside.
Dameon Pierce (RB, HOU)
Underdog ADP 127.7, RB 41
Part of the intrigue with rookie Dameon Pierce involves the potentially weak backfield competition in Marlon Mack, Rex Burkhead, and Dare Ogunbowale. Before diving into Pierce's profile, let's look at how brutal the Texans' offense ended in 2021. The Texans ranked third to last in total plays and bottom-11 in plays per 60 minutes. Their defense allowed the second-most yards behind the Jets and gave up the third-highest yards per offensive play.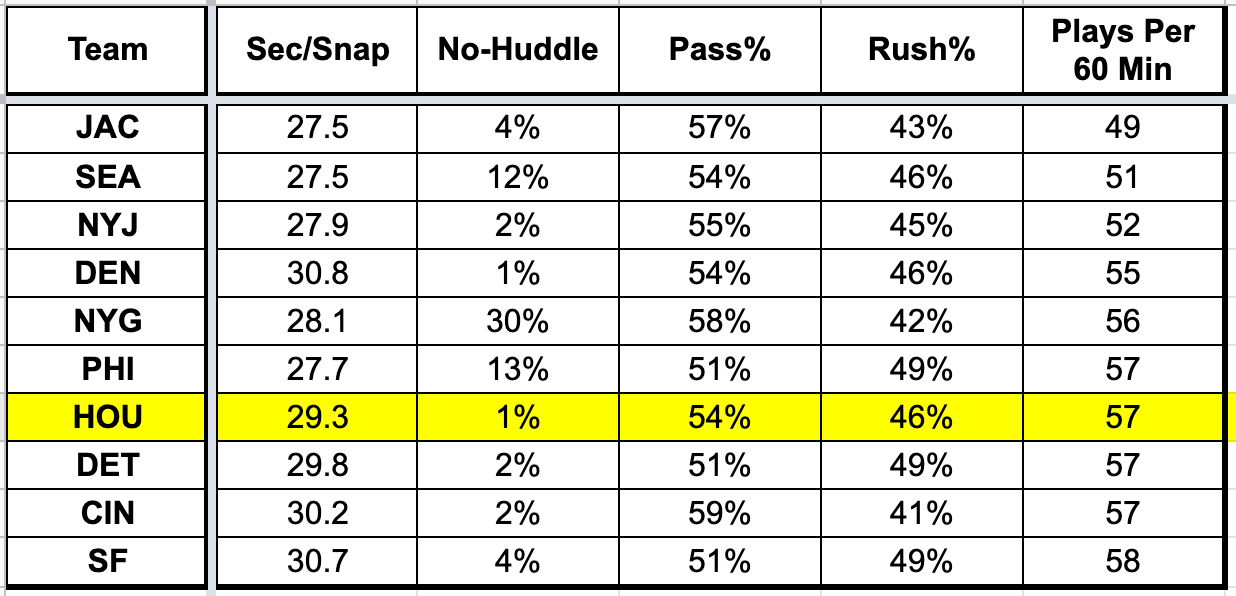 Unsurprisingly, the Texans trailed often, evidenced by the -3.43 Game Script (No. 25) with 1.95 Plays Per Minute (No. 21). In 2021, the Texans ranked 21st in Team Run Plays Per Game at 24.6 with Rex Burkhead as their leading rusher. Let's hope the offense improves, but we can't expect a massive jump with minor additions via the NFL Draft and free agency.
At Florida, Pierce produced a peak of 574 rushing yards as a senior, translating into a 36% Rushing Adjusted Yards Market Share and 48% Running Back Dominator. With the below-average production, Pierce didn't pop in the workout metrics.
At 5-foot-10 and 224-pounds, Pierce's 4.59 40-yard dash led to a 47th-percentile Speed Score. Since Pierce didn't participate in the agility activities, it's hard to know if that's a part of his skill set. Unfortunately, Pierce doesn't check the primary two boxes - college production and athleticism. However, he could find the field in 2022 based on the other less-exciting options. It might be a messy backfield to figure out, so it's not my most confident selection in this article, though the ADP market hints at an ambiguous backfield.
Rachaad White (RB, TB)
Underdog ADP 128.9, RB42
With Ronald Jones gone and Leonard Fournette entering his age 28 season, could another Buccaneers back be a factor? Fournette will have the workhorse role in 2022 with the 67% Opportunity Share (No. 11) and 239.9 Weighted Opportunities (No. 7) in 2021. However, the rookie Rachaad White might be one injury away from fantasy relevance in 2022. We can't forget Ke'Shawn Vaughn, who many had high expectations for, plus the veteran Giovani Bernard.
White rushed for over 1,000 yards in his final season at Arizona State, translating into a 60% Rushing Yards Adjusted Market Share and an 82% Backfield Dominator. Some of the closest comparisons using the RotoViz Box Score Scouting Tool include James Starks, Giovani Bernard, and LeSean McCoy. Unlike Dameon Pierce, White possesses athleticism with a 76th-percentile Speed Score, 82nd-percentile Freak Score, and 88th-percentile Explosion Score.

The table above shows comparable backs in college target share with Christian McCaffrey, Devontae Booker, and Tyler Badie. White's 18.9% target share ranked in 98th-percentile. That adds an element to White's game where he could slowly eat into a third-down role, though the veteran in Bernard held down that spot in the past. In the later rounds, prioritize White, especially if you're using a ZeroRB build since he plays on a high-end offense with the rushing and receiving skills.
Tyrion Davis-Price (RB, SF)
Underdog ADP 156.2, RB48
After the 49ers' sixth-round pick in Elijah Mitchell took the league by storm, rookie Tyrion Davis-Price could be a sneaky running back to find the field in 2022. The fantasy buzz for Davis-Price has increased lately as a third-round pick at 6-foot and 219-pounds out of LSU. In 2021, he posted a peak college season just north of 1,000 rushing yards, translating into a 70% rushing adjusted market share and 72% backfield dominator. Although Davis-Price didn't factor much in the receiving game with a career 2% target share, it doesn't mean he doesn't possess that skill.

DeeJay Dallas, Devonta Freeman, and Ryquell Armstead come up via the RotoViz Box Score Scout as top comparisons. Davis-Price bests those backs in draft capital, though Freeman and Armstead had better career rushing yards per game. He also posted above-average workout metrics with a Speed Score in the 71st percentile and a Freak Score in the 81st percentile.
In 2021, the 49ers ranked ninth with 27.4 Team Run Plays Per Game, and Mitchell garnered the third-best opportunity share at 80.8%. Mitchell received most of his opportunities via the rushing share with 20 targets (No. 63). He ranked 63rd with 30 high-value touches, and fullback Kyle Juszczyk ranked 59th with 33. Since the 49ers didn't use Mitchell in the receiving game much, it aligns with the low HVTs.
That trend should remain similar in 2022, especially if Trey Lance takes over at quarterback since rushing quarterbacks typically don't boost the pass catchers. Jeff Wilson might get the first chance at the 49ers backfield, but don't sleep on Davis-Price in redraft and dynasty leagues.
Wan'Dale Robinson (WR, NYG)
Underdog ADP 190.3, WR83
In June, I wrote up Wan'Dale Robinson's fantasy outlook for 2022, so we'll summarize and keep it brief here. Robinson showed the straight-line speed, evidenced by the 40-yard dash in the 81st percentile, though it didn't translate into a quality Speed Score (25th-percentile). He produced in college via the receiving and rushing game, similar to how Kadarius Toney flashed as a rookie with the Giants. Although he's a smaller receiver, Robinson showed the YAC ability in college, which could help Daniel Jones in the short and intermediate areas of the field.
👀Wan'Dale Robinson👀

-Final college season metrics➡️45% Rec Yds MS & 36% Rec Dom Rating w/ a Breakout Age of 20.9
-Take it with a grain of salt, but Robinson had a higher Career Rec MS than Paul Richardson, Elijah Moore, Rashod Batman, & Calvin Ridley

Data via @RotoViz pic.twitter.com/sRQL0Ahnrk

— Corbin (@corbin_young21) June 5, 2022
It's a messy receiver group with Kenny Golladay, Toney, Sterling Shepard, and Darius Slayton, with several having injury concerns in past seasons. One could easily find a cheap stack of Jones and Robinson with Brian Daboll as the new Giants head coach. Scoop up Robinson as a late-round stash in redraft leagues to see how the passing offense shakes out since he should find the field in 2022.
George Pickens (WR, PIT)
Underdog ADP 172.8, WR76
It's a weird season for receivers with several teams having new quarterbacks in the Steelers, Panthers, Broncos, Seahawks, and more. With Ben Roethlisberger retiring, the Steelers look to Mitchell Trubisky, Kenny Pickett, or Mason Rudolph (please no). In 2021, the Steelers ranked third with 38.7 Team Pass Plays Per Game since they often trailed with a -4.39 Game Script (No. 27). With Trubisky probably the better option at quarterback, the Team Pass Plays Per Game may drop down with a projected reliance on Najee Harris.
George Pickens finding the DBs blind spot & working it. That's great separation. pic.twitter.com/BlIHghWctj

— Full-Time Dame 💰 (@DP_NFL) March 30, 2022
The Steelers selected George Pickens in the second round, but he'll compete with Diontae Johnson and Chase Claypool. The target quality wasn't high in 2021 with Roethlisberger, evidenced by the 5.8 Adjusted Yards Per Attempt (No. 27) and 35.8 QBR (No. 25). That should continue into 2022 with target priority to Johnson and Claypool.
Unfortunately, Pickens suffered a torn ACL in March 2021, so his final college season looks mediocre, with 107 receiving yards in 2021. Pickens' breakout season came as a true freshman with 727 receiving yards, 26% receiving market share, and 30% receiving dominator. Since Pickens lacked the college production, the closest comparisons weren't that similar in Lynn Bowden, Robert Woods, and Diontae Johnson. He hardly produced in college, partly due to the ACL injury and team context relying on the running backs with their above-average team defense.
Pickens posted above-average workout metrics, evidenced by the 4.47 40-yard dash (66th-percentile) and Freak Score in the 67th percentile. Workout metrics and college production could probably be discounted in Pickens' profile, meaning there's more untapped upside than the data suggests. When watching Pickens' film, he reminds me of Jerry Jeudy, evidenced by the ability to start and stop quickly, the YAC skills, and the ability to make plays deep. The graph below shows the Steelers' receiver data with a lowered yards and air yards per target from 2020 and 2021, aligning with the weak adjusted yards per attempt for Roethlisberger.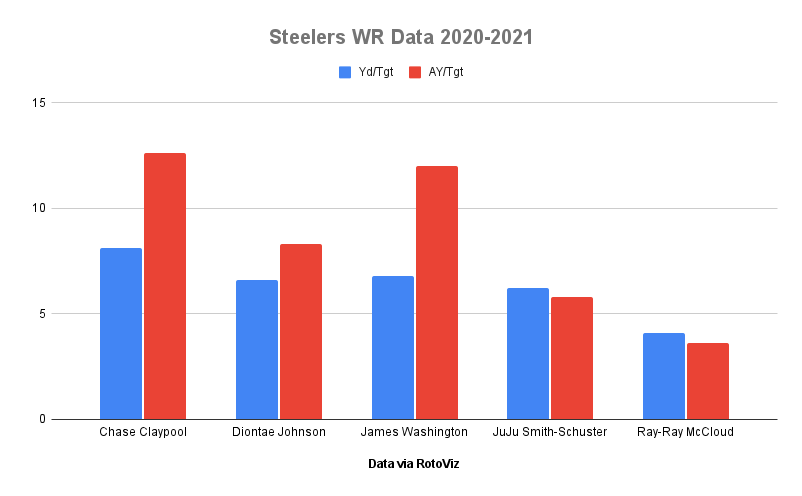 So what's the range of outcomes for Pickens and the Steelers' receivers in 2022? I think it's reasonable to wonder if Roethlisberger limited the upside for Johnson and Claypool with 6.5 AY/A (No. 23) in 2020 and 5.8 AY/A (No. 27) in 2021 for Roethlisberger. In theory, the Steelers' quarterback uncertainty may benefit their pass-catchers. The likely scenario involves Johnson garnering a target share of around 25% or more and Claypool leaping into the 20% range earning the air yards. Before Roethlisberger's elbow injury in 2019, the graph below shows the Steelers receiver data with yards and air yards per target. We notice it much higher for several receivers, even though it's a different group versus 2020 and 2021.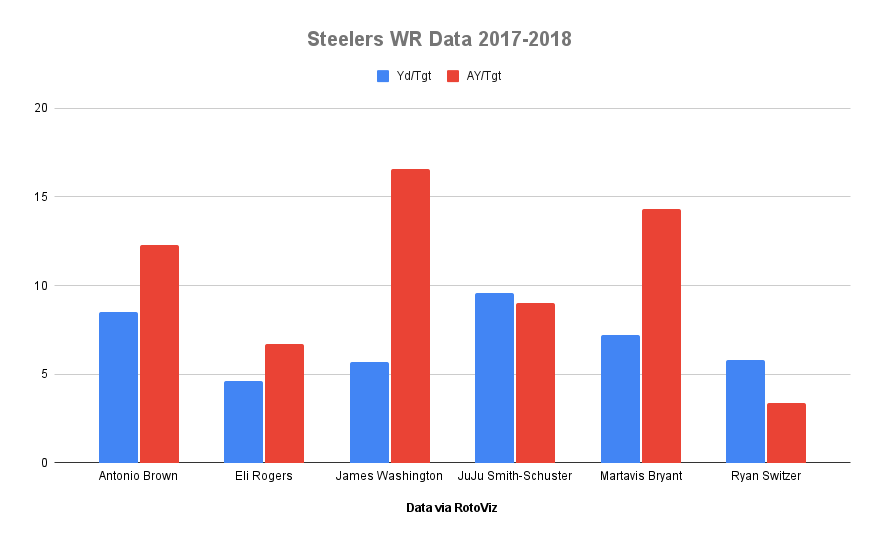 Although the Steelers ranked first in 2020 and third in 2021 in Team Pass Plays Per Game, that'll likely decrease in 2022 with Trubisky or Pickett at quarterback. Ideally, Pickens matches Claypool's target share of around 18-20%, with room for more. Stash Pickens in deep leagues because there's more to his skill set and profile than seen in the data.
Honorable Mention
Brian Robinson (RB, WAS)
Underdog ADP 194.2, RB59
Antonio Gibson received positive and negative buzz throughout the offseason. The Gibson supporters reference off-the-field changes in diet and weight, making him leaner and potentially more explosive (if that's even possible) on the football field. Gibson came into the league as an elite athlete with a Speed Score in the 99th percentile. At the beginning of the season, J.D. McKissic nearly split snaps evenly with a 54% snap share of Gibson and 46% for McKissic through Week 12.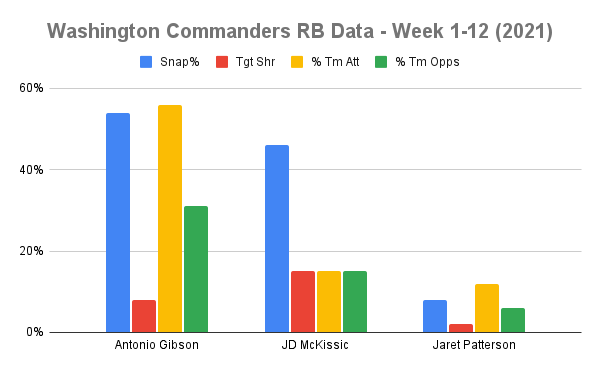 However, McKissic suffered an injury that led to season-ending concussion symptoms around Week 12. As a result, Gibson's snap share increased to 65% to finish the season, with Jaret Patterson as the next most snaps at 26%. With McKissic healthy and signing a new deal with the Commanders, Brian Robinson will need a Gibson injury to garner a fantasy-relevant role of double-digit rushing attempts or more per game.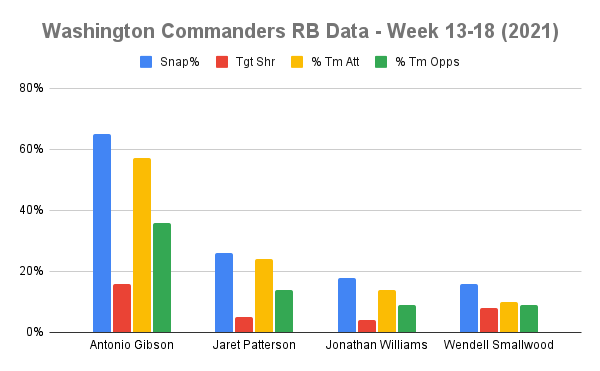 As a fifth-year senior at Alabama, Robinson finally broke out in 2021, with a heavy workload of 271 carries, 1,343 rushing yards, and 14 rushing touchdowns. That translated into a 68% rushing adjusted market share and a 63% backfield dominator. Robinson added under 300 receiving yards as a bigger back at 6-foot-2 and 224-pounds.
The closest comparisons for Robinson via the Prospect Box Score Scout include Damien Harris and Lamical Perine, though only Harris somewhat excites us. As a bigger back, Robinson posted a 4.53 40-yard dash (64th-percentile), turning into a 107 Speed Score (78th-percentile). Robinson's path for upside involves an injury to Gibson and McKissic since his path for playing time involves mostly rushing attempts. In that scenario, Robinson would need to crush the opportunity, making him a good Zero RB target later in drafts or on waivers during the season.
Zamir White (RB, LV)
Underdog ADP 206.8, RB63
Do you like fast and athletic running backs? Of course, we do, and Zamir White possesses that. White ran a 4.40 40-yard dash, turning into a 114 Speed Score (93rd-percentile) at 214-pounds. He also posted an above-average Freak Score (95th percentile) and Explosion Score (85th percentile). White shared the backfield at Georgia with James Cook, though White bested him in rushing yards in 2020 and 2021.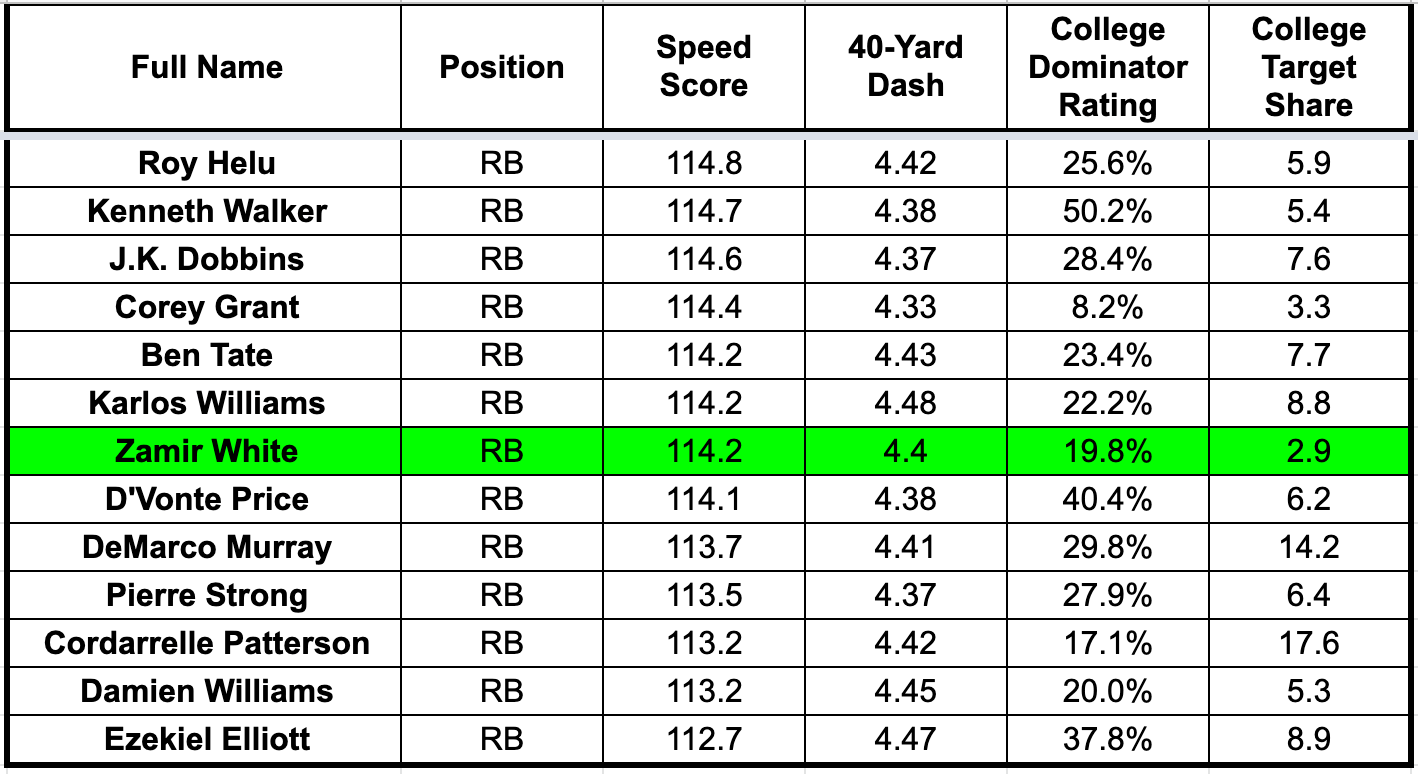 It's hard to look at the top comparisons and find hope in Knile Davis, Ryquell Armstead, and Jonathan Williams. Let's talk about the path for upside with White in Year 1. In 2021, Jacobs added the receiving element with a 12% target share (No. 12) versus 9% (No. 26) in 2020. The same trend occurred with the receiving EP with 4.2 reEP/G in 2020 that jumped to 6.6 reEP/G in 2021. I'm slightly concerned that Davante Adams and Darren Waller garnering a 25% target share or more could leave fewer receiving opportunities for their pass catchers.
If Jacobs suffered an injury, White could slide into a fantasy-relevant role. Although Kenyan Drake might be the notable name as a backup behind Jacobs, I'm concerned about Drake's availability as he recovers from the broken ankle. White might go undrafted in 12-teamers, but keep his name in mind as a late-round dart or bench stash since he possesses the athleticism we want in running backs.
---
Win Your Fantasy League!
Become a member at FantasyData and get access to the industry's best fantasy football subscription available!
---
STAY IN TOUCH
Sign up for FantasyData's newsletter and get awesome content sent to your inbox.
We'll never share your email address and you can opt out at any time, we promise.
---

Corbin is passionate about fantasy baseball and football. He loves diving into and learning about advanced metrics. Corbin is a Mariners and Seahawks fan living in the Pacific Northwest. Corbin's other hobbies are lifting weights, cooking, and listening to fantasy sports podcasts.