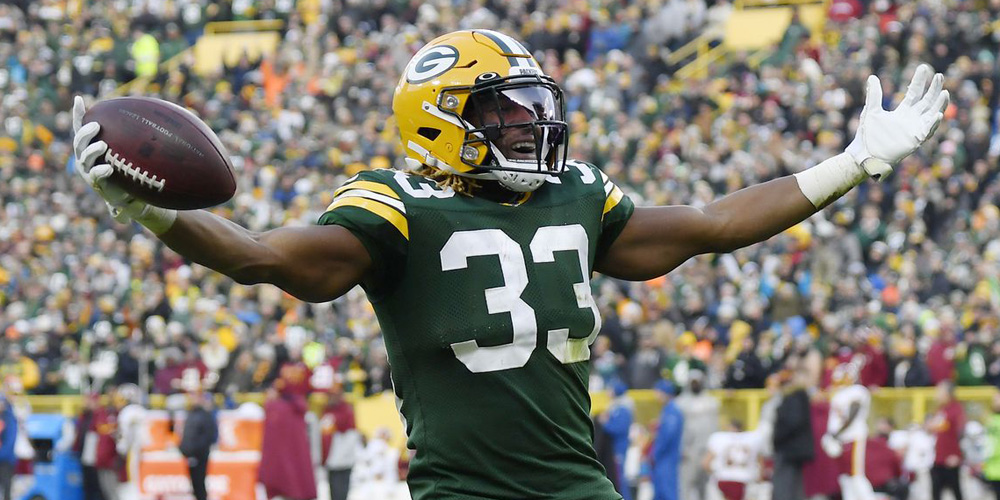 DraftKings NFL Picks: Divisional Round Playoffs
---
DraftKings NFL Picks Week 19 (Playoffs)
Initial Thoughts
It's the divisional round of the playoffs and teams that earned their first-round bye will be rested and ready to welcome the wild card winners into their homes this week. The Saturday pair of games features the two defensive grinds while Sunday gives us the two games with the highest point totals for the weekend. Every week this year I have produced a match-up chart and an accompanying workbook in a Google Sheet. This week is no different, other than I dug deeper and produced two match-up charts due to the extensive amount of data I wanted to see in chart form. You can see a screenshot of the regular match-up chart below and can follow this link to see all charts and full workbook. At a glance, I see the same things Vegas sees and will have most of my interest shading toward Sunday players but there are some solid plays on Saturday as well. Upon my preliminary data analysis, Aaron Jones and Mark Andrews popped, big time. Let's have a look at the full slate and see what else we're working with here...

Minnesota Vikings (18.5/+7) at San Francisco 49ers (25.5/-7) [44]
These two teams have a lot of similarities. Both play stout defense, especially against the run, both want to hammer the run on offense, and both hit explosive plays in the passing game. The likeliest game-script would have Minnesota trying to feed Dalvin Cook ($8000) the ball for as long as the game stays close and not ask Kirk Cousins ($5700) to do too much. Another option Minnesota could try would be to strike deep early, get a TD on their first possession to possibly take a lead, continue to take a deep shot each possession until the half to make the 49ers adjust to it, then start slamming the run with the safeties back. Cousins finished the year 10th in Air Yards per attempt in our data and Stefon Diggs ($5600) was #1 in Air Yards per target. Diggs is on a 5-week price decline making him an appealing option. Adam Thielen ($6200) stayed the same price after having a huge bounce-back game last week. Both of these receivers saw 16-17% ownership in the Milly Maker last week so we should expect them to be close in ownership again this week, especially at Diggs new, low price. Thielen popped up on Wednesday's injury report with an ankle injury sustained during practice so we will have to keep a keen eye on beat reports there. [Note: Thielen got stepped on by a cleat and required stitches. He is listed as questionable so watch game-day inactives and news regarding his ankle] This news could push Bisi Johnson ($3300) or Irv Smith ($2600) into a more prominent role if Thielen were to miss. Kyle Rudolph ($3400) saw 7 targets against a tough Saints defense last week and could see some work again this week with the way the 49ers defense can take away wide receivers when the defense is healthy, as it will be this week. Rudy would also stand to see more work without Thielen on the field. This game has the lowest implied total of the slate pointing us toward both DSTs as reasonable bets here. The Vikings DST ($2700) was top 5 in sacks, interceptions, and fumble recoveries making them a nice salary saver option this week.
The 49ers offense has become more concentrated as the year has come toward its end. It used to just be George Kittle ($6200) and a group of misfit receivers lucky to see three targets in a game, plus a three-headed backfield with no clarity from week to week who the leader would be. This week, against this opponent we're going to have to look beyond Kittle for options on the 49ers as he faces the toughest defense by DVOA against TEs in the NFL. According to the Lombardi tweet in that link, the Vikings greatest weakness is at #1 WR. This is supported by the match-up chart above that shows "WR1" and "RB All" as the points of attack for fantasy football plays. The 49ers #1 WR heading down the stretch was Deebo Samuel ($5200) who sees targets as a "WR1" and gets carries like an "RB All". He's the best of both worlds (weaknesses) against this Vikings defense. According to NFL Next Gen Stats Deebo and Kittle ranked #2 and #5 in YAC and #1 and #2 in expected YAC. In a cross-comparison with ProFootballReference.com's "Team Advanced Defense" stats, this appears to be a strength on strength match-up as Minnesota was bottom 3 in YAC allowed. Aside from Deebo and Kittle, we can look at Emmanuel Sanders ($5400) who was brought in as an experienced receiver to provide a boost to a fledgling receiver group that was under-producing. His experience will be needed here and he could be a sneaky play when he lines up in the slot where Minnesota will be without their top two slot corners (Mackenzie Alexander and Mike Hughes). According to PFF data, the Vikings allowed 13 catches for 118 (no TDs) to Saints players lined up in the slot last week. Kyle Shannahan has been no stranger to exploiting an opponent's weakness this year and one of the guys he keeps in his back pocket for these types of match-ups is Kendrick Bourne ($3700). Teams that were notably weak against slot receivers this year were New Orleans, Seattle, and Arizona. In 3 games against these teams, Bourne saw his heaviest volume leading to 18 targets, 11 catches, 91 yards, and 4 TDs leading to 13 or more points in each of those three games. He's one of the top buy-low receivers on the slate.
The 49ers running back situation looks like Raheem Moster ($5800) has the grip on lead-back duties and will see 10+ carries with 1 or 2 targets per game. This isn't the type of volume we would normally target on a larger slate but we have to look at Mostert this week from a game theory perspective. He's the 6th highest priced RB and on a team most of the field never figured out when it came to DFS. He's bracketed in price by Dame and Hyde who have better game environments to work with and less intimidating front-sevens to slice through. Our Advanced Efficiency Metrics show Mostert's 1.05 points per opportunity were good for 7th best this season. Mostert has averaged 13 touches per game over his last 4 games. That's not going to win us a million dollars using this crude math. What will win the bread is if he gets a crease and uses his speed to break one big play out of those 13 possible touches and has him "paddle out" in the end-zone and that 13.4 median projection spikes up to 20 or more. He's a pivot play that will be on the lighter side for ownership.
Tennessee Titans (18.5/+9.5) at Baltimore Ravens (28.0/-9.5) [46.5]
The Titans made it clear last week that they're intent on getting to the Super Bowl riding on the back of "Madden Create-A-Player" Derrick Henry ($8200). Henry is built for post-season football and this game could have some weather issues forcing him to be the focal point once again. The match-up chart shows red boxes for the Ravens in the RB sections but there have been some strong games had by RBs against this defense. Raheem Mostert went for 26.4 DK points in Week 13, Joe Mixon hit 20.1 in Week 10, and more recently guys like Singletary and Snell were able to eke out 17.8 and 15.1, respectively. Henry is the second most expensive player on the slate and will be the Ravens focus on defense so he's going to have to play up to what we saw last week to meet expectations, but it's not out of the question. The Ravens allow the most "Open Field Yards" in Football Outsider's metrics which is where they don't want to let Henry get to.
The Titans passing offense is limited and has been reliant on Ryan Tannehill's ($5400) incredible efficiency. As we saw last week, Tannehill and the passing game can be erased by a great defense (which Baltimore has). After trading for Marcus Peters, the Ravens defense has shut down just about every receiving corp they've faced. The Patriots had a good team-receiver game and Jamison Crowder had a good individual game, and that's it. The Ravens will take a page out of the Patriots book on how to shut down AJ Brown ($6400) and Corey Davis ($3700) making both of them high-risk pivot options for large tourneys and MME type play. There aren't any strong data points that put Brown and Davis as more than game-theory, low-ownership type plays, however, Peters allows the most PPR points per game for Baltimore corners and is known to blow an assignment from time to time, which could allow a big play to one of the Titans' top two WRs. That's the only straw to grasp at though. The Ravens defense is just as tough against the TE position where the Titans have been using more of a committee approach the last few weeks making it hard to rely on any one TE for them.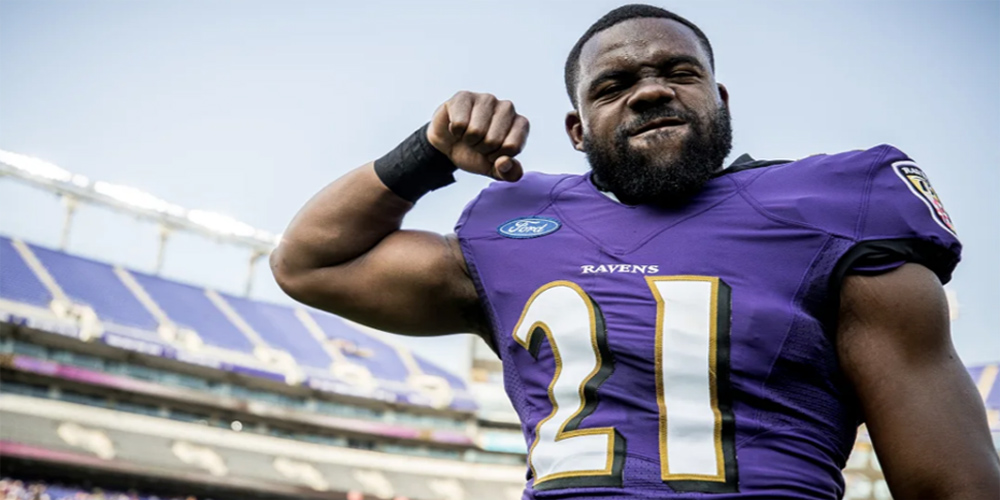 The Ravens game-plan all year has been to bulldoze their way to victory using a committee of RBs lead by Mark Ingram ($6700) and to enrich that running game with a running QB unlike anyone we have seen before. Lamar Jackson ($8400) has the speed and running finesse of Mike Vick but adds a physicality that you normally won't see come from a starting QB. Jackson's 29.4 DK points per game is a full 6 points higher than second-place man Deshaun Watson. Jackson is a rare breed and is a good bet to finish as a top-3 QB for this slate. His price point leaves you scraping for punts during roster construction but if you're multi-entering a tourney, then you're going to have to get exposure. Mark Ingram could be a top-5 play at RB but his (usually) one-dimensional role as just a runner (only 1.9 Tar/G) makes him more boom or bust than the other guys he's competing with at RB to get a top-5 finish. Ingram will need a couple of TDs and 100-yards to come anywhere close to the top RB for the slate. If Ingram is unable to play due to his calf injury, then his role falls to Gus Edwards ($4900) with Justice Hill ($3900) mixing in some. Edwards would have appeal at that price after laying 130 rushing yards against a strong Steelers defense in the regular-season finale. With the Titans likely to be without LB Jayon Brown, it gives a slight bump up for Ravens runners.
When charting PPR points per game allowed by each defense to slot receivers, the Titans slap you in the face with their numbers compared to not only the rest of the slate but the entire NFL. It's as great of a buy signal as we'll find this week. Unfortunately, the Ravens are such a low volume passing offense if we're looking at the slot receiver for the Ravens, then we're stuck with Willie Snead ($3800). PFF has Snead charted with 79% of his snaps coming from the slot (3rd-highest slat rate on the slate). Snead's "ceiling" game this year was 15.4 DK points as a result of him catching 2 TD passes. That's his best-case scenario here, as he never broke out past 5 targets in any game (seeing 5 targets four times this year - averaging 2.8 per game 2.9). Snead should be low-owned but for $600 more you can get his more explosive teammate, Marquise Brown ($4400) who comes with a similar floor but a higher ceiling (and a respectable 37% slot rate). Snead's lower-ownership would give him an edge over Hollywood if they both land in the same range of scoring, assuming you spent the $600 you saved wisely. Snead and Bourne fall into the same category this week and have similar prices so it will be a matter of preference if you're looking at receivers in this range. If you really want to attack the Titans weakness in the slot then who we should be looking at is Mark Andrews ($5600). Andrews has a 64% slot rate and is Lamar's favorite person to throw to. If we look at the target pecking order for this offense on a game by game average, then we can see Andrews has the advantage over Brown by 1.4 targets per game (6.5 to 5.1). Brown has a 2.2 target per game advantage over Snead (5.1 to 2.9). Those who use Ravens pass-catchers this week are likely to only go as deep as Brown or Andrews so our punt options would be Snead, Nick Boyle ($3200) (2.7 Tar/G), Hayden Hurst ($3400) (2.4 Tar/G), or Seth Roberts ($3500) (2.2 Tar/G) as the only other players to see at least 2 targets per game.
Houston Texans (20.75/+9.5) at Kansas City Chiefs (30.25/-9.5) [51]
This is the only game that features a rematch between 2 teams that already faced each other once this year. In that Carlos Hyde ($5000) revenge game, Hyde rushed for 116-yards and a touchdown. The Chiefs have tightened up their run defense since that game but still allow RBs to beat them in the passing game, which is where Duke Johnson ($4700) should find a role in this one. We should see the pair of these guys cancel each other's upside out, as they did last week. However, when considering their relatively low pricing we're likely going to land on them again for some exposure this week. Both guys were 9-10% owned last week and if that stays the same, then they'll both be reasonable pivot options for this slate. The Texans leading rusher last week (and in week 16 - the final game for the starters) was Deshaun Watson ($6700). Watson has had to rely on himself in his last two starts due to injuries and ineffectiveness of the receiving group (outside of Nuk), as well as the run game getting stymied. Chances are Watson will end up in the same role as the second half of this game wears on. Some of what Houston does will depend on whether Will Fuller ($5000) is healthy enough to play. Fuller will (at the very least) keep the safeties away from the line of scrimmage to prevent him from beating them over the top. Even if Fuller doesn't produce a great box score his presence will benefit the Texans offense. Fuller's speed and deep-threat ability always put him in play as a bet on talent option but the Chiefs have done a great job of keeping outside receivers in check this year. We're more likely to see DeAndre Hopkins ($7400) provide value as Watson's go-to man when the game gets into the second half and the Texans are fighting to hang on.
Darren Fells ($3500) may once again be on my radar if Jordan Akins ($3000) were to miss the game due to the hamstring injury that kept him out last week. The Chiefs allow 25% of the targets they face to go to TEs (highest of the slate), while also providing 2 DK points over league average to the position (2nd most on the slate). Needless to say, Fells sees increased usage without Akins on the field but he also sees his usage bumped up when Fuller is not playing. Fells had 16 targets in the 4 weeks (not including the meaningless game in week 17) that Fuller was out. That was 33% of his season-long target count. With Fuller out last week he saw 5 targets, catching 4 and dropping one. Fells was tied for the 8th most end-zone targets among TEs during the regular season with 7 looks come his way (the league leader was Mark Andrews with 12). If Akins does play, then he becomes someone we'll want in our exposure group as he actually out-targeted Fells during the regular season Both guys would fall into the "punt" category if both are active. Kenny Stills ($4800) and DeAndre Carter ($3200) are low-probability punt plays that could save you some salary (Stills was used as a salary saver in last week's million-dollar line-up).
The Chiefs find their offense in the best "on paper" match-up for the slate. The match-up chart has 4 green boxes (most for any team) and shows the Texans can be hit by the RBs, WR1, and TEs. Patrick Mahomes ($7500) is the second most expensive QB for the slate and will likely be the highest owned due to Jackson's +$900 price. Mahomes threw 3 TDs in the regular-season meeting between these teams, which seems repeatable here. The Texans have made several changes to their secondary since that game by trading for Conley, signing Hargreaves, and now have lost Gipson to injury. Hargreaves' PFF grades don't show much improvement since joining the Texans but Conley appears to have found a new home. Unfortunately for the Texans, neither guy has the speed to match Tyreek Hill ($7600) who sees at least one potential game-changing deep shot per game with a 1.58 per game average. Tyreek Hill's 1.97 is the third-highest Yards of Separation (average yards of distance separating the WR from the closest DB at the moment the pass arrives), with teammate Demarcus Robinson ($4000) in second place, just ahead of him with 2.02 YOS. Hill has the highest WR upside for the slate but if you're looking for a punt, then you might want to consider Robinson. Sammy Watkins ($4300) will almost certainly go low-owned after turning in 13 out of 14 performances not suitable for fantasy football scoring this year. His only good game was way back in week one when he went bonkers scoring 49.8 DK points against the Jags. Watkins was able to maintain a 20% target share in this explosive offense (in aggregate) for the year, but he is not a recommended play outside of being a game-theory punt. Also in the punt category is rookie Mecole Hardman ($4100) who has similar speed and big-play ability as Hill, but is less frequently utilized.
The leader in target share for the Chiefs offense this year was Travis Kelce ($6400) with 24% and he will be facing a defense without it's top TE stopper (Gipson) this time around. Kelce was held to 4 catches and 58 yards during the regular season against Houston, seeing only 17.6% of the target share in that game. However, as the regular season was wearing down Kelce's target shares were increasing. 4 out of the last 6 games he was over 30% of the target share. Kelce and Mahomes have a vibe going right now and that is who he's going to look for when plays break down. Damien Williams ($6000) is seeing a resurgence in his game coinciding with Lesean McCoy's ($4400) lack of involvement (zero snaps the last two weeks of the regular season). It's hard to know for sure whether Reid will continue using Dame as the majority snap/opportunity back or if they were just resting Shady. At this point, I'm inclined to believe Williams will see at least a 60% snap share as well as most of the work with McCoy and Darwin Thompson ($3400) picking up the scraps. The Chiefs DST ($3200) should be able to get to the 6th-most sacked QB in football (who also fumbled the 3rd most times on the year) behind his atrocious offensive line giving them appeal as a pivot from the 49ers (who are likely to be the highest owned DST).
Seattle Seahawks (21.5/+4) at Green Bay Packers (25.5/-4) [47]
The Seahawks have become a highly concentrated offense down the stretch with Tyler Lockett ($6600) and DK Metcalf ($6800) having combined for 50% or more of the team target share in three out of their last four games (including the Wild card game). Jacob Hollister ($4000) and David Moore ($3900) have been seeing most of the remaining share for WRs and TEs. The Packers match-up chart data is (obviously) based on their schedule, in which the only QB that anywhere nearly resembles Russell Wilson ($6600) was Dak Prescott (463 passing yards and 2 TDs in "come from way behind" mode). The rest of their schedule is littered with mostly average or below average QBs, yet they still allowed a 10% explosive pass rate this year, good for tops on the slate. This is a defense Wilson should be able to manipulate and exploit. The weakest link appears to be through the slot where Lockett will see most of the snaps for the Hawks. DK Metcalf will likely see the most of Kevin King, who PFF has charted as the worst corner of the Packers starting 3, but has been playing solid as of late. King has had a tougher time against some of the bigger, faster receivers this year. In particular, he had a rough day against Kenny Golladay in Week 6 allowing him to catch 4 of 8 for 99 yards. Every match-up is beatable for Seattle in this game, including the TEs. Jacob Hollister should be able to find room against the Packers defense that has the 24th worst DVOA allowed to TEs and has given up several notable box scores to the position as noted here by Derek Brown. This could also be a game where Marshawn Lynch ($4800) gets going. The 2nd match-up chart in my workbook is mostly based on Football Outsider's public data and shows that Green Bay is not good at stopping power running games, such as Seattle's. Lynch was used sparingly last week but still found the end-zone and saw three targets. Travis Homer ($5100) struggled against the Eagles elite run-stopping group but was allowed to carry the ball nearly twice as much as Lynch, indicating he'll still be a part of the game-plan (possibly in a reduced role if Lynch gets going early). David Moore is the punt option from the offense if you're looking for lower salary and ownership. He has seen his yards per game increase each of his last three games. The fantasy points haven't been much, but the floor is rising for him.
The Packers have nearly the same set of circumstances as the Seattle write-up above - a highly concentrated offense and similar defensive weaknesses they can exploit. However, Aaron Rodgers ($6500) looks like dust compared to Russ and only has one receiver he trusts. Davante Adams ($7800) has seen 30% or more of Rodgers targets in all but one game since Week 4, including two games coming down the stretch where he recorded 42% and 43% target shares. Seattle's defense will be centered around taking him out of the game and making someone else beat them. That someone else could be former Seahawk Jimmy Graham ($3300). Graham will be a popular play for rosters that utilize a cheap TE this week. Since leaving Seattle, Jimmy has played one game against them as a Packer and was held to 1 target, 1 catch, and 13 yards. This year's Seattle defense, especially as of late has been vulnerable to TEs and players running routes from the slot. In the chart below we can see that just about every team has gotten better against slot receivers (includes WRs, TEs, and RBs) except for Tennessee and the Seahawks haven't made the same strides as the rest of the playoff teams, only shaving off 0.67 PPR points per game to slot receivers. Graham has a 47% slot rate but the leader for slot snaps in Green bay is Geronimo Allison ($3600) with a 74% slot rate. Allison falls in line with guys like Bourne and Snead where he will need at least one TD and a few catches to make a difference and be worthy as a pay-down play. Both Graham and Allison could see the extra looks as the open man when Adams is draped in coverage. Allen Lazard ($4500) could also stand to benefit from the Seahawks over-scheming to take away Adams. Lazard has spiked up to 8 and 9 targets over the past two games he's played making it appear he has earned some trust with Rodgers. Should this continue into the playoffs he'll be a decent pivot option at that price.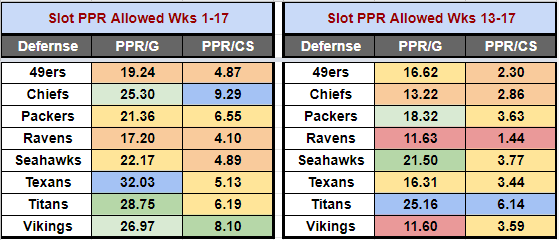 When building the match-up charts this week, one of the players that stood out the most to me was Aaron Jones ($7400). Seattle allows a healthy 26 DK points per game to opposing RBs (4th most for the slate), 1.38 rushing TDs per game at a 44% multi-TD rate (both highest for the slate), and a 15% explosive rush rate (3rd most in the NFL). Per our Advanced Efficiency Metrics, Jones has a top 8 "Juke Rate", is top 4 in "Evaded Tackles", top 7 in "Yards Created" per carry, and scored 19 TDs this year - six times with multiple-TDs in the same game. He'll have Jamaal Williams ($4600) in the backfield with him again after Williams missed week 17 and part of week 16 with a shoulder injury (thus inflating Jones' box scores in those games). Even with Williams in the backfield in other games this year, Jones has been able to put up slate-breaking scores. Jones isn't the bell-cow that Henry or Cook are for their teams but he costs less and has a better match-up than either guy. Jones may see an expanded passing game role this week if Seattle can successful scheme away Adams more often than not. Jones could be the RB pivot we need to pass the Henry/Cook builds, though I do not expect his ownership to be much less than 20% if he's not over that threshold as it is.
Final Thoughts
I spent some time reviewing the ownership and scoring from last week's 4 game slate to see how narrow our path to the top was. Only 7 players scored more than 20 points with three of them being QBs and two were Henry and Cook (who you likely had to choose between. Metcalf and Thielen were the "surprise" 20-point scorers but their salaries (mainly DK's) led them to be popular. Only one of the 12 players at 20%+ exposure hit 20 points, with 4 more coming from the group of 15-19.99% exposure. If you're playing for a million dollars this week, then you're likely going to need all 150 lineups to get the right combo (or enlist your spouse for another 150). Otherwise, I would recommend moving your action to smaller entry limit contests that fit within your bankroll management process. You'll see chalkier builds when the field has fewer shots at the bulls-eye. This allows the savvy players to create three types of lines, semi-chalky lines, lines with some logical pivots to less than 20% owned plays to get off the heavy chalk, and lines where you take more shots on constructing a line with only a couple of the top plays (15% or more for ownership) and pivoting/punting the rest of the build. The third group of builds has a higher chance of not cashing but they provide a construction less likely to be matched and will put you alone at the top leader-boards if they hit. It's usually the middle group of construction that wins, so plan your exposure to those three construction types accordingly. Good luck this week, and thanks for reading!
STAY IN TOUCH
Sign up for FantasyData's newsletter and get awesome content sent to your inbox.
We'll never share your email address and you can opt out at any time, we promise.
---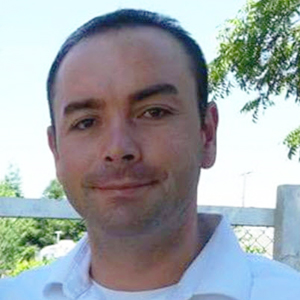 NorCal native Jesse Jones has been obsessed with fantasy football since first joining and winning a league in 1994. Always looking for an edge, Jess has been ahead of the curve mining data and building customized spreadsheet rankings and projections while others showed up to draft day asking for a pencil and a cheat sheet. As an avid NFL DFS, Bestball, and re-draft player Jess will work hard to find the edge you need to win in all formats. Jess is married to the wonderful wife of their 2 kids and enjoys traveling, playing tabletop games, and trying new craft brews. Let's make some money at this hobby of ours!