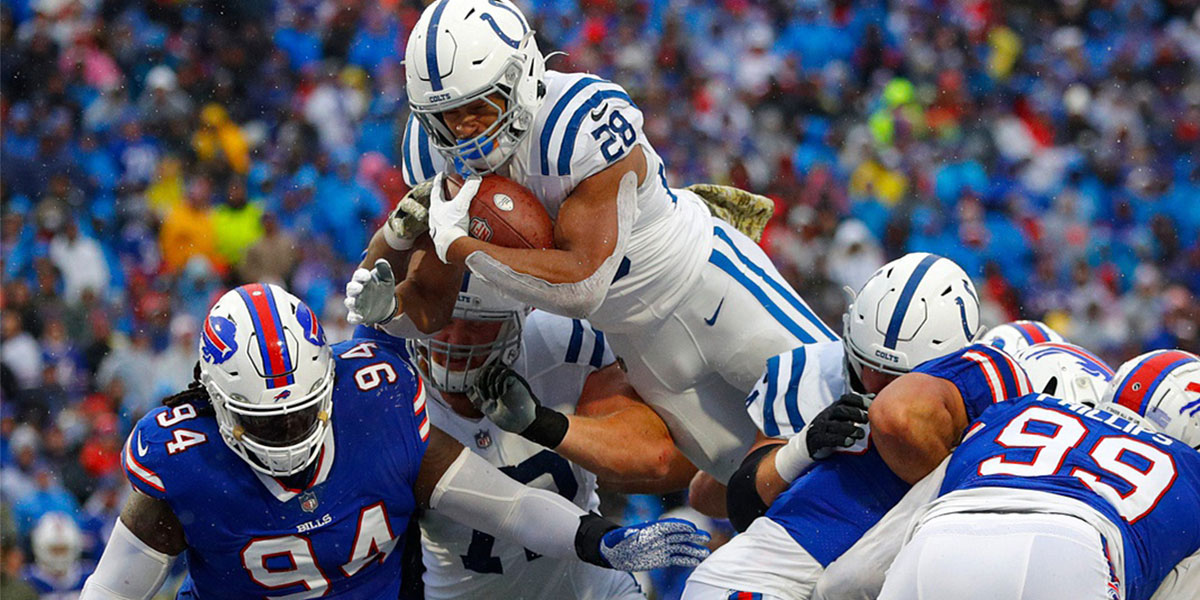 Fantasy Football 2021 Trends and Lessons
---
Fantasy Football 2021 Season Recap and Trends
With the NFL Playoffs underway, let's look at a few fantasy football lessons and trends for the 2021 season. We could write up twice as many, but folks probably don't want to read a 5,000-word article. Thank you for reading the weekly highlights, wonders, and disappointments, plus the sleepers. With the fantasy football data fresh in our brains, let's dive into three lessons and then three trends looking forward to the 2022 season.
Lesson 1 - Draft Tight Ends Early
We must evolve with the times. Often in my weekly sleepers article, the recommendations looked ugly to stream the tight end position. In PPR per game, three out of the four players had an early ADP in Mark Andrews (17.7), Travis Kelce (16.6), and George Kittle (14.1). Darren Waller and Kyle Pitts underperformed given their ADP but still finished as a TE1. Waller suffered injuries, so we'll give him a pass.
Most yards per route run by rookie receivers past 5 years (min. 50 targets, PFF)

A.J. Brown (2.67)
Justin Jefferson (2.66)
Ja'Marr Chase (2.49)👀
JuJu Smith-Schuster (2.17)
Kadarius Toney (2.14)👀
Kyle Pitts (2.13)👀
Hunter Renfrow (2.09)
Terry McLaurin (2.05)
Cooper Kupp (2.05)

— Ian Hartitz (@Ihartitz) January 4, 2022
Meanwhile, Pitts compiled the 6th most fantasy points in PPR leagues. The opportunity remained high with a 20.3% (No. 6) target share and 28.3% (No. 2) Air Yards Share. However, Pitts underperformed in the touchdown department with only one, yet the third-most receiving yards (1,026). We also love he operated as a receiver running the 9th-most slot routes. Pitts also performed efficiently with 9.3 (No. 3) Yards Per Target and 2.20 (No. 5) Yards Per Route Run.
If fantasy managers landed Rob Gronkowski, Dallas Goedert, and Dalton Schultz, then they provided top-10 fantasy production across the season. Sure there's a chance we can find a Schultz or Dawson Knox later in drafts, but drafting a tight end earlier helps solidify that spot. That fits right in for managers that use the Zero RB strategy too.
Lesson 2 - Context Matters
It's easy to fall into the trap of cherry-picking statistics to fit our narratives. However, context matters - every player provides reasons for optimism and concern. Let's take a player like Jerry Jeudy, for example. I loved Jeudy heading into 2021 since he ranked 6th with 1,536 Air Yards with a decent 21.2% (No. 31) target share and 31.5% (No. 22) Air Yards Share. Although Jeudy lacked the efficiency, evidenced by 1.72 (No. 53) YPRR and 7.6 (No. 80) Yards Per Target, he possessed some nasty route running and agility with a 19.4 (81st-percentile) Breakout Age.
Yes, I considered that came without Courtland Sutton. However, I assumed that Teddy Bridgewater's accuracy would help boost Jeudy's value. With the Panthers in 2020, Bridgewater ranked 4th with a 75.9% True-Completion Rate compared to Drew Lock at 62.9% (No. 37). With Melvin Gordon and exciting rookie Javonte Williams, I didn't consider the possibility that the Broncos would lean on their defense and the run game. It's not the only metric to note, but the Broncos ranked near the bottom with a 1.91 Pace of Play. Furthermore, the Broncos totaled the 5th-fewest total plays (1,072) ahead of the Seahawks, Falcons, Texans, and Jets.
That's just one example, but we need to consider the opportunity, efficiency, and productivity - the entire picture and context matter. Another example includes deep-sleeper in Zay Jones, who garnered a 0.526 Weighted Opportunity Rating (WOPR) that ranked 22nd amongst receivers since Week 12. WOPR combines target share and Air Yards Share as an overall opportunity metric.
Since Week 12, Zay Jones garners a 0.526 WOPR that ranks 22nd amongst receivers. Jones sits behind Hunter Renfrow in target share (23% to 20.2%).

However, the main difference involves the uber-efficiency for Renfrow with a 1.441 RACR versus 0.498 for Jones. pic.twitter.com/17vIKma2Cj

— Corbin (@corbin_young21) December 30, 2021
However, the main difference between Jones and teammate Hunter Renfrow included the uber-efficiency for Renfrow with a 1.441 RACR versus 0.498 for Jones. It's not predictive or automatic, but it seemed that the production would follow for Jones. Guess what, in Week 17, Jones caught eight of ten targets for 120 receiving yards to tie for WR11. Overall, we're dealing with a range of outcomes, and the context, situation, game totals, and more all matter.
Lesson 3 - Realize We're Dealing With Small Samples
Even though the NFL moved to an 18 game season, we're still dealing with small samples. Take Amon-Ra St. Brown, for example. After 11 games, with 6.9 fantasy points per game, St. Brown averaged 25.2 in the final six games. Admittedly, I saw Week 13, where St. Brown reeled in ten of 12 targets for 86 receiving yards and one touchdown and remained skeptical. Unfortunately, there's no waiting on trends to develop before buying into a player. For reference, from Week 13-18, St. Brown ranked second behind Cooper Kupp in total fantasy points. That's a league winner.
Although six games might seem like a large enough sample, we observed hot stretches that fade with more games played. Given the prospect profile and team context, it's unlikely that St. Brown will produce as a WR1 in 2022 for six more games. However, he could still smash, assuming he receives the high opportunity, evidenced by the 6th-highest WOPR from Week 13-18. An ongoing off-season debate - whether to buy or sell Amon-Ra St. Brown in dynasty and redraft leagues.
Amon-Ra St. Brown update (since Week 13):
🔥2nd in PPR (25/g) behind Cooper Kupp
🔥5th in WOPR (07.11) behind Justin Jefferson, Michael Pittman, Kupp, & Adams
🔥4th in RACR (1.153) behind Kupp, Renfrow, & Adams (min. 40 targets)

Data via @RotoViz pic.twitter.com/NRt7q5MJJF

— Corbin (@corbin_young21) January 5, 2022
It reminded us of Brandon Aiyuk in 2020. From Week 7-15 in 2020, Aiyuk ranked 4th with 0.74 WOPR with a relatively efficient 0.92 RACR. Aiyuk missed two games during that stretch by landing on the COVID-19 list, so the raw production doesn't look as exciting. He ranked 19th with 568 receiving yards and 19th in total fantasy points with 20.8 per game. Overall, still quite an exciting stretch for Aiyuk with the 13th-best EP (119.9) from Week 7-15.
From Week 7-15 (missed 2) in 2020, Brandon Aiyuk ranked 4th with 0.74 WOPR with a relatively efficient 0.92 RACR. He ranked 19th in fantasy points w/ 20.8 per game.

Amon-Ra St. Brown in Week 13-18 ranked 2nd behind Cooper Kupp in total fantasy points with the 6th-highest WOPR pic.twitter.com/U2Ih94rE2G

— Corbin (@corbin_young21) January 19, 2022
As noted in Lesson 2, the context matters, and we need to consider the whole picture. One final example of a small sample given the team context - Lamar Jackson and the Ravens offense in 2021. The Ravens averaged 35.9 (No. 9) Team Pass Plays Per Game, yet still a high 30.4 (No. 3) Team Run Plays Per Game. In 2019 and 2020, Jackson averaged 29.3 (No. 32) and 25.4 (No. 32) Team Pass Plays Per Game. The Ravens went from a low-volume passing offense to one with high volume. It's likely due to them losing J.K. Dobbins, Gus Edwards, and Justice Hill while relying on Devonta Freeman and Latavius Murray. We'll see if that trend remains for the Ravens in 2022.
Trend 1 - Titans Running Back Target Share
Early in the 2021 season, even with Derrick Henry healthy, the Titans targeted the running back position more often. For context, Henry totaled 20 targets (No. 63) and a 7.9% target share through eight games in 2021. In Week 2 against the Seahawks, Henry's six targets marked a career-high. Henry totaled 31 (No. 38) targets and a 6.6% target share in 2020, then 25 (No. 49) targets and 6.2% target share in 2019. The target share remained so low that Henry didn't qualify for a ranking.
In 2021, the Titans targeted their running backs 26.6% compared to 11% in 2020 and 12.6% in 2019. The total touchdowns significantly dropped to 45 total compared to 59 in 2020. Likely due to losing Derrick Henry, the Titans ran more plays while also lowing their touchdown efficiency. We could argue it's the loss of Arthur Smith too, plus Corey Davis to the Jets. Regardless, it's something to monitor heading into 2022 if the Titans continue to target their backs at an unreal rate compared to previous seasons.
Trend 2 - Josh Jacobs Receiving Work
In 2019 and 2020, Josh Jacobs dominated the rushing opportunities, evidenced by 242 (No. 13) in 2019 and 273 (No. 3) in 2020. However, the target share went from 7.1% in 2019 to 9.8% (No. 22) in 2020. Then in 2021, Jacobs logged 217 (No. 11) carries, but the 12.4% (No. 12) led to a career-high 54 (No. 5) receptions and 348 (No. 14) receiving yards.
Josh Jacobs finished with:
-18% evasion rate (4th)
-9% missed tackle rate (1st)
-Mediocre 1.7 YBC & 2.1 YAC

Jacobs set a career-high with a 12% target share (No. 12), but the overall opportunities dropped from 318 (No. 3) in 2020 to 281 (No. 9).

Rushing EP📉
Receiving EP📈 pic.twitter.com/qshXyt6qAm

— Corbin (@corbin_young21) January 14, 2022
Jacobs typically created yards after contact with 767 (No. 9) Yards Created and 2.83 (No. 25) Yards Created Per Touch. Amongst backs with 100 carries, Jacobs ranked 7th with a 19% evasion rate and a respectable 2.4 yards after contact. Although the rushing expected points dipped with the increased receiving opportunity, Jacobs finished four games with receiving expected points as an RB1 and seven RB2 games. For context, Jacobs totaled three RB1 and seven RB2 games for receiving EP in 2019 and 2020.
It's something several fantasy analysts knew existed in Jacobs' profile, but we hadn't seen it much outside of 2021. Jacobs compiled six games with at least five targets or more compared to three in 2019 and 2020. To close out the 2021 season, he's a few months away from 24 years old. It feels like a potential buy high situation for dynasty leagues, assuming the target share remains healthy. For redraft in 2022, he's easily a top-12 back with that type of target share in PPR leagues.
Trend 3 - Seattle Seahawks Low Pace of Play
Before 2021, several folks, including myself, came in with optimism for the Seahawks offense, with a former Rams coach in Shane Waldron taking over as offensive coordinator. However, the Seahawks slowed the pace to rank dead last in total plays and plays per 60 minutes. Although the team's total yardage dipped by about 400 yards, the yards per play finished similarly.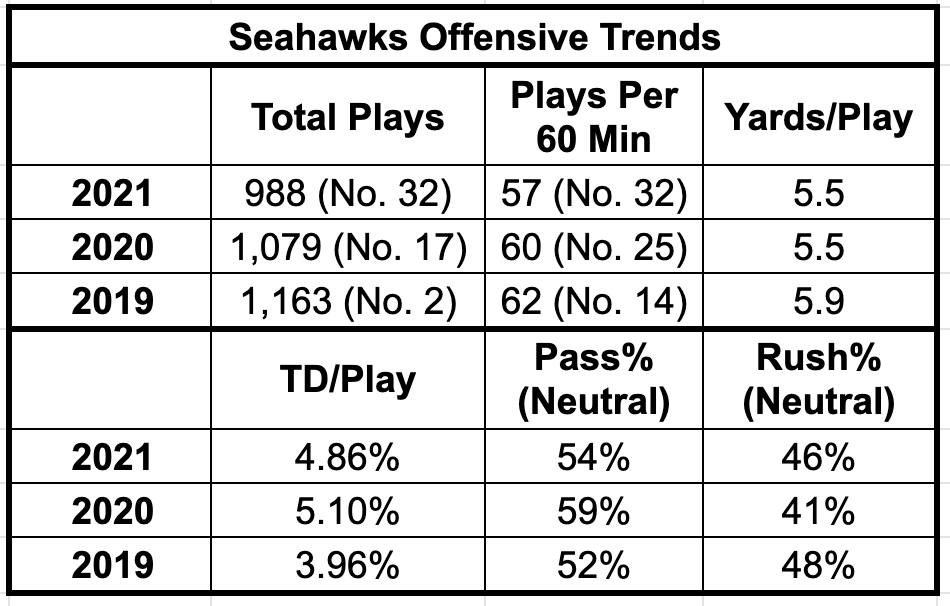 We know Russell Wilson proved he performs efficiently with a high touchdown rate of 8.2% in 2018, then 6% in 2019, 7.2% in 2020, and back down to 6.3% in 2021. For context, Wilson finished with a career-low in passing yards (3,113) throughout his ten-year career. Thankfully, Rashaad Penny provided juice down the stretch, but the rest of the Seahawks' offense became unreliable.
If we go back to lesson 3 - we're dealing with small samples. Although one season lasts 17-18 weeks long, we still observe mini trends within that change in the following season. Rashaad Penny crushing it in four out of the final five weeks presents another small sample that we appreciate. Since Week 14, Penny ranked 2nd with 110.2 overall fantasy points in PPR leagues with the most rushing yards (971) yet the No. 44 target share (5.1%). Digging a little deeper, Penny ranked 10th with 49 rushing EP and 1st with 54.1 rushing FPOE since Week 14. That indicates Penny's production isn't a fluke, but the uber-efficiency appears evident.
STAY IN TOUCH
Sign up for FantasyData's newsletter and get awesome content sent to your inbox.
We'll never share your email address and you can opt out at any time, we promise.
---

Corbin is passionate about fantasy baseball and football. He loves diving into and learning about advanced metrics. Corbin is a Mariners and Seahawks fan living in the Pacific Northwest. Corbin's other hobbies are lifting weights, cooking, and listening to fantasy sports podcasts.