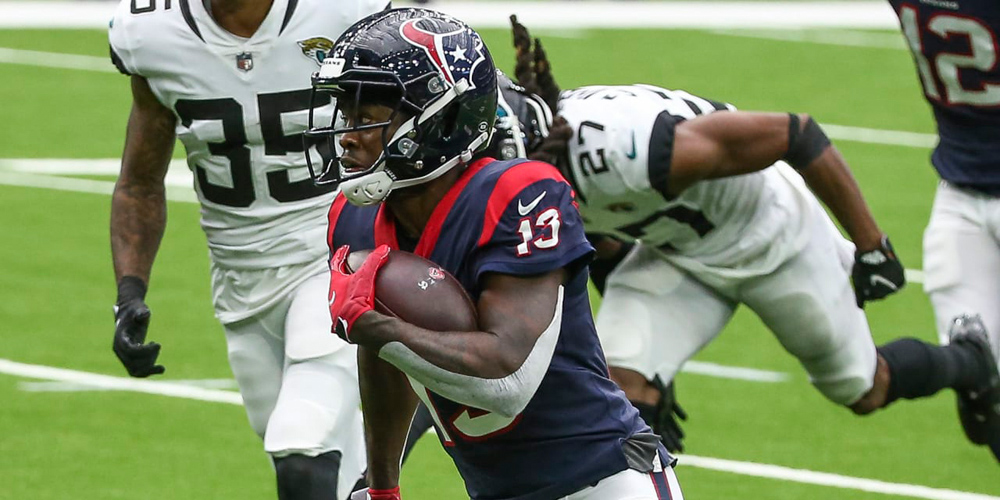 Fantasy Football Buy Low/Sell High: Week 7
---
Fantasy Football Buy Low/Sell High: Week 7
The weekly fantasy football scoring leaderboard saw some familiar faces at the top, Derrick "King" Henry, Deshaun Watson, and Julio Jones had spectacular games as expected from Superstar players. What wasn't expected is the pace that rookie WR Justin Jefferson is on, or Anthony Firsker performing as the TE1 with 25.3 PPR fantasy points. Fantasy football can be unpredictable, and the best thing you can do is find the most consistent players on a weekly basis. Here are my best candidates to buy low and sell high on in week 7.
Buy Low
Brandin Cooks, Wide Receiver, Houston Texans
Brandin Cooks has looked like the four-time 1000 yard receiver the past two weeks of the season. Cooks has caught 17 of 21 targets for 229 yards and 2 touchdowns. The Texans offense looks explosive, as most predicted it would at the start of the season. Deshaun Watson doesn't have a favorite target that he locks on, he spreads the ball around. This offense can support two starting fantasy wide receivers with ease. kick the wheels on a Brandin Cooks trade as two weeks may not be enough to make his fantasy managers believers just yet.
J.D. McKissic, Running Back, Washington Football Team
J.D McKissic has slowly put together three solid PPR fantasy performances. With 19 catches on 22 targets, McKissic is the second-most targeted player on the team. He is gaining some traction on the ground as well, tying his season-high of 8 rushing attempts. McKissic put forth his best fantasy point total of the season with 14.4 PPR points. The Washington Football team has struggled to run block, and the easy running back dump-off pass seems to be a big part of the offense. McKissic's price tag should be extremely low, he is worth a roster spot and possibly a low-end Flex play if needed.
J.K. Dobbins, Running Back, Baltimore Ravens
With the ankle sprain to Mark Ingram, J.K. Dobbins can be a relevant fantasy option to buy low on. The Ravens backfield has underwhelmed, to say the least, Ingram is tied with Lamar Jackson at 50 rushing attempts, with Jackson leading the team at 346 rushing yards. Dobbins and backup running back Gus Edwards will split the carries for the coming weeks. With Dobbins getting the pass-catching opportunities, to go along with his explosiveness makes for a good candidate to buy. The Ravens seem to trust Gus Edwards on the ground, but against the Pittsburgh Steelers run-defense, look for Dobbins to help the Ravens through the air.
Honorable Mentions: Deebo Samuel WR, Demarcus Robinson WR
Sell High
Jerrick McKinnon, Running Back, San Francisco 49ers
Jerrick McKinnon has once again found himself as the lead back for the 49ers heading into week 7. The high ankle sprain to Raheem Mostert puts McKinnon at the starting spot, with Jeff Wilson Jr. and JaMycal Hasty as the backups for the next few weeks. In his two starts of the season, McKinnon scored 16.7, and 22.7 fantasy points finding the endzone in both games. McKinnon can be effective on the ground but is a great pass-catching back. The 49ers and Kyle Shanahan will mix McKinnon into the offense in both ways. While this week's matchup against the New England Patriots may not be favorable, find a buyer and sell high.
Julio Jones, Wide Receiver, Atlanta Falcons
It sounds like a crazy idea to sell high on Julio Jones. He is a top 3 wide receiver in the NFL without a doubt and proved so against the Vikings with 8 catches on 10 targets for 137 yards and 2 touchdowns, a total of 33.7 PPR points. Jones has been banged up this year which he seems to be a few times each year. It is frustrating to deal with, and now may be the time to sell high and get your hands on a healthy WR1. His name sells itself, shop Julio Jones in your leagues and get a feel on the return, this isn't a must sell, rather a sell high.
Myles Gaskin, Running Back, Miami Dolphins
Myles Gaskin was one of my buy-low options in week three of the season. He has continued to impress, and his value continues to grow. The Dolphins give Gaskin close to 20 touches per game, with the majority of those opportunities on the ground and about 5 passing-targets per game. With the change at Qb to Tua Tagovailoa, what happens to Gaskin? We know Ryan Fitzpatrick will always find the running back dump off if need be. Tua may or may not, and this could affect Gaskin's point-scoring going total. It is unknown what the offense will look like with Tua leading the way, it could be positive or negative for Gaskin. Just like the Julio Jones case, this isn't a must sell player, but sell-high as most teams are in dire need of a starting fantasy running back.
Honorable Mentions: Kenyan Drake RB, Robert Woods WR
Quick Links
STAY IN TOUCH
Sign up for FantasyData's newsletter and get awesome content sent to your inbox.
We'll never share your email address and you can opt out at any time, we promise.
---
The go-to sports fanatic friend with an encyclopedia-like memory. Sports have been apart of my life for as long as I can remember. A lifelong fan of the Chicago Cubs, Chicago Bulls, Chicago Blackhawks, and New England Patriots. (Yes, Brady is the GOAT). Proud dad, Avid gamer on PS4, 10-year Fantasy Football vet. 2020' Governors State University Graduate B.A. Communications/ Journalism concentration