NFL DFS Picks: Week 7
---
NFL DFS Picks: Week 7
I've always loved to sort things and count and do mental math. I'm not really sure why, honestly—they're just weird idiosyncrasies of mine that seem to always be influencing the way I interpret the world. When I was young and opened up a bag of M&Ms, I'd line them all up by color, effectively making a bar chart to evaluate the proportions, before taking a bite. If I walk upstairs, or compulsively click my pen, I'm counting in respect to time. And when I see a player's statline scroll across the bottom of the screen—say Christian McCaffrey has 22 carries for 114 yards and a TD, plus 6 receptions for another 52 and another TD—I'm calculating, just like that, 37.6 DraftKings points (don't forget the 100-yard bonus!)
It might be compulsory rather than voluntary behavior at times, but one way or another, I'm often immersed in numbers. Once you start weaponizing that approach—adding concepts such as expected value to the toolbox, chances to form efficiency metrics rather than simply volume, and who knows how many new statistics are created every season—it snowballs into an even bigger beast. You want to quantify everything, because it almost feels attainable to do so, and there's no good way to weigh an enclosed metric vs. something that's merely conjecture.
At heart, I'd say I'm an analytics guy, or at least that the aforementioned mindset skews me in that direction. Yet, when it comes down to it, I'm not sure that's the only way to make decisions—when it comes to the best athletes in the world, there are times where you just want to bet on the player. That was Julio Jones last week coming off injury, when murmurs suggested he was washed; it was Derrick Henry being the beast that he is en route to a career day. There were statistical indicators that might've pushed you to those guys, sure, but just as well one could've gone as simply as "I'm looking at a generational player in a plus matchup; this team wants a win and will feed their best players the ball." I'll mix in the stats for my NFL DFS Picks here again in Week 7, as is tradition—let's just remember we don't necessarily need to overthink everything.
---
FantasyData's NFL Optimizer & Stacking Tool
FantasyData has two awesome Daily Fantasy tools you should try out for this week's NFL main slate. First, is our NFL Optimizer. FantasyData pumps in our expert projections into our fast-loading, mobile-friendly optimizer to help you build DraftKings, FanDuel, or Yahoo DFS lineups fast. But before you lock your first couple players, you should check out our NFL Stacking Tool. This page takes our projections and finds the best stacking combinations. If you haven't noticed, the big winners aren't just stacking a QB and a WR, but have multiple stacks that have allowed them to win.

Check out FantasyData's Mid-Season Membership Deals Today!
---
As a reminder, I've created and will be hosting a new DFS podcast, Slate Breakers, with fellow FantasyData expert Chris Mitchell throughout the season. Episodes will be embedded in these preview articles upon release later in the week, but you can also follow me on Twitter for an immediate notification when a show drops.
Quarterback
Good news—stud QBs are back on the slate, and in bulk. Three games have over/unders of 56+ points (Seahawks-Cardinals, Lions-Falcons, and Packers-Texans), while outside of those contests, an additional four teams (Saints, Bills, Chiefs, Chargers) have team totals above 28. That makes the player pool wide; you can make cases for stacking far more combinations than I'll be able to get to in 1600 words. The leader in salary is Russell Wilson ($8000 on DraftKings), and I'm obviously in support of going to the counterpart of that game in Kyler Murray ($7100) as well as Patrick Mahomes ($7400) for some savings.
We could see lower ownership on two NFC North quarterbacks—Aaron Rodgers ($7000) and Matthew Stafford ($6500)—after each disappointed in Week 6; I'll be taking shots with Stafford in tournaments, who gets a very friendly date with the Falcons after ceding red zone work to the backfield and thus missing out on scores. Feel free to roll with their opponents, too, as Deshaun Watson ($6800) would get my edge over Matt Ryan ($6700) in the same range. Justin Herbert ($6400) is averaging 24.3 DraftKings points/game, good for 6th-most on this slate.
Andy Dalton ($6000) makes for another interesting tournament play, Gardner Minshew II ($5900) continues to put up solid if not ceiling performances and Joe Burrow ($5500) has gotten the 300-yard bonus four times already this season. You could go as deep as Burrow for cash games, though plenty of the higher options have their own appeal with higher floors. At the end of the day, there are a ridiculous amount of plays here; I'm splitting hairs to parse it down to just a few.
Favorite Plays: Patrick Mahomes ($7400), Kyler Murray ($7100), Matthew Stafford ($6500), Joe Burrow ($5500)
Running Back
Since CMC is unlikely to be back for another week, Alvin Kamara ($7900) earns top status on the board, a 7-point favorite against a porous Panthers run defense. Play him. Of the field, I'm leaning then dropping a bit further; it's easier than you might think to pair Kamara with (or pick multiple of) Aaron Jones ($7200), Kareem Hunt ($6800), and Mike Davis ($6600). Jones has a great matchup; Hunt sees his softest opponent since becoming the starter; Davis wound up as a fade for me by the time last Sunday rolled around but should bounce back to a healthier target share.
It's possible Phillip Lindsay ($5300) is running the show for Denver, which is worth following the status of—and I want whichever of Joshua Kelley ($5100) and Justin Jackson ($4900) gets to feast on the Jags defense this Sunday (my hunch says Kelley will offer better leverage, as far as DFS goes, but that Jackson is slightly safer). I expect significant popularity to go the way of Kenyan Drake ($4800) given the slate was released before his Monday night showing.
If it were me, I'd be giving La'mical Perine ($4300) some work to see what he can do. The 49ers backfield—particularly Jerick McKinnon ($5800)—should be monitored throughout the week. Le'Veon Bell ($4400) was recently added to the slate, though he may not be ready to play; for what it's worth, Clyde Edwards-Helaire ($6100) is still around his usual price. I'd rather go Joe Mixon ($6300) or Chris Carson ($6400) than CEH if Bell is reported to have involvement.
Favorite Plays: Alvin Kamara ($7900), Aaron Jones ($7200), Kareem Hunt ($6800), Joshua Kelley ($5100), Kenyan Drake ($4800)
Wide Receiver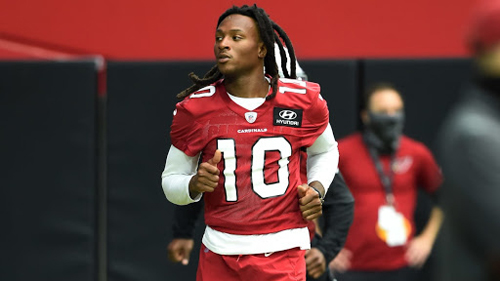 DeAndre Hopkins ($8200) against the team allowing the most fantasy points to opposing WRs? Sign me up. There are another six wideouts in the 7K's, however, and they're all worth exploring. Stacks might drive your decisions here, but I'd make sure to prioritize getting exposure to Davante Adams ($7900) and Michael Thomas ($7600) as clear alphas viable in any format. It's a bit tough after them, since the Falcons duo makes for a toss-up, Stefon Diggs ($7000) is likely to be on a team that cruises to a victory, and D.K. Metcalf ($7200) now has a marked price gap above Tyler Lockett ($6600). I'm as big a Metcalf fan as anyone given him and I have similar measurables, but Lockett is going to still have splash games—he shouldn't be forgotten about.
Yes, I'm back to the well with Kenny Golladay ($6700), who was fine despite losing out on a much bigger day due to multiple pass interference grabs on plays that could've gone for touchdowns. This price for Tyreek Hill ($6400) is egregiously low given his slate-breaking potential. A.J. Brown ($6300) fits the mold of "this guy is really good at football and I want to play him." But just as exciting, to me, is the fact that Keenan Allen ($6200) is going to be fresh off the bye and chilling here. Allen's seen double-digit targets in every game that Herbert has started; I'll be cycling him in above whatever the field values him at.
Now out of his brutal stretch of matchups, Terry McLaurin ($5800) can volume-hound his way to productive outings, which the Cowboys can certainly help with. I'm offended on behalf of D.J. Chark Jr. ($5500) that his salary dropped by $800 after a game in which he saw 14 targets and 193 air yards. You can get a cheap piece from a high-totaled game through Brandin Cooks ($5200), and Mike Williams ($4700) works as a pivot off Allen or in Chargers stacks. Any of the Bengals WRs are viable, though I'd lean A.J. Green ($4300) > Tyler Boyd ($5400) > Tee Higgins ($5300) when factoring in cost. My favorite punt plays here are Breshad Perriman ($3700) and Demarcus Robinson ($3400); Diontae Johnson ($4200) also intrigues me for cheap.
Favorite Plays: DeAndre Hopkins ($8200), Kenny Golladay ($6700), Tyreek Hill ($6400), Keenan Allen ($6200), D.J. Chark ($5500)
Tight End
George Kittle ($6500) and Travis Kelce ($6300) are awesome, though I'd be slightly wary of New England keying in on Kittle. If you can't get to those two, it's better to work down; Austin Hooper ($4000) is putting together a string of decent games, Dalton Schultz ($3900) might see extra looks as Dalton needs to get the ball out quick given his depleted line, and Logan Thomas ($3500) finally did something—that was cool.
The obvious play is going to be Anthony Firkser ($3000) if Jonnu Smith ($4700) misses this week, and with Noah Fant also ailing, Albert Okwuegbunam ($2500) is a good play at minimum salary. The availability of the two punts could give remarkable room to maneuver with your lineups, and it's as good a time as ever to play around and figure out what you might be able to work in.
Favorite Plays: Travis Kelce ($6300), Dalton Schultz ($3900), Anthony Firkser ($3000)
STAY IN TOUCH
Sign up for FantasyData's newsletter and get awesome content sent to your inbox.
We'll never share your email address and you can opt out at any time, we promise.
---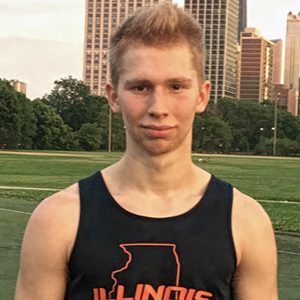 Peter Gofen started playing fantasy football at the age of seven and has amassed numerous meaningful and even more meaningful championships in the years since. His YouTube channel, PeterJaguars, has over 2.5 million total views, in the heyday of which he correctly predicted the entire 2017 NFL playoff bracket. Peter currently resides in California as a student at Stanford University, where he commentates Cardinal Sports for Stanford's campus radio station, KZSU 90.1 FM.