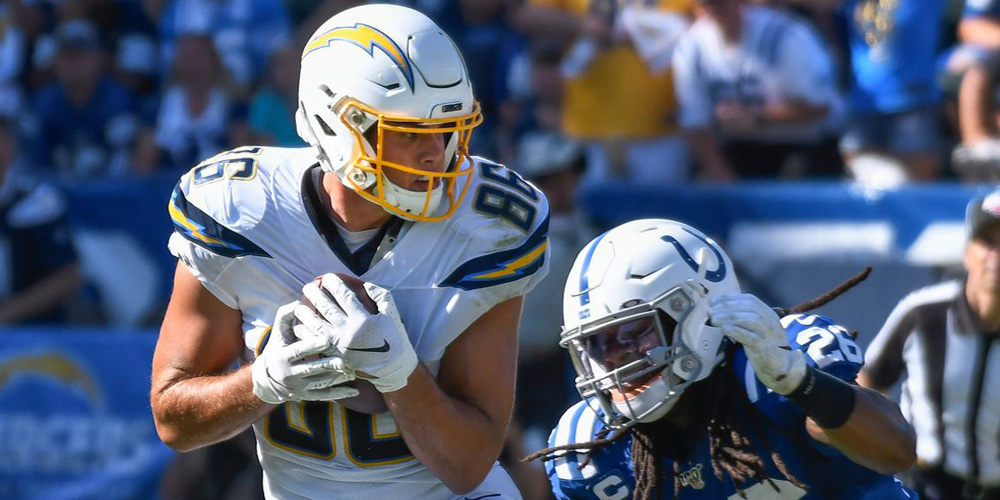 DraftKings NFL Picks: Chalk, Pivots, and Punts for Week 13
---
DraftKings NFL Picks Week 13
Initial Thoughts
Before starting any research, besides glancing at the MATCH-UP CHART HERE, the spots I initially want to target are going to be the battle of Northern Florida, a pissed off Packers team going against the Giants generous secondary, a Rams team needing a win playing a team that allows the highest passer rating to opposing QBs, and the Chiefs who look likely to shell the Raiders in the passing game. I'm looking forward to diving into the data and writing this slate up this week.
Review
"Chalk, Pivots, and Punts" is an NFL DFS series focused around main slate GPPs. We go game by game looking at potential chalk plays to pivot away from, and perhaps discover some diamond in the rough type punt plays to add a differentiation piece to our builds. Each game will have a brief write up and will include the team's projected point total and Vegas Implied point spread as of the time of writing. Here is a link to a Google Sheet that presents data I collect throughout the season breaking down points allowed to specific positions, and displays home/road splits, as well as the combined data. Below are links to the final data from last year I posted to Twitter.
Link to Tweet: Chart showing where defenses allowed fantasy points by position last year
Link to Tweet: Chart showing how defenses allowed TDs by Passing & Rushing last year
When discussing pivot plays, it's not always as simple as saying "Player A" is chalk so pivot to "Player B". Pivots can be a pivot from one player to another player at the same position, a pivot from one position to another, or just a way to pivot to the other side of a game that everyone else might be heavy to one side of. Simply put, the pivots will not always be direct pivots, more like other ideas to consider in the macro-view of the slate.
Process
The process I use for this article and for selecting my player pool starts with the data I collect and chart. The match-up chart and individual match-ups are the first layers of the onion. Once we have that peeled we should have a sizable player pool to work with. The next step is to reconcile that data. I use the Google sheet above to reconcile the match-up chart by looking at what the opposing teams did to allow those numbers. Who did they face to get there? What were the game environments like? I try to watch as many games as I can, but I can't watch them all, so I do a lot of reading from my Beat Writer list to keep up with injuries, changes to the way the team is playing, and look for other general trends to consider. Using Fantasy Data's resources helps get a snapshot on a team and player level for the offenses to see what type of numbers they are putting up. Then, it's about identifying what the top plays are for the slate, and how heavily they will be owned. This is where we need to have some pivots in our back pocket, and if necessary some punts if we want to jam in a bunch of elite plays and have to look for a value guy to put up 10 or more points. Game theory, contest selection, and roster construction are the final challenges as we try to put it all together. This where we win or lose.
Below is my Chalk, Pivots, and Punts Chart based on my opinion of the slate and what the field will likely be on this week.
Let's get after it...
Tennessee Titans (20.75/+2) at Indianapolis Colts (22.75/-2) [43.5]
These two teams met in week 2 after Tennessee surprise-crushed the preseason darling Browns. The result (19-17) was a much lower scoring game for both teams after their first week of action and the Colts came out on top with a road win. My thoughts for this week would be that this game will likely resemble the first meeting quite a bit in that it will be gritty and somewhat low scoring. I'll be off the Titans passing game, even after seeing how Houston torched Indy there last week. The Titans volume is just too low to bank on it being a slate winning stack or as individual plays. The Titans average total of pass plus run plays and the amount of these plays the Colts allow are both right around 55 plays (NFL average is 60 run plus pass plays per game). Derrick Henry ($7600) should lead the charge for Tennessee here and is only a "pretty good play" for me in this spot. The Colts will surrender some yards and fantasy points to opposing RBs but they have done so less often with Darius Leonard in the line-up which will be the case this week. Henry has rushing totals of 84, 93, and 46 in his last three meetings over the last two years with 1 rushing TD. A.J Brown ($5300) is priced the highest he's been all year and is somewhat intriguing for 150 lineup builders because of his combo of size and movement skills to break big plays. The Titans DST ($2900) is interesting with the Colts being depleted on offense and the implied total being low-ish.
Jacoby Brissett ($5900) threw 3 TDs in this game earlier in the year but only had 146 passing yards to go with it. He's not a great option for this slate unless you're firing 150 into the Milly Maker and looking for low owned options. With Jurrell Casey back last week Fournette still found his way to 97 rushing yards and set a career-high in targets with 12. If the Colts game-plan takes them down this road then those rushing yards will go to Jonathan Williams ($5300) who is reasonably priced but will need a TD or two to make a major difference if he winds up with less than 100 rush yards. The RB targets will mostly flow toward Nyheim Hines ($4200) but probably nothing more than 7 or 8 to Hines himself (8 would be a season-high for him). The Colts will be without Hilton this week pushing the receiving action to Zach Pascal ($4700) and Marcus Johnson ($3100) on the outsides. Adoree' Jackson might follow Pascal around since he is the most experienced and productive receiver that will be active on the outside. This could make Johnson a reasonable punt option on the other side against LeShaun Sims who has been on the injury report this week (or his back-up, if he doesn't play - which would be the third-string guy at that spot after losing Malcolm Butler a few weeks ago). The Colts don't have a talented slot receiver to take advantage of the match-up with Ryan in there (their primary slot is Chester Rogers - $3400) but could get something out of Parris Campbell ($3200) in the slot if he plays his average of 39% of his plays from there. He's someone to keep in mind for deep salary relief in a possible good match-up. With Ebron going to IR it will open up more opportunity for Jack Doyle ($3300) at TE, a position Tennessee is not great at stopping. The Colts DST ($3100) is in play here for the same reasons as we mentioned for Tennessee.
New York Jets (22.0/-3) at Cincinnati Bengals (19.0/+3) [41]
The Jets and Sam Darnold ($6100) went ham against the Raiders last week which will put them on the collective field's radar. The Jets passing game may not need to do much here and even if they are forced into action they will have to deal with a Cincy defense that limits plays to the outsides. The best way to go for the Jets here should be Le'Veon Bell ($7200), who was priced so low last week that his price bump for this match-up is still practical and I'm guessing he'll find his way into several of my builds. The Bengals play stationary corners so if the Jets do need to pass, then there's a weak link to attack with BW Webb on the outside. PFF has him charted with 12 targets for 7 receptions allowing 205 yards (nearly double the next highest CIN CB - Jackson) and a TD over the last 3 weeks as a starter. Robby Anderson ($4800) would be the most likely to put up those types of numbers as he has the speed to burn whereas Demaryius Thomas ($3600) could make some catches but won't go too far after the catch.
Andy Dalton ($4700) will make his return as the starting QB this week and gives us a discount play with a chip on his shoulder. The Jets slot corner Brian Poole is pretty good so Tyler Boyd ($5500) isn't an automatic stacking option with Dalton. The Red Rifle seems to make more sense without a partner in crime here. The Jets have had to turn to their young corners on the outside and have adapted to a scheme that is keeping the ball in front of them and not allowing big yardage to anyone. It would be awesome if AJ Green ($6000) was healthy and already had a couple of games under his belt, but that's not where we are yet. One of Alex Erickson ($4000) or Auden Tate ($3800) could post a solid score in this match-up so if you are entering 150 and using Dalton, these guys are worthy of adding to your groups with Dalton. The Jets defense has been tough on opposing RBs, but Joe Mixon ($5800) sees a good amount of volume for that price and could possibly punch in a couple of TDs to make him valuable this week.
Washington Redskins (14.75/+10) at Carolina Panthers (24.75/-10) [39.5]
I'll have no interest in Washington this week outside of maybe some Derrius Guice ($4500) as a dart throw if I max out 20 max-entry games. I'm not a 150 lineup player, but if you are, then you could consider gambling on Dwayne Haskins ($4600) and his 30 or so attempts getting some return with Terry McLaurin ($5600) at nearly no ownership.
Christian McCaffrey ($10,500) is an auto-play where you can afford him and needs to be at a minimum of 30% exposure in your player pools for multi-entry. Kyle Allen ($5500) comes in at a really nice discount this week and is an interesting stacking partner with either CMC or D.J. Moore ($6800) who is still priced too low himself. With the volume and production we're seeing from Moore he should be mid-$7k, so take advantage of his mispricing. Curtis Samuel ($4800) is a good player that has yet to have a big game this year. At his price, he's worth some exposure as a "he's due" speculative play. Washington has an above-average amount of the throws against them sail toward the TE making Greg Olsen ($4400) a solid value in the mid-range for TE pricing this week. He also seems due for a good game soon. With the talent Carolina has on defense, this being a home game, and the lack of talent on Washington's offense we have to consider the Panthers DST ($3800) one of the top plays at DST this week if you can get to them.
San Francisco 49ers (20.5/+5.5) at Baltimore Ravens (26.0/-5.5) [46.5]
This game is the blockbuster of the slate from a real-world football perspective and will be an exciting test for both teams as they head down the road to the playoffs. The weather could be a factor in this if the rain makes the game as sloppy as it did when SF went to DC and played on a slip-and-slide for a field (and in this case, I would take the under and/or SF to cover). The 49ers are relying on their defense to keep the offense in good spots. Their offense is relying on a strong running game and George Kittle ($6100) to move the ball. The most comparable TE Baltimore has seen this year was when they went to KC and faced Kelce who scored 15.9 DK points. That's about where we can expect Kittle to land assuming both teams consider him as their focal point (SF on offense, BAL on defense). It will be up to the health of Emmanuel Sanders ($6300) and rookie Deebo Samuel ($5200) to keep the defense from keying in completely on Kittle. Shanahan's scheme will have Kittle wide-open a couple of times every game, which is where he will need to do his damage. One of Sanders or Samuel could have a good game depending on how much they can avoid Humphrey (who seems to be playing nearly 100% slot corner now and not as a shadow). The Chiefs and Browns have been able to find success on the ground against the Ravens and Joe Mixon has put up a 20 DK point game, but with the way SF rotates backs, it's unlikely that any one of theirs sees enough volume to produce a 20+ point game.
Lamar Jackson ($7000) has been terrorizing opposing defenses this year and has a chance to do the same this week against a strong 49ers defense that has struggled a bit against mobile QBs this year, twice allowing Kyler Murray to go over 20 points and allowing 17.6 to Russell Wilson. If Jackson can post a good score it will come from spreading the ball around and via his legs. The 49ers aren't particular weak anywhere in the passing game and only Cincinnati has had big scores come from their receivers against them. Marquise Brown ($5700) is the most likely to be successful of any of their receivers. Looking at the box scores for Mark Andrews ($5700) indicates he will need to see at least 8 targets to get anything going. The 49ers are allowing a very low 16% of their targets allowed to funnel into the TE making him someone you make consider reducing exposure to here. The 49ers are tough enough with their run defense to take the Ravens platoon of RBs out of the pool for me.
Tampa Bay Buccaneers (24.25/-1) at Jacksonville Jaguars (23.25/+1) [47.5]
Even with the turnovers, Jameis Winston ($6300) is showing great floor with 6 straight games over 20 DK points and 8 out of 11 games reaching the 300-yard bonus this year. Winston is crushing it in our deep-ball metric leading the league with 75 deep passes and second in distance per deep-ball attempt. A factor working against Winston hitting a big score will be how bad Jacksonville's run defense has been lately. The Jags have allowed three straight games of over 200 rushing yards against them (233 yards average) and 8 rushing TDs (2.67 per game). During this same span, the passing yardage against them has averaged 190 yards per game with only 5 passing TDs. If we follow this trend then we should look to roster Ronald Jones ($5100) at his buy-low price. Jones has scored over 15 DK points in 3 out of his last 4 games with 11 or more carries and 1 rushing TD in those 3 games (the one with less than 15 was against the Saints). Jones has target counts of 3, 4, 8, and 2 over those last 4 games which will keep him useful in PPR scoring formats. Peyton Barber ($3500) has had 11 carries in two of his last three games matching Jones in one game and carrying it one less time in the other. However, Barber is not as involved in the passing game, although he did catch a TD against the Saints. Jones has had the edge in snap counts averaging 45.5% to 18.5% over Barber during the last 4 weeks, further giving him the edge in our RB selection from the Bucs roster. If we do decide to chase the passing game it is likely the field will gobble up Chris Godwin ($7700) shares after his monster game. He's a good play for sure. I have not been the best as picking which Bucs receiver will have the big game and therefore have hedged by rostering both equally every week. Looking at the match-ups though, I wonder if this is a week Mike Evans is the bigger scorer. Godwin leads the team in percentage of snaps run from the slot which will put him primarily against DJ Hayden who just about matches him in size and speed and is the best of the top 3 CBs for the Jags. Mike Evans will see a lot of Herndon and Bouye on the outside where he has a 5 to 6-inch advantage in height and a 41 to 46-pound advantage in weight. If Winston throws a bunch of high-point deep-balls to Evans, then he should be able to go over the top of those guys for big gains downfield.
Leonard Fournette ($7500) is in a similar position as last week when he faced a defense that is tougher against the run than the pass. However, this time he is facing the #2 run defense with Tampa only allowing 78.7 yards per game on the ground. He will need to see another 8-12 targets in this game to pay off his price tag against this defense. Unfortunately, Tampa does not allow many targets to the RB position on the year because of how easy their secondary has been to attack. The Rams targeted Gurley 11 times against the Bucs, while Drake and Kamara (twice) are the only other two to see 7 or more targets out of the backfield against them, so we do have examples of RBs getting solid targets against Tampa. The Bucs secondary has horrible numbers for season-long averages but has been playing better lately. This is not quite reflected in their points allowed, as they just surrendered 53 points to the Falcon receivers last week in a shootout and 39 to the Saints the week before who only have one receiver of consequence. The imbalance on defense should force the Jags and Nick Foles ($5700) into a passing game-plan here, boding well for a bounce-back game from D.J. Chark ($6600) - who is priced to be chalk this week. Dede Westbrook ($5000) and Chris Conley ($4500) also find themselves in a good spot here. The greatest concern for each of these receivers will be whether the target distribution gets spread out the way it did last week. Last week Chark was matched up with Adoree' though, which forced the ball to the other receivers. Unless Jamel Dean (the best of the three starting corners the past couple of weeks) shadows Chark, he should be back to 9+ targets we've seen him get the three weeks before the Titans game.
Green Bay Packers (25.75/-6.5) at New York Giants (19.25/+6.5) [45]
After watching Aaron Rodgers ($6800) languish against the 49ers defense last week I immediate looked at his next opponent to see who he would take his frustrations out on, and low and behold it was the feeble Giants pass defense. An angry Aaron should have no problems thrashing these guys and he will be high on my player pool this week. If we roster Rodgers we should also roster Davante Adams ($7000) and his likely 10+ targets. Adams is the only receiver Rodgers seems to truly trust and he should target him heavily in this fantastic (on paper) match-up. Aaron Jones ($6800) has seen his targets evaporate with Adams back in the lineup and has seen only 4 since week 9 (3, 0, 1 in order of most recent). Jones does lead the league in rushing TDs and seems to score them in bunches so we can't write him off just because of the lack of passing game involvement at the moment. Since the Giants are terrible at corner across the board we need to look at what the other Packers receivers are doing (spoiler, it's next to nothing). The two other outside receivers come down to Marquez Valdes-Scantling ($4100) who has averaged 2 targets per game since Adams return and has only caught 1 (for 1.7 DK points) in his last three games, but he is considered their deep threat and could catch 1 or two balls that give him a solid score. I am not willing to chase that, so let's look at the other guy playing outside - Alan Lazard ($3700). Lazard has seen an average of 57% of the team snaps compared to MVS's 27% over the past two weeks, and he has seen twice as many targets as MVS over the past 3 weeks (12 to 6 in total). Lazard should see plenty of action against rookie De'Andre Baker who is allowing the most PPR points to opposing WRs for the Giants with 12.2 per game. I'll keep Lazard in my back pocket as a cheap option in case I'm trying to force some of the other high cost plays into my builds (ie. the three Chiefs stars). Geronimo Allison ($3800) has seen 9 total targets across the three games since Adams' return but his targets come with a measly 1.2 aDOT which is not going to rack up enough points to matter unless he catches 2 touchdowns. The Giants defense has been strong against TEs, so I won't have much interest in Jimmy Graham here.
The Giants appear to be heading into this game without the services of Golden Tate and their top two TEs (Engram and Ellison). The good news is they got Sterling Shepard ($4900) back last week and he stepped right back into his consistent 9 targets per game volume. It's between him and Saquon Barkley ($7400) (lowest price all year, buy the dip) to keep the Giants in this game. Both are terrific plays for the price and both will be in my pool for the week. The Packers have been vulnerable to RBs all year and have allowed 5 out of the 11 they've faced to put up 25+ DK points on them (including two games over 30). Barkley's greatest challenge will come from the Giants play-calling which doesn't seem to know how to utilize him best. Barkley's targets are on a steady four-week decline wrapping up with only 3 last week. The Packers are allowing 22% of their defensive targets to flow toward the RB so this is a good opportunity for Saquon to bounce back if Shurmur will allow it. Darius Slayton ($5300) is an interesting play this week against the Packers defense that ranks top 3 in explosive pass rate allowed to receivers per Sharp Football Stats. Slayton had a monster game 3 weeks ago against the Jets, then had his bye week, then a quiet game against the Bears last week. This could keep him out of the casual player's mind this week. Green Bay is also a friendly target for rostering TEs against them, with only Arizona and Tampa allowing more points (on average) to the position. Kaden Smith ($2900) saw 6 targets last week without Engram and Ellison in the line-up and could be in line for similar volume here. Danny Jones ($5600), despite his battles with turnovers, generates enough volume (35 or more pass attempts per game in each of his last 5) and runs the ball a bit (boosting his floor) and comes in as a nice value play for the slate.
Philadelphia Eagles (27.25/-10) at Miami Dolphins (17.25/+10) [44.5]
The Eagles should get Lane Johnson back along their OL this week which is a boost to their entire offense. Unfortunately for them, they may be without (or with hobbled versions of) Zach Ertz ($6700), Jordan Howard ($4700), Alshon Jeffery ($5100), Nelson Agholor ($4400), and left tackle Jason Peters. We're going to have to keep up with beat reports and possibly wait until game day to know for sure the status of some of these guys. Besides the Chiefs, the Dolphins are allowing the most points to RBs on the slate which would be great for Miles Sanders ($5400) if he's not sharing opportunities with Howard. If he is then it comes down to beat reports about how much work they expect Howard to get and if it will be his full workload. If so, both guys become harder to roster in Pederson's RBBC. Without Ertz, Dallas Goedert ($4100) would see the bump in targets as Miami allows 22% of their defensive targets to flow toward the TE position. None of the receivers are that exciting for the Eagles but Greg Ward ($4100) saw seven targets last week (for a mere 40 yards with a long of 9 yards). He could be in for a big workload contingent on how many pass-catchers the Eagles have down.
FRIDAY UPDATE: It sounds like Agholor and Jeffrey will play this week, less likely for Howard and Ertz.
As discussed last week, the Eagles secondary has tightened up considerably over the past few weeks compared to their season-long stats allowed. Their run defense is usually stout as well but Rashaad Penny surprised them for 129 last week. Miami has no running game and continues to give Kalen Ballage ($4000) the most carries each week despite his 1.9 yards per carry average. Patrick Laird ($3200) got some hype heading into last week but he was only given 4 opportunities to touch the ball (3 carries for 20 yards - 6.7 YPC - and 1 target that he didn't catch). At some point, Miami has to pull the plug on the Ballage experiment, but Flores said this week he would remain the starter. Flores did give that a caveat by saying "but that's without taking a deep dive into Philadelphia". This seems to point toward a possible RBBC mess. Devante Parker ($5700) has become the most reliable Dolphin offensive player this year by staying above 11 DK points per week in every game since week 4. He's not an ideal play against this secondary but we cannot expect the Eagles to shut the Miami offense down completely. Someone has to catch the ball and get yards. Parker isn't a top-end play but he's on the slate.
Cleveland Browns (20.5/-2) at Pittsburgh Steelers (18.5/+2) [39]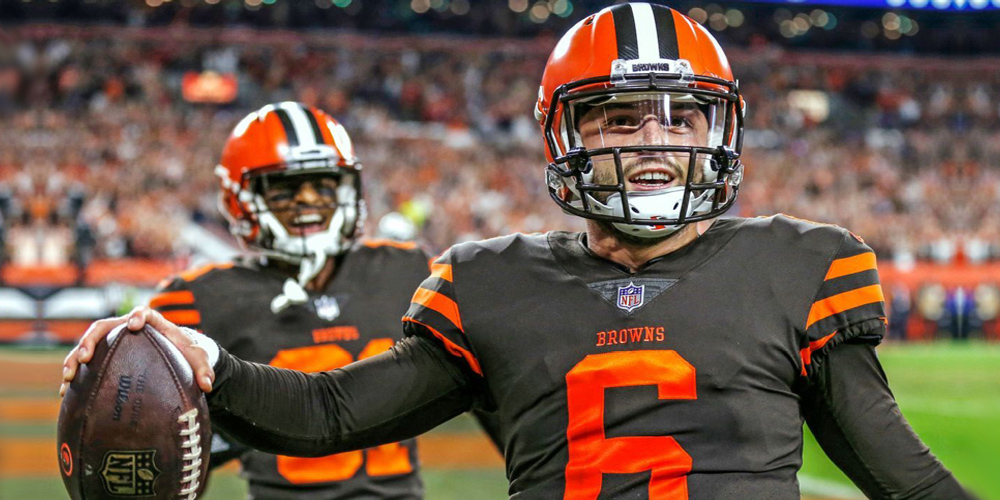 Cleveland was finally able to get the whole team loose in a home game against the out-manned Dolphins. Things get tougher here facing the Steelers defense that rarely allows fantasy points in bunches to any one player. QB, Slot WR, and TE are the highest probability plays against the Steelers, but you're not likely to get a monster score from any of them. Baker Mayfield ($6200) is a little too costly for this slate to chase the 21 points he posted on the Steelers in the game in Cleveland earlier this year, and Jarvis Landry ($6400) may have trouble matching what he did last game (14 points). There is some hope for Landry, as Tyler Boyd just posted 23 points last week versus Pitt. Odell Beckham ($6700) would be a bet on talent at a discount play for contrarian builds. I don't expect to roster any of these guys this week as they are more 150 entry type plays which is not my style.
With Delvin Hodges ($5100) taking over for the Steelers it makes me think their defense will be even more pressed to make a difference in this game further killing the Browns offensive upside, as well as the upside of his own offense. But, then again we just watched David Blough come within 14 yards of upsetting the Bears on Thanksgiving so anything is possible. What's most probable will be the Steelers grind this one out on the ground and play tough defense. James Conner ($7300) has been limited in practice so far this week and he is listed as questionable. His price and propensity to continue to re-injure himself make him a risky play, but one that will likely go low owned by folks thinking the same things. If I play 20 lines I'll get some exposure but I'm not sure I'll get there if I'm playing 5 or less. Whenever a rookie takes over at QB we want to look at who the rookie receivers are on that roster since that is who they will likely have the most chemistry with dating back to rookie mini-camp. That receiver for the Steelers is Diontae Johnson ($4500) who would make a cheap stacking combo with Hodges for MME builds. The Steelers DST ($3500) is certainly one to consider but may often fall out of price range for the rest of our builds.
Los Angeles Rams (25.25/-3) at Arizona Cardinals (22.25/+3) [47.5]
This game is very interesting to me. The Rams are fighting for a shot at the playoffs and have hit a rough patch in their schedule of late, facing 3 of the top 11 defenses in total yards allowed who are also 3 of the top 8 in points allowed. This week they take on a defense that allows the 3rd most points to opposing teams, 2nd most yards, the most passing yards, and the highest QBR allowed. The field may be down on Jared Goff ($6000) after 3 straight performances that netted less than 7 DK points each. However, DraftKings recognizes this as a fantastic match-up for him and has priced him up by $800 from last week, back up to where he's been most of the year. Goff makes a great pivot option as the 8th highest priced QB for the main slate. The Cards are still in the "TE Flow Chart" category having allowed at least 14 DK points to each of the last three TEs they've faced which includes Kittle, Howard, and Dwelley. If the Rams go back to featuring Gerald Everett ($4600) as a pass-catcher (Everett has plummeted from a 70% snap rate in week 10 to 25 and 31% over the last two weeks), then we have a solid play below the top tier of TE options this week. It is interesting to note that Everett has been bumped up in price by $1100 since last week to account for this tantalizing match-up, even with the lack of production lately, which may limit his ownership. With all three Rams receivers back to full health we run into the weekly conundrum of which one to start, or do we fade them all. Cooper Kupp ($7100) can be elite when he's on his game or is a major part of the game-plan, but that hasn't been the case as of late. Robert Woods ($5500) offers appeals for being less costly and the most productive of the group lately. Brandin Cooks ($5200) offers a slightly cheaper buy-in to this receiving corp with home-run ability. I'll have all three in my pool and will probably look to work each of them into my builds in some capacity and will also have Everett involved in some builds. We also have Todd Gurley ($6500) to figure out here. The Cards have allowed some big games to opposing RBs and Gurley may be getting his old workload back as LA comes down the stretch to get back into playoff contention. Getting the correct Rams into our line-ups may be the key to the slate this week.
We just saw the Rams get shredded by a mobile QB with an arm and now here comes another one with Kyler Murray ($6400) to test what they learned from last week. Murray is not the same type of runner as Lamar, as he is not looking for contact whereas Lamar will truck a defender if he wants to. Still, he has the wheels and he can deal. I would assume the Rams stick Ramsey on Christian Kirk ($5700) and Larry Fitzgerald ($5100) would draw Nickell Robey-Coleman in the slot. On a per game and per coverage snap basis these are the worst two match-ups for the Cards receivers prompting us to look at whoever plays the 3rd WR role as a possible pivot. The 3rd receiver role of late has been split somewhat evenly between Pharoh Cooper ($3400) and rookie KeeSean Johnson ($3300), with Cooper getting the slight edge in snaps each of the last 3 weeks. Cooper also has a former employer narrative at play here and his comparable on Player Profiler is a guy that just caught 2 TDs against the Rams last week, Willie Snead. Cooper might be worth keeping in the pool for tight-squeeze builds where you need some salary relief. The Cards RB picture gets murky with the return of Chase Edmonds ($4500) behind (or in front of?) Kenyan Drake ($5600) and David Johnson ($4600). Kingsbury talked about going RBBC before week 11, then rode Drake for 90% of the snaps. Now that all three are healthy and coming off a bye week to sort it out, could that RBBC come true, or is Drake still the lead dog? I'm not sure and so I'm not likely to bet on any of those three this week.
Oakland Raiders (20.5/+10) at Kansas City Chiefs (30.5/-10) [51]
What do we know about the Raiders offense? We know Gruden wants to play conservative and shorten games by riding Josh Jacobs ($6900) like his brand new Caddy. We know Derek Carr ($5500) isn't likely to throw the ball more than 30 times but may have to here if they get into a big hole early. We know their receivers are a bunch of low volume cast-offs. We know Darren Waller ($5500) had a couple of good games earlier in the year and yet gets priced like he still has them. What do we know about the Chiefs defense? They don't let you move the ball throwing to the outsides and they can't seem to stop the run. Who does this benefit? Josh Jacobs and Darren Waller. The Chiefs lead the league in percentage of passes to the TE making us wish Waller was priced more for his recent production rather than his current match-up. This is as cheap as he's been since week 7 but I have a fundamental issue with overpaying for Raider players this year. Jacobs is also priced up for the match-up, although it's down from last week's ridiculous $7400 on the road against the Jets run defense. Jacobs is hard to like at his price without any pass game involvement. His target count is generally 2 to 3 per week but can be as low as 0 to 1 and has spiked to 5 once. I'll keep Waller and Jacobs alive in my pool until final tinkering but who knows how much I'll end up with by lock.
A quick version of "what do we know" for the Chiefs offense versus the Raiders defense says to start Patrick Mahomes ($7400), Tyreek Hill ($8900) and Travis Kelce ($7200) and enjoy your profits. The hard part is getting all three guys into a build without having too many risky punts in there. It can be done and you can even like the couple of punts in the build by embracing variance and the low ownership they should carry.
Los Angeles Chargers (20.75/-3) at Denver Broncos (17.75/+3) [38.5]
This game features two good defenses and two slow offenses matched up for what could be the lowest total volume game on the slate, matched by the lowest implied total in Vegas' eyes. The only area of any weakness for the Broncos has been at TE where 24% of their targets allowed are filtered to but the fantasy points yielded is only around league average. Hunter Henry ($5800) is the 4th highest priced TE on the slate and will probably go low-owned in that price range where people will either find the extra $300 to get to Kittle or drop down into the sub-$4k range. If Chris Harris is healthy, then he'll likely shadow Keenan Allen ($6500) who he erased in the prior meeting this year. Austin Ekeler ($5700) found some success through the air against the Broncos last meeting but it required him to catch 15 of 16 targets in a game without Henry on the field and Melvin Gordon ($6400) was making his season debut playing limited snaps. Outside of a shot on Henry, if I get over 10+ line-ups, I don't expect to have any exposure to this group, but if you're an MME player you want some exposure while the rest of the field mostly fades this game. The Chargers DST ($3100) is a strong unit and likely facing a rookie QB which makes them a reasonable option for this slate.
Word on the streets is that the Broncos are expected to start Drew Lock ($4800) this week. This could be a spark that energizes the team the way Blough just did for Detroit but he will be tasked with beating on of the better defenses in the league that clamps down on receivers and forces the ball to the RBs and TEs. The RB position for Denver hasn't produced a 20+ point scorer since week 5 against these Chargers when Phillip Lindsay ($5000) cruised to 27.7 points, gashing the LA defense for 7.6 YPC while reaching the 100-yard milestone bonus and punching in a TD. Casey Hayward is likely to follow Courtland Sutton ($5800) around which will limit his potential to reach his usual 8 to 9 targets. Tim Patrick ($3000) remains a min-priced punt option this week after having a nice return game then getting shut down in Buffalo. He's nursing a shoulder injury and hasn't practiced as of Thursday so he's someone to keep an eye on the beat reports with. Noah Fant ($3700) will have the rookie camp rapport with Lock and could be a big factor in this game for Denver. Buffalo shuts down TEs and shut him down last week which may take him off some of the field's radar. He's priced nicely here and could end up with one of those Darren Fells/Travis Kelce type games against the LA defense. Phillip Rivers gets desperate and inaccurate at the end of games making the Broncos DST ($3000) a pick-six candidate this week and are Black Friday (or Cyber Monday) priced.
Final Thoughts
Working through the slate I seem to really like the Bucs/Jags, Packers/Giants, and Rams/Cards as the top game stacking spots. There's plenty of other plays in the other high implied games to work with, including the Chiefs who should put up great scores against the Raiders. I'll keep an eye on injury news as the weekend progresses and will update my player pool accordingly, and update this article as needed for the logic on any changes to the pool I hope to have established by Friday night. Best of luck friends, and thanks for reading!
STAY IN TOUCH
Sign up for FantasyData's newsletter and get awesome content sent to your inbox.
We'll never share your email address and you can opt out at any time, we promise.
---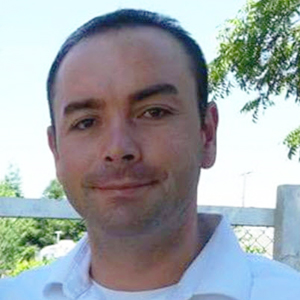 NorCal native Jesse Jones has been obsessed with fantasy football since first joining and winning a league in 1994. Always looking for an edge, Jess has been ahead of the curve mining data and building customized spreadsheet rankings and projections while others showed up to draft day asking for a pencil and a cheat sheet. As an avid NFL DFS, Bestball, and re-draft player Jess will work hard to find the edge you need to win in all formats. Jess is married to the wonderful wife of their 2 kids and enjoys traveling, playing tabletop games, and trying new craft brews. Let's make some money at this hobby of ours!