NFL DFS Picks: Week 5
---
NFL DFS Picks: Week 5
In life, as in football, we're often pressed to make decisions with samples that aren't ideal for any number of reasons. Have I gone on enough dates with this person to know if they'd be a compatible partner? How much time should I expect a drive to take, given its duration was three hours once and five hours on another occasion? What weight should I pick for bench pressing with dumbbells given I know how much I can lift with a barbell? When there aren't clear answers, but the stakes are high, you have a great question on your hands.
As we move more than a month into the season and explore (with the exceptions of the Steelers and the Titans) a complete four-game sample, it's tempting to do one of two things—one, overweigh the information present, listing efficiency stats and idiosyncratic metrics that are more noise than anything else; two, eschew even the relevant signal, defaulting to priors and over-relying on gut feeling rather than taking advantage of what's available. Of course, the appropriate philosophy is somewhere in between, and I lead with this sentiment because four games is approximately the break-even point between the predictiveness of preseason rankings against in-season performance on how players wind up finishing at the end of the year.
Even more interesting—in DFS, it's not only important to think about the sample on hand, but how everyone else is interpreting that sample. The Joe Mixon that earned a top-12 ADP in season-long wouldn't appear to be a leverage play against a porous Jaguars run defense, especially if I told you his price was at its lowest point of the season. But, as I wrote last week, he made a lot of sense in tournaments: "I'd pivot off [the chalk] with Joe Mixon, because I'm not sure who in their right mind wants to play Joe Mixon right now." 45.1 DraftKings points at 4% ownership later, and you've exploited the signal (high opportunity) against others focusing on noise (low efficiency, bad matchups, zero TDs) for lucrative finishes. It might not always be that simple, sure, but we'll give it a go—here's a look at my NFL DFS Picks for Week 5.
As a reminder, I've created and will be hosting a new DFS podcast, Slate Breakers, with fellow FantasyData expert Chris Mitchell throughout the season. Episodes will be embedded in these preview articles upon release later in the week, but you can also follow me on Twitter for an immediate notification when a show drops. I've also updated this piece to reflect that two games, Broncos-Patriots and Bills-Titans, are no longer part of the main slate.
Quick Links
Quarterback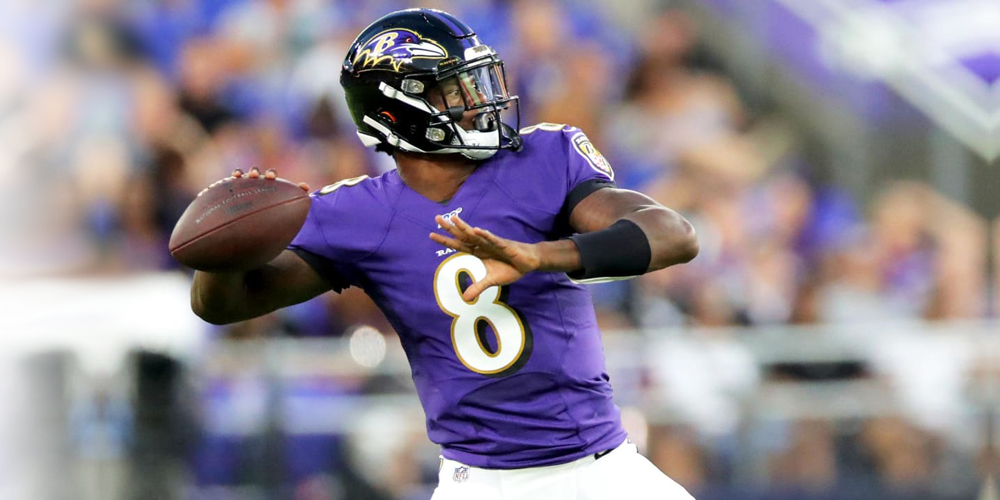 It's feeling like the high-priced QBs are hitting every week, doesn't it? That's because they are, which is making for very aggressive salaries once again here, even if there isn't as good shootout potential with some of the top guys. I wouldn't be surprised to see the field overcorrect to the top 5-6 options and then get flustered when a contrarian/cheaper stack takes down tournaments soon, though isn't necessarily going to be this week. Lamar Jackson ($7900 on DraftKings) leads the way, with Patrick Mahomes ($7700), Dak Prescott ($7400), and Deshaun Watson ($6900) all on squads with team totals above 30. You should be wary of blowouts limiting the overall volume for any of these four, but I'm never going to tell you not to play them.
Either Gardner Minshew ($6200) or Matt Ryan ($6100) seems viable to me in cash, though you'll want to monitor the status of Julio Jones for Atlanta. On the flipside of that game, though, what about Teddy Bridgewater ($5900)? I've seen more than enough to feel confident saying that the Falcons are a fantastic matchup for opposing passers, and there are scenarios where it ends up as the highest-scoring contest on this slate. The other cheap player that grabs my attention due to his opponent is Daniel Jones ($5400), who we always knew was going to look bad given his initial schedule but now may have a chance to open things up. Don't tell anyone I said this, but if he's getting the start, Jarrett Stidham ($4900) is a mega-mega-punt; Kyle Allen ($4100) also exists even cheaper.
Favorite Plays: Lamar Jackson ($7900), Deshaun Watson ($6900), Teddy Bridgewater ($5900)
Running Back
I know he didn't blow up last week, but for Ezekiel Elliott ($7800) to exceed 20 fantasy points in a game the Cowboys trailed throughout (without reaching the end zone, also) should be a reminder that he's still too cheap and always in play. He and Clyde Edwards-Helaire ($6800) should be healthy chalk this week; Josh Jacobs ($6300) thereby becomes a great leverage play (he won't hit most of the time, but if the Raiders do somehow control this game, you've got a huge edge). The other reason that Jacobs and James Conner ($6900) make for good pivots is the presence of Kareem Hunt ($6500) presumably running the show for Cleveland and Mike Davis ($6400) continuing to carry ownership despite the price hike. I do like each from that pairing in a vacuum, and so will the field.
If Raheem Mostert misses another game, the role that Jerick McKinnon ($5800) played in Week 4 (92% of snaps, 8 targets, 21 total touches) is one I'm going to be buying shares of. I wound up on Antonio Gibson ($5000) as an alternative to Ronald Jones on Sunday, and while he's risen from 4500, you can certainly do worse. Myles Gaskin ($4800) quietly sees solid usage on a weekly basis, D'Ernest Johnson ($4700)/Dontrell Hilliard ($4000) could be supplemental backs to Hunt, and Devonta Freeman ($4600) did lead the Giants in carries in addition to running routes on 47% of dropbacks. The ceilings for this range of players feel limited, though, so I'd be focusing on up higher. Lastly, keep an eye on Cam Akers ($4000) as a punt; reports for whether he'll be active and involved will be important.
Favorite Plays: Ezekiel Elliott ($7800), Clyde Edwards-Helaire ($6800), Kareem Hunt ($6500), Jerick McKinnon ($5800), Cam Akers ($4000)
Wide Receiver
Picking WRs is fun with all the scoring these days, and unlike RB, it's easier for a random player to have a blowup game here and there. You should have a broader pool at the position, though you should also think about playing WRs in the FLEX more than you might have in previous seasons. That relative scarcity makes me much more inclined to go with Zeke over DeAndre Hopkins ($7900) at roughly the same price; I wouldn't mind catching people box score watching to mix in Calvin Ridley ($7500) as either the core or bring back of any Panthers-Falcons stacks. We missed the chance to play Tyreek Hill ($6900) on the main slate at this same price when their game got moved, and although I don't think of the Raiders offense as equally likely to keep up with the Chiefs than a Cam Newton-led Patriots would have been, I still think it's too cheap a price for him.
Will Fuller ($6600) and D.J. Chark ($6500) are appealing pieces from another game I'm interested to build around, so while I'm on it, don't forget about Brandin Cooks ($4100) and Laviska Shenault Jr. ($4500) either. Since people will chase Odell Beckham Jr.'s ($6400) big day I might instead try to land on Marquise Brown ($6300), who had 219 air yards in Week 4, and it seems like we're splitting hairs with the Panthers WRs now—take your pick between D.J. Moore ($6000) and Robby Anderson ($5900). The early bye week has allowed Diontae Johnson ($5600) to clear concussion protocol, so he'll see some of my lineups, and with the market likely overweight on Dallas, it might make Michael Gallup ($5400) the sneaky Cowboy to play once again.
We've lost John Brown from the main slate, but I'd fire a shot just under 5K at Tee Higgins ($4900) or Darius Slayton ($4800). You have to understand that these types of guys don't hit all the time, but they don't need to hit all the time—the successful dart throws pay for a slew of misses, and we just try to find the ones with the best probability of coming through. Your minimum salary play is none other than Olamide Zaccheaus ($3000) or Jeff Smith ($3000) now that Damiere Byrd is no longer an option.
Favorite Plays: Calvin Ridley ($7500), Tyreek Hill ($6900), D.J. Chark ($6500), Darius Slayton ($4800), Olamide Zaccheaus ($3000)
Tight End
Question: Where do you think George Kittle ($6600) would have been priced if the slate hadn't been released before his 15-183-1 receiving performance on Sunday night? My answer would be $7200-$7400, but you know what? It doesn't matter. I'm totally good with Travis Kelce ($6400) or Mark Andrews ($6200) or Darren Waller ($5900) as well, so don't get tunnel vision—when you look at the volume for Kittle, though, I'm probably finding a way to fit him even in cash.
The <4K range is mostly hoping for a touchdown or breakaway play, so in between the top tier and punts, it's worth looking at Dalton Schultz ($4800), Hayden Hurst ($4700), and Evan Engram ($4600). Hurst gets a boost if his teammates sit, whereas Schultz and Engram go head-to-head in a game script that will favor volume for Engram. Logan Thomas ($3500) is still running a lot of routes and Jordan Akins ($3300) could be a flier if he plays (if he doesn't, Darren Fells is priced just 100 more).
Favorite Plays: George Kittle ($6600), Darren Waller ($5900), Evan Engram ($4600)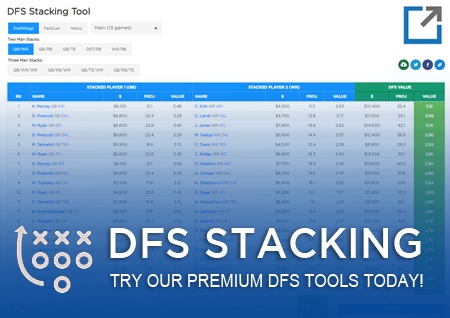 ---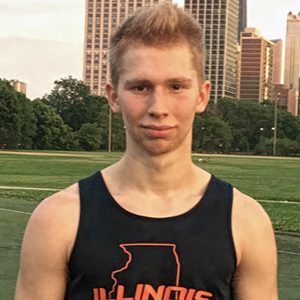 Peter Gofen started playing fantasy football at the age of seven and has amassed numerous meaningful and even more meaningful championships in the years since. His YouTube channel, PeterJaguars, has over 2.5 million total views, in the heyday of which he correctly predicted the entire 2017 NFL playoff bracket. Peter currently resides in California as a student at Stanford University, where he commentates Cardinal Sports for Stanford's campus radio station, KZSU 90.1 FM.