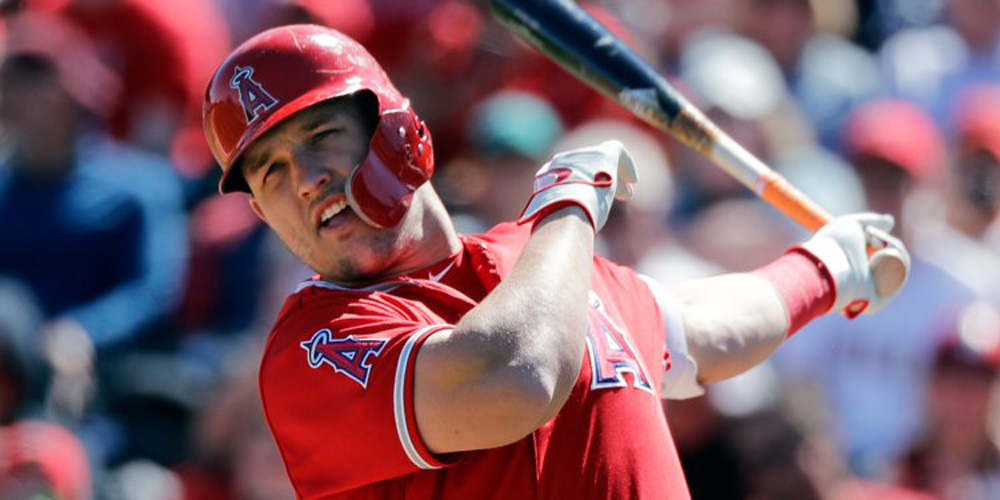 Fantasy Baseball: First Round Mock Draft Recap
---
Mock Draft Recap
There are many strategies and tools that can help you prepare for a fantasy draft and win your league. Sure, there are plenty of statistics to use both general and advanced. We all have rankings that we trust (these should be tiered), but a detailed and full list can get the job done. Average drafted position (ADP) can be extremely useful if you have a big enough sample size. You also need to realize that in-home leagues, regardless of ADP, hometown players are likely to be taken a little earlier than normal as fans of that team tend to like their players more than they probably should. The last tool but possibly the most important is to participate in mock drafts.
Why do we use mock drafts? They are really used for two reasons. The first is so that we can have an idea of where a player will be drafted, especially those players that tend to get selected later on in drafts. The idea here is that now we won't take a player to early and we also won't wait too long to take said player. The second reason is to try different strategies. Perhaps you want to know what your team will look like if you select a catcher in the early rounds, wait on a closer, or go pitching and/or hitting heavy. You can test any and all of these strategies and many more by participating in mock drafts. Those who are worried about time consumption should realize that a mock draft generally only takes about an hour, nowhere near as long as a draft that will be played out.
I have participated in several mock drafts so far this winter with the latest being an industry one for CBS Sports. I had the 6th pick in this mock which I prefer as it puts me right in the middle and I shouldn't have to worry much about being on the wrong end of any runs.
I'm not going to list every round and the picks, but here is how the first round went.
Mike Trout, Los Angeles Angels
Christian Yelich, Milwaukee Brewers
Ronald Acuna Jr., Atlanta Braves
Gerrit Cole, New York Yankees
Jacob DeGrom, New York Mets
Cody Bellinger, Los Angeles Dodgers
Mookie Betts, Los Angeles Dodgers
Justin Verlander, Houston Astros
Alex Bregman, Houston Astros
Walker Buehler, Los Angeles Dodgers
Max Scherzer, Washington Nationals
Jose Altuve, Houston Astros
As with every mock draft I've done this season, Trout went with the first pick. This is not a surprise and I will take him if I ever get the first overall pick also. That being said, I understand why some don't believe he should be taken first overall. Trout has missed 98 games over the past three seasons. That averages out to about 33 games per season. If you believe he won't stay healthy again 2020 then maybe you can justify taking Yelich or Acuna Jr. I can't, but maybe you can.
Five starting pitchers went in the first round. I didn't expect this as usually you only see at most two, maybe three go this early. I think the reasoning here is that there are only a few true ace starting pitchers and that well will run dry early. I do question Buehler going so early though as I don't have him as a player worthy of the first-round pick and certainly wouldn't have taken him over, Scherzer.
I wrestled with Bellinger or Betts. This mock did take place after the trade of Betts to the Dodgers and that is what made my decision easier. If Betts had still been playing with Boston and thus playing 81 games in Fenway Park (not to mention all those games in Baltimore and Toronto) then I likely would've taken him here (granted someone else probably takes him earlier), but the move to Los Angeles worries me that it could take him time to adjust. It was enough of a reason to have me take Bellinger ahead of him.
This draft took place before the Astros completed botched up their apologetic press conference. I do wonder in the next mock that I do if Bregman and Altuve fall out of the first round. Where to take a Houston hitter this season is going to be extremely difficult to figure out as there is going to be quite a bit of vitriol from everyone involved in MLB about how they are all cheaters.
Bryce Harper lasted until the 24th overall pick, so yes, the team that took Trout also has Harper.
The first closer went with the 10th pick in the seventh round. That may be a round or so later than normal but this not a surprise for an industry draft. I will have the closer report written and posted next week but I can tell you now that there aren't many closers that you know are going to have the job from day one on. This is a position in flux and there will almost certainly be weekly changes at the position. Personally, I like to draft one closer who I believe will have the job all season, one that I feel pretty comfortable about, and then I'll gamble later on in my draft on either another closer who is just a roll of the dice or a top setup man that can protect my ratios (WHIP/ERA) and possibly rack up a few saves along the way. If you're confident in watching the waiver wire and spending the FAAB (free agent acquisition budget) to get relievers who become closers, you may want to wait even longer to draft a reliever and rely on your ability to find closers during the season. This is risky but can be done.
Catcher is another position that everyone waited on here. Now, you should know this is a one catcher league, which is my preference and the first catcher was taken with the ninth pick in the 8th round. J.T. Realmuto was that pick. I thought about taking him in the 7th round but passed up on him for Javier Baez who I was very surprised was still available. I rarely take a top catcher; they just don't play enough games for me and are so prone to injury. They get hit with bats, balls, runners, and have to squat so many times during the hot summer. They will wear down. I'll take a middle catcher who won't hurt my average.

Remember, one mock won't tell you how a draft will go. You need to participate in several mocks. Don't be afraid to try different strategies. Maybe you want to take Realmuto in the fifth-round or Chapman in the 6th round. You will get a much better idea if you like you your team looks if you mock it out a couple of times. Good luck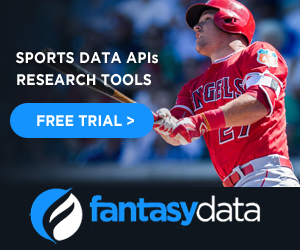 STAY IN TOUCH
Sign up for FantasyData's newsletter and get awesome content sent to your inbox.
We'll never share your email address and you can opt out at any time, we promise.
---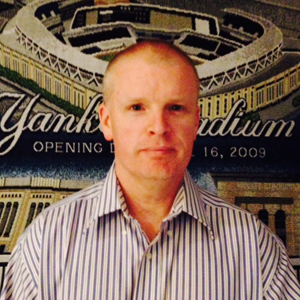 George Kurtz was born in Queens, NY and currently lives on Long Island. He started playing fantasy football in 1988 with baseball and hockey coming soon after. George got his start in the fantasy industry by luck when a friend started his own site (Fantasy Sports Forum) in 2006 and asked George to write for him. One thing led to another and George started working for RotoWire in 2007 and is still with them today. George has also written for FFReport, Leatherheads, Seamheads, Going9, Gotham baseball, and FantasyPros911. George started with RotoExperts in 2012 and is an analyst on the Fantasy Sports Radio Network. You can listen to George on weekends when he is the host/analyst of The Weekend Fantasy Update and RotoExperts in the Morning.