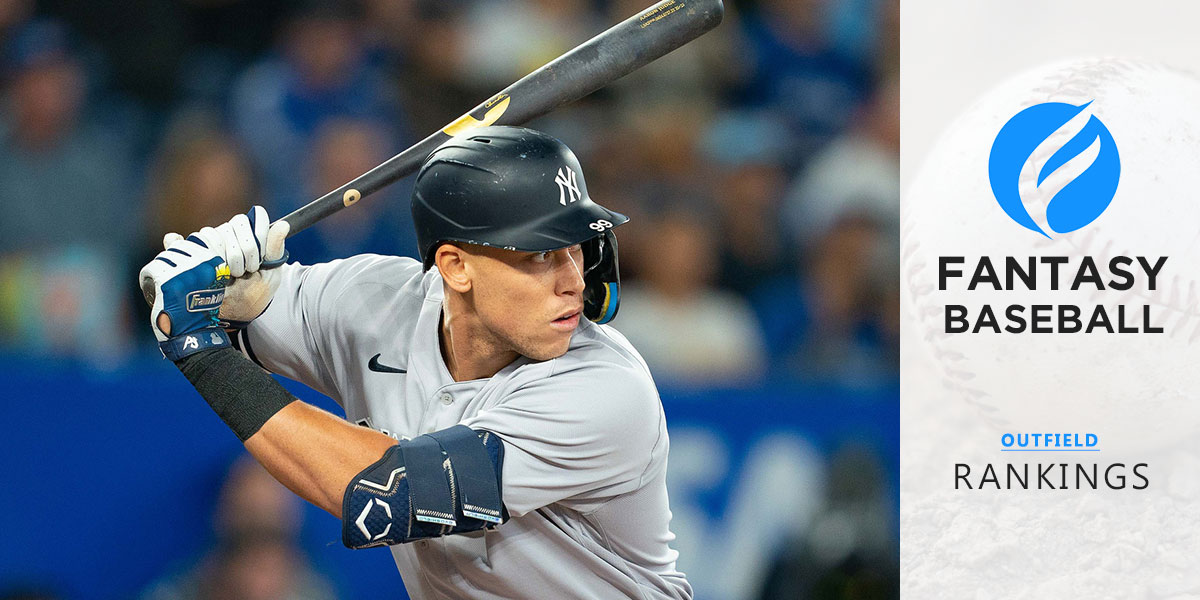 Fantasy Baseball Outfield Rankings 2023
---
Fantasy Baseball Outfield Rankings 2023
This list is all about Fantasy Baseball outfielders. The outfield position gets decimated extremely quickly since you have to have at least three starters, but it's one of the most critical spots to nail right in the draft. They are essential when it comes to hits, home runs, RBI, steals, bases, and runs. A surprise outfielder can be a league-winning move or allow you to have appropriate depth and maneuverability for injuries, waivers, and trades. Some outfielders are cheat codes too like Daulton Varsho thanks to his ability to be started at catcher. Many outfielders have multiple positions that allow you added flexibility or the chance to start a Mookie Betts at second base, a position that traditionally is tough to get many fantasy points from. That allows you to have a star player at multiple positions on off days or in case of injuries. Plus, it's wise to draft multiple outfielders in the top 10 rounds, with at least four by the end of round 15 as that can weaken your opponent's ability to get a quality outfielder and give you a lot of depth. These rankings are based on traditional points scoring where you get a point per hit, walk, RBI, run, or total bases. Same for stolen bases or hit-by-pitches, or many other settings. However, if they strike out, ground into a double play, or commit an error, they lose a point. They are the default setting for many fantasy baseball leagues and are most similar to fantasy football. Remember, a crucial piece of your team is in the outfield, far more than at second base or catcher.
Quick Links
Top 50 Fantasy Outfielders
1. Julio Rodriguez, Seattle Mariners
Fresh off his American League Rookie of the Year win, Rodriguez is set to become the number one fantasy outfielder in baseball. Julio piled up the stats in every category despite missing a decent chunk of the season in the middle of the year. He's only 22, but should hit over 35 home runs, 90+ RBI, 100+ runs, and steal at least 40 bags with all the new rules. Julio does strike out and doesn't walk enough, but as he grows and develops, those numbers will improve. Julio is above average in nearly every statistical analysis and category. He's the next fantasy superstar that should be a top-10 overall fantasy points-getter for the next decade.
2. Aaron Judge, New York Yankees
Judge is coming off one of the best and most historical seasons in all of MLB history. He broke the AL record for home runs, scored 133 times, and drove in 131, plus stole 16 bases. It was a career year for the ages for Aaron Judge. Obviously, it's unlikely he repeats those numbers or his 62 home runs again. That and the lack of upside in his stolen bases combined with his injury history puts him number two overall among all fantasy outfielders. However, Judge plays 81 games in Yankee Stadium which means plenty of home runs to come. Plus, Aaron Judge should be among the league leaders in home runs, runs, RBI, and batting averages while playing in the outfield on a strong Yankees team. Just don't expect 2022 numbers, expect closer to 2021. Still, that's a fantasy superstar.
3. Ronald Acuna, Atlanta Braves
Despite coming off a torn ACL and dealing with lingering knee pain, Acuna still produced at a high level. He appeared in a far-higher-than-expected number of games (119), had 71 runs, 15 home runs, 50 RBI, 29 stolen bases, and walked 53 times. He should exceed those numbers by a large margin this year. Acuna is completely healthy now and just had a strong World Baseball Classic with Venezuela. Ronald's moving great and looks like the Acuna from 2021 and before. With the new rules in place this year, Acuna could easily hit over .280, crank over 75 extra-base hits, and reach over 40 stolen bases. He's a five-stat contributor in fantasy baseball and does it all. He's a pure fantasy MVP and should be taken in the first round.
4. Mike Trout, Los Angeles Angels
Trout is still one of the GOATs in MLB history. He very quietly had one of the best seasons of his career despite playing in only 119 games. He somehow hit 40 home runs, 80 RBI, and an OPS of .999. If he can do that in only 119 games, imagine what he can do in even more if he's healthy. He looks plenty healthy right now, hitting .353 in the World Baseball Classic with Team USA. He's smashing the ball to all parts of the field and should be a lock to hit near .300 and over 40 home runs. With an even better Angels lineup, Mike should get over 100 RBI and runs scored. The one mystery is whether he'll steal many bases, but don't be shocked if he gets over 20 with the larger bases. Combine that with plenty of walks and limited strikeouts, and Trout is still a top-15 fantasy player. Draft him and rest with ease as he piles on the stats. His floor and ceiling is the highest in all of MLB.
5. Kyle Tucker, Houston Astros
Tucker is playing some excellent baseball with Team USA, including multiple clutch hits/RBI. He's only 25 years old and entering the prime of his career. Kyle helped the Astros to a World Series championship with 30 home runs, 107 RBI, 71 runs, 24 stolen bases, and only 95 strikeouts. Tucker's a contact machine that rarely strikes out and will take plenty of walks. He had 59 walks last year which was a career-high. Plus, with the new rules, Tucker should approach .300 as his batting average and could easily drive in 120 runs or steal 30+ bases. He's a star in fantasy baseball and deserving of being drafted as a guy who can get you 30/30 numbers and rarely put up a bad game. He's a fantasy all-star in baseball.
6. Yordan Alvarez, Houston Astros
Yordan is dealing with a hurt hand right now and might be slow to start the season. However, when he does play, he's an MVP-caliber player. The 25-year-old has immense power that could allow him to hit 50 home runs someday. He will be aided by the lack of shifts to allow him to improve upon his already-elite .306 batting average. Plus, Alvarez should drive in well over 100 runs and could score over 100 as well. He's a complete hitter that rarely strikes out and gets plenty of walks. Don't be shocked if Yordan has 100+ RBI, runs, 40+ home runs, 90+ walks, and around 100 strikeouts with an above-.310 batting average. The only negative is that Yordan will not steal bases, so make sure you acquire some speed later in the draft.
7. Juan Soto, San Diego Padres
Soto is entering his first full season with the Padres after a mid-season deal with them last year. He had a rough year by his standards last year hitting only .240 but yet still had over a .850 OPS. Soto hit 25 doubles and 27 home runs with 62 RBI and a ridiculous 135 walks to only 96 strikeouts. The man has the best eye at the plate since Ted Williams. That alone makes Soto a top-10 fantasy outfielder. He probably won't hit as many home runs as he could due to playing a ton of games in pitcher-friendly parks like in San Diego and Los Angeles. However, he should bounce back extremely well this year with over 110 RBI and a ton of runs scored hitting in an All-Star-Game-worthy lineup that the Padres have. He's an elite fantasy asset that can be had cheaper than he could be had last year. Take advantage of that.
8. Mookie Betts, 2B/OF, Los Angeles Dodgers
It's a cheat code to have Mookie Betts at second base, even if you draft him as an outfielder, just due to how elite he is. If he's eligible in your league at second base, do what it takes to snag him. Betts is an elite cheat code that gives you the best combination of versatility outside of Daulton Varsho. He might play there more this year, but regardless, Mookie is a top-10 hitter/outfielder in all of fantasy baseball regardless of position. He's an MVP winner that has one of the best hit tools, power, and speed combos in the MLB. There's not much to say other than he's by far the best option at second base and one that sets up your overall fantasy lineup quite well. In the outfield, he's certainly a top-10 option with the proven history to finish as a top-five fantasy player regardless of position.
9. Michael Harris II, Atlanta Braves
The reigning National League Rookie of the Year award winner had a shocking rookie year filled with amazing numbers. He's set up to be a star this season with an improved Braves lineup surrounding him. Don't be shocked if he's a 20 home run/30+ steals player who can hit over .300. The one negative is that he strikes out too much combined with few walks. However, he's only around 22 years old this season, so he should develop more plate discipline and patience as he learns MLB pitching and acquires more time in the league. Harris II is an excellent player that will contribute tons of fantasy points thanks to hits, runs, RBI, and especially stolen bases.
10. Daulton Varsho, C/OF, Toronto Blue Jays
Varsho is the cheat code among fantasy baseball players. He's the Taysom Hill. Varsho won't play more than 5-10 starts at catcher this next year if even that much. Yet, because he caught enough last year, fantasy outlets will have him listed as a catcher along with outfield. Thus, you're getting an outfielder's production at an extremely hard position to gain positive point value from. He's an outfield cheat code and should be a high pick this year. Seriously, Varsho is a legit fantasy outfielder on his own, the catcher designation just raises his value even more. Even on a new team like the Blue Jays, Varsho should hit 25+ home runs while approaching 30 stolen bases with his elite speed. With a better lineup around him, he should score over 100 runs and get close to 90 RBI. All of that is too amazing to pass up at a catcher/outfield combination in fantasy baseball. I'd pay up for Varsho after the first couple of rounds.
11. Cedric Mullins, Baltimore Orioles
Cedric Mullins is having a great World Baseball Classic with Team USA and should have a strong ability to get into the vaunted 30/30 category after this year. He has elite speed and has stolen 30+ bases in each of the last two seasons. This year, with the new rules, Cedric is primed to steal 40 or more bags. That's a ton of bonus points compared to many players who steal at most 5-10 bases. Plus, the Orioles' lineup is getting better every day as their young guys develop. That leads to even more runs for Mullins and RBI as he hits with guys on base. Cedric's an all-around fantasy performer who has a good shot at being a top-10 fantasy outfielder in 2023.
12. Starling Marte, New York Mets
While Starling dealt with numerous injuries last year, he's fully healthy entering 2023. Even with those injuries, he still hit 16 home runs and stole 18 bases, with those home runs being the most he's had since 2019. With the new rules in baseball, Marte could be set for a massive year even if he only gets barely over 500 plate appearances. He should hit over .300 and could steal over 50 bases. Starling's shaping up to be a phenomenal underrated fantasy baseball asset this year. Be sure to snag him, especially for his stolen base upside.
13. George Springer, Toronto Blue Jays
Yes, Springer keeps dealing with routine injuries and messing around thirty or more games a year. Despite that, the 33-year-old is well-positioned to have another stat-filled season after 25 home runs, 89 runs, 76 RBI, and 14 stolen bases last year. He hits atop a superb lineup and will consistently get on base or score runs. With the bigger bases and shift rules, don't be shocked if Springer improves his batting average and steals over 25 bases. He's a valuable fantasy asset and should continue to produce plenty of fantasy points. You just have to deal with his constant injury issues.
14. Kyle Schwarber, Philadelphia Phillies
One thing you can always count on when you draft Schwarber is that he is going to hit plenty of Schwarbombs. He led the National League in home runs last year, 46, and somehow scored 100 runs and drove in 94 runs. Those are terrific numbers for a guy who strikes out nearly a third of the time. Yet, the big man also stole ten bases! He was a complete package last year. There's hope he will be even better this year with an even more talented Phillies lineup with Turner, Harper, Castellanos, Realmuto, and Hoskins surrounding him. Don't be shocked if Kyle reaches 100 RBI, hits for a career-high batting average thanks to the elimination of the shift, and score even more runs. Plus, he should hit at least 10 stolen bases this year. Now, the question is if the 30-year-old can hit 50 home runs.
15. Teoscar Hernandez, Seattle Mariners
It was a bit of a shock to see the Blue Jays deal away Hernandez, but they wanted to get more left-handed and defensive-oriented in the outfield. Luckily for your fantasy team, those worries do not really exist. Hernandez is not going to walk very much, and he is going to strike out quite a few times. Last year, he struck out 152 times with only 34 walks. That's not ideal. What is ideal though is how elite he is in the other statistical categories such as home runs, doubles, and RBI. In a loaded Mariners lineup, Hernandez is going to have a chance to drive in significant runs and be a large contributor on offense. He might not get to 35 home runs, but he should be easily above 30 and 100 RBI. Don't be shocked if he's closer to his career year in 2021 when he hit 32 homers, 116 RBI, and batted .296. Oh, and enjoy the 10 or so steals as a nice bonus.
16. Luis Robert Jr., Chicago White Sox
Robert is with Team Cuba in the World Baseball Classic where he's enduring a tough go of it at the plate. He's struggling to make good contact on the ball which is a tad worrisome for the regular season. Yet, he's a proven MLB player with plenty of star potential, IF, he can stay healthy. The 25-year-old has elite potential but has consistently missed tons of games in the season. He's a risky bet to draft this year as his career-high in games is 98, which was last year. If you don't want a risky player that could be a league-winner with a great steal rate, batting average, and above-average RBI/Power, but could also miss two-thirds of the season, then don't draft Robert. Yet, sometimes it's worth taking those big risks in fantasy baseball.
17. Corbin Carroll, Arizona Diamondbacks
Corbin just signed a massive eight-year extension with the Arizona Diamondbacks despite barely over a month in the majors. That should tell you how talented he is and what Arizona thinks of him. Combine that with the fact he's the huge favorite for National League Rookie of the Year and it's no surprise he's a top-20 fantasy option in the outfield. Carroll has the best speed in the majors and could approach 50 or more steals thanks to the new rules. He's an elite contact hitter that could hit over .300 atop a strong Dbacks lineup. Despite a smaller size, Corbin has the power to hit 30+ home runs, though expect over 20 this year. Carroll has an elite eye at the plate and is set up for a strong rookie season. Don't be shocked if he's a top-10 fantasy outfielder by the end of the year. Corbin's stardom is just beginning.
18. Adolis Garcia, Texas Rangers
Garcia is similar to the guy under him in this list in that he is going to strike out a ton and walk very little. That's just something that as a fantasy owner, you'll have to deal with. However, the 30-year-old will benefit from a lack of shifts and increased production in his lineup. That will allow him to reach 30+ home runs again and increase his runs and RBI. Don't be shocked if he reaches 100 or more RBI again. Plus, with the new bases and rules, Adolis is a safe bet to steal 30+ bags. That combined with the ability for over 70 extra-base hits means he's a fantasy points machine. Just be sure you're alright with the occasional negative points game from his strikeout woes.
19. Randy Arozarena, Tampa Bay Rays
Randy is demolishing baseballs in the World Baseball Classic and has just won Pool C's MVP award over the likes of Mike Trout, Tim Anderson, and others. He hit .500 and looks to be in mid-season form before it even begins. While you'll have to endure a large number of strikeouts and few walks, Arozarena should raise his batting average thanks to a new season, new BABIP, and no shifts. Plus, he still has that light-tower power that will allow him to hit over 20+ home runs. Randy's a safe bet to steal 30 or more bags with the larger bases. Overall, he does everything well enough without any clear negatives that heavily outweigh his positive contributions to maintain a top-twenty spot among all fantasy outfielders.
20. Jake McCarthy, Arizona Diamondbacks
Yes, this is a risky and higher-than-expected spot for the young Diamondbacks outfielder. Yet, there's a lot of optimism for him this year, especially after he shredded MLB pitching in the final two months of last year. He's a rare on-base machine with strong power and elite speed combination. In limited playing time last year, he stole 23 bases. With the new rules and regular playing time, McCarthy could steal 40 or more. Perhaps more encouraging is the fact he doesn't strike out a ton and has learned to take the walk. Last year was an excellent 23/76 walk-strikeout ratio. Plus, he should score plenty of runs or be in a position to accrue plenty of RBI with the improved Diamondbacks lineup. This is an upside selection. McCarthy has potential league-winning All-Star production written all over him, but he hasn't played a full season in the MLB yet. Thus, it's a risky move, but could easily pay off should Jake prove that last year was a legit showing. He possesses the highest fantasy upside over anyone (except Buxton, who is guaranteed to miss some games) under him on this list.
21. Bryan Reynolds, Pittsburgh Pirates
22. Eloy Jimenez, Chicago White Sox
23. Byron Buxton, Minnesota Twins
24. Tyler O'Neil, St. Louis Cardinals
25. Christian Yelich, Milwaukee Brewers
26. Steven Kwan, Cleveland Guardians
27. Taylor Ward, Los Angeles Angels
28. Nicholas Castellanos, Philadelphia Phillies
29. Ian Happ, Chicago Cubs
30. Giancarlo Stanton, New York Yankees
31. Kris Bryant, Colorado Rockies
32. Seiya Suzuki, Chicago Cubs
33. Anthony Santander, Baltimore Orioles
34. Jeff McNeil, 2B/3B/OF, New York Mets
35. Cody Bellinger, Chicago Cubs
36. Whit Merrifield, 2B/OF, Toronto Blue Jays
37. Hunter Renfroe, Los Angeles Angels
38. Brandon Nimmo, New York Mets
39. Amed Rosario, SS/OF, Cleveland Guardians
40. Austin Hays, Baltimore Orioles
41. Mitch Haniger, San Francisco Giants
42. Alex Verdugo, Boston Red Sox
43. Andrew Bennitendi, Chicago White Sox
44. Lars Nootbaar, St. Louis Cardinals
45. Lourdes Gurriel Jr., Arizona Diamondbacks
46. Masataka Yoshida, Boston Red Sox
47. Bryce Harper, Philadelphia Phillies (Set to miss the first half of the season due to recovering from Tommy John Surgery)
48. Joey Meneses, Washington Nationals
49. Joc Pederson, San Francisco Giants
50. Riley Greene, Detroit Tigers
Make sure to check out the DH rankings! Be sure to go read the many other editions that cover all the positions as well! Until then, May the Force be with You this fantasy baseball season!
---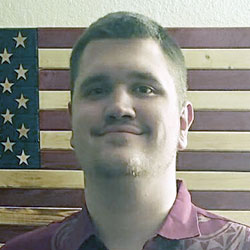 Jake is a native Phoenician and die hard fan of all the Arizona sports teams as well as the NFL and MLB. He is a Christian and a college student pursuing a dual degree in Sports Management and Sports Journalism. He is currently writing for DynastyNerds as well as a site expert at Fansided. He is obsessive about sports and stats. Jake's other hobbies include music, movies/TV, traveling and studying history. He is an avid Star Wars, Marvel, and DC fan (nerd). He wants you to know that the Jedi were the reason the Republic fell and that Dynasty>redraft. You can follow him on twitter @Darthdbacks or Discord @DarthDbacks. He is Open to doing any AMA's or podcast guest spots.