What To Expect From Justin Herbert and The Chargers Offense
---
When Can We Expect Herbert To Start?
From the moment he popped onto the NFL radar as a true freshman, we have heard just about every take imaginable regarding former Oregon standout Justin Herbert, the sixth overall pick in the 2020 NFL Draft by the Los Angeles Chargers. A decent percentage of draftniks saw Herbert as the most physically gifted quarterback in the lead up to the last two drafts (he was draft-eligible as a true junior and widely expected to declare), with the words 'Franchise Quarterback' written in bold across his forehead (figuratively). Others saw a player who struggled tremendously with his decision-making and ball placement, often looking for his bailout far too early in his progressions. In fact, Herbert's tendency to disappear in big games led many respected names in the scouting community to label him a 'bust' before he even heard his name called by Commissioner Goodell.
In the end, the Chargers ultimately fell in love with the highs of Herbert's game-tape, presumably under the belief that their coaching staff could iron out (or at least mask) his shortcomings. Despite spending four years as the starter for the Ducks, Herbert is still a very raw passer at this stage in his career. For a typical rookie passer, the learning curve is already plenty steep between when making the jump from college to the professionals. However, Herbert will have to deal with the added pressure of having to do so during a pandemic-shortened offseason while also transitioning from an extremely shotgun-heavy spread offense to a more traditional pro-style scheme. Taking into consideration incumbent starter Tyrod Taylor's familiarity with the team's playbook, as well as the rapport he has built with HC Anthony Lynn (from their days with the Bills), it's hard to project Herbert becoming the team's starter before midseason. While Herbert's new OC Pep Hamilton seems to disagree, it's hard to imagine Taylor not being the team's starter to begin the season.
How Herbert Could Impact The Chargers Offense
Herbert never appeared 100% comfortable in Oregon's offense, as the horizontal-centric passing attack failed to properly integrate the strengths of Herbert's game (his incredible arm strength and above-average athleticism) while often accentuating his weaknesses (accuracy, making quick reads). In many ways, the young signal-caller is very similar to former Chargers quarterback Philip Rivers, as both tow the line between dink-and-dunk specialist (a.k.a Checkdown Charlie) and aggressive gunslinger, although the latter may not be as apparent with Herbert's college tape. Unlike Rivers, Herbert possesses tremendous mobility, a trait that has helped to elevate the performances of similarly limited passers like Josh Allen and Daniel Jones.
One player who may see the most direct hit due to the transition from Taylor to Herbert could be receiving back Austin Ekeler, who finished last season as the RB4 in PPR formats last season. On the strength of 92 receptions for 993 yards and 8 touchdowns (numbers that would have made him a top-15 finisher among receivers), Ekeler served as the catalyst for the Chargers short passing game, as he earned the complete trust of Rivers. It's highly unlikely that a rookie like Herbert would pump 30.7% of his targets to running backs in the same manner that Rivers did in 2019. While it would be odd for the team to ice out Ekeler completely given his status as one of the league's elite pass-catching backs, it's highly unlikely that a rookie like Herbert would pump 30.7% of his targets to running backs in the same manner that Rivers did in 2019. Considering both Allen and Jones targeted the position on less than 25% of their attempts as rookies while playing with the likes of LeSean McCoy and Saquon Barkley, it's quite possible that Herbert follows suit with that trend as less than 17% of his completions went to backs in his final season with the Ducks.
Herbert struggled with his accuracy on short throws while in college, ranking 50th in accuracy percentage on throws less than 10 yards among qualified FBS passers per Pro Football Focus. This factor makes it tough to feel optimistic about the upside of either TE Hunter Henry or whoever the Chargers starting slot receiver ends up being (whether that's K.J Hill, Joe Reed, or Andre Patton remains a mystery). Henry's best bet for fantasy may come from being paired with the veteran Taylor, as Taylor led Charles Clay to back-to-back top-20 finishes at the position in his two years with Buffalo.
It's worth reiterating that Herbert has struggled mightily in the past when matched up against elite defenses. Herbert's subpar performances against some of the best defenses he faced last season make it harder to trust that he will boost the stocks of any of his playmakers.
Justin Herbert PFF grades against a couple of notable defenses last year:

Auburn: 55.6
Cal: 65.8
Washington: 73.9
Arizona State: 43.0
Utah: 60.4
Wisconsin: 65.3

Those aren't exactly the kind of big game performances I'm trying to target at 6th overall.

— Ben Linsey (@PFF_Linsey) April 24, 2020
Should Herbert continue to melt when faced with staunch defenses in the NFL, he may severely hinder the outputs of his receivers in fantasy. Yet if the Chargers can manage to install an offense that utilizes Herbert's abilities as a runner while also spreading the field vertically in the passing game (similar to the those designed for Allen and Jones), it's possible that LA may morph into one of the league's most prolific offenses rather quickly. While Herbert averaged just 8.0 YPA in his final season with the Ducks, his deferential tendencies appeared to be the product of a young player attempting to mitigate his own mistakes rather than an accurate portrayal of Herbert's playing style. Considering Herbert's receivers dropped 32 passes last year (sixth-most in the NCAA), it's hard to fault him for playing conservatively. By pairing Herbert with PPR machine Keenan Allen (WR12+ since 2017) and former top-10 pick Mike Williams (WR32 in 2018, WR40 in 2019), the Chargers are setting up the foundation that Herbert never had at Oregon in order to optimize his talent. In fact, Herbert may benefit more from the presence of these two receivers than we can even imagine, as Allen's prowess on shorter routes (his 100 catches on passes thrown less than 20 yards trailed only Michael Thomas last season) could very well help the rookie signal-caller to gain more comfort throwing short and intermediate passes. If LA can improve an offensive line that was ranked 29th in the league by PFF, Herbert should have no trouble building chemistry with his playmakers.
STAY IN TOUCH
Sign up for FantasyData's newsletter and get awesome content sent to your inbox.
We'll never share your email address and you can opt out at any time, we promise.
---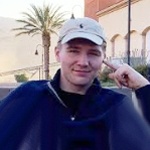 A self-proclaimed "cat person" with an affinity for pass-catching running backs and slot receivers, Alex is a well-traveled writer whose work can be found on sites such as 3CoSports and Dynasty Nerds in addition to FantasyData and BettingData. Follow him @AlexKurpeskiNFL on Twitter for more great content!