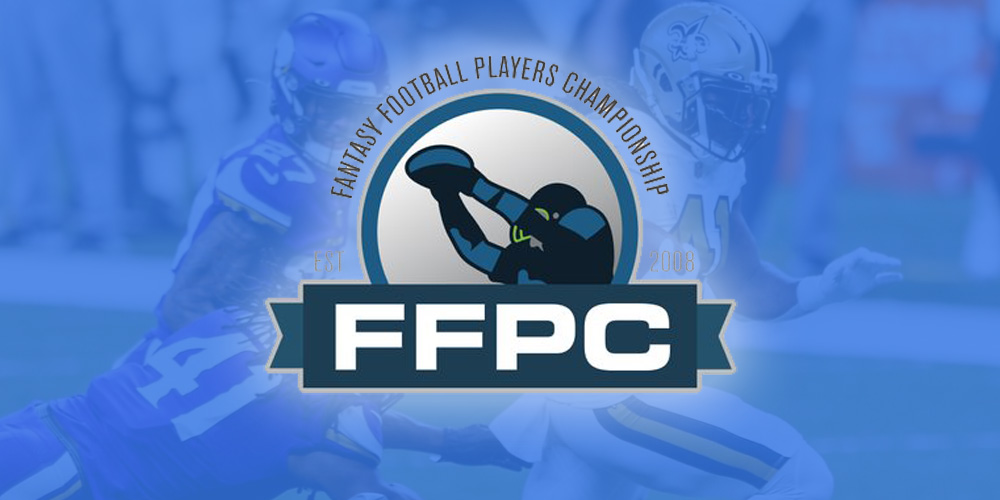 Interview with Back to Back FFPC FootballGuys Champ
---
Champion of Champions: Dr. Abib Agbetoba
An interview with the two-time winner, and back-to-back champion of the FFPC Footballguys Players Championship Tournament; Dr. Abib Agbetoba.


"It's Christmas day and we're watching the Saints; we're watching Alvin Karma put together one of the greatest fantasy performances of all time". Abib sat on his couch, howling at his TV in excitement with every touchdown Alvin Kamara scored; one, two, three, four, five. Then, the 16 million dollar vulture enters the game. Taysom Hill steals Kamara's sixth score, which would have tied the all-time NFL single-game touchdown record set by Ernie Nevers that's been held since 1929. Moments later, Kamara gets number six and ties the longest standing single-game record in NFL history. It truly was one of the greatest performances of all time.
The same could be said about Dr. Abib Agbetoba after clinching his second FFPC FBG Championship in as many years. He is the first-ever, back-to-back overall winner of the highly touted tournament that pays out 500,000 dollars to first place with 10,800 contestants. I sat down with Abib for an interview and asked him a few questions to help our listeners gain insight into the mind of a Champion of Champions.
When Abib isn't winning leagues and killing the ambitions of other FFPC players, he likes to play basketball and travel the world (pre-COVID-19) watch television shows, and enjoy a nice night out. He started playing fantasy football in college and admits he 'sucked', but got tired of losing and friends making fun of him. It is pride that drove him to become great and to become a better player, Abib recalled, "that process was really mostly predicated on just not wanting to suck and wanting to be able to talk a little sh*t on my own." So, thanks to the Long Horn Fantasy Football League, Abib was made into an unstoppable competitor in the high stakes fantasy football community.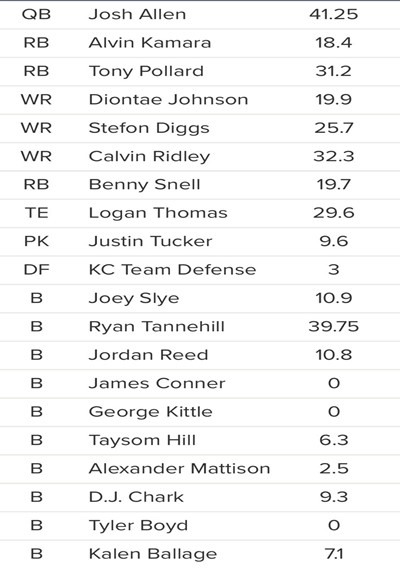 How does one become a 2x champion in such a large, high stakes tournament? Well, you probably guessed it; he lives, eats, and sleeps football. When it comes to research and analysis, Abib swears by watching the games. In fact, he stated, "If I weren't watching the actual games, I would not have a leg up on the competition." However, film study is not the only tool that he attributes to his success; he also attributes his success to draft prep, roster construction, waiver wire management and a little luck. Let us look at the final roster that brought home the 500,000 dollar grand prize for Abib. At first glance, this team does not scream championship winner. There are a lot of names on here that underperformed their respected average draft positions, but there are a lot of players on here that had career years, games, and breakout campaigns. That is exactly what is needed in a large tournament such as this, you need career years out of a couple of folks to take home the grand prize. His final starting roster consisted of Josh Allen at quarterback, Alvin Kamara, and Tony Pollard at running back, Calvin Ridley, and Stefon Diggs at wide receiver, Diontae Johnson and Benny Snell in his flex positions, Logan Thomas at tight end, and Justin Tucker and Kansas City at his kicker and defense positions.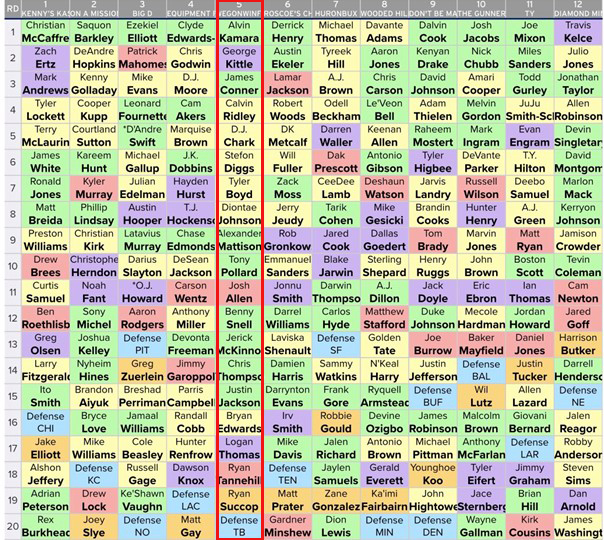 Let us dive in deeper and review the draft board from the league to see if we have any outliers, value picks and to better understand the roster construction of this championship team. Drafting from the fifth spot, his first selection was Alvin Karma. Kamara who finished the year with 1,688 all-purpose yards and twenty-one touchdowns was one of Abib's most targeted running backs through his sixty-eight FFPC drafts. You read that correctly, he drafted sixty-eight FFPC FBG teams, and number sixty-eight was the lucky winner. George Kittle fell to him in the second round, and although he wanted to go running back, he admitted he was not able to pass up on the tight end value. For those unfamiliar, the FFPC scoring format is tight end premium, so tight ends go early and often with 1.5 points per reception. James Conner was his third pick with the idea of shoring up the running back position, but as we know, this pick did not pan out. Through three rounds, Abib's roster construction started shaping up and his next few moves are where he won the draft, the league, and the championship.
"Knowing that I can create a team where I can start four wide receivers; in my mind, I figured I have Kamara, I have my stud, and really all I need is to fill out that second running back position, try to get a handcuff and try to acquire the players that are going to score me the most points." Well, that's exactly what he did with his fourth pick when Calvin Ridley fell to him at 4.08. Ridley had a career year, finishing as wide receiver number 5 in PPR formats. Ridley finished the year with 9 touchdowns and a league fourth-best, 1,374 receiving yards. He then followed up with D.J Chark at 5.05 and Stefon Diggs at 6.08. Diggs finished 2020 as the number three fantasy wide receiver with 1,535 receiving yards, eight scores, and a league-best, 127 receptions. He then drafted Tyler Boyd at 7.05 and Diontae Johnson at 8.08 who finished as wide receiver twenty-nine and wide receiver twenty overall.
Let us pause for a second and discuss the elephant in the room. Abib acknowledged in hindsight that he made an error taking D.J Chark over DK Metcalf in round five, but as stated earlier, he attributed his success to draft prep, roster construction, and a little luck. If you recall, Metcalf had a lackluster finish to the year finishing his last three games with a combined 14 catches for 123 yards and zero scores. Had Abib selected Metcalf over Chark, he would have been faced with some tough start / sit decisions on a weekly basis and things may not have played out the way they did for the 2x champ.
The final two picks worth mentioning in this draft are Josh Allen, who was drafted in round eleven and had an MVP caliber year, finishing as the QB1 in fantasy points with 37 touchdowns and 4,546 passing yards. Then, Logan Thomas in round seventeen, who finished as the TE3 in fantasy points with six touchdowns and 670 receiving yards. Both these players had career years which catapulted this team into the championship rounds of the FBG tournament and ultimately the overall winner.
If you were not a handcuff believer before this article, then you will be after. As you can see by looking at the draft board, Abib handcuffed James Connor with Benny Snell, and because he was "sniped" in round 9 when Big D Team 3 took Latavius Murray, he decided to repay the favor and take Tony Pollard in round 10 on the way back. As many FFPC players do, they hold onto valuable handcuffs all year just in case they are needed for a playoff run. As playoffs approached and James Conner started missing games, Abib was forced to play running back roulette. Luckily, Conner was ruled out week 15 (one of the championship weeks in FFPC) and Abib had the running back to own in Pittsburgh. Snell amassed 107 yards and a score for a total of 19.70 fantasy points in a week he was needed most. Coincidentally, Ezekiel Elliot missed week 15; which allowed Abib to start Tony Pollard at flex. Tony Pollard broke out for 69 yards and two scores on the ground, adding another 6 receptions for 63 yards through the air, for a grand total of 31.20 fantasy points. Needless to say, with the rest of his team performing at career-high levels, Abib was sitting in the driver seat ready to cash in a 500,000 dollar payout heading into week 16.
There are many ways one can win a championship in the FFPC, but persistence, dedication, knowledge, and a little luck are all needed to be successful. We asked Abib for one piece of advice for players new to the FFPC or those new to the tournament and this is what he said. "Just enjoy it, and you really got to get a good feel for the format. Understanding what 2 RB, 2WR, and 2 Flex positions really means when it comes to roster construction, how you draft, and how you build." The options are endless, the format allows for creativity and uniqueness, and is one of the main reasons why players come back year after year for a chance at glory and the grand prize of 500,000 dollars. Make sure to watch the full interview with Abib Agbetoba to get more tips and learn about his journey on becoming a Champion of Champions.
STAY IN TOUCH
Sign up for FantasyData's newsletter and get awesome content sent to your inbox.
We'll never share your email address and you can opt out at any time, we promise.
---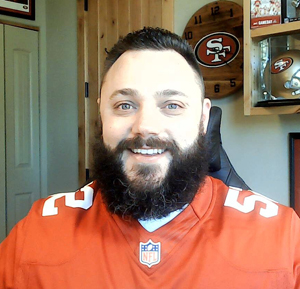 Billy Muzio - with over 16 years' fantasy football experience, he utilizes film review and analytics to create a competitive edge in FFPC high stakes drafts, player selection, roster construction and position theory. His expertise is in season-long high stakes drafts, whereas his primary focus of interest is the FFPC Main Event and FFPC Footballguys Players Championship, with a 62.34% win rate. Most recently he won 2 Main Event leagues and finished 28th overall in the FFPC Playoff Challenge Round 2. Billy resides in Bend Oregon where he is married with two children and runs his own business. Outside sports, he is considered a foodie and wino and loves to build relationships with family and friends through food. You can find him on twitter @FFMuzio.